Introduction
The COVID-19 coronavirus is spreading around the world, from China and Italy to the U.S., but what impact has it had on the Middle East? From Afghanistan to Morocco, the scholars and experts at MEI take a closer look at how the pandemic is affecting the peoples, economies, and countries of the region. 
Jump to:
---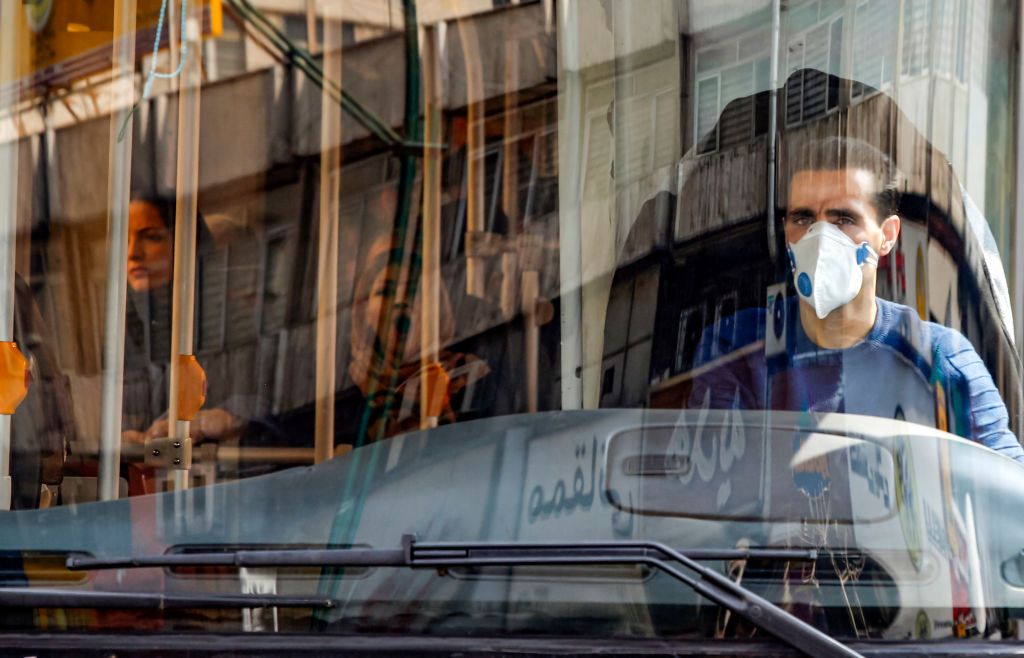 Iran
Alex Vatanka
Senior Fellow and Director of MEI's Iran Program
President Hassan Rouhani claims that Tehran has, all things considered, outperformed Western states in its handling of the coronavirus crisis. No one can deny that panic has set in across Europe and the U.S. as the virus has spread. But instead of gloating — for which there is no justification as Iran remains the third-most-badly-hit country with some 1,000 people dead and another 17,000 infected — Rouhani ought to keep his eyes on some far more troubling signs closer to home as revealed by reactions to the crisis.  
Above all, there is the question of why officials in Tehran for weeks deliberately lied and denied that there was an outbreak in Iran when the virus had arrived from China sometime in early January. This proclivity by Tehran to at first deny the existence of a crisis, and then act in a disorganized fashion when it responds, speaks to two separate truths. First, that a deep deficit in popular legitimacy obliges the regime to constantly misinform the public in order to keep the population placated. Second, that political factions in the Islamic Republic continue to struggle over what kind of relationship the country should have with the rest of the world. 
The different responses by various factions within the regime have a profound message about Tehran's ability in the long term to return to the global mainstream. As Foreign Minister Javad Zarif has set out to lobby for international support for Tehran to secure a $5 billion emergency loan from the International Monetary Fund (IMF), voices on the extreme right in Iran are busy portraying any interaction with international institutions such as IMF or the World Health Organization as bowing to Western interests and selling out the regime's militant Islamist ideals. Put simply, the coronavirus crisis is another good reminder that the Islamic Republic is as ever schizophrenic about its place on the international stage and the duties and benefits that come from it.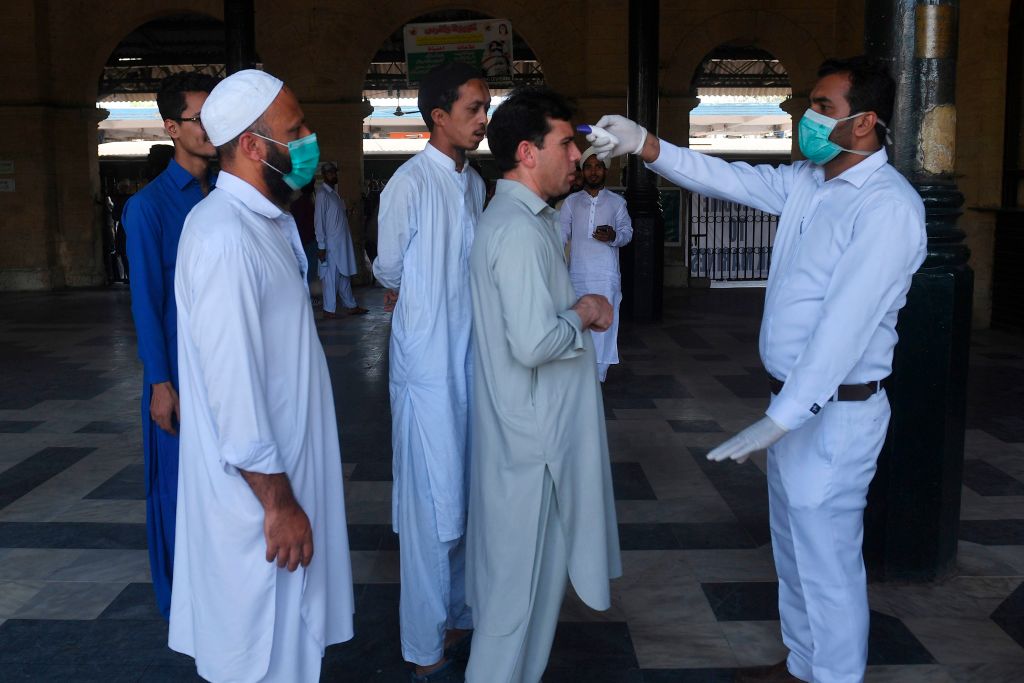 Afghanistan and Pakistan
Marvin G. Weinbaum
Director for Afghanistan and Pakistan Studies
Afghanistan and Pakistan, both with poor health management capacity, are likely to experience a rapid spread of COVID-19 and a high death rate. Until very recently, the number of cases in both countries had remained low, as did public awareness and concern, but that is rapidly changing. Reported cases in Pakistan spiked from 76 on March 15 to 245 nationwide on March 18 as more testing became available. In Afghanistan those known to be stricken by the virus stood at only 22 but testing was still limited. Most of the initial cases in the two countries are directly traceable to a flow of refugees and Shiite pilgrims arriving back from neighboring Iran, where the disease's spread is now rampant. At least 15,000 Afghans are returning daily across a wide-open frontier with Iran. Pakistan's border with Afghanistan is closed and a closure of its border crossings with Iran has been re-imposed.   
The impact of a health crisis in the two countries is bound to be profound. Neither has the health infrastructure nor the capability of avoiding a possible humanitarian catastrophe. Only one testing center is currently available in Afghanistan and only one hospital in Kabul is currently prepared to receive COVID-19 patients. The virus also threatens to add enormous strain on the two struggling economies. Pakistan is already exploring acquiring additional loans from the IMF and an easing of the Fund's current spending restrictions. In Afghanistan it remains to seen what the affects of COVID-19 will have on the level of violence and a sputtering peace process.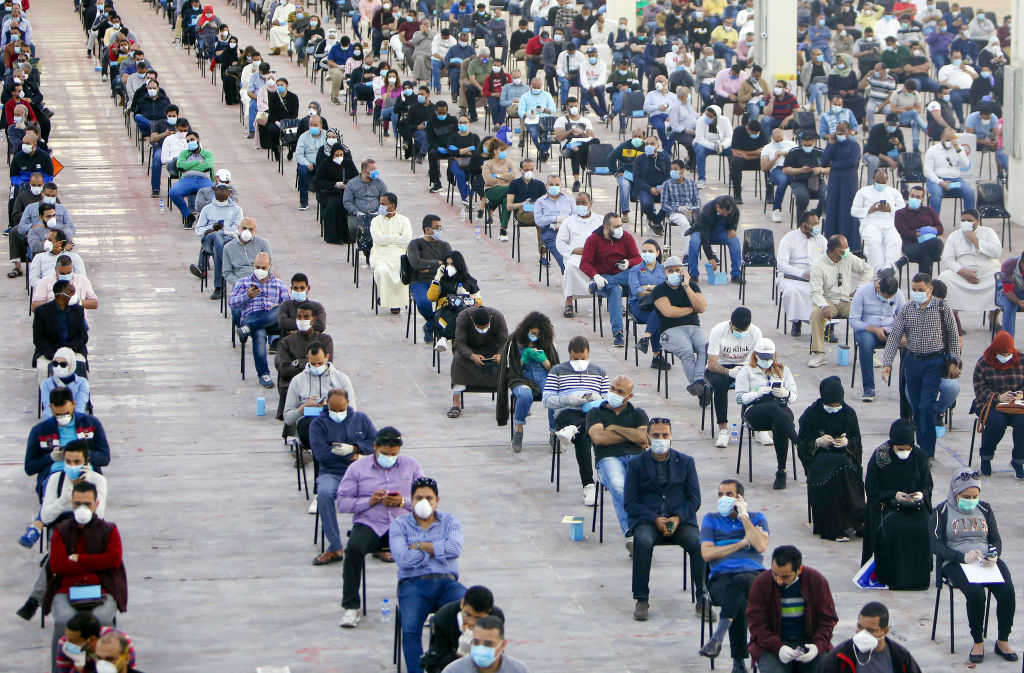 Gulf states
Gerald Feierstein
Senior Vice President 
Each of the six Gulf Cooperation Council (GCC) member states has responded aggressively to the mounting incidence of coronavirus cases. Closures of restaurants, bars, and lounges are uniform across the region. Wedding parties have been suspended. Other gathering spots, including gyms, have also been restricted. Omani hospitals have canceled all non-urgent surgeries. The UAE and Oman have banned gatherings at places of worship, including mosques. Tracing the outbreak of cases in the region to Iran, the UAE has also dispatched 32 tons of medical supplies, including gloves and surgical masks, to Tehran.
While the GCC as a whole is likely to weather this storm, a prolonged global health crisis will confront all of the Gulf states with unique economic and socio-political risks. They are all heavily dependent on the free movement of expatriate workers. Any prolonged disruption will threaten Gulf economies. 
Moreover, Abu Dhabi, Dubai, and Doha have all prospered through their development as global transportation hubs, with tens of millions of passengers annually transiting regional airports. A prolonged downturn in air travel will threaten their status, as well as the economic health of their flag carriers. 
The UAE is also counting on millions of visitors to its planned Expo 2020, slated to open its doors in October, to symbolize the Emirates' global economic and social power. 
But the consequences of an extended health crisis may affect Saudi Arabia most severely. The Saudis have already halted visits to perform umrah, the minor pilgrimage to Mecca. The hajj, falling this year in August, brings some two million of the Muslim faithful to the kingdom annually. Inability to host the pilgrimage would not only cost the Saudis billions of dollars in lost revenue, it would also shake its position as the custodian of the holy places. Notably, the hajj was not suspended during the 1918 flu pandemic, when Mecca was still under the control of the Hashemites. The Al-Saud will undoubtedly be loath to cancel it this year.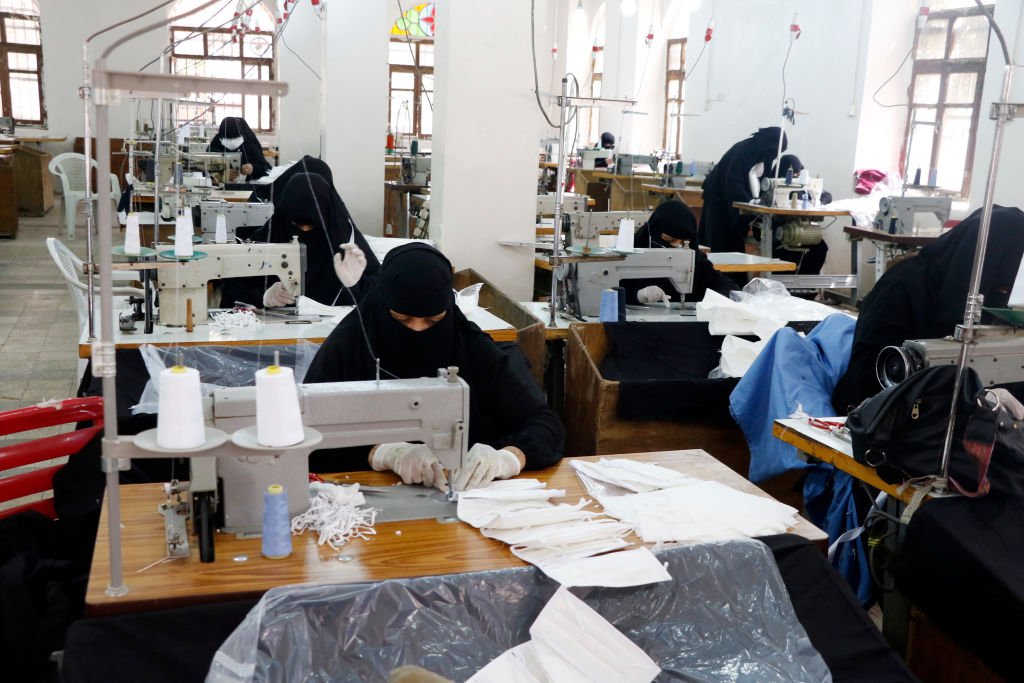 Yemen
Nadwa Al-Dawsari
Non-Resident Scholar
As coronavirus spreads across the globe causing entire countries to close their borders, Yemen is in a particularly vulnerable situation. The Yemeni government and the Houthi authorities in the north have both announced steps to prevent the spread of the virus, including shutting airports and land borders and closing schools and universities. They claim to have plans in place and to have deployed teams of medical staff to respond to an outbreak. But Yemenis remain skeptical of both authorities due to their history of corruption, incompetence, and putting their political agendas first at the expense of the people. 
With no competent government in place, Yemen might become the perfect disaster for a coronavirus outbreak, and with a health system that is on the brink of collapse, the country is far from prepared for it. The dire humanitarian situation offers an environment conductive to the spread of the virus. Eighty percent of Yemenis require humanitarian assistance and over 15 million are on the brink of starvation. Two million children are malnourished and more than three million displaced, lacking basic essentials like health care and food. Worst yet, two-thirds of Yemenis lack access to water, which is crucial to preventing the spread of the virus.    
The Yemeni government and the Houthi rebels need to set aside their differences and coordinate in good faith to combat the pandemic. If no serious response is put in place soon, it threatens to wipe out millions of Yemenis. The Saudi-led coalition, which is responsible for most of the destruction of health facilities in Yemen, has a moral obligation to urgently and immediately work with health organizations and tailor sufficient resources and funding to counter a potential outbreak before it is too late.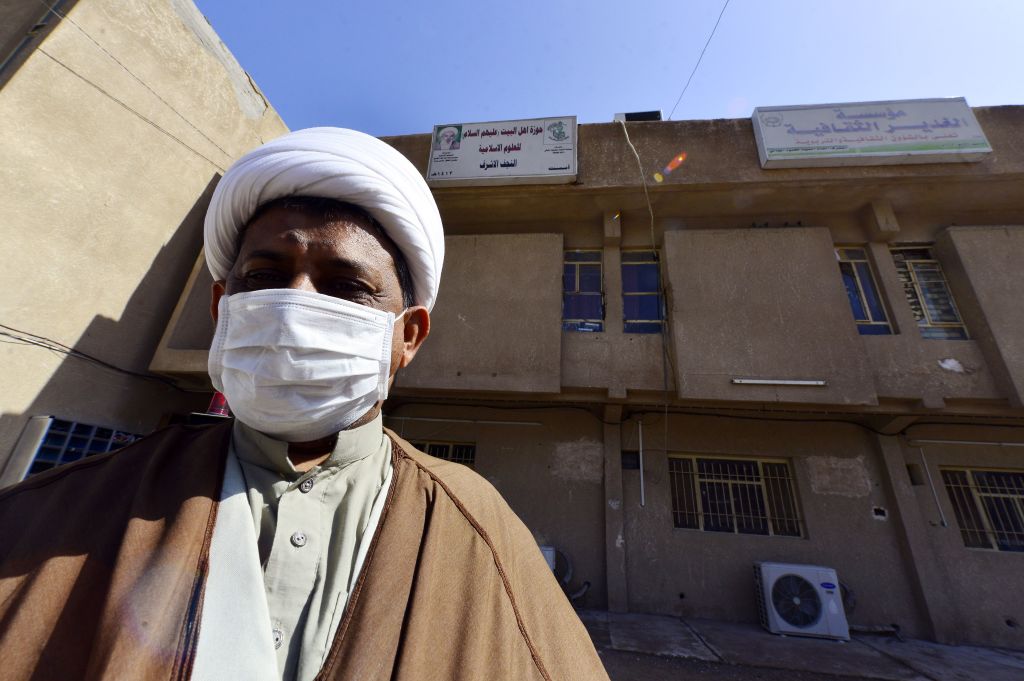 Iraq
Randa Slim
Senior Fellow, Director of Conflict Resolution and Track II Dialogues Program
154 Corona-virus cases and 12 virus-related death have so far been reported in Iraq. On Tuesday, Baghdad imposed severe restrictions on travel, including a six-day closure of all airports and a six-day curfew in Baghdad. Other provinces have announced similar restrictions. Roadblocks are in place across the cities of Erbil and Sulaymaniyah in the Kurdistan region to enforce a lockdown imposed by the regional authorities. The president and caretaker prime minister of Iraq sent a request to the speaker of Parliament to declare a 30-day state of health emergency. Grand Ayatollah Ali al-Sistani issued a fatwa declaring that health professionals fighting the coronavirus are performing a religious duty akin to that of defending the homeland from enemy attacks. The activists leading the protest movement in Iraq since October 2019 have suspended their protests due to health safety concerns.
However, segments of the Iraqi public have yet to grasp the seriousness of this pandemic, forcing the Ministry of Health to issue a statement on Tuesday decrying the fact that people continue to take pilgrimages to religious shrines and congregate in large numbers and calling on the security forces and the judiciary to implement measures to ensure government regulations banning such activities are adhered to. The same could be said of the ruling political parties which, despite the health care crisis and severe governance challenges, could not agree on a new candidate for the role of prime minister. In line with the discretion allowed him by the constitution, Iraqi President Barham Salih took matters in his own hands on Tuesday and named Adnan al-Zurfi, former governor of Najaf, for the job. The pro-Iran Fatah parliamentary bloc has already announced their opposition to the nomination. 
This pandemic hits Iraq at the exact time when it is least equipped to deal with it: The twin crises of tumbling oil prices and the pandemic are putting serious stress on a health care system that has suffered from decades of corruption and mismanagement. The country's health services neither have the funds nor the operational capacities to deal with a surge in demand for intensive care. If curfews and suspension of commercial activities were to be extended in the future, more Iraqis will join the ranks of the unemployed. Non-state Iran-backed armed militias have also ramped up their attacks on Iraqi bases housing U.S. and other coalition forces, having calculated that the pandemic in the U.S. and the political paralysis in Iraq create a unique opportunity for them to achieve their objective of forcing U.S. troops out of the country.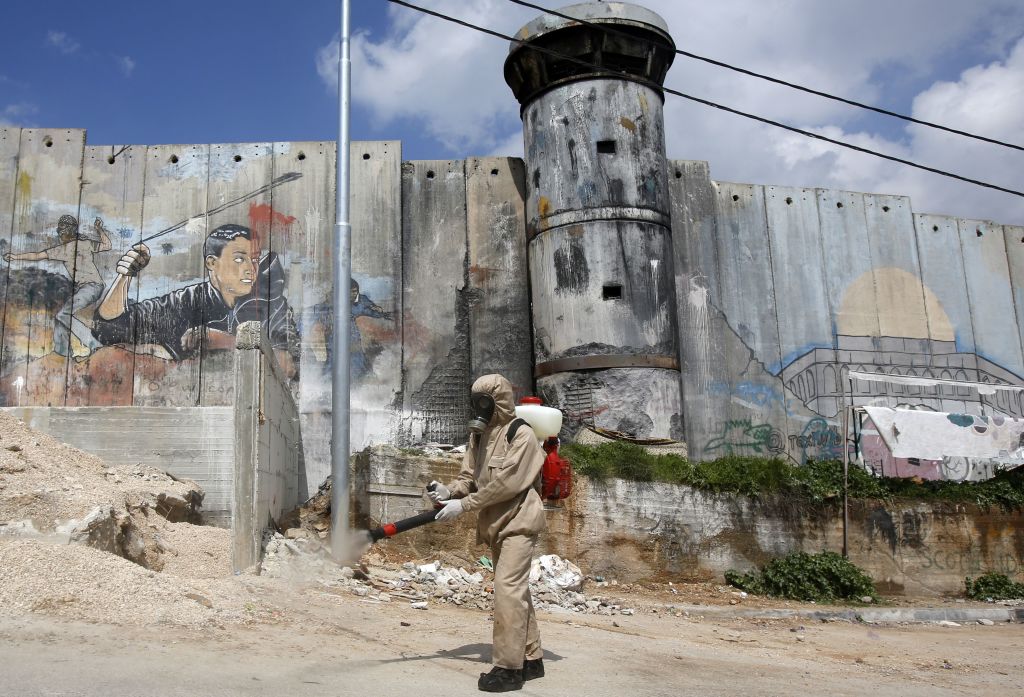 Israel and Palestine
Khaled Elgindy
Senior Fellow and Director of MEI's Program on Palestine and Palestinian-Israeli Affairs
Although clearly interconnected, the situations with regard to the spread of coronavirus and levels of preparedness are very different in Israel, the West Bank, and the Gaza Strip.
Israel
As of March 18, there were 427 confirmed cases of coronavirus in Israel, with no fatalities reported so far. Israeli authorities have taken far-reaching measures to contain the spread of the virus, including closing all public schools and universities, cancelling all cultural and recreational events, and banning indoor gatherings of more than 10 people. In addition, foreigners are not allowed in the country unless they can show they will self-quarantine for 14 days. Public transportation has been severely curtailed and Israeli authorities have issued new directives prohibiting movement for nonessential (i.e., food and medical) reasons. Most controversially, the Israeli government has approved giving the Shin Bet the authority to track the cell phones of those infected with the virus. The Israeli Ministry of Health is reportedly testing 1,200 individuals a day and hopes to double that figure in the coming days.
Ironically, the crisis may offer Israel's embattled prime minister, Benjamin Netanyahu, something of a political lifeline. Netanyahu's corruption trial, which was scheduled to open on March 17, has now been postponed for three months. Meanwhile, with neither Netanyahu's Likud nor Benny Gantz's opposition Blue and White faction in a clear position to form a government, there is now talk of forming a "national emergency" government to tackle the coronavirus crisis and in the hope of avoiding a fourth round of elections. 
Occupied Territories
In the occupied territories, Israeli Defense Minister Naftali Bennett has announced a total closure of the West Bank and Gaza Strip. The closure is being enforced on areas administered by the Palestinian Authority (PA) — Areas A and B — but not on the roughly 500,000 Israeli settlers who live in the West Bank (excluding East Jerusalem). Among other things, the closure means the cancellation of some 100,000 Palestinian work permit holders in the West Bank and another 7,000 from Gaza. Although there are no reported deaths among Palestinians, the PA reports 44 confirmed cases to date, all of them in the West Bank. The vast majority of these cases (40) are in Bethlehem, where the infection first began. In addition, there are two confirmed cases in Tulkarem, one in Ramallah, and one in Jericho. Approximately 6,900 Palestinians have been required to self-quarantine.
Like other governments in the region, the PA has imposed major restrictions on public gatherings and civilian movement, including the closure of public schools and universities and the cancellation of congregational services in churches and mosques. In addition, anyone entering the country via King Hussein (Allenby) Bridge is required to self-quarantine for 14 days. According to PA health officials, around 3,290 individuals have been tested so far — though it is unclear what proportion of these are in the West Bank versus Gaza. 
Indeed, the Gaza Strip represents one of the most precarious situations in the region. Although there are no reported cases of infected individuals in Gaza — due in large part to the 13-year-old blockade — it may only be a matter of time before the pathogen makes its way to the besieged enclave and its two million Palestinians. The potential for a humanitarian disaster on its borders has not escaped Israeli authorities, who have reportedly delivered 200 coronavirus test kits to Gaza. Hamas, the de facto government in Gaza, has officially closed the Rafah and Erez border crossings to pedestrian traffic from Egypt and Israel respectively. Moreover, Palestinian and international health professionals fear that an outbreak in Gaza would be catastrophic — not only because it is the most densely populated territory in the world, suffers from chronic shortages of fuel, medicines, and sanitation and medical supplies, and has a health care system that is, according to UN, already at its "breaking point," but because an outbreak would likely lead Israel and Egypt to hermetically seal off the enclave, further compounding the effects.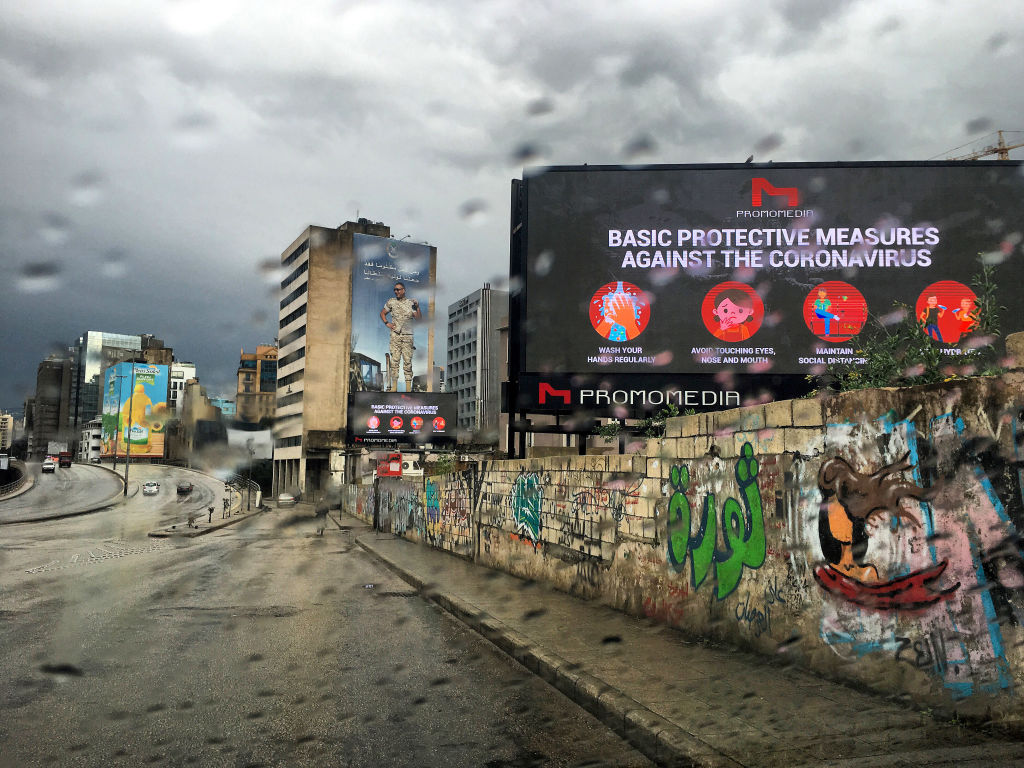 Lebanon
Paul Salem
President
There were worries early on in the coronavirus crisis that a stream of direct flights from Iran would make Lebanon one of the hardest hit countries in the world. And indeed many cases apparently entered through that vector. Lebanon was also vulnerable to an influx of travelers coming from Italy and other European countries. The government proved unable to stop the early flights from Iran, as Hezbollah considers them a lifeline, but finally managed to implement a decision to shut down the airport completely to all travel. The land borders also have been largely shut down. 
A panicked public participated in the success of a government mandated shutdown of schools, universities, most businesses, and public spaces. Currently the number of confirmed cases is low, and the apparent spread of the virus is slow. This is relatively good news for a country that has had one of the most difficult years of its modern history. But Lebanon has to stay in relative lockdown, implementing social distancing, for the near future in order to prevent a resurgence of the virus.
The virus-induced shutdown impacted a country whose economy had already largely ground to a halt months before. A spiraling economic crisis had triggered nationwide protests starting last October. Private banks implemented crippling capital controls and the government has defaulted on its sovereign debt. Before the coronavirus crisis, the government was grappling with very difficult economic choices, seeking to implement painful reforms at home, looking for economic support from potential friends in Europe, and considering the idea of turning to the IMF. 
Today, as the U.S., Europe, and the Gulf countries are all reeling from the economic impacts of the pandemic and the oil price war, Lebanon will face an even harder challenge to find any economic support from abroad. Whatever path forward is found will have to be home grown. And maybe that's a good thing. Years of dependence on external support created a dependent economy and a corrupt political class beholden to foreign powers.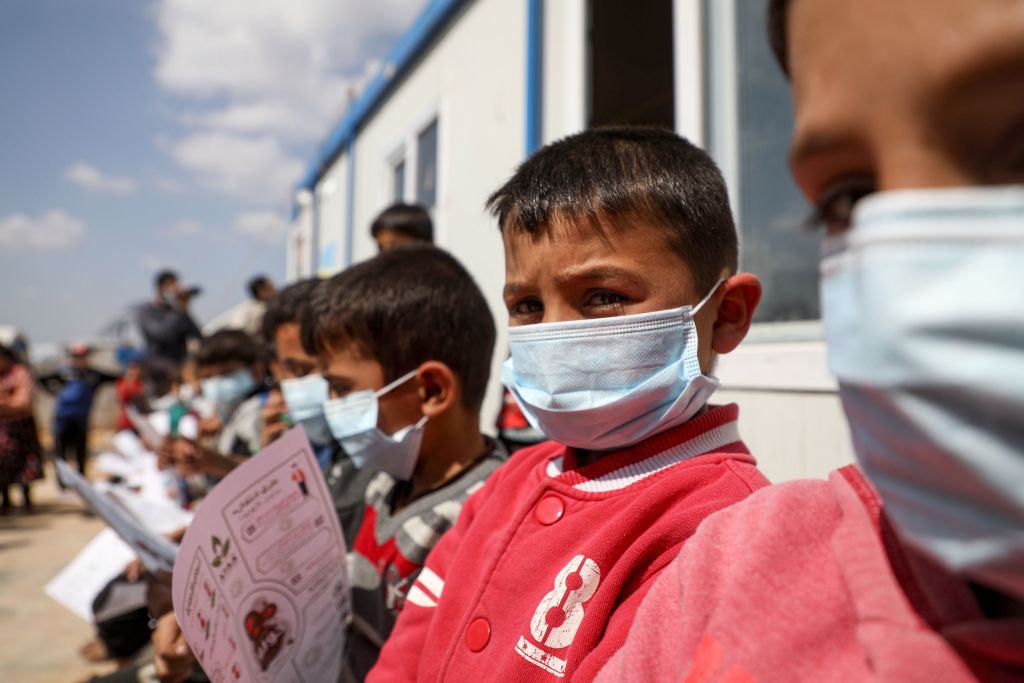 Syria
Charles Lister
Senior Fellow, Director of the Countering Terrorism & Extremism Program
On March 9, authorities in the Pakistani city of Karachi reported the interception of several individuals infected with COVID-19 who had just arrived from Syria. At the same time, substantive reports were proliferating describing localized COVID-19 outbreaks in Damascus, Homs, Latakia, Tartus, and Deir Ezzor. One doctor in Damascus wrote on social media about virus cases in his hospital, before being swiftly arrested and forced to publicly recant his account. Several Western government sources, meanwhile, retained "high confidence" in discussions with this author that COVID-19 had arrived in Syria via Iranian military personnel and associated Shi'a militiamen deployed to Idlib and eastern Syria.
The Syrian regime however, has consistently denied any COVID-19 on Syrian soil. Despite that, the regime in Damascus announced on March 13 that it had begun constructing quarantine centers nationwide; closed all schools and universities; and placed all medical students on alert to assist in government hospitals. When asked on regime media if Syrians should be afraid of COVID-19, Syria's minister of health responded coldly, making a pointed reference to the regime's brutal suppression of political and social opposition: "The Syrian Arab Army has purified Syria of many germs before … there are no cases of the coronavirus here." 
In areas outside regime control, local authorities have taken precautionary measures to isolate themselves. In the northeast, the Syrian Democratic Forces have shuttered all schools, border crossings, and public events, and barred European passport-holders altogether. In the northwest, civil councils and health bodies have closed all border crossings with regime territories and begun training emergency rescue personnel in rudimentary detection measures. As the de facto governor in Idlib, former al-Qaeda affiliate Hayat Tahrir al-Sham has launched a public information campaign focused on personal hygiene and preventive measures. Even ISIS has issued its own health guidance utilizing Qu'ranic verses relating to washing hands, limiting travel to uninfected areas, and coughing or sneezing into a hand or clothing.
Notwithstanding who controls what territory, any meaningful outbreak of COVID-19 in Syria would be devastating given the severely degraded state of health care nationwide. Over 85 percent of the in-country population now live below the poverty line, more than 6.6 million are displaced, and 13.1 million are in constant need of aid and assistance.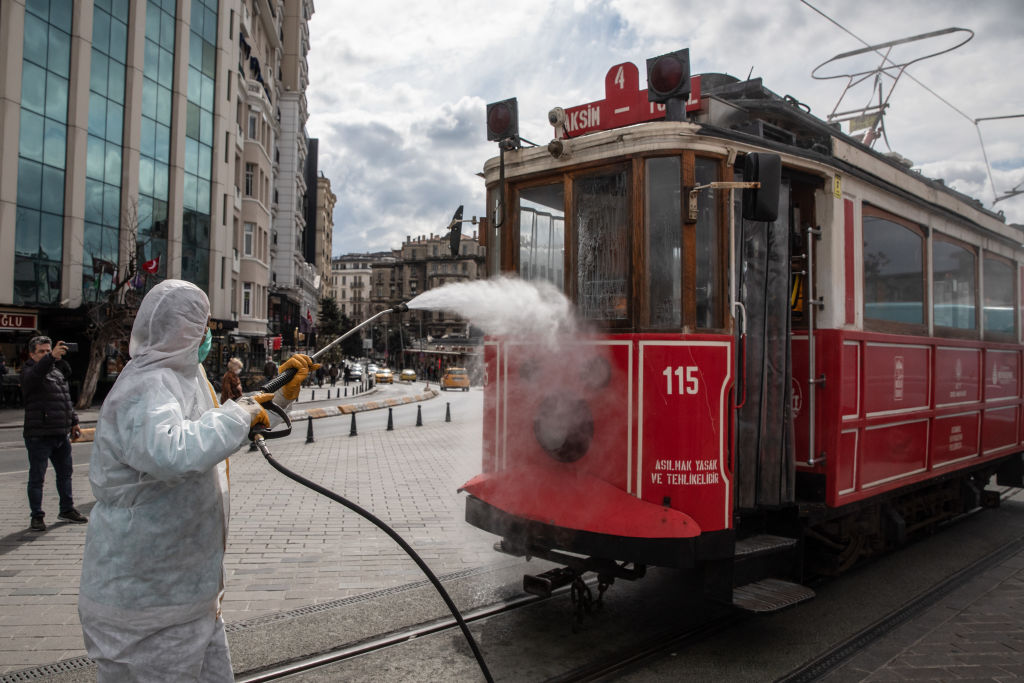 Turkey
Gönül Tol
Director of the Turkey Program
Turkish Health Minister Fahrettin Koca announced on Tuesday evening that the number of coronavirus cases had risen to 98, doubling overnight, and the country recorded its first death. But Turkey's doctors are worried that the government might not be as transparent as it should be with regard to the number of cases. The Turkish Medical Association, the leading medical group in the country, warned that they are receiving reports suggesting the number of infected patients is far higher than the official number and the country conducted far fewer tests than it should have. Turkey's leading doctors are urging the government to take the necessary steps immediately and the government seems to be doing just that, albeit belatedly in some instances. The government took an early decision to suspend flights from China when the outbreak started there, as well as Italy and Iran, which are among the world's worst-hit countries. Recently, Turkey suspended flights to several countries including Britain, Egypt, and Saudi Arabia, and started evacuating citizens from Europe. Schools are shut for two weeks, along with dozens of public spaces from cafes, bars, nightclubs, and theaters to tea gardens and pools. The government halted mass prayers at mosques, although the mosques will remain open for individual prayers.
The government's decision not to quarantine more than 20,000 people who had traveled to Saudi Arabia for the umrah and returned to Turkey has drawn criticism on social media, after reports of a confirmed case to the Saudi Arabia trip. The criticism prompted a government decision on Sunday to quarantine 10,000 of them in the capital Ankara and Konya. The closing of businesses has taken a toll on the country's fragile economy. The number of visitors to Turkey's historic places has plummeted. Turkish carmaker Ford Otosan announced it will suspend production at one of its plants between March 30 and April 4 due to disruptions at production facilities abroad.
In an effort to allay fears, Treasury and Finance Minister Berat Albayrak pledged financial measures to ensure access to liquidity in the country. Turkey's central bank has slashed its benchmark interest rate by 1 percentage point, among other measures, to soften the blow of the coronavirus crisis on the economy. But as revenues from tourism plummet, domestic consumption gets hit, and demand from its main trading partner, Europe, slumps, Turkey's troubled economy will face significant challenges.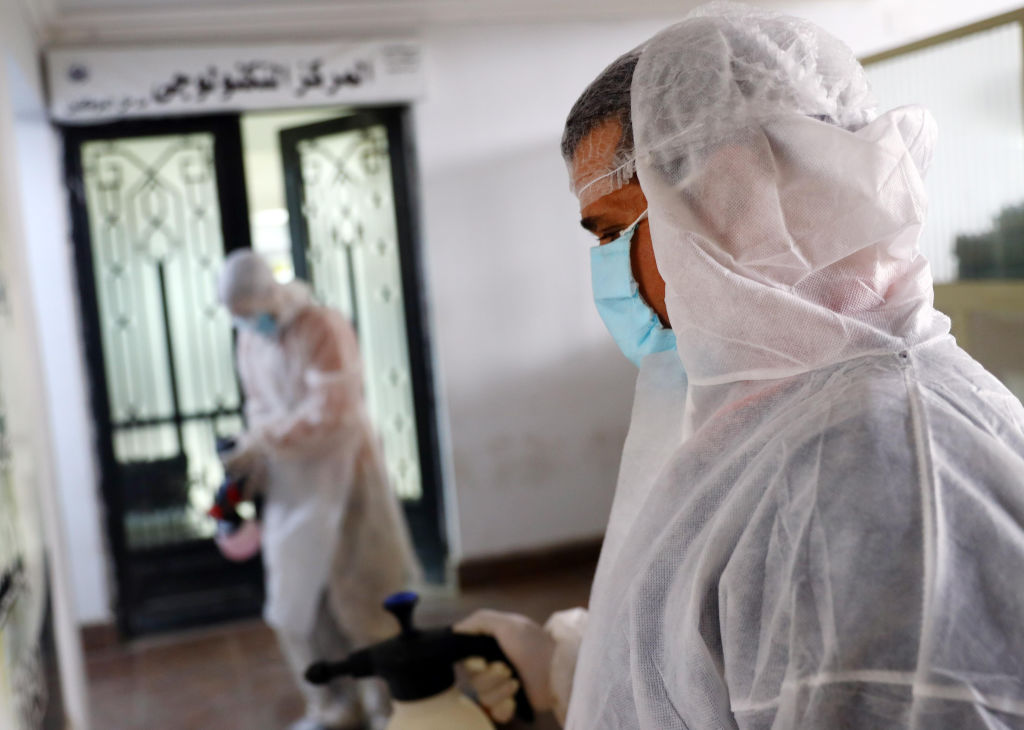 Egypt
Mirette F. Mabrouk
Senior Fellow, Director of the Egypt Program
The most populous country in the Arab world, with 100 million people straining its seams, Egypt has weaknesses that make it susceptible to a serious outbreak of coronavirus. Significantly more sophisticated and well-equipped health care systems in Western countries are expected the creak under the impact of a full-blown outbreak and Egypt's already overburdened public health system is even less prepared for such a challenge. As of March 18, Egypt has announced 196 cases of COVID-19; considering the nature of the virus, the number could be significantly higher.
Employees in Egypt's vast public sector have been asked to work remotely where possible or, if not, on rotating schedules to limit interaction, the exception being those working in power generation, transportation services, hospitals, and ambulance and sanitation services. Any employees with existing chronic conditions that would make them more vulnerable to the virus, along with pregnant women or those caring for children under the age of 12, were given exceptional leave. Crucially, this type of leave is paid and may not be deducted from ordinary leave.
All flights in and out of Egypt will be suspended from March 19 through 31, although visiting foreign nationals will be allowed to finish up their trips and leave as originally planned. The flight suspensions will leave domestic aviation with a hefty bill of EGP 2.25 billion, according to Prime Minister Mustafa Madbouly. Cinema, theatre, and sports events have all been suspended for two weeks. As of March 15, all schools and universities and private tutoring centers were closed down for two weeks, with the Ministry of Interior vowing swift legal action against violators. 
The government has also moved quickly to stem the hemorrhage caused by the pandemic; it announced the allocation of EGP 100 billion toward combatting the virus, although it has not delineated how the money would be allocated. More concretely, the Central Bank announced the largest emergency rate cut since the devaluation four years ago, of three percentage points, and instructed all banks to postpone any dues and payments on loans taken out by individuals and companies for the next six months.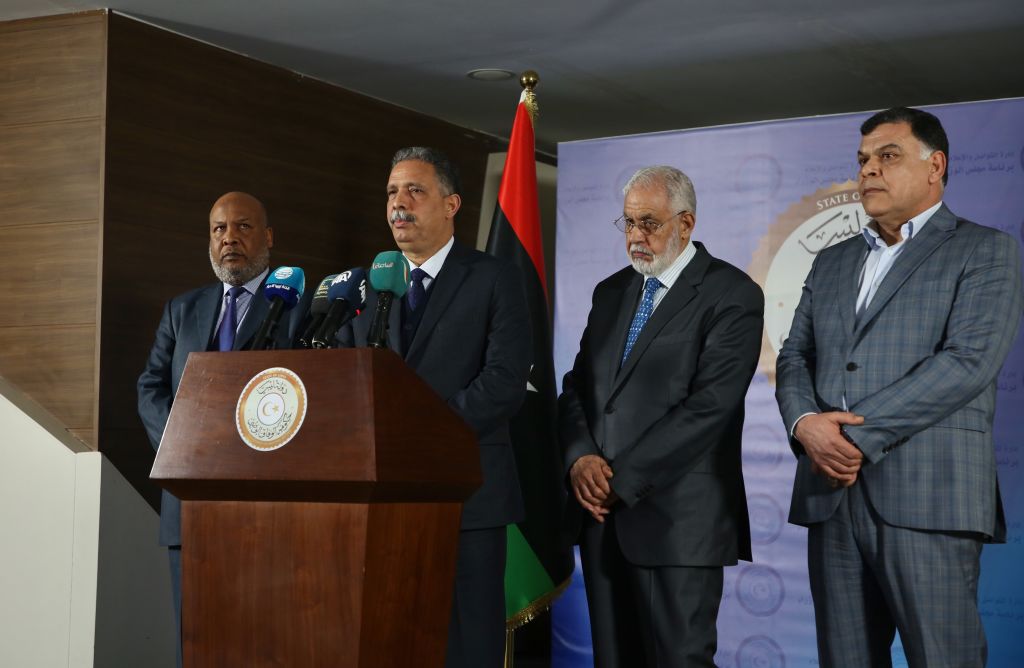 Libya
Jason Pack
Non-Resident Scholar
As the first cases of coronavirus incubate within its borders, Libya's war of post-Gadhafi succession is already in its ninth year. Recent international efforts to impose an arms embargo have backfired. Similar to inept government press conferences about the virus occasioning binges of panic buying, each failed international push for a cease-fire on the Tripoli frontlines leads to Turkey, Russia, and the UAE frantically dispatching their preferred clients more drones, mercenaries, and armaments.
As these destabilizing actors' attentions shift to more pressing crises, the global pandemic may eventually lessen these dangerous flows. Furthermore, Libya is trying to preemptively self-isolate. On March 14, Prime Minister Fayez al-Serraj of the Government of National Accord declared that all of Libya's sea, air, and land ports close. He lacks the ability to enforce this edict, but even his rivals have a reason to put the country on lockdown.
For two months now, General Khalifa Hifter has shut in all of Libya's onshore oil production. Due to the plummeting global demand for oil, even for Libya's prized sweet crude, the country's economic outlook is far from rosy. For the foreseeable future, the budget will be in deficit and Libyans' dinar-denominated savings will buy less and less imported food and medical supplies. As the disease transforms Libyan patterns of sociality and the elderly start dying, it is possible that Libyan public opinion would push for a temporary cessation of hostilities between the warring factions. But experienced Libya watchers know not to get their hopes up.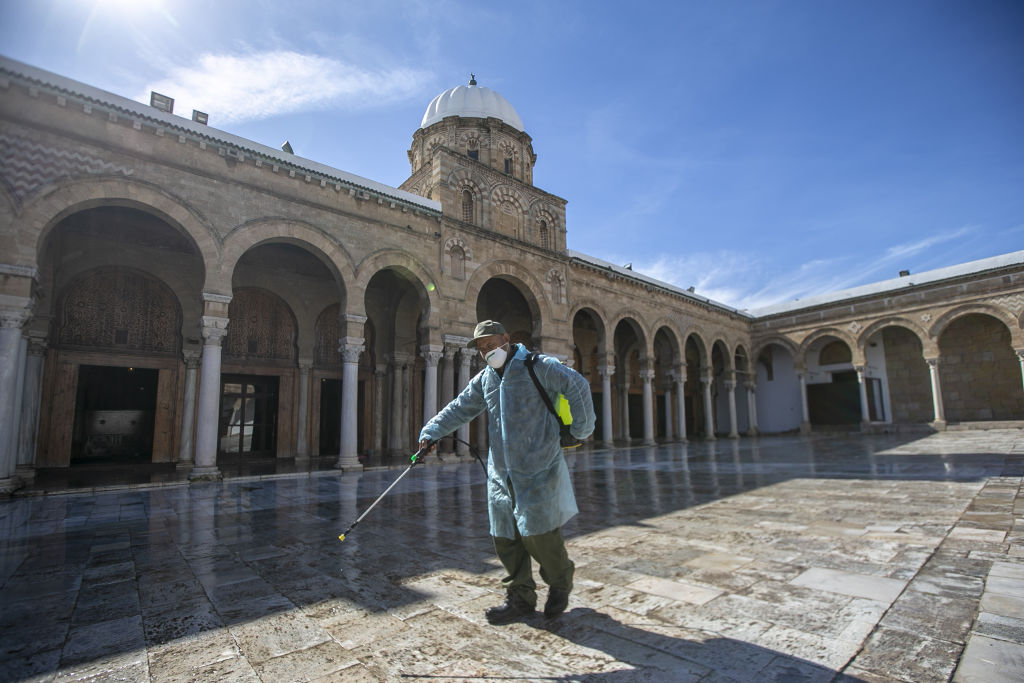 Tunisia
William Lawrence
Professor of political science and international affairs 
On March 2 Tunisia confirmed its first case of COVID-19, a Gafsa native returning from Italy. After 74 individuals were confined to their homes, authorities took legal action against individuals that violated their confinement. There have been 29 confirmed cases as of March 18, along with one recovery and no deaths, but 3,000 Tunisians are currently under quarantine. The president and prime minister have announced a border closure and suspension of air, sea, and land transport — except for evacuations; a 6pm to 6am general curfew; cancellation of collective prayers, sporting events, and public gatherings; a 4pm curfew on restaurants and cafés; and a five-hour workday. The president asserted to some derision in the press that if Tunisians followed the rules, all would be well in two weeks. 
The prime minister announced a two-pronged effort to mobilize health care resources and attenuate economic impacts, especially on small business. Coronavirus is expected to collapse tourism, and Tunisia will need to renegotiate loans with the IMF. Tunisian hospitals created exterior screening procedures, while private clinics began converting to serving public patients. The country prepared for "hospitalization at home" with doctor visits, while herbal medicine sellers cashed in. 
The prime minister scolded Tunisians for violating various bans, and police had to tear gas a ram-fighting spectacle and break up daytime gatherings at nightclubs. The speaker of Parliament has called on all Tunisians to "shut their doors." Tunisians were asked to donate half of their salaries to the effort; the Chinese ambassador not only donated half of his salary, but Chinese doctors have arrived along with donations of protective masks and antibacterial gels. Tunisia and Algeria have joined the UN, the U.S., and other countries in the call for a humanitarian truce in Libya to combat COVID-19.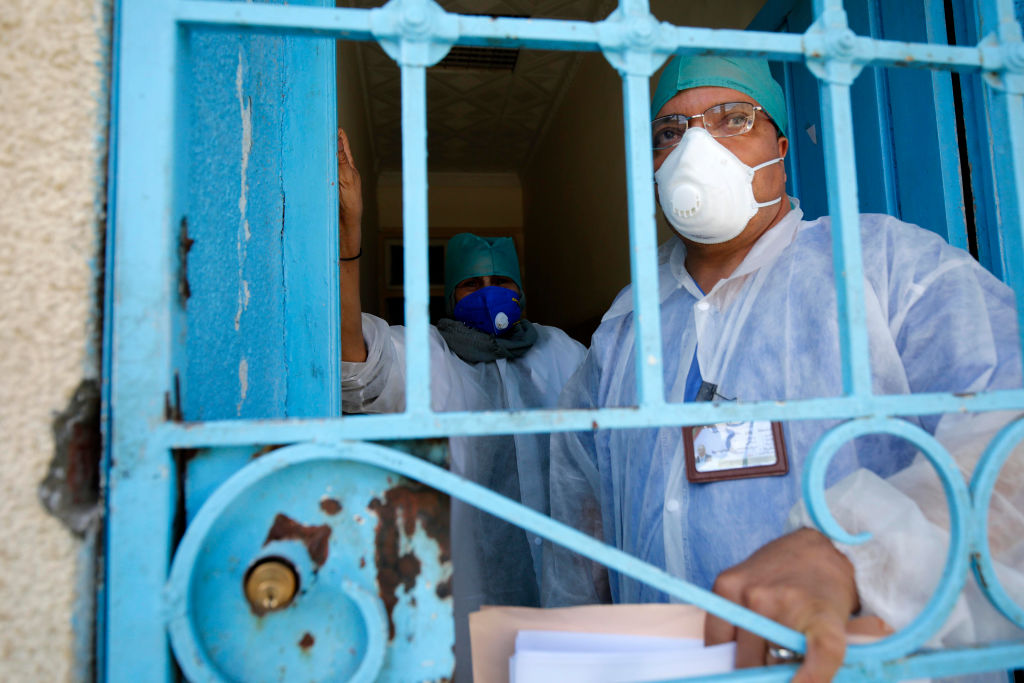 Algeria
Robert Ford
Senior Fellow
Algerian President Abdelmadjid Tebboune announced on March 17 that Algeria would close its borders and suspend all commercial flights, except for cargo, as part of a package of measures to slow the spread of coronavirus. The Ministry of Health on March 18 announced a fifth death from the virus and reported a total of 62 cases across the country. The presidency ordered schools and nurseries closed at the end of last week, and on March 17 the government closed mosques. The same day an official said that the government might impose a curfew in the area of Blida, south of the capital, Algiers, where the first deaths from the virus were recorded. The growing sense of unease pushed shoppers into hoarding, and a representative of the national tradesmen's association opined that retail prices for kitchen staples have soared 40 percent nationwide. Meanwhile, student organizations have urged a temporary halt to the year-long protest marches. The normal Tuesday march by students was dramatically smaller on March 17.
According to the president, Algeria has 2,500 intensive care beds ready and can increase the number to 6,000 if needed, along with 6,000 respirators and 6,000 test kits available, with another 15,000 on order — small numbers in a country whose population exceeds 41 million. The collapse of world oil prices will also hit Algeria very hard. Oil exports account for about 90 percent of the Algeria's export earnings, which will add to pressures on vital imports and diminishing foreign exchange reserves.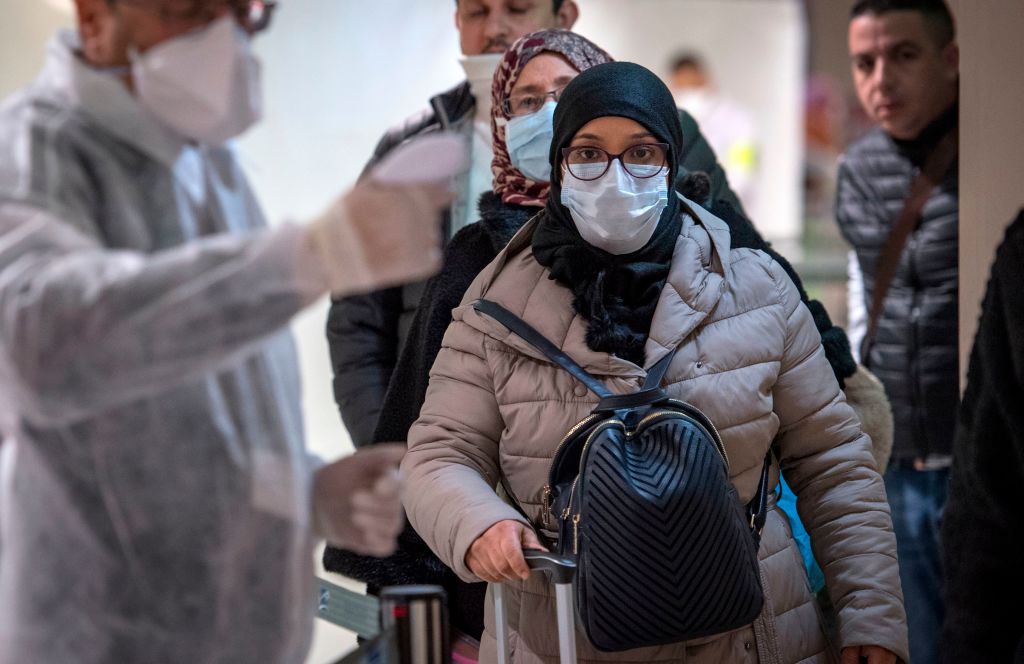 Morocco
William Lawrence
Professor of political science and international affairs 
On March 2 Morocco confirmed its first case of COVID-19, "Patient Zero," returning from Italy; Patient Zero was also the first to recover from the disease on March 13. Morocco has since identified 49 cases linked primarily to travelers arriving from Italy, France, Spain, Austria, and Egypt. They arrived as far back as Feb. 25 and through March 15, when Morocco abruptly closed its borders and airports to all international flights. This stranded thousands of Moroccans in Spain and thousands of foreign tourists in Morocco, prompting numerous press reports about anxious foreign nationals, some with underlying health conditions, feeling abandoned by their home governments, but offered free meals and comfort by their hotels. Meanwhile, the U.S. government is evacuating Peace Corps volunteers and offering some level of assistance evacuating American nationals with serious health concerns. 
There have been two deaths, one an 89-year-old woman who had been residing in Italy, and the second a Moroccan man returning from France. At least four active cases are French nationals arriving from France. The Moroccan Minister of Equipment and Transportation Abdelkader Amara tested positive on Saturday following a trip to Europe and is self-isolating and teleworking. 
Significant community transmission has begun, with infections concentrated in and around the four largest cities. Schools, mosques, shops, cafés, restaurants, theaters, and all non-essential businesses were closing indefinitely by Monday, along with gatherings of over 50 people. The king created a $1.5 billion fund to improve health infrastructure and services and support devastated sectors like tourism, with large contributions from banks and agencies. Morocco launched a massive public transportation cleanup operation. It also arrested and detained a Salafist priest for publicly opposing anti-coronavirus measures, such as closure of mosques, and issued harsh new sentencing guidelines for opposing anti-coronavirus measures or spreading false information.
Main photo: Xinhua/Ahmad Halabisaz via Getty Images
---
The Middle East Institute (MEI) is an independent, non-partisan, non-for-profit, educational organization. It does not engage in advocacy and its scholars' opinions are their own. MEI welcomes financial donations, but retains sole editorial control over its work and its publications reflect only the authors' views. For a listing of MEI donors, please click here.