The Featured Artists
MEI has provided brief biographies of the featured artists in the In This Moonless Black Night: Syrian Art after the Uprising show. View the artists' biographies >>
Here, users will find links to the websites of artists featured in MEI's exhibit. In the cases where no personal website was found or it produced an error message, the names have been marked with an asterisk (*) and a link to social media accounts or another official page has been provided.
Maymanah Farhat  (Curator)
*Hiba Al Ansari
Nour Asalia
Tammam Azzam
Khaled Barakeh
*Ammar al-Beik
Bady Dalloul
*Oroubah Dieb
*Osama Esid
Lara Haddad
Mohamad Hafez
Nagham Hodaifa
*Essma Imady
Kevork Mourad
*Azza Abo Rabieh
MEI Retrospective Publications about the Syrian Uprising
Art Galleries & Museums
Al Sayed Art Gallery
Founded in Damascus in 1988. The gallery exhibits modern Syrian art; information and photos may be found on the gallery's Facebook page, linked above, and any inquiries may be made there as well.
---
Goethe-Institut Damascus: In Exile (Berlin)
Established in Damascus in 1955, the Goethe Institut's Syrian office evacuated in 2012 and created a symbolic location in Berlin. Discussions, workshops, art exhibitions, and more, focusing on the Syrian uprising and exile, were held between October and November 2016. Event descriptions and articles may be found on their website and social media account.
---
LoveDamascus
This culturally focused website is available in Arabic and English, and provides a "What to See" section featuring a list of art galleries in Damascus.
---
National Museum of Damascus (DGAM)
The website is also available in English. It is a portal to Syrian cultural heritage dating to ancient times, with links to other museums, historical monuments, a list of world heritage sites, and more.
---
Rafia Gallery
The Rafia Art Gallery in Damascus aims to be a leading gallery in the region for Arab and Middle Eastern art. View their Facebook page or Khatt Foundation webpage for more information.
---
Tajalliyat Art Gallery
Located in Damascus, Tajalliyat balances its exhibits with works by prominent artists as well as new and young Syrian artists. View their featured artists, here. Categories include Modern, Realist, Abstract, Impressionist, Expressionist, Still life, and Pop art.
Catalogs, Digital Archives, & Artist Directories
 Arab Center for Architecture (ACA)
Founded in Beirut in 2008, the Arab Center for Architecture is a non-profit organization whose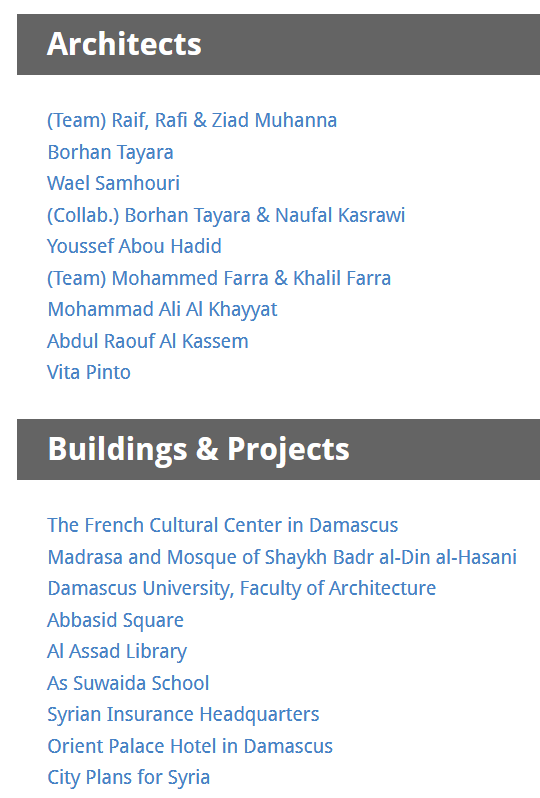 goal it is to address modern urban design, architecture, design, and planning in the Arab world. Its Research Center is accessible to the public by appointment, however its database is searchable online without an account. As of the publication of this guide, the library is currently being developed and no online catalog exists but may be available in the near future.
When searching the directory, if users enter no search terms but filter by country, no results are retrieved so one must enter a keyword -- even if it is simply the letter "a" -- in addition to the location filter. Also, searching by city and setting the filter to search by building city will return zero results.
It is best to search by city or architect name without setting filters. A search for Damascus returns a list of two architects and number of buildings and projects located in the city. Searching for the term Syria, rather than filtering for results by country, results in a shorter list of architects and buildings or projects than filtering by "Syria" while searching (for example) for "a."
Clicking on an architect's name will lead to a page with biographical information, including nationality, education, and projects or buildings they were involved in--the projects' names, locations, and start and end dates.
Clicking on a building will lead to a similar page with information on the architect(s) responsible, building type, construction status and dates, and other notes about the project including building dimensions.
Search the directory >>
---
Arab Fund for Arts and Culture (AFAC)
The Arab Fund for Arts and Culture was founded in Beirut in 2007 to support artists, writers, research, intellectuals, and arts and culture organizations from the region. Programs now encompass a wide range of cultural work including photography and film, as well as research, training, and cultural events.
AFAC's Projects list presents users with a catalog of the artists and projects it has funded, including the artists' names, countries of origin, a brief description of the projects, and an example image.
To view the projects, find the menu in the top-right corner of the website and in the list of options, click on "Projects."
Entering an artist's name in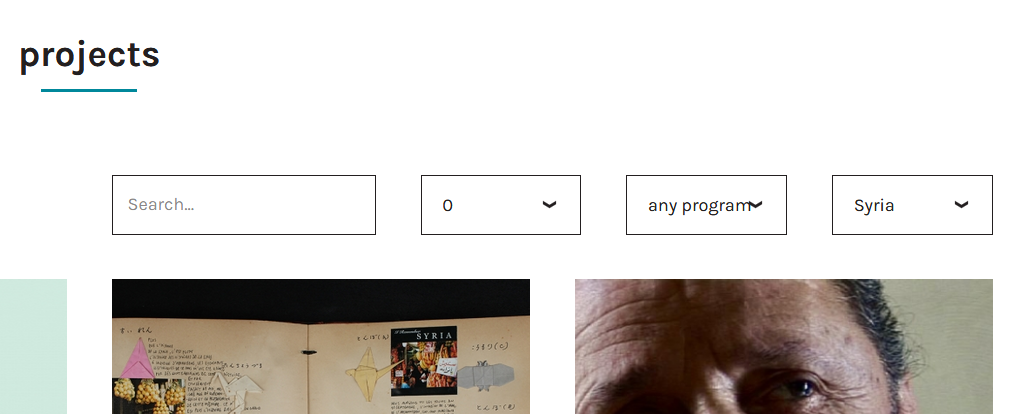 the Search bar is one way to find a specific project. Otherwise, searching for Syria, without specifying other limitations, or searching for no keyword but limiting the search by country (Syria), will filter the projects by those artists based in Syria who have been awarded grants for their projects. Users may also choose to select a program name and/or year as well as Syria, to perform a more targeted search.
Search for artists or projects >>
---
Artfacts
Established in 2001, this website collects and makes available to the public, information on a variety of countries, artists, and more. A search for Syria reveals lists of the most prominent artists, active galleries, institutions, and museums, and below a more comprehensive list of "all artists."
View the Artfacts Syria page >>
---
Artstor
This database hosts more than 1.3 million open access images in addition to its subscription-access collections. To help users navigate its content, Artstor has published a libguide (i.e. resource guide) to the Public Collections.
View Artstor Libguide>>
A simple search for Syria will return more than 18,000 results, while an Advanced search for Syria that limits the dates to the range 2011 - 2021, returns only four.
JSTOR
This is an academic database with more than 12 million journal articles, books, and primary sources. In it, a simple keyword search for Syria uprising or art Syria, while limiting to the time period 2011 through 2021, will return thousands of results. To narrow the search further, look to the left-side menu, where at the top it gives users the option to "search within results" for other keywords, or to filter results by publication type, publication date, subject, or access level--subscription or open access.
JSTOR's partnership with Artstor means that an increasing number of images are findable through both platforms.
Search JSTOR's database >>
---
Atassi Foundation: Modern Art Syria Archive (MASA)
As of March 2, 2021, MASA has yet to be launched, however the Atassi Foundation explains that MASA is a non-profit initiative that, through a "massive" digitization project, will provide "a much-needed, internationally accessible, free, online archive of Syrian art."
MASA will be a digital repository of art where users can peruse and study images as well as high-resolution scans of artists' correspondence, photographs, articles, essays, news clippings, exhibition documentation, and more. Digitized materials will include those from the Atassi Foundation's collection as well as those from other international partner institutions and scholars.
---
Creative Memory of the Syrian Revolution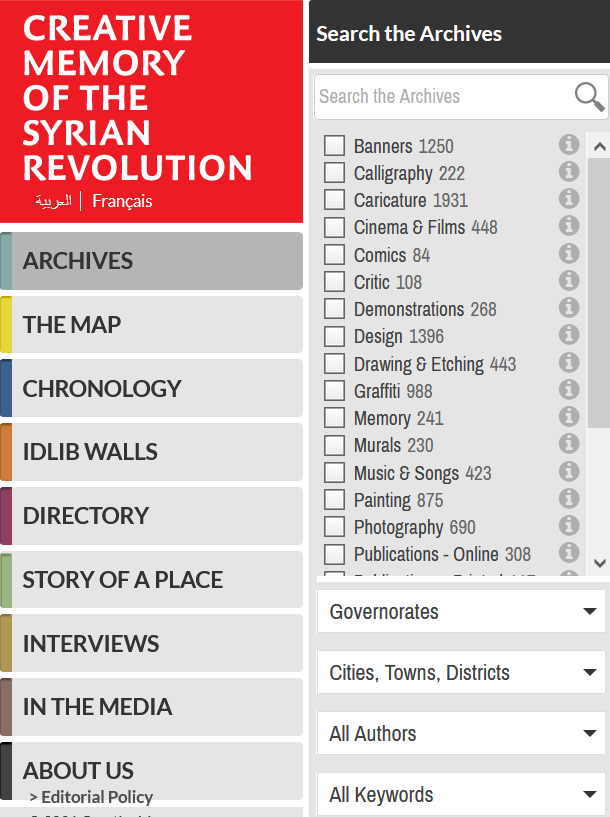 Available in Arabic, English, and French, this is an archive of artwork created during and about the Syrian revolution, starting in 2011 and continuing through present day.
The project's goals are to emphasize the role of art in the Syrian resistance and "to document all forms of intellectual expression, both artistic and cultural, during the time of the revolution, by writing, recording, and collecting stories of the Syrian people, and the experiences through which they have regained meaning of their social, political, and cultural lives."
Use keywords to search the Archives by medium or location; scroll through time with the illustrated chronology; search or browse the directory of artist/author names; and more.
---
Institut du Monde Arabe (IMA)
IMA was founded in Paris in 1980. The museum and library's websites are available in Arabic, English, and French. The library's online catalog is the product of a recent modernization project that also included a renovation of the library building. users may create an account to gain library privileges, including request materials, make purchase suggestions, and access digital resources.
An advanced search for Syria or Syrie or سوريا returns more than 2,000 results; sort results to view the newest items first.
From the search results page, users may refine their search through the side menu, with options such as collection group, place of publication, format, language, date, and author.
Search the IMA catalog >>
View a (French only) description of the library's resources >>
View a description of the museum's collections >>
---
JURN
JURN is an open access database, enhanced by Google, that allows users to search hundreds of scholarly e-journals in the arts and humanities. A search, without quotes, for Syrian art 2011 returns dozens of results.The JURN directory displays linked titles to the more than 3,000 journals in the database, including a list of titles under the heading, "Visual Arts : regional contemporary," which reveals websites such as Al Jadid and ArteEast.
Search the database >>
View search tips >>
---
Ministry of Culture
Only available in Arabic, the website is a portal to the Modern Art Museum and the history and development of Syrian art. It includes a browsable list of artists with information and examples of their work.
---
Space
A Norwegian nonprofit organization founded in 2015 with the goal of "curating and presenting high-quality knowledge, history, art and culture from the Middle East and North Africa with a special focus on the Arab world." The Question of Syria is an annual conference they hosted--unfortunately no information could be found about 2020 or 2021. Their webpage on the Syrian Cultural Caravan, celebrated with art exhibits, concerts, and cinema. The 24-page catalog may be viewed or downloaded on isuu.
---
SYRIA.ART.
Officially Association pour la Promotion de l'Art Contemporain Syrien, provides an accessible overview of contemporary Syrian arts and artists. Website is available in English and French.Users will find a list of artists via the top menu, along with a listing of events in France and other countries (International).
---
Syrian Heritage Archive Project (SHAP)
Launched in 2013, this project is a result of efforts from the Museum of Islamic Art (National Museums in Berlin) and the German Archaeological Institute (DAI), who started the SHAP under the name, "Project for the Establishment of a Digital Heritage Register for Syria"/"Projekt zur Erstellung digitaler Kulturgüterregister für Syrien." The original name soon changed to the shorter English version: "Syrian Heritage Archive Project." The project is funded by the Cultural Preservation Program maintained by the German Foreign Office.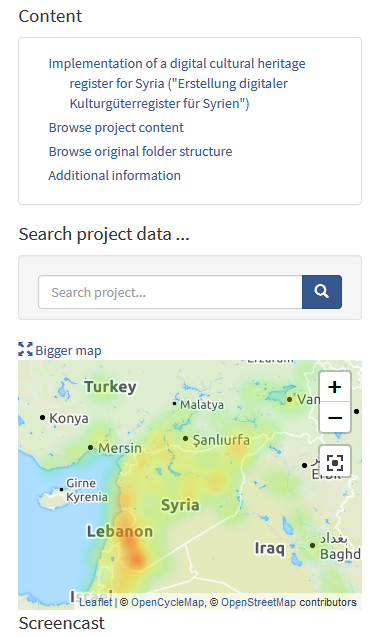 The website is available in Arabic, English, and German. Under the Syrian Heritage Archive Project, the destruction of buildings, especially monuments of special historical interest, is documented through the collection of photographs and other information with a focus on topography and mapping. SHAP digitizes research data including photographic, archaeological, artistic, textual, and geographical collections which are provided by researchers, private individuals, and institutions. More information may be found about the gallery and about the digitization project.
This data is compiled in a database, forming in effect, a searchable national register of Syrian cultural heritage. The database itself is hosted and managed through Deutsches Archäologisches Institut's Gazetteer.
Search the Syrian Heritage Archive Project. >>
Browse the SHAP content. >>
View SHAP Photo Gallery. >>
---
Union List of Artist Names (ULAN)
The Union List of Artist Names was formed in the 1980s by the Getty Research Institute. ULAN is displayed as a list but has the structure of a thesaurus, and provides users with names and other information about artists, museums, and more relating to the production and collection of art and architecture. Users of the ULAN may search for artist by name, role, or nationality, with the option to select thesaurus terms for role and nationality. Find valid nationalities by searching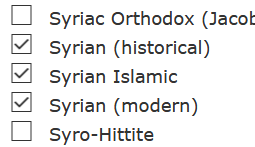 the Nationality Lookup list. Users may select one or multiple options.
A search for Nationality: Syrian (modern) returns 15 results which include artists, painters, and photographers who were born in the 20th century. Brief biographical or historical information is provided for each entry, as well as alternate names or spellings.
Search ULAN >>
Browse search results for modern Syrian artists >>
General Information about Syria
Atlas Obscura: Things to do in Syria
Atlas Obscura is a database of interesting places and foods from around the world. Of those, it features a number of culturally significant places throughout Syria.
---
BBC's Syria Country Profile - Timeline
The British Broadcasting Company (BBC) lays out key events from 1918 through 2020.
---
Culture Trip
This online travel and culture magazine provides several articles about contemporary Syrian art and culture, including a list of The 10 Best Contemporary Syrian Artists that includes brief biographies, what they are known for, and details about where to find their work.
---
Syria Photo Guide
This website provides photo collections organized by region, compiled from a collection of nearly 30,000 photographs taken between 2006 and 2009. Although not specifically about Syrian art, Syria Photo Guide, with its thousands of photographs and accompanying essays, provides a good introduction to the country, its rich culture, and history.
---
Timeline: Syria's Bloodiest Days
Published in 2013 by the BBC, this timeline focuses on the time immediately following the uprising; from April 2011 through August 2013.
---
EastView: Middle East and North African Newspapers
This Open Access (OA) database makes available a total of 89 newspapers including more than a dozen from Syrian. A list of Syrian newspaper titles and dates may be found on the AMIR (Access to Mideast and Islamic Resources) website. Users may search in Arabic or Roman characters, by clicking the keyboard provided at the right of the search bar. Limit results to Syrian newspapers, or search the whole collection for articles relating to the Syrian uprising.
---
World Factbook: Syria
Created by the U.S. Central Intelligence Agency, provides a historical overview of Syria, as well as information about its population, economy, geography, and government, among other topics.
Related Search Terms: Library of Congress Subject Headings (LCSH)
The following is a list of terms relevant to the In This Moonless Black Night: Syrian Art after the Uprising exhibit at MEI. The terms may be used as subject headings in an advanced search, or without dashes as keywords in a simple search, in library catalogs such as the Oman Library catalog or WorldCat to discover books and other materials.
Art, Syrian -- 21st century -- Exhibitions
Art, Syrian -- 21st century
Protest movements -- Syria
Syria -- History -- Civil War, 2011-
Syria -- Civilization -- 21st century
Syria -- Social conditions
Syria -- Politics and government
Women and war
Arab Spring, 2010-
Authoritarianism -- Syria
Civil-military relations -- Syria
Insurgency -- Syria
Journalism -- Political aspects -- Syria
Open Access Publications
Atassi Foundation: The Journal
This serial publication focuses on different aspects of Syrian art. Previous issues have featured a theme of international cities with strong Syrian artistic ties, such as Paris and Beirut; the series culminates in Damascus for the eighth issue, published in 2020.
Atlas: Syria & Iraq, published by the Austrian Federal Ministry of the Interior
Publication date: 2016
Atlas focuses on 2015 and 2016 events (clashes), groups, and more conflict-related topics. Link provides access via AMIR (Access to Mideast and Islamic Resources), view the table of contents and download the atlas.
Encyclopedia Britannica
The free online version of Britannica offers a timeline of events for Syria's 2011 uprising through present day. Those interested in a more complete history of Syrian art and its development may be interested in this article on ancient Syro-Palestinian art.
Syria Studies
This Open Access journal is published by University of St. Andrews' Centre for Syria Studies. Two issues published per year, starting with Volume 5 number 1, at least one of the year's issues focus on the uprising.
View the journal in the Oman Library's catalog >>
Nour K. Sacranie. "Image Politics and the Art of Resistance in Syria." State Crime Journal 2, no. 2 (2013): 135-48. Accessed March 3, 2021. doi:10.13169/statecrime.2.2.0135.
A search of JSTOR for modern art AND Syria, while limiting the publication date range from 2011 to 2021, returns over 5,000 open access results.
Books at the Oman Library
Inside Syria: The Backstory of Their Civil War and What the World Can Expect, by Reese Erlich
Publication date: 2014
Location: General Collection
Call number: DS98.6 .E75 2014
Mediating the Uprising: Narratives of Gender and Marriage in Syrian Television Drama, by Rebecca Joubin
Publication date: 2020
Location: General Collection
Call number: PN1992.8 .S44J67 2020
**Revolt in Syria: Eye-Witness to the Uprising, by Stephen Starr
Publication date: 2012
Location: General Collection
Call number: DS 98.6 .S73 2012
Syrian Dust: Reporting from the Heart of the Battle for Aleppo, by Francesca Borri
Publication date: 2016
Location: General Collection
Call number: DS98.72 .B67A3 2016
Syria's Uprising and the Fracturing of the Levant, by Emile Hokayem
Publication date: 2013
Location: General Collection
Call number: DS98.6 .H65 2013
**For more reading suggestions about Syrian history and the 2011 uprising, as well as information on Syrian modern art, please refer to the Collection Spotlight: Revolt in Syria.
---
This research guide is maintained by the Oman Library at the Middle East Institute.