In this week's briefing, MEI experts Charles Lister, Herman Franssen, and Paul Salem provide analysis on recent and upcoming events including the battle for Fallujah, Thursday's OPEC meeting, and Saad Hariri's defeat in Tripoli, Lebanon.
Tough Battle Ahead for Iraqi Forces in Fallujah
Charles Lister, Resident Fellow
Iraqi security forces (ISF) will face stiffer resistance from ISIS in Fallujah than in any operation launched since the fall of Mosul in June 2014. ISIS has invested heavily in Fallujah for over a decade, transforming the city into an urban fortress and safe-haven. That the city still contains roughly 50,000 civilians also represents a serious strategic challenge to ISF, as illustrated by reports that 60 percent of casualties inside the city so far have been non-combatants.
ISF personnel will eventually recapture Fallujah, but the way in which victory is secured will determine the durability of stability in the city. The involvement of various Iran-backed Shiite militias—many led by designated terrorists—has lent the offensive a sectarian tone that could otherwise have been avoided. Shells being launched into Fallujah have been emblazoned with anti-Sunni slogans, while militia leaders involved have called for 'revenge' in the city, which has been the source of many ISIS suicide bombers targeting Baghdad. Such has been the sectarian vitriol that Grand Ayatollah Ali al-Sistani felt the need to call for 'restraint' last week.
As the battle now reaches the city's southern limits, ISIS will deploy repeated suicide bombers, snipers and IEDs in an attempt to shape the direction of ISF advances. Large diversionary bombings will also be likely in Baghdad and elsewhere, as the group attempts to divert attention from the inevitable intensity that a battle for Fallujah will bring.
ISIS has lost many battles since 2004, but has consistently returned to fight another day. Unless Fallujah is won 'right,' we will have to watch this happen again months or years from now. Defeating ISIS is not about tactical gains, but strategic victories.
 
Change Unlikely at Next OPEC Meeting
Herman Franssen, MEI Scholar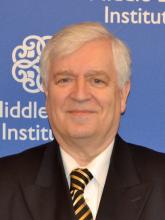 Few observers expect a change in current policy when OPEC meets this Thursday. Member states agreed in November 2014 to let market forces rather than OPEC supply management determine the price of oil. Oil prices have fallen in that time from about $110 a barrel in June 2014 to almost $50 a barrel as of late May. Despite the sharp price decline, the oil market has remained oversupplied since mid-2014. Short of a major OPEC production cut, rebalancing of the market may take another six to 12 months. It is highly unlikely the oil price will recover to the mid-2014 peak in this decade for reasons of technological change, market forces and policy.
The inability of OPEC members to even agree on a largely symbolic gesture to improve the oil market outlook in the form of a production freeze has cast a dark shadow over Thursday's meeting. The GCC states, led by Saudi Arabia, maintain that the recent decline in non-OPEC production and the sharp rise in oil prices since January (from $27) shows that market forces are finally beginning to work and a rebalancing of the global oil market is in sight. Assuming no major geopolitical upsets, the continued supply surplus is expected to prevent oil prices on average to rise much above current levels until next year.
Oil-rich countries in the Middle East currently feel caught between a desire to see oil prices rise high enough to meet budget requirements and fund economic diversification, but not too high to encourage high-cost producers to increase their market share and develop alternative energy sources to replace oil.
 
Hariri Loses in Tripoli, Lebanon
Paul Salem, Vice President for Policy and Research
Lebanon held the final round of municipal elections in North Lebanon on Sunday. In a surprise result that promises to redraw the map of Sunni leadership in the country, the list led by Future Movement leader Saad Hariri was resoundingly defeated by a list backed by former justice minister, Gen. Ashraf Rifi. Hariri had allied himself with a wide array of established Tripoli politicians and parties, including former Prime Minister Najib Mikati, former finance minister Mohammad Safadi, the Karami family and various Islamist parties. Rifi ran a populist campaign drawing on Sunni discontent against Hezbollah, the Assad regime, and socio-economic neglect.
Although Hariri remains the head of his late father's Future Movement and leads the anti-Assad March 14 movement, there has been much discontent in Tripoli that Hariri has not been tough enough in standing up for Sunni interests, and much dismay that he had nominated Suleiman Franjiyeh, a close ally of Bashar al-Assad, to the Lebanese presidency. Rifi effectively stole Hariri's own constituency out from under him. He dedicated the victory to Rafik Hariri, Saad's martyred father.
The local elections in Lebanon have shown that the traditional oligarchy's hold on power is still present, but fraying in some areas. In Beirut, the civil society Beirut Madinati list won outright against traditional politicians in Christian districts, and garnered a large minority of the vote in Sunni districts. It galvanized similar civil society lists in various parts of the country. Hariri eked out a win in Beirut and the southern town of Sidon, but his loss in the main Sunni city of Tripoli indicates that unless he revises his recent political course, he is likely to lose more in the future. It is significant, however, that Hariri's faltering has not immediately gone to the advantage of political Islamist groups, as it has in some other Arab countries, but to a more secular—albeit sectarian-leaning—former government minister.