"Between Heaven and Earth," filmmaker Najwa Najjar's latest offering about love and divorce under occupation, is part road movie, part mystery, and part deep dive into the Palestinian psyche. To call its whole ethos a wild ride might just be an understatement.
Over the course of 24 days of filming in 2018 with local actors in the occupied West Bank, Israel, and Israel Defense Forces (IDF)-controlled military zones near the Lebanese border, the ambitious Luxembourg/Iceland/Palestine co-production had four of its crew members arrested. In spite of this, one of the Palestinians detained by the IDF, a makeup artist with West Bank ID, returned to set in time for the wrap party.
At its successful world premiere in November at the Cairo International Film Festival, Najjar's screenplay was the recipient of the prestigious Naguib Mahfouz Award and invitations to festivals around the world beckoned … just in time for the COVID-19 crisis to bring the cinematic road trip to an unceremonious halt.
Serendipitously, Najjar landed in Amman, en route to Palestine, just as pandemic travel restrictions kicked in on March 11, and has been happily ensconced there since. Her film was already booked to headline the inaugural Amman International Film Festival (AIFF), originally scheduled for April, with its prestigious Black Iris awards named for the national flower that blooms for three weeks in spring.
Adapting amid the pandemic
Happily, organizers adapted to pandemic restrictions by moving the festival to the last week of August and arranging a mainly outdoor, drive-in festival in Amman's new Abdali "boulevard district," with limited use of the Royal Film Commission's (RFC) outdoor amphitheater (named for the late great cultural activist Ali Maher) in Second Circle. Strict protocols such as limiting cars to a maximum of three passengers are in place, and audiences can tune into cinematic audio via their FM radios. And while the festival program includes a wide range of international and Arab cinema, Najjar has the unique honor of being the only director in attendance.
Beyond promoting Jordan's burgeoning film industry with its internationally acclaimed films like "Theeb," the festival's aim is to "develop and promote an Arab cinema that reflects the creativity of the region and tackles the issues that are prevalent today," says its president, HRH Princess Rym al-Ali.
"Cinema," says the former journalist and wife of HRH Prince Ali bin Hussein who founded the RFC that spawned the festival, "can often achieve more than the best diplomatic missions." According to the princess, who is currently the executive commissioner of the RFC and came up with the idea of transforming the festival into a drive-in affair, "Film can be a powerful vehicle for mutual cultural understanding."
In spite of ongoing pandemic issues, including a total lockdown last Friday, audiences have been flocking to festival screenings to see such films as: "Les Miserables," Mali-born director Ladj Ly's contemporary take on Victor Hugo transported to the 2005 Paris riots; "1982," director Oualid Mouaness drama set during the Israeli invasion; Iraqi director Mohanad Hayal's "Haifa Street" about 2006's sectarian conflict; and the Jordanian social commentary on violence against women, "Huda," by the up-and-coming May al-Ghouti.
Thanks to the tireless efforts of festival director Nada Doumani and her small staff of nine, who managed to maintain all of their original programming, the festival has gone off without a hitch — or to coin a more apropos expression — without a flat tire. Even in the face of a government announcement on the eve of the festival lengthening the nightly curfew by an extra hour, the festival team soldiered on, simply extending the schedule by two days to accommodate the new regulations. Virtual and live components combined at some events, like the industry days workshops that led to funding for nine film projects from around the Arab world, a discussion between Najjar and Iraqi-Swiss filmmaker Samir in Switzerland, and jury deliberations.
"We didn't want a totally online festival," Doumani explains from her office in Amman, "and the drive-in option still allows for a sense of community." In fact, the success of the festival's drive-in cinemas — a new phenomenon in Jordan — has inspired local businesses to pursue the concept commercially. The closing ceremonies for the festival, which has now become a model for cinematic celebrations in the time of corona, was livestreamed from its Facebook page on Sept. 2 at 7:45 pm Amman time.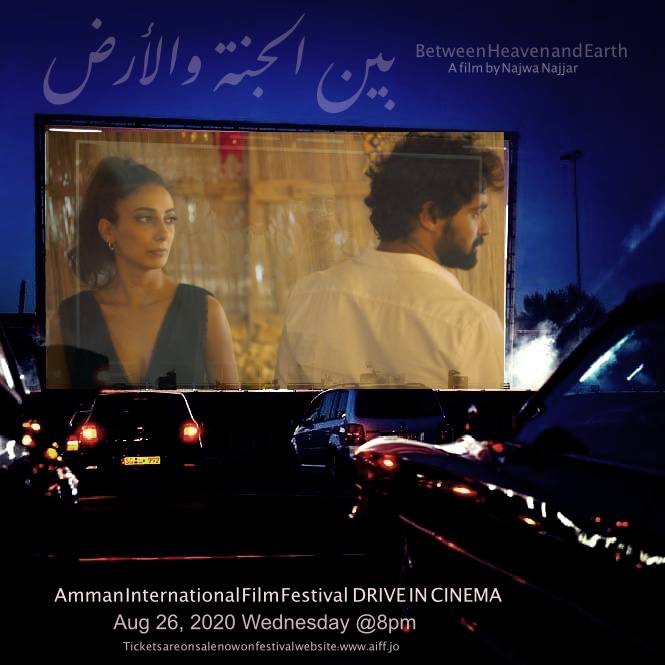 The venue was perfect for Najjar's Palestinian road movie. While "Between Heaven and Earth"received a standing ovation in Cairo, when it was shown at the AIFF on Aug. 26, the audience members showed their appreciation by honking their horns.
Although the film has yet to gain international distribution, it seems to be a hit with Middle Eastern and international audiences alike, if its successful screening on Aug. 27 at the Palestinian Art Festival in Zurich is any indication.
Bridging different worlds
Indeed, Najjar has always bridged different worlds. She grew up in a bilingual English/Arabic household with Palestinian diaspora parents from Jaffa and Jerusalem and lived in Saudi Arabia, Europe, and the U.S. before basing herself in Jerusalem.
In a Skype interview in Amman, she recalls growing up in Saudi Arabia — where there was no cinema to speak of — and how she always looked forward to seeing weekly Hollywood films at the foreign nationals' compound where her family resided. "One week," she remembers, "they showed 'Exodus' with Paul Newman. It made quite an impression on me, but I remember noticing that my parents were very upset by it. When they explained their reasons, that feeling (of being misrepresented) stayed with me." When she went on to study political science and then film at American universities, she became aware of the "demonization of Palestinians as terrorists" and vowed to make films that provided contextual counter-narratives.
Najjar is inspired by a range of international filmmakers from Egypt's Yousif Chahine to Hong Kong's Wong Kar-wai to New Zealand's Jane Campion. But she is also steeped in the tradition of Palestinian cinema. In many ways, the Gen-X Najjar is part of the next wave of Palestinian filmmakers who intrinsically fuse the personal and the political. This young generation was preceded by a pre-1948 one, composed mainly of documentarians, followed by a period of cinema in exile, and then a post-1967 cinema supported by the Palestine Liberation Organization that often documented stories of the Nakba and of revolution. From the 1980s onwards, the likes of Michel Khleifi (whose 1987 "Wedding in Galilee" won the International Critics Prize at Cannes) and the critically acclaimed Elia Suleiman led the way in the "cinema of return," that included Israeli and international co-productions.
In fact, there is a resonance between certain scenes in "Between Heaven and Earth" and Suleiman's 2002 film "Divine Intervention"— which was also a kind of road movie set in Nazareth, albeit with a very different aesthetic. They even employ the same version of "I Put a Spell on You" by Natacha Atlas, although in "Divine Intervention" it becomes an anthem of mutual Israeli/Palestinian obsession, while in Najjar's film it evokes the love-hate relationship of a divorcing couple.
Najjar says that the soundtrack, the secret star of her latest film, was in fact a way to bring the larger Arab world, whose citizens are often blocked from entering Palestine, back to her homeland. While the soundtrack was composed by Egyptian Tamer Karawan and features Algerian singer Souad Massi (who also starred in "Eyes of a Thief"), Israeli restrictions during filming in 2018 made the entry of Arab performers virtually impossible.
Najjar's bridging of disparate worlds also extends to her dance between documentary — where her career began — and feature films. Fittingly, her last three narrative features, which she both wrote and directed, have had a strong documentarian component. "Pomegranates and Myrrh," her 2009 film about a woman's struggle when her husband is imprisoned by the IDF, incorporated extensive research on the plight of actual prisoners, and 2014's "Eyes of a Thief" was based on the true story of the infamous sniper of Silwad during the Second Intifada.
Interweaving history and fiction
"Between Heaven and Earth" was also inspired by the Palestinian experience. Here Najjar takes three historical realities and interweaves them with a fictional love story about a couple on the verge of divorce: the campaign of Mossad assassinations against Palestinian activists in 1970s Beirut; the "lost children" of Arab Jews who emigrated to Israel and had their babies clandestinely adopted by Ashkenazi Jews; and the story of Iqrit, a mainly Christian village on the Lebanese border, that was ethnically cleansed in 1948, but won an Israeli high court case in 1951 to reclaim its land — only to have the IDF destroy almost everything but the church and the cemetery on Christmas Day of that same year.
While this may seem like a tall narrative order, it is a credit to the storytelling abilities of Najjar, who was recently inducted into the writer's section at the Academy of Motion Picture Arts and Sciences, that the film remains a gripping piece of cinema. In spite of a few dangling plot threads, the screenplay richly deserved its Naguib Mahfouz Award from the Cairo International Film Festival.
Without giving too much away, the plot combines narrative elements from Ghassan Kanafani's novels — especially his 1970 book "Return to Haifa" (also made into a film in 1982 by Kassem Hawal) with its use of flashback and the themes of abandonment, return, and identity — with Najjar's own screenplay. Mirroring the film's whimsical travelogue, much of Najjar's inspiration comes from happenstance. She only learned about the Iqrit story, for example, when she happened to visit a falafel joint in Haifa. When the owner found out she was a filmmaker, he told her that his son had won a scholarship to study cinema at Goldsmiths, University of London. He refused to go because he was one of the "guardians" of Iqrit, who keep vigil to prevent further "facts on the ground"- style IDF destruction. From this chance encounter, Najjar learned of Iqrit's plight and miraculously managed to film inside the "military zone" around the ruined village, which lends an enhanced documentary feel to the movie.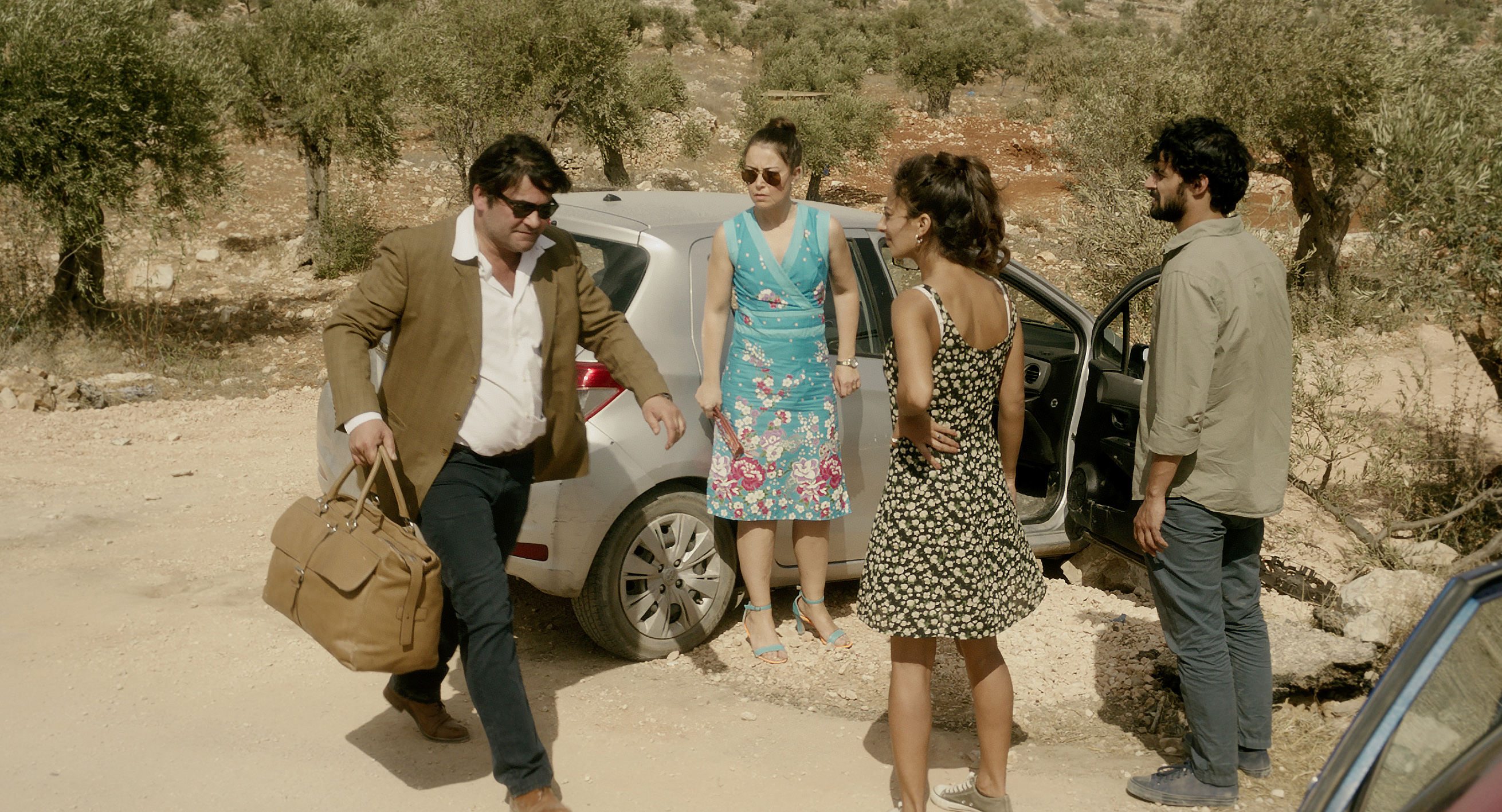 Taking to the road
The film's protagonists are a somewhat reluctantly divorcing couple living in Ramallah whose initial love for each other is burdened by both the occupation and the husband's emotional withdrawal brought on by childhood trauma. Selma, played engagingly by Mouna Hawa, is a Palestinian with Israeli citizenship from Nazareth and the daughter of a pioneering Communist activist, while her husband Tamer, played with smooth sang-froid by Firas Nassar, is the son of a famous intellectual revolutionary and investigative reporter assassinated in Beirut. Ironically, in their five years of marriage Tamer, who has Palestinian ID, has never been allowed past the checkpoint into Israel. But on the day his wife — who is the only one permitted to drive her father's old blue Mercedes with Israeli plates — asks him to accompany her to divorce court in Nazareth, he is allowed in. As they pass through to the other side, the camera pans to a family with Palestinian ID huddled nervously on a cramped bench.
The would-be divorce is foiled when a clerk finds a document showing that Tamer's father last resided with an Israeli woman named "Hagar" and her son "Tamir" somewhere in the Galilee. Added to this revelation, the clerk says he can't find an official death certificate for Tamer's father. Before the couple's divorce can be granted, Tamer must prove his identity and that his mother is not Jewish, for otherwise he would need a Jewish divorce. The pair are then compelled to travel through the Galilee on a "ghost-hunting" quest to find out the truth about Tamer's father, who was working on a story about Iqrit when he was murdered. As they drive through shifting landscapes, and their deep-seated love for each other is slowly revealed, the unspoken legacies of 1948 become phantom travelling companions. But as Selma's father offers helpful contacts with former Jewish "comrades" who worked with Hagar, a certain nostalgia flickers for the days when Communist activists fought the good fight together across religious lines, before the progressive dream was betrayed.
For many Palestinian artists, the question of Palestinian identity can often loom oppressively over the creative spirit. But one senses that in Najjar's case her film is as much about the "divorce" between the realities of Israelis and Palestinians, and between Palestinian residents of the West Bank and Palestinian citizens of Israel, as it is a love letter to her homeland.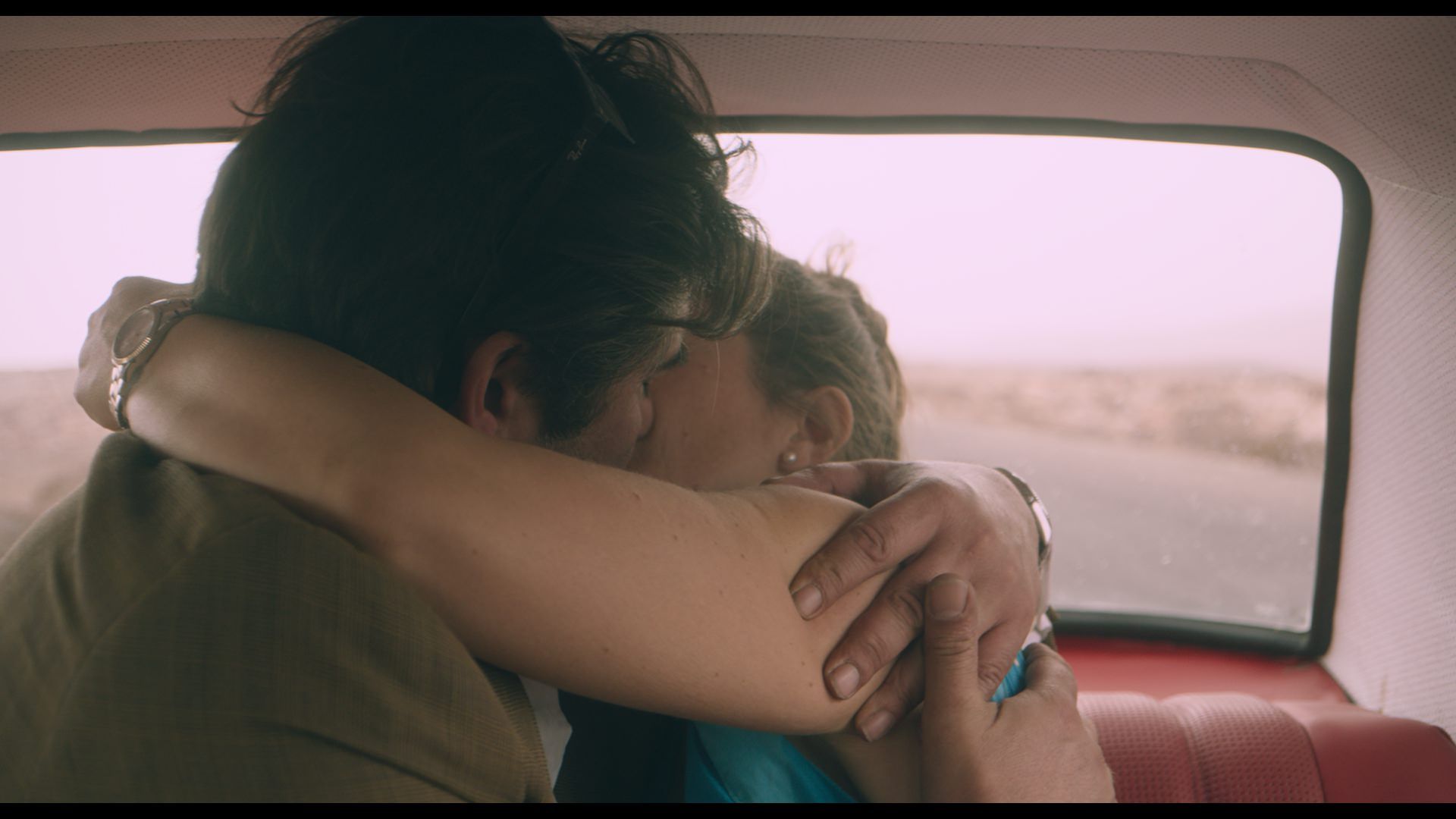 And happily, as with the evolution of Kanafani's work from "us and them" narratives to more nuanced representations of a fraught and contested land, "Between Heaven and Earth" offers Israeli characters that are more fleshed out than the gun-toting, one-dimensional settlers and soldiers from Najjar's earlier films.
In one revealing scene, a quarreling Jewish couple visiting from France for the bar mitzvah of a friend's son almost crash into the Palestinian couple's car. They briefly become passengers in the backseat of the blue Mercedes, mirroring the other couple's struggles in a different language. Moments like these make viewers of the film willing travel companions on this engaging road trip into the soul of Palestine.
"It's a love story in the end," says Najjar. And with the same conviction of that little girl who saw "Exodus" in Saudi Arabia and vowed to shift the prevailing narrative, she affirms, "After all, our stories are universal human stories that need to be told."
Hadani Ditmars is the author of Dancing in the No-Fly Zone: A Woman's Journey Through Iraq, a past editor at New Internationalist, and has been reporting from the Middle East on culture, society, and politics for two decades. Her work has been published in the New York Times, Al Jazeera, The Guardian, Sight and Sound, the San Francisco Chronicle, Haaretz, Wallpaper, Vogue, and Ms. Magazine, and broadcast on CBC, BBC, NPR, and RTE. Her next book, Between Two Rivers, is a political travelogue of ancient sites in Iraq. The views expressed in this piece are her own.
Main photo courtesy of Ustura Films
---
The Middle East Institute (MEI) is an independent, non-partisan, non-for-profit, educational organization. It does not engage in advocacy and its scholars' opinions are their own. MEI welcomes financial donations, but retains sole editorial control over its work and its publications reflect only the authors' views. For a listing of MEI donors, please click here.