The Colbert Held Archive at the Middle East Institute is an impressive and unique collection of over 18,000 color Kodachrome slides donated by Colbert Held in 2014. A former foreign service officer and later professor of political geography, cultural geography, and Middle East history at Baylor University, Held captured a stunning variety of photographs of the Middle East during his many travels to the region between 1957 and 2005. While frequently focusing on geography, infrastructure, and landscape photography often from an aerial perspective, Held also documented the quotidian lives of the region's inhabitants with portraits, cityscapes, and cultural studies.
This archive represents a critical study of the drastic changes the Middle East has undergone over the last half century, and presents cultural, political, and geographic context for a region in the throes of one of the most volatile periods in its history. Its broad scope is a valuable resource for those interested in the region.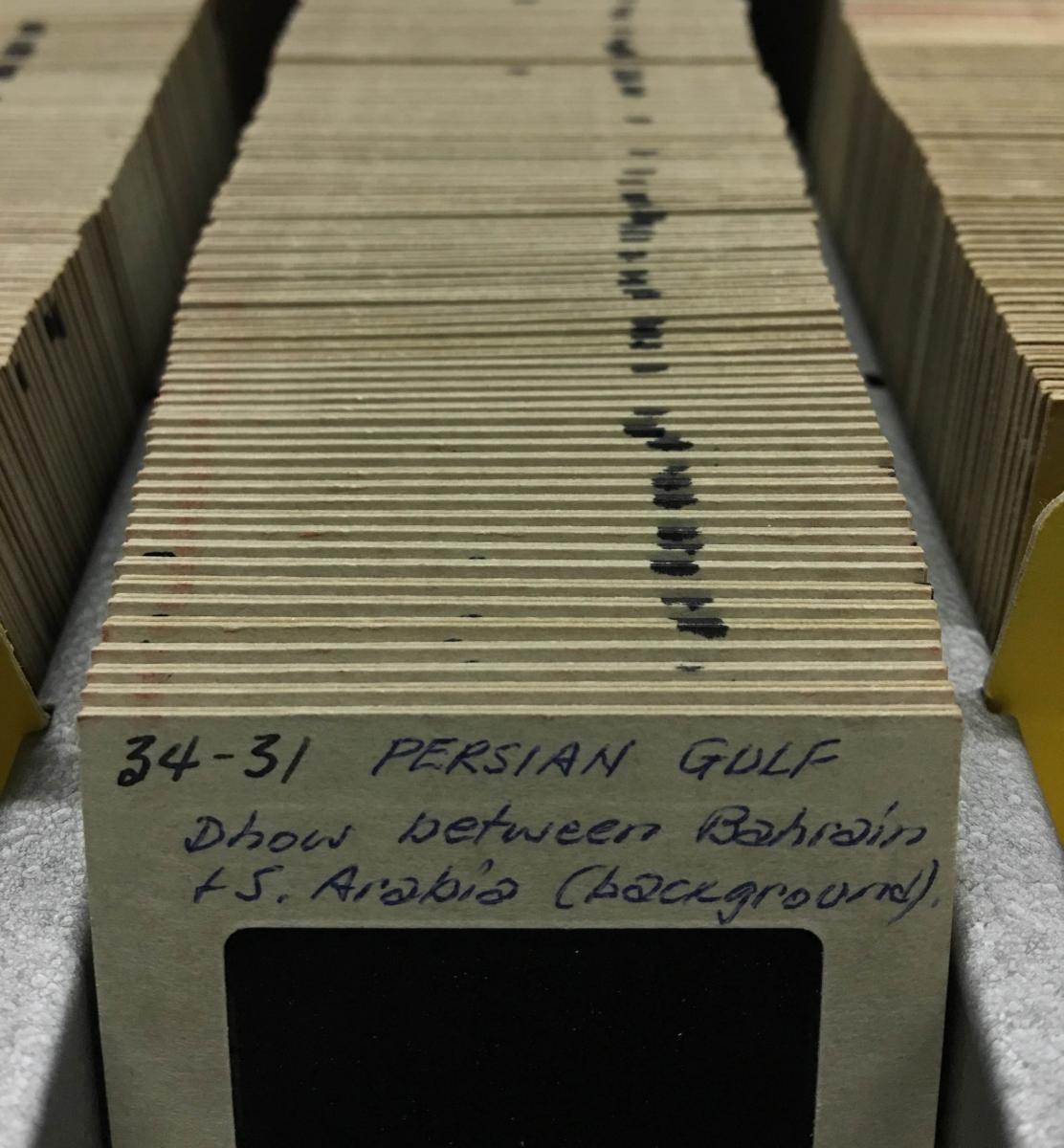 Mostly in 36-exposure and 20-exposure rolls, almost all the slides are organized and accompanied by Held's personal descriptions of the location and subject matter.
Colbert Held joined the Army Air Corps in 1942, where he attended the Air Photographic School, until he retired from the Air Force Reserve in 1954 as a lieutenant colonel. After teaching at the University of Nebraska, Held served as a foreign service officer with assignments in Lebanon, Saudi Arabia, Iran, as well as successive temporary missions in every country in the Middle East.
Often working as one of five regional geographic attaché's across the globe, Held informed the Department of Foreign Affairs about ethnic, road, and topographic maps, as well as the publications and dictionaries produced in the Middle East. Held additionally reported on culture, language, and political developments. His photos and records were often an introduction to the region's relatively unknown geography and culture. "The Middle East was still a mystery, so a picture of Kuwait was many times the first time they had ever seen a picture of Kuwait," Held said in an interview.[1]
Held's photographs cover almost every aspect of the Middle East, with subjects ranging widely. Environmental landscapes of all types are a consistent element: mountains, valleys, deserts, rivers, lakes, and beaches figure prominently. Urban centers of various sizes were also photographed, focusing on different forms of housing, villages, and cities. Held documented a variety or public buildings, from U.S. embassies, mosques, churches, and palaces to apartments, roads, trains, docks, and universities.
Held also focused on daily life, documenting farms, fields, and farm workers in their local context with close-ups of unique styles. A focus on ethnic groups and traditional ways of life is also reflected in his studies of Bedouins, Turks, Arabs, and other groups in traditional dress. Transportation and infrastructure is also detailed, with early photographs of some of the first four-lane freeways of the region, rail lines, airports, mines, and processing plants. Ancient sites and border areas are also pictured in incredible detail and during times of heightened security.  
With the prevalence of G.P.S. technology and global imaging applications like Google Earth, it is hard to understand the importance of aerial photography in the early digital age. Held's photographs from the sky—taken and developed by hand—provided exciting new perspectives to understand and study the geography of the region. His work documents early urban developments of now bustling megacities including Abu Dhabi and Dubai, as well as massive infrastructure projects such as roads and railways.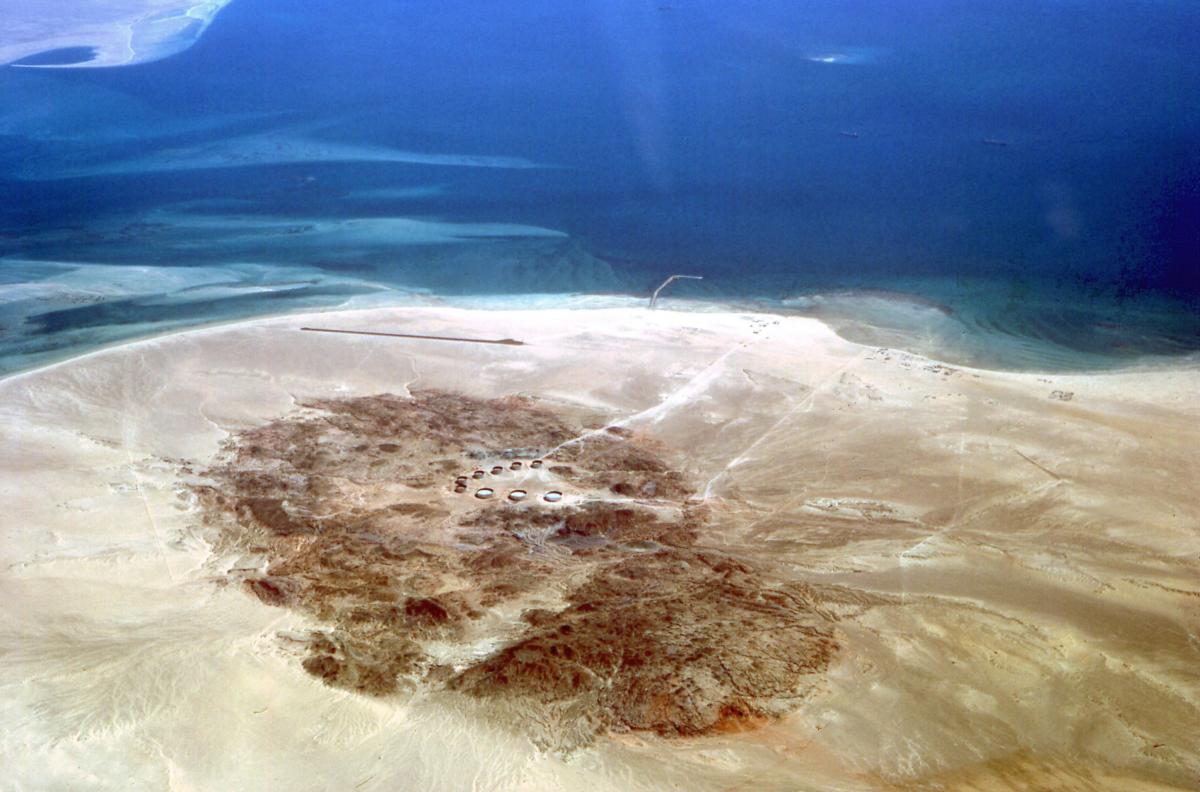 Abu Dhabi, 1970. An aerial view looking northeast and down on Jebel Dhanna, the then shipping terminal for the Abu Dhabi Petroleum Company on the western coast of Abu Dhabi. Oil storage tanks in the center of the photograph and a black tarmac landing strip demonstrate the city's humble beginnings. 
Urbanization and population growth are two of the clearest takeaways from the Held collection. At a fundamental level, the most drastic changes appear in the physical landscape. During much of Held's travels, now-familiar places like Dubai were in their infancy. "They weren't known and they weren't much to know. They were just fishing villages," said Held.[2]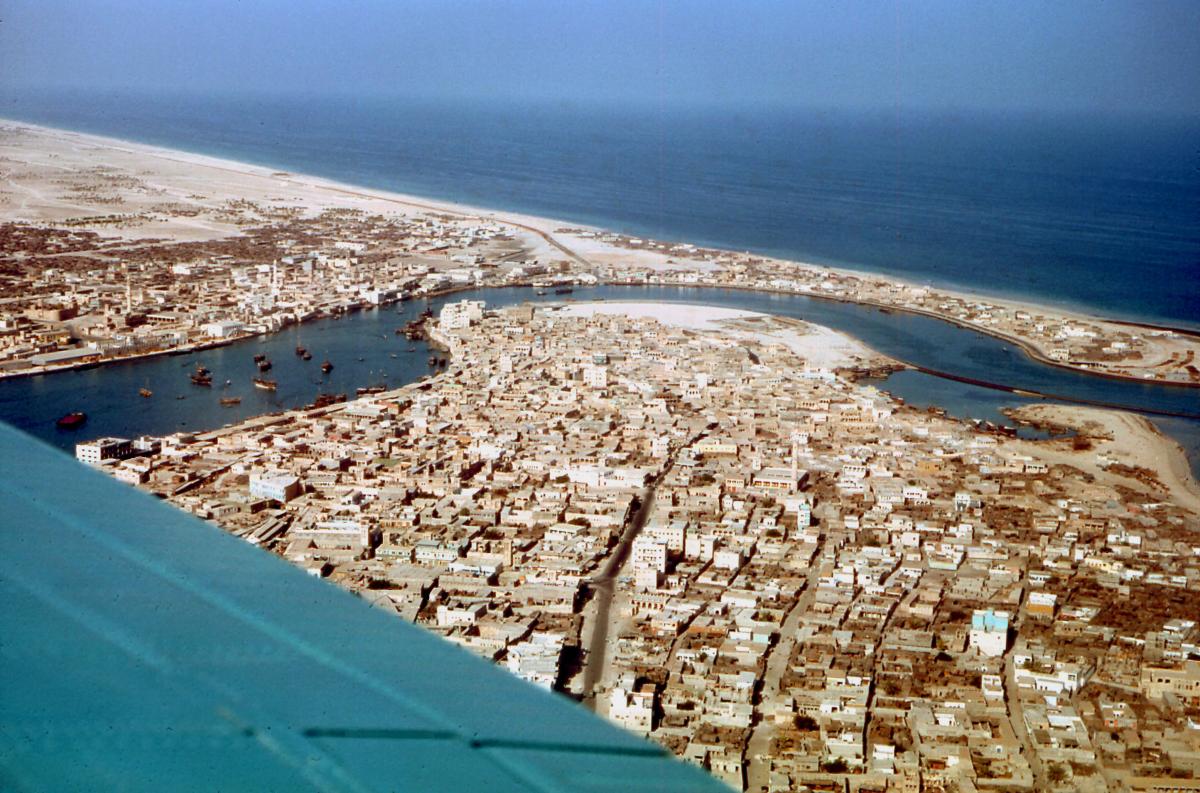 Dubai, 1964. Aerial view of lower Dubai Creek, showing al Ras (peninsula) in foreground, Bastakiya quarter across and to the left of the creek, and al Shindagha quarter on the right. The Persian Gulf is in the distance. Rapid development of this area in later years created the large Port Rashid beyond the peninsula, right of center.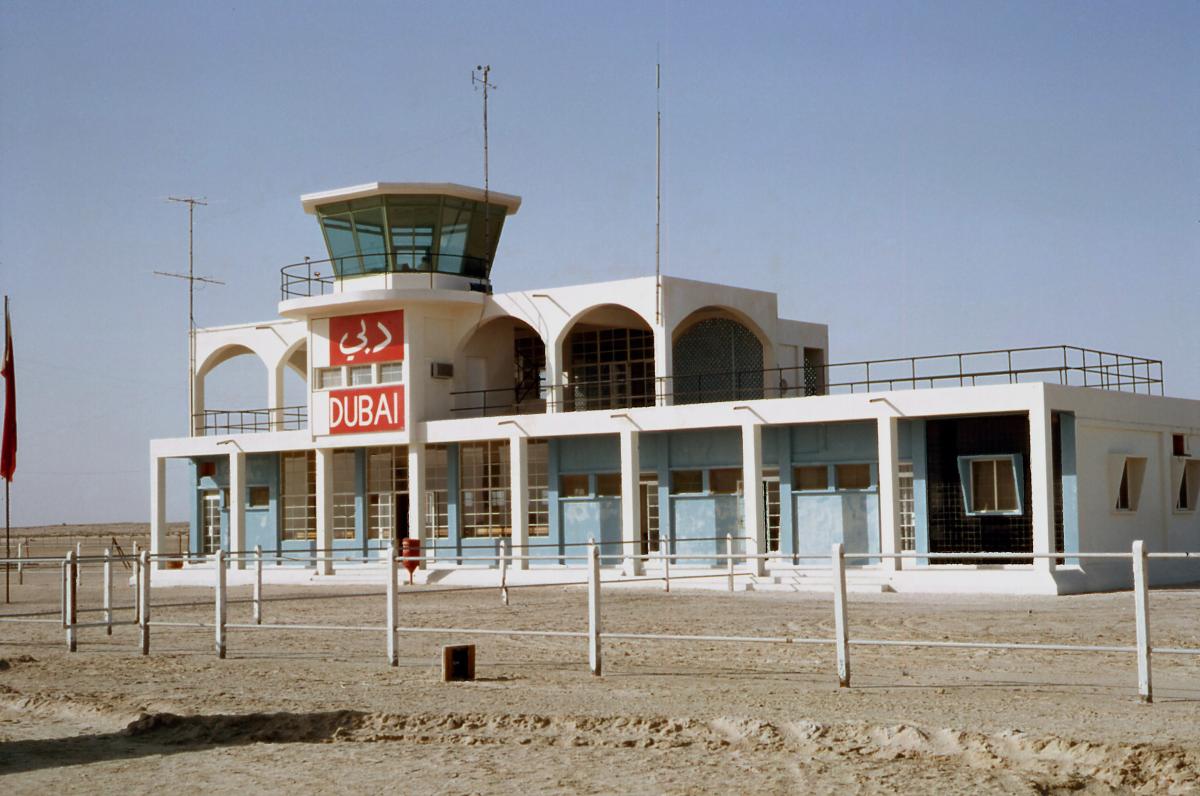 Dubai, 1964. The early beginnings of this airport terminal starkly contrast with the global hub that is the Dubai airport of today. One of the largest and busiest airports in the world, it is currently undergoing a $32 billion expansion.[3]
"We all knew it would be a boon place," Held said, but "I was surprised by the rate of urbanization. Very rapid changes showed up in housing, retail stores and trade."
Many of Held's photographs illustrate the drastic increase in hydrocarbon production and the staggering economic growth that accompanied it, significantly altering wealth inequality and raising development standards. "Whatever your criticism of the Gulf might be," Held observed, "a lot of money flowed to the poor."
Along with economic factors, a large number of photographs from the Held collection highlight the region's environment, an increasingly important issue under threat. With a recent NASA study strongly suggesting that the drought affecting the region is one of the worst in the past millennium, and experts predicting large population centers will be intolerably hot by the end of the century, climate change presents a clear danger across state borders.[4] These mounting environmental problems necessitate a careful study of the regions natural history, and the Held collection is a valuable resource in this regard. Photographs of early infrastructure projects in the region and ancient agricultural techniques document how societies of the Middle East both shape their environment and are shaped by it.
One example of many from the collection is Held's brilliant photography of the ancient Iranian qanat system of underground aqueducts, which transport water from aquifers in the high country to arable land in the low country. With Iran facing significantly diminished groundwater reserves, record low rainfall, and an eight-year drought with no end in sight, water resources are of specific significance.[5]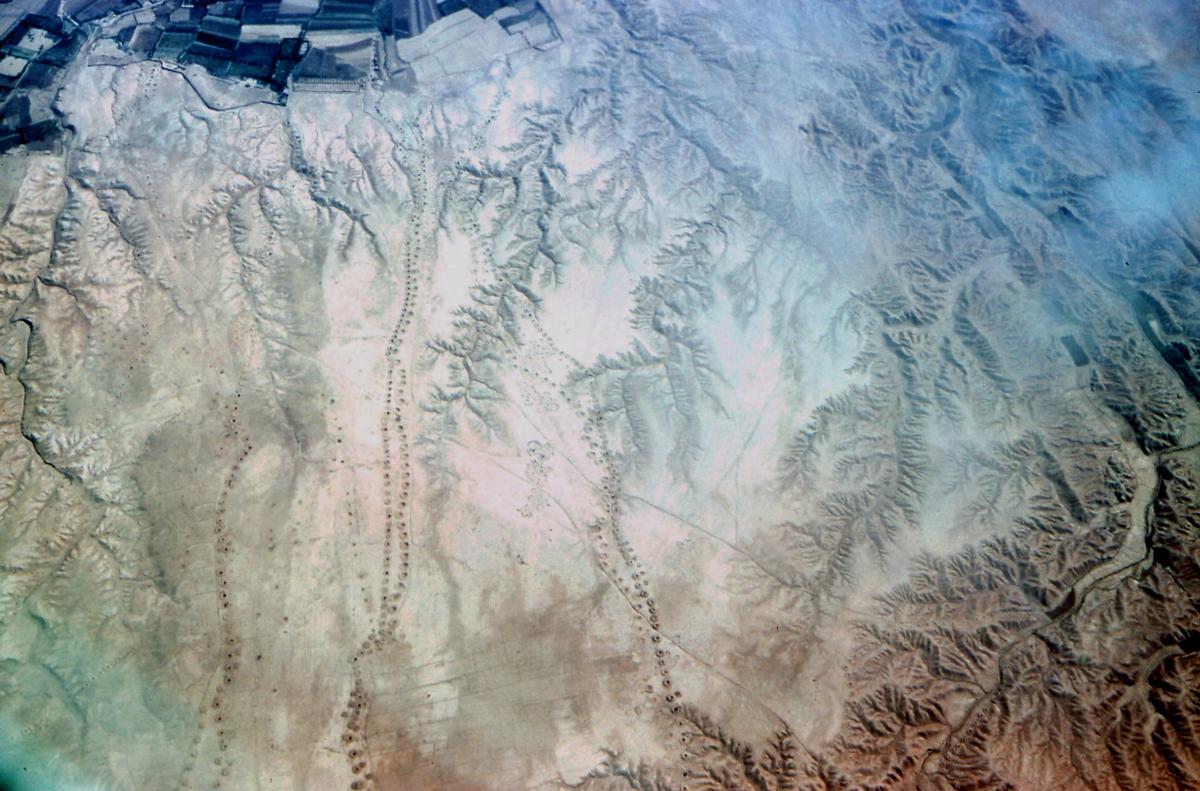 Iran, 1957. Taken south of Tehran, this photograph shows the qanat system, one of the most sustainable forms of water management in the Middle East. Slightly sloped underground tunnels connect mountainous aquifers to farmland, and rows of surface holes are used for construction and maintenance. Iran's qanat system is in disrepair as other more destructive methods have been used to extract and deplete the water table.
As a representative of the U.S. government, Held also documented the U.S. role in the region. One notable figure that appears in Held's collection is Bob Ames, the legendary former C.I.A. Near East director who was killed in the 1983 U.S. embassy bombing in Beirut. Ames, who Held described as "a prince of a fellow," was the agency's leading Arabist and helped the Carter administration prepare for the Camp David negotiations. Ames also gave President Ronald Reagan briefings on the Middle East and became a close adviser to Secretary of State George Shultz. "The man was a first class government employee," Held described, "bright, confident and modest.".
Dammam, Saudi Arabia. February 5, 1965. A reception ceremony for King Faisal's visit to the Eastern Province shows Americans seated in line awaiting the King. From left to right: Lt. Aide to Gen. Leahy, Eugene Bird, Robert Ames, Michael Young, and Bob Hurst.
The slides' diverse subjects are essential artifacts for understanding not only the momentous changes the region has witnessed, but also the American role in shaping the modern Middle East.
Use for Researchers
This important collection is an essential contribution to the growth of 20th century Middle Eastern photographic history. Climate researchers will see the changes in landscapes, topography, and coastlines; art and architectural historians can study objects and buildings that may be lost, destroyed, or altered; and urban studies specialists will note the early beginnings of cities, towns, villages, and settlements that are now industrialized and expansive megacities. Anthropologists could use these photographs to study customs, dress, and cultural landmarks. Of particular importance is the presence in these images of historical and archaeological sites now at risk from the forces of urbanization, industrialization, and war, specifically the ongoing campaign of destruction by ISIS.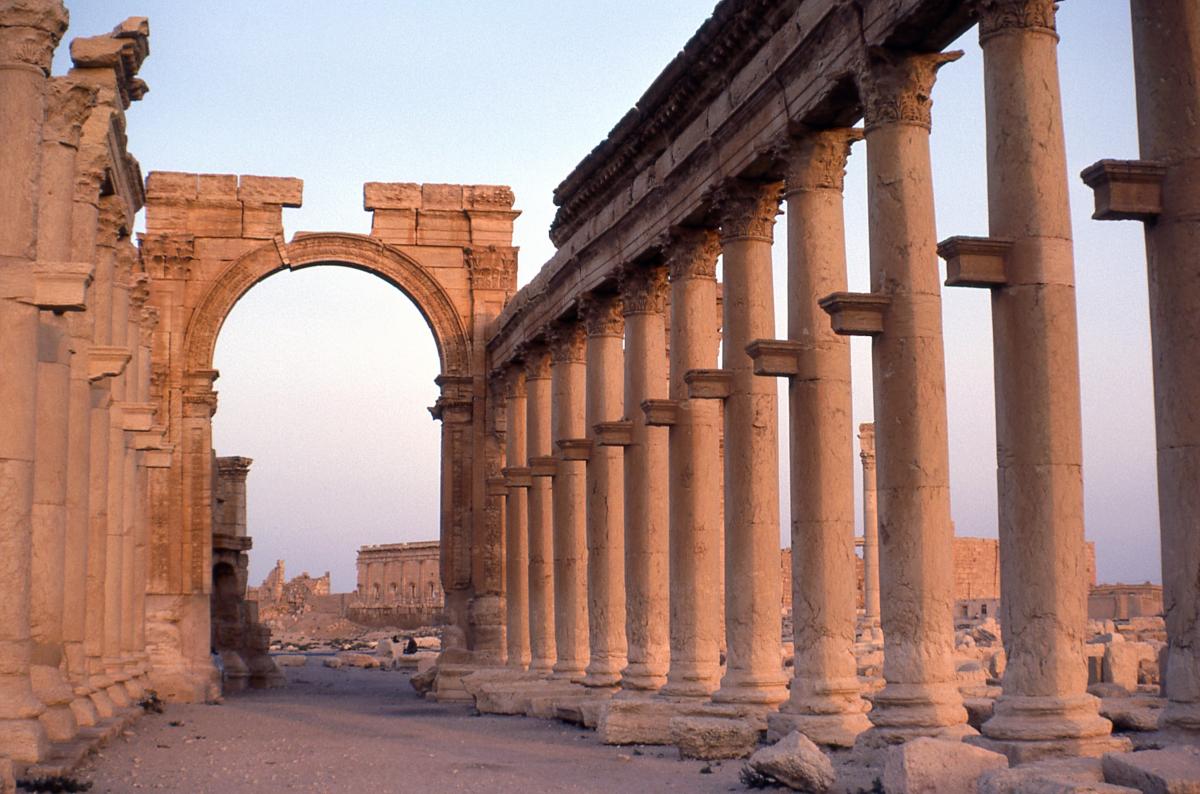 Palmyra, Syria 1979. The processional great colonnade. Going east leads to the Monumental Arch, also called the Arch of Triumph.  ISIS destroyed the arch in October 2015, along with numerous other cultural artifacts and monuments.
Held's incredible access and expansive travels made him a witness to history during a period of unprecedented transformation in the Middle East. His comprehensive and perceptive annotations offer priceless insight into the Middle East. MEI is currently in the process of acquiring additional funds to digitize his high quality photography and bring his unrivaled access and informed documentation of a critical region to a global audience. As the region faces unraveling borders, massive population displacement, and fragmenting national identities, the need to study and understand the past through a medium like photography has never been greater.
---
---
The Middle East Institute (MEI) is an independent, non-partisan, non-for-profit, educational organization. It does not engage in advocacy and its scholars' opinions are their own. MEI welcomes financial donations, but retains sole editorial control over its work and its publications reflect only the authors' views. For a listing of MEI donors, please click here.