Summary
The region has incurred huge economic and social losses from poor economic management and conflicts requiring massive military outlays. A policy shift is needed to deploy its substantial human, natural, and financial assets more efficiently through adopting economic and social policies that lead to more rapid and inclusive economic growth in the Middle East and North Africa. The four most powerful players in the region—Saudi Arabia, Egypt, Iran, and Turkey—need to spearhead regional political and economic stabilization to address the root problems. Major regional infrastructure projects in energy, water, and transport are needed to better integrate their economies and expand intra-regional and world-wide trade.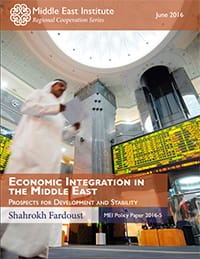 View PDF
This policy paper argues that the major regional players should each follow a coherent long-term development strategy requiring four prongs plus cooperation:
Reduce regional tensions and end conflicts through diplomacy and by recognizing that the current approaches are impeding investment and economic growth.
Undertake significant economic and institutional reforms at home to remove binding constraints on growth, revitalize the private sector, improve financial access by small and medium-sized businesses, and improve the quality of education.
Focus on well-targeted policies and structural reforms that would lead to significant reductions in youth employment and increased female labor force participation; and introduce cuts in military expenditures as regional tensions subside, and reallocate public investment savings to clean energy and infrastructure investments.
Increase inter- and intra-regional cooperation and trade, initiate regional projects in partnership with the private sector in areas such as tourism, air and ground transport, regional energy and water, regional health and education, and research hubs.
To support these initiatives, a regional development and reconstruction program supported by a 'mini-Marshall Plan' is urgently needed.