Artist Asghar Yaghoubi, who was born in Shiraz, Iran, moved to Malaysia in 2008. An accomplished painter and sculptor, he also teaches art at the Cube Gallery, of which he is the founder and director. The gallery is the first and only art gallery in Southeast Asia owned by an Iranian.
Question: Since settling in Malaysia, what have been some of the challenges or difficulties you have faced in adapting to life there, both as an immigrant and as an artist?
Answer: Finding fellow artists took time. Over the course of two years, I managed to find avenues for artistic dialogue with Iranian and native-born Malaysian members of the artistic community by attending local fairs and exhibitions. There, I met artists with whom I cooperated in joint programs.
Question: Do you travel regularly between Iran and Malaysia? In moving between these two "cultural universes," what similarities or differences stand out? 
Answer: I have settled permanently in Malaysia. There are many differences between the two cultures, ranging from food and dress to social priorities, but one of the major similarities between the two societies is the respect paid to elders.
Question: Do members of the Malaysian and Iranian artistic communities interact with each other on a regular basis?
Answer: The Iranian-Malaysian Art Society (MIAS) was formed in Kuala Lumpur in 2011 with the participation of 50 Malaysian and Iranian artists. The aim of MIAS, in which I served as a committee member, was to forge closer ties between Iranian and Malaysian artists, in part by holding joint exhibitions showcasing their work. Although MIAS was recently disbanded for a variety of reasons, including a lack of financial resources and difficulties recruiting new members, some of its members are working to form new integrated groups.
Question: Do any of your paintings and/or sculptures contain elements or features which could be considered "Persian" or "Iranian" in terms of influences, traditions, or techniques? What about "Malaysian" influences?
Answer: Many Iranian artists use Iranian elements in their paintings, such as the Persian alphabet or symbols found on kilim (short-napped coarse) and gabbeh (long-wefted pileless) carpets or on decorated dishes. As for me, I have used many Iranian stories in my oil works, and Simorgh is an ancient story about a group of birds in search of a leader to help them reach Ghaaf Mountain—a symbolic mountain that is difficult to reach and very high. Eventually 30 birds reach the peak. In my paintings, these 30 birds are rendered in abstract to represent the story. In recent years, I have been using warmer colors in my paintings, which reflect the Malaysian environment and climate.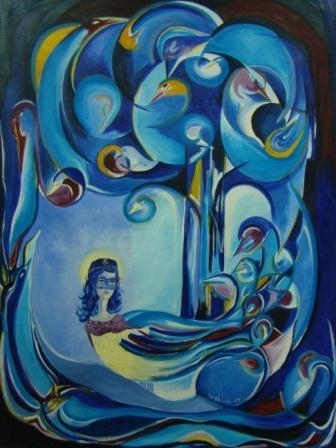 Question: You describe yourself as a lifelong student of art, but you are also a teacher. Could you provide a brief profile of your students?
Answer: I have a diverse group of students. Most, but not all, are Iranian. They represent various age groups. Of my female students, some are housewives, while others are employed outside the home.
Question: Besides providing guidance on the technical aspects of art, how would you describe your teaching philosophy?
Answer: Above all, I try to convey to my students the importance of "seeing" their surroundings. If a painter is not sharply attuned to his or her surroundings, s/he will not be able to paint well. I also try to help my students find ways to express their inner thoughts, emotions, and understanding of their surroundings. It is very important for each artist to strive to develop a highly personal method of painting, or else s/he will fall into the trap of simply mimicking others' work. I emphasize the importance of drilling and practicing as well.
Question: In 2008, you established the Cube Gallery. What was the purpose of doing so?
Answer: When I immigrated to Malaysia to live and work in 2008, I discovered that Malaysians were not very familiar with Iranian art. My determination to introduce Iranian art to Malaysia spurred my efforts to found the gallery. I started to attract Iranian artists, and they then participated in individual and group exhibitions; I invited Malaysian artists and the public to visit the exhibitions. Indeed, I have spent most of my energy introducing Iranian art to Malaysia.
Question: Does the gallery also exhibit the work of talented Malaysian artists?
Answer: The gallery is international, and as such it welcomes artists and their works from all nations. I am happy to report that I have enlisted the cooperation of Malaysian artists and have held a number of successful joint programs with them.
Question: Reflecting on the time that you have spent in Malaysia, how have you grown as a person and as an artist?  
Answer: I have always had a curious spirit. I enjoy the process of discovery. Since coming to Malaysia, I have discovered talented Malaysian masters with whom I had not previously met and with whose artworks I had not been acquainted. Living in Malaysia has been a great opportunity for me to continue my journey of discovery and self-discovery.
The Journey Within - By Asghar Yaghoubi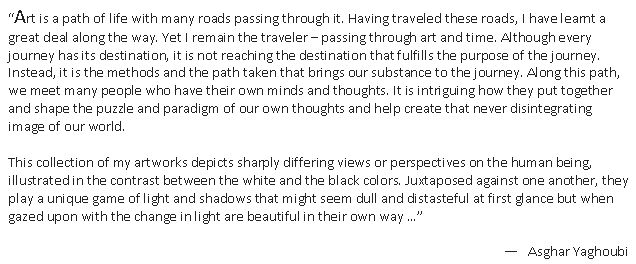 ---











This contribution is part of the Middle East-Asia Project at the Middle East Institute.
---
The Middle East Institute (MEI) is an independent, non-partisan, non-for-profit, educational organization. It does not engage in advocacy and its scholars' opinions are their own. MEI welcomes financial donations, but retains sole editorial control over its work and its publications reflect only the authors' views. For a listing of MEI donors, please click here.