It was a magical moment to come after so many years of anticipation, when the platform below the Louvre Abu Dhabi was carefully flooded with sea water from the surrounding Gulf.
The museum not only has a stunning setting in the United Arab Emirates, on the capital's Saadiyat Island, but it now appears from three angles to be an island unto itself. Around the same time as the flooding was done a year ago, the lights were thrown on inside, allowing a kaleidoscope of beams to twinkle upwards into the sky at night. They filtered through a complex geometric pattern, created by 8,000 metal stars in the eight-layer, 180-metre-wide, 7,000-ton domed roof.
Once the museum opens to the public on November 11, a decade after it was announced, visitors will finally be able to walk under the dome that residents have gazed at for so long, and which, like the building itself, appears to be floating. It hovers over a climate-controlled mini-city designed to reflect an Arab medina, filtering sunshine down onto 55 buildings and 23 galleries below in what Pritzker Prize winning architect Jean Nouvel has dubbed a "rain of light."
From the very outset, Nouvel set out to design a museum that would reflect the Gulf's rich culture and history.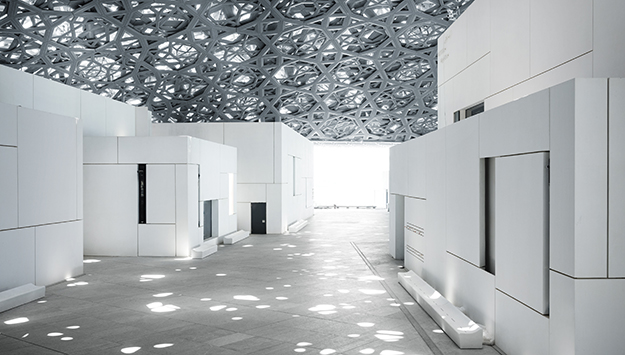 "I am very contextual," he recently told the Anglo-American Press Association. "Architecture exists in function to its situation. A great museum for me is one that sits with the culture of the country in which it is created. I don't think these things are interchangeable. I would not work in New York, Paris or London. Most architecture today is interchangeable; this is not."
Although the building is already breathtaking, the treasures housed within mark another remarkable first for the region: 600 pieces of world-class art, half of them part of the permanent collection, half on loan for the first year from 13 French institutions, including the Musée du Louvre, the Musée d'Orsay and the Centre Pompidou.
The curators set out with a lofty goal: to chart humankind's path with a sense of consistency, and explore the meaning of the word "universal in a multi-polar, multicultural world," said Jean François-Charnier, the scientific director of Agence France-Museums, who headed up the project. 
"We want to allow visitors to see the communication between civilizations over time and this gives the museum a narrative that is chrono-thematic with 12 key steps, each one of which represents a key moment in the history of humankind," he added. "We also want a shift in focus. This museum is designed and built in Abu Dhabi, not Paris, so other continents—the Indian sub-continent, Asia, China—all of these had to be considered."
Highlights include Jacques-Louis David's bold Napoleon Crossing the Alps, one of five versions of Napoleon Bonaparte painted between 1801 and 1805 (on loan); an Egyptian funeral set for the princess Henuttawy, dating to the latter half of 10th century B.C.E. (permanent collection); a Bactrian Princess—a distinctive, 4,000-year-old chlorite and calcite sculpture representing one of Central Asia's earliest empires (permanent collection); and Leonardo DaVinci's mysterious 1490 oil on panel, La Belle Ferronniere, also known as Portrait of An Unknown Woman, which has been recently restored and is on loan from Musée du Louvre in Paris.
"Any painting by Leonardo, in that we have under 20 surviving, is obviously an item of major interest," said Martin Kemp, a Leonardo expert and professor of art history at University of Oxford.
In addition to pieces from the Chinese artist Ai WeiWei, American painter, sculptor, and photographer Cy Twombly, and French surrealist painter Rene Magritte, the outdoor sections will feature several eye-catching permanent installations. Among them are three engraved stone walls bearing historical texts from the region, in Louvre Abu Dhabi, from the American net-conceptual artist Jenny Holzer, and a new four-part series from the Italian artist Giuseppe Penone called Germination. At its center is Leaves of Light, an enormous bronze tree with mirrored branches, while Propagation features a wall of circles emanating from a fingerprint of Sheikh Zayed, founder of the United Arab Emirates.
The opening has sparked anticipation not only locally, but in the wider art world, said Roxane Zand, Sotheby's deputy chairman for the Middle East.
"I think this is an extremely significant event, because of all the museums in the region, this will be the first what we would call universal museum," she said. "A museum that purports not just to show Middle Eastern, Arab art, but it will also show art from the entire Western and international context. And already some of The Louvre's great treasures have been earmarked to come to Abu Dhabi, to be shown, and this is a first for the region. It heralds a new age of bringing in Western and global exhibitions to the Middle East."
Hala Khayat, director of Christie's Dubai and head of sales, believes its arrival is truly meaningful for a generation of young Emiratis unaccustomed to having a world-class museum in their backyard.
"It's just amazing, because we are living through this, people take this for granted in the States," she said. "But people forget these are new countries, to have the museum now on the level of the Louvre, it couldn't be more authentic - it's such a huge legacy."
Nouvel recently told The Guardian he had seen and approved of the conditions of overseas foreign workers who had built the Louvre Abu Dhabi himself, in response to a question about treatment of laborers during construction. 
"They have the same conditions, even better conditions, than those I see in other countries," he said. "We checked and it was fine. We saw no problem." 
Louvre Abu Dhabi will host four exhibitions in its first year, kicking off December 21 with From One Louvre to Another, which will trace the history of Musée du Louvre in Paris through 145 pieces on loan from Musée du Louvre and Château de Versailles. The terms of the agreement signed by Louvre Abu Dhabi and Musée du Louvre in 2007 allow for the Musée du Louvre name to be used for 30 years and 6 months, temporary exhibitions to be held for 15 years, and loans of artworks for 10 years.  
Photo of Exterior: Mohamed Somji: The Louvre Abu Dhabi, which is located on Saadiyat Island in the UAE capital of Abu Dhabi, was designed by French architect Jean Nouvel and is surrounded by water on three sides.
Photo of Interior: Mohamed Somji: French architect Jean Nouvel created this eight-layered domed roof for the Louvre Abu Dhabi in the United Arab Emirates. He called the interior effect a "rain of light."
---
The Middle East Institute (MEI) is an independent, non-partisan, non-for-profit, educational organization. It does not engage in advocacy and its scholars' opinions are their own. MEI welcomes financial donations, but retains sole editorial control over its work and its publications reflect only the authors' views. For a listing of MEI donors, please click here.