Are religious doctrinal differences primarily responsible for stoking intercommunal fear and hatred? What roles have state, sub-state and transnational actors played in fomenting sectarian discord? And what could be done to avert sectarian violence, to foster tolerance and peaceful coexistence, and to promote reconciliation? The essays in this series tackle these and other salient questions pertaining to sectarianism in the MENA and Asia Pacific regions. Read more ...
 
---
Malaysia's diplomatic relations with Saudi Arabia and Iran generally have been cordial while its economic ties with both countries have been expanding. However, the Saudi-Iran strategic rivalry has intensified both within and beyond the Middle East, raising several questions that this essay proposes to address: What are Malaysia's interests in Saudi Arabia and Iran? Is there any evidence that Saudi Arabia and Iran, as a function of their competition with each other, are seeking to expand their influence in Southeast Asia, and in Malaysia in particular, through the promulgation of Shia and Wahhabi ideology? If so, to what extent and by what means could Malaysia respond to this development so as to avoid jeopardizing the fruitful aspects of their relations with both countries?   
Saudi Arabia and Iran: Malaysia's Partners but Strategic Rivals   
Malaysia's relations with both Saudi Arabia and Iran are based primarily on economic interests, with energy cooperation constituting the most important element. Malaysia, which is an energy producer and exporter in its own right, nonetheless imports significant quantities of crude oil. Saudi Arabia is Malaysia's leading foreign source of crude oil, accounting for 30 percent of its oil imports, valued at US$774 million, in 2016.[1] Iran, too, has been also a source of petroleum and petroleum products for Malaysia.[2]
Malaysia's state-owned oil company (Petronas) has spearheaded efforts to thicken ties with Saudi Arabia and Iran in the energy sector through participation in upstream and downstream petroleum projects. Petronas' involvement in Iran's oil exploration dates back nearly twenty years to its role as a contractor in the South Pars mega gas project.[3] Petronas was recently selected to partner with the National Iranian Oil Company (NIOC) in exploring the South Azadegan and Cheshmeh Khosh oil fields.[4] Petronas has also joined forces with the Saudi Arabian Oil Company (Saudi Aramco) in the development of the Refinery and Petrochemical Integrated Development (RAPID) project in the southern Malaysian state of Johor.[5]
Malaysia's economic ties with Saudi Arabia and Iran extend beyond the energy sector.  Bilateral trade with both countries has been expanding. In 2016, Malaysia's total trade with Saudi Arabia increased by 27.8 percent over the previous year.[6] Malaysia's exports to the Kingdom include palm oil, palm oil products, electrical and electronics products, machinery and wood products.[7] Likewise, trade with Iran has been robust. Iran accounts for about one-fifth of Malaysia's trade with Middle Eastern countries.[8] The removal of nuclear-related economic sanctions against Iran has brightened the prospects for more expansive trade relations. Figures 1-3 below depict the value and general composition of Malaysia's bilateral trade with these two countries. Note that in 2016, energy products, which have typically dominated Malaysia's imports from Saudi Arabia, continued to do so; moreover, the dollar value of Malaysia's energy product imports from Saudi Arabia more than doubled over the previous year. Note also that, from 2015 to 2016, total trade with Saudi Arabia and Iran grew by 26 percent and 29 percent, respectively.

Source: United Nations Comtrade Database, https://comtrade.un.org/data/.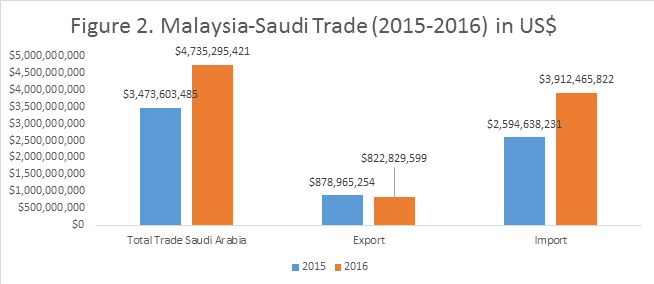 Source: United Nations Comtrade Database, https://comtrade.un.org/data/.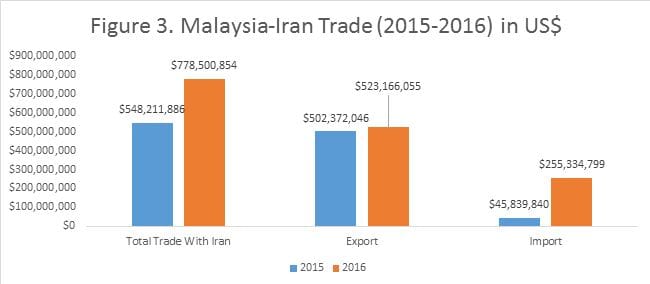 Source: United Nations Comtrade Database, https://comtrade.un.org/data/.
Progress in Malaysia's development of economic ties with Saudi Arabia and Iran has been accompanied by increasing people-to-people contacts through educational, scientific, and other exchanges. King Salman Abdulaziz of Saudi Arabia's four-day state visit to Malaysia in February 2017 included discussions aimed at strengthening cooperation in scientific research and education.[9]
Relations between Malaysia and Saudi Arabia also has acquired a security dimension. The two countries have recently agreed to conduct joint military exercises and counter radical narratives and ideologies through the establishment of a new center. In addition, they have discussed the potential sale of surplus Saudi military equipment to the Royal Malaysian Air Force and Army Aviation Unit.[10] No comparable security cooperation initiatives are underway or appear to be contemplated, however, between Malaysia and Iran, an "imbalance" that could, given the prevailing hostility in Saudi-Iran relations, erode Tehran's trust and confidence in its relations with Kuala Lumpur.
Sustained diplomatic engagement has underpinned the stable and fruitful relations that Malaysia has, to date, enjoyed with both countries. Thus, the visits to Malaysia by Iranian President Hassan Rouhani in October 2016 and King Salman of Saudi Arabia in February 2017 were not, in themselves, unusual. However, occurring as they did in quick succession and in the context of heightened tension between Riyadh and Tehran, the visits nonetheless suggest that Saudi-Iran geopolitical competition has, or might, spread to Southeast Asia. In fact, Saudi Arabia invited Malaysia, as well as Brunei and Indonesia, to join its coalition to combat terrorism, a coalition from which Iran has purposefully been excluded.[11] Malaysian policymakers are likely to continue to find it difficult to be perceived as even-handed, as illustrated by the harshly critical reaction by Tehran to the joint statement issued at the conclusion of King Salman's visit, which alleged "Iranian interference in the internal affairs of countries in the region" and stressed that Iran "must respect countries' sovereignty."[12]
Malaysia Grapples with the Sectarian Dimension of the Saudi-Iran Rivalry
The Saudi-Iran strategic rivalry has a sectarian dimension that has further complicated the efforts, especially of Muslim-majority countries, to manage their domestic affairs and external relations.[13] In order to gird itself against the spillover effects of the sectarian aspect of the Saudi-Iran rivalry, Malaysia has combined heightened vigilance and restrictiveness at home with efforts to justify its policies and appease Saudi and Iranian counterparts.[14]
Malaysia, a Muslim-majority nation with a predominantly Sunni population, is widely regarded as a modern and progressive country. However, when it comes to the sectarian issue, the actions taken by Malaysian authorities have been rather defensive; any effort to spread religious ideologies other than Sunni Shafiee thought are considered a potential threat to stability.
Malaysia has a Shia minority. However, Shiism is banned, and individuals alleged to be proselytizing Shia doctrine or worshipping in public are subject to criminal prosecution.[15] The strong undercurrent of anti-Shia sentiment in Malaysia,[16] which has been particularly acute since the Arab Spring uprisings in 2011, has shaped aspects of the country's domestic and foreign policies in ways that have affected its relations with Iran and Saudi Arabia.
In recent years, Malaysia's treatment of Shiites has been a thorny issue in its relations with Iran.[17] In 2013, several Shiites, including an Iranian citizen, were arrested and charged with violating a fatwa issued in 1996 prohibiting the promotion if not, at least technically, the practice of Shiism.[18] The incident resulted in a boycott of Malaysian goods by a group of unhappy Iranian traders.[19] Although the boycott was not officially sanctioned by Iran's government, the campaign temporarily damaged bilateral relations. However, Malaysian officials worked assiduously to repair the relationship, and have since then sought to assuage the concerns of their Iranian counterparts.
Wahhabism, unlike Shiism, is not banned in Malaysia. Nevertheless, Malaysian religious authorities have been keen to minimize its influence. They have kept a close check on foreign-sponsored or funded religious activities, precisely in order to minimize the influence of Saudi Salafi-Wahhabism. In fact, Malaysia's Religious Agency regards Wahhabism as no less a potential threat than Shiism to the country's security.[20] Accordingly, the Council of Malaysia discourages any practice or spreading of Wahhabism.[21] This is despite the fact that most of the practices of Wahhabism are more or less similar to Hanbali Islam, which is the major school of thought followed in Saudi Arabia.
Yet, checking the influence of Wahhabism has been somewhat difficult in light of the strong and consistent support that the Saudi government has provided for religious activities in Malaysia. This support has taken various forms, including the funding of religious and educational institutions, the dissemination of copies of the Qur'an and Islamic texts, and the provision of scholarships to Malaysians to study in Saudi Arabia. In 2006, Saudi Arabia established Al-Madinah International University (MEDIU) contributed to a common (mis-)perception that Saudi support for educational institutions and activities was aimed at exporting Wahhabism. The arrest in December 2016 of two foreign students enrolled at MEDIU who were allegedly linked to ISIS created uneasiness, especially among non-Muslim Malaysians.[22]
However, it is important to note that the establishment of MEDIU is part of the longstanding and extensive Malaysia-Saudi Arabia socio-cultural cooperation in education.[23] MEDIU was established in full compliance with the rules and regulations set by the Ministry of Higher Education (MOHE) for setting up a university, local or foreign; and, like other tertiary educational institutions, has been audited by the Malaysian Qualification Agency (MQA) in order to ensure that the level and the content of its curriculum are consistent with Malaysia's national education policy.[24] Furthermore, MEDIU promotes strong and mutual exchanges of knowledge between Muslim and non-Muslim scholars, and between the West and Islam. It also emphasizes the concept of the "Islamization of Knowledge," providing a basis for examining and studying worldly knowledge from the Islamic perspective on the basis of mutual interaction between Science (secular world) and Islam. In sum, the establishment of MEDIU could, and perhaps should be seen not as a vehicle for disseminating for potentially dangerous Salafist ideology but as a reflection of Malaysia's ambition to serve as a global education hub, as well as to play a moderate, mediating role between the Muslim world and others.
Conclusion
Non-alignment has been the cardinal principle of Malaysian foreign policy throughout Prime Minister Tun Razak's term in office. Therefore, Malaysia has sought to befriend all countries irrespective of differences in ideology or systems of government. However, the strategic rivalry between Saudi Arabia and Iran, and its sectarian dimension in particular, have put this principle and the conduct of Malaysian diplomacy to the test.
At least until now, there has been little, if any evidence of potentially destabilizing Saudi Wahhabi-Iranian Shia ideological-sectarian competition in Malaysia. Nor have the efforts by Malaysian authorities to contain, if not prevent the spread of foreign religious influences in the country provoked a backlash from Riyadh or Tehran. Nevertheless, maintaining and expanding economic ties with both Saudi Arabia and Iran while keeping diplomatic relations on an even keel will continue to be a challenge for Malaysia, and for other Muslim-majority countries, for as long as these two Middle East regional powers remain locked in confrontation.
---
[1] United Nations Comtrade Database, "Malaysia's Import from Saudi Arabia 2016," accessed June 5, 2017, https://comtrade.un.org/data/.
[2] United Nations Comtrade Database, "Malaysia's Import from Iran 2016," accessed June 5, 2017, https://comtrade.un.org/data/.
[3] John Calabrese, "Iran's Economic Outreach to Southeast Asia,ö MEI Middle East-Asia Project (MAP) 2016, accessed June 5, 2017, http://www.mei.edu/content/map/irans-economic-outreach-southeast-asia.
[4] Zarina Zakariah, "Petronas Inks Deal with Iran's National Oil Firm," The New Straits Times, December 22, 2016, accessed June 5, 2017, https://www.nst.com.my/news/2016/12/198647/petronas-inks-deal-irans-nat…; and Supriya Surendran, "Petronas Qualifies for Iran O&G Projects," The Edge Markets, January 3, 2017, accessed June 5, 2017, http://www.theedgemarkets.com/article/petronas-qualifies-iran-og-projec….
[5] "Saudi Aramco, Petronas Sign Share Purchase Agreement for Equity Participation in Malaysia's Rapid Downstream Project," Petronas, accessed June 5, 2017, http://www.petronas.com.my/media-relations/media-releases/pages/article…'s-rapid-downstream-project-.aspx.
[6] "Malaysia-Saudi Arabia Cooperation on Trade and Investment," MITI Weekly Bulletin, February 27, 2017.
[7] Khalil Hanware, "Saudi-Malaysian Trade on Expansion Course,ö Arab News, April 27, 2015, accessed June 4, 2017, http://www.arabnews.com/economy/news/738641.
[8] Asmady Idris and Remali Yusoff, "Malaysia's Contemporary Political and Economic Relations with Iran," in Mohd Fauzi Abu-Hussin and Kamaruzaman Yusoff, eds., Multidimensional Perspectives of Malaysia-Arab Countries Relationship (Johor: Universiti Teknologi Malaysia, 2016).
[9] "King Salman's visit marks new era in Malaysia-Saudi Arabia relations," The Star, February 27, 2017, accessed June 21, 2017, http://www.thestar.com.my/news/nation/2017/02/27/king-salman-visit-mark…; and Ghazanfar Ali Khan, "Saudi Arabia, Malaysia take 'quantum leap' with new agreements," Arab News, February 28, 2017, accessed June 21, 2017, http://www.arabnews.com/node/1060881/saudi-arabia.
[10] Prasanth Parameswaran, "What's Next for Malaysia-Saudi Arabia Military Ties?" The Diplomat, March 6, 2017, accessed June 21, 2017, http://thediplomat.com/2017/03/whats-next-for-malaysia-saudi-arabia-mil….
[11] Mark Katz, "What's Behind Saudi Arabia's New Diplomatic Offensives?" Brookings Institution, February 27, 2017, accessed June 22, 2017, https://www.brookings.edu/blog/markaz/2017/02/27/whats-behind-saudi-ara….
[12] "Iran slams Malaysian government's accusations during Saudi King's visit," Middle East Monitor, March 3, 2017, accessed June 21, 2017, https://www.middleeastmonitor.com/20170303-iran-slams-malaysian-governm….
[13] Toshihiro Nakanishi, "Sectarian Strife between Saudi Arabia, Iran Could Easily Impact Asia," Nikkei.com,  http://asia.nikkei.com/Politics-Economy/International-Relations/Sectari….
[14] Asmady Idris, "Malaysia-Saudi Arabia Relations: Roots, Dimensions, and Prospects," Middle East-Asia Project (MAP), June 18, 2013, accessed July 3, 2017, http://www.mei.edu/content/malaysia-saudi-arabia-relations-roots-dimens….
[15] Nur Lina Mastura, "Shia Ideologies in Malaysia û Being Wary of Its Threats," Malaysiandigest.com, June 9, 2015, accessed June 22, 2017, http://malaysiandigest.com/news/556999-shia-ideologies-in-malaysia-bein….
[16] For a succinct discussion of Malaysia and Shiism, see Rodger Shanahan, "Malaysia and Its Shi'a 'Problem,'" Middle East-Asia Project (MAP), accessed June 21, 2017, http://www.mei.edu/content/map/malaysia-and-its-shi%E2%80%98-%E2%80%9Cp…. In recent years, there have been several waves of arrests of followers of Shiism. See, for example, "Malaysia to Probe Crackdown on Shia Muslims," Voice of America (VOA), December 20, 2010, accessed June 21, 2017, https://www.voanews.com/a/malaysia-to-probe-crackdown-on-shia-muslims-1…; Celine Fernandez, "Malaysian Shia Muslims Prepare for Trial," Wall Street Journal, December 15, 2013, accessed June 21, 2017, https://www.wsj.com/articles/malaysian-shia-muslims-prepare-for-trial-1….
[17] "Malaysian Shia Muslims Prepare for Trial," Wall Street Journal, December 15 2013, accessed June 22, 2017, http://Online.Wsj.Com/News/Articles/SB100014240527023041737045792594730….
[18] Zulkifli Sulong, "As Anti-Shia Campaign Hits the Pocket, Minister Seeks PAS's Help to Restore Iran Ties," Malaysian Insider, March 3 2014, accessed June 22, 2017, http://www.themalaysianinsider.com/malaysia/article/as-anti-shia-campai….
[19] G. Manimaran, "Wahhabism and Shia Main Threats, Says Jakim Official," Malaysian Insider, July 31, 2011, accessed June 22, 2017, http://www.themalaysianinsider.com/malaysia/article/wahhabism-and-shia-…; and Mohd Fauzi Abu-Hussin and Mohd Afandi Salleh, "Saudi Arabian - Malaysian Relations," in Neil Partrick, ed., Saudi Arabian Foreign Policy (London, UK: I.B. Tauris, 2016).
[20] Wartawan Sinar Harian, "Wahabi tidak sesuai diamal di Malaysia," (Wahhabism is not suitable in Malaysia), Sinarharian.com, May 1, 2015, accessed June 21, 2017, http://www.sinarharian.com.my/nasional/wahabi-tidak-sesuai-diamal-di-ma….
[21] Asmady Idris, "Malaysia-Saudi Arabia Relations: Roots, Dimensions, and Prospects," Middle East-Asia Project (MAP), June 18, 2013, accessed June 22, 2017, www.mei.edu/content/malaysia-saudi-arabia-relations-roots-dimensions-an….
[22] Razak Ahmad, "Varsity to keep a closer eye on its students over IS link," The Star, December 22, 2016, accessed July 3, 2017, http://www.thestar.com.my/news/nation/2016/12/22/varsity-to-keep-a-clos….
[23] Various joint venture education projects had been implemented before including the establishment of International Islamic University (IIUM) in Malaysia in 1983. This university has been receiving funds from the Kingdom since its inception. See Asmady Idris, "Daripada Tradisional ke Diplomasi Moden" (From Traditional to Modern Diplomacy), Utusan Malaysia, June 9, 2007, accessed July 3, 2017, http://ww1.utusan.com.my/utusan/info.asp?y=2007&dt=0609&pub=utusan_malaysia&sec=rencana&pg=re_01.htm&arc=hive.
[24] See Government of Malaysia, Malaysia Qualifications Agency (MQA), "Malaysian Qualifications Register," accessed July 3, 2017, http://www2.mqa.gov.my/mqr/english/eakrKPList.cfm?IDAkrIPTS=483.
---
The Middle East Institute (MEI) is an independent, non-partisan, non-for-profit, educational organization. It does not engage in advocacy and its scholars' opinions are their own. MEI welcomes financial donations, but retains sole editorial control over its work and its publications reflect only the authors' views. For a listing of MEI donors, please click here.