In this week's Monday Briefing, MEI experts Robert S. Ford, Paul Salem, and Marvin G. Weinbaum provide analysis on recent and upcoming events including Russia's recent escalation of military force in Syria, deteriorating Saudi-Iranian relations, and an escalation in the Kashmir between India and Pakistan.
Russia's Sharp Escalation in Syria
Robert S. Ford, Senior Fellow
The Syrian army and its allies are in a sustained offensive to recapture the rebel-held east Aleppo as well as the eastern suburbs of Damascus, where their ground forces are advancing slowly but steadily. Unless the balance on the ground drastically shifts, the Assad regime will eventually retake from opposition fighters all of Aleppo and the outlying districts of Damascus. This may take months, but the balance is certainly in the Syrian government's favor.
U.N. Secretary-General Ban Ki-moon has called the ongoing attacks on hospitals a "war crime," pleading at least for humanitarian access to besieged communities. Damascus has calculated that in its long-term effort to recapture all territory lost to the opposition, granting humanitarian access to besieged opposition strongholds would work at cross purposes. Russia is backing the Assad government's hardline stance while its air force pounds northern Syria.
Secretary Kerry's threats notwithstanding, there is no news yet that the American technical team talking to the Russians in Geneva has actually departed*; Kerry spoke several times to Russian foreign minister, Sergey Lavrov, over the weekend without gaining any reduction in airstrikes and ground attacks in Aleppo. The Obama administration's analysis that there is no military solution to the conflict appears incorrect since the Syrian government side escalated sharply without a corresponding counter-escalation from the side backing the opposition. The Americans keep increasing their humanitarian assistance every few months—now up to $5.9 billion since 2012—but they have little leverage. Instead, Russia, Iran and Turkey are talking more about Syria in private and any deal about Syria will likely come from an agreement among them, not Washington.
*Update: Shortly after this was published, the State Department announced that it is "suspending its participation in bilateral channels with Russia."
Saudi Naval Exercise Amid Iran Tensions
Paul Salem, Vice President for Policy and Research
The Saudi navy is holding exercises, dubbed "Gulf Shield 1," early this week in the Gulf of Oman involving ships, planes, marines and other personnel. This follows Iranian naval maneuvers in the same waters in January and increased run-ins of late between Iranian and American naval units in the Persian Gulf. While Iran and Saudi Arabia are involved in proxy conflicts in Syria and Yemen, there is a real risk that an unforeseen event—on the high seas or indeed elsewhere—could escalate to direct confrontation.
Relations have been on a downward spiral since the outbreak of civil war in Syria and Yemen and disputes over the management of the annual hajj pilgrimage. Iran's Supreme Leader Ayatollah Ali Khamenei launched a blistering attack on the Saudi government last month, labelling them "small and puny devils," and called on the Muslim world to "reconsider the management of the two holy places," while the Saudi Grand Mufti retaliated that Iranians were "not Muslims." More broadly, the Saudi government considers that Iran crossed a red line in backing the Houthi rebels in Yemen, while the Iranians consider that Saudi Arabia has crossed a red line in backing anti-regime forces among the non-Persian minorities of Iran. With the U.S. role in the region adrift and uncertain, the risk of overreach or miscalculation is even higher.
Iran and Saudi Arabia have pulled back from the brink before with high-level political visits and even a security pact that they signed jointly in 2001. There is a need for such leadership again today, from the two regional powers themselves, as well as from the international community.
Pakistan, India Beat Drums of War
Marvin G. Weinbaum, Director of the Center for Pakistan Studies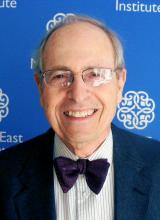 The drums of war are again sounding between Pakistan and India. The tough rhetoric has reached a pitch not heard for some time. While neither side has fully mobilized forces as in 2002, they are increasingly exchanging gunfire at the Line of Control that, since an agreement in 1972, has served as the de facto border between Pakistan and Indian-administered Kashmir. Both countries dispute the others' claims of sovereignty to the entire Muslim majority, formerly princely state.
The concern is that an escalation of fighting could broaden into a major conflict between these nuclear-armed powers. Tensions erupted after an attack last month on a military border station in the Indian town of Uri that killed 19 soldiers. In response, India claims to have mounted a surgical strike against militants said poised to infiltrate from Pakistan. The announced action was intended to placate an Indian public and military clamoring for action to punish Pakistan. Meanwhile, also with popular sentiment in mind, Pakistan denies that Indian forces penetrated its soil.
The important point is that neither the governments in New Delhi nor Islamabad want to see a deepening conflict that could possibly lead to a nuclear exchange. Pakistan's first-use policy and its arsenal of tactical nuclear weapons increase that danger. Both countries, driven by national pride, find it difficult to back down. In the past, the United States has assumed a critical role in helping to defuse their crises. What leeway Washington would have today to mount a similar diplomatic effort is uncertain.
---
The Middle East Institute (MEI) is an independent, non-partisan, non-for-profit, educational organization. It does not engage in advocacy and its scholars' opinions are their own. MEI welcomes financial donations, but retains sole editorial control over its work and its publications reflect only the authors' views. For a listing of MEI donors, please click here.