In this week's Monday Briefing, MEI experts Alex Vatanka, Robert S. Ford, Jonathan M. Winer, and Gonul Tol provide analysis on recent and upcoming events including the sabotage this weekend of four ships off the coast of the UAE, the recent escalation of fighting in northwestern Syria, efforts to negotiate a ceasefire in Libya, and mounting concerns about Turkey's economic health.
Ships sabotaged in the Gulf amid rising tensions with Iran
Alex Vatanka
Senior Fellow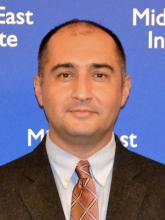 It is too early to determine who sabotaged four commercial vessels off the coast of the United Arab Emirates (UAE) on May 12th, or how they did it. Two of the vessels were Saudi, one was from the UAE, and one was registered in Norway. The Emirati and Saudi authorities have not yet blamed any culprit, but suspicion will invariably fall on Iran given the rise in tensions between Tehran and its Arab neighbors to the south. Iran has publicly expressed concern, and this tallies with Foreign Minister Javad Zarif's recent warning that the region is on the verge of an accidental war.
And yet there is an unmistakable gloating in Tehran. As one prominent member of the Iranian parliament put it, the incidents shows how exposed the UAE and Saudi Arabia are to attacks. One could put this down as opportunistic bluster, but in recent weeks Iranian officials have been steadily upping the ante in the rhetorical war of words with the Saudis and Emiratis. Iran sees Saudi Arabia, the UAE, and Israel as the three countries that are hellbent on instigating a war between the U.S. and Iran.
In such an environment, limited Iranian operations against the UAE and Saudi Arabia might be designed to dissuade Abu Dhabi and Riyadh and signal that war with Iran will not be limited to Iranian soil. In the last round of fighting between Israel and the Palestinians in Gaza, Tehran also openly lauded the Palestinian militants' enhanced missile capabilities. No doubt this, too, was a message to the Israelis. Regardless of whether or not Iran had a hand in the attacks on the vessels, it is clear that while Tehran wants to avoid an outright war, it has apparently opted to flex its muscle to shape the calculations of its key adversaries as the Middle East once again enters unchartered waters.
Sharp escalation in northwestern Syria
Robert S. Ford
Senior Fellow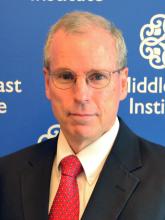 The sharp escalation in fighting in northwestern Syria that started on April 29th continued Monday with heavy bombing in Idlib and Latakia provinces. A Syrian monitoring group claimed on Monday that about 120 civilians have been killed in the fighting since April 30th, along with hundreds of government and opposition combatants. The UN Office for the Coordination of Humanitarian Affairs reported to the Security Council on May 10th that about 180,000 civilians have fled the fighting and 16 UN-backed aid organizations have suspended operations in Idlib Province. Pro-government airstrikes had hit 12 health facilities as of May 8th, according to the World Health Organization.
The Syrian government's ground attack, while limited, has captured two towns important to securing the highway between Aleppo, the former economic hub of Syria, and Latakia, a key port and stronghold of the Assad government. Turkish Defense Minister Hulusi Akar on May 10th urged Russia to press the Syrians to halt their attack and return to their original positions. Russian Foreign Minister Sergey Lavrov on May 8th, however, had said that Idlib is a "terrorist nest" and operations against the former al-Qaeda affiliate entrenched there must continue. The commander of those extremists, in a televised statement released May 12th, urged all able-bodied people to take up arms against the Assad regime and its Russian allies. Fighting will continue until Turkey and Russia reach a new short-term deal about the extremists. The Russians likely will restrain the Syrian government from broadening its attack very widely, and the Syrian army is stretched thin anyway. There is some speculation that Russia and Turkey could strike a deal that includes arrangements for both Idlib and the disputed Kurdish-held territory of Tel Rifaat.
Looking for Libyan ceasefires, but on what terms?
Jonathan M. Winer
MEI Scholar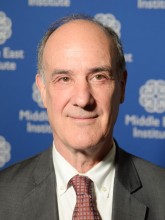 Five weeks into his effort to take Tripoli by military force and following his visit last week to Cairo where he received strong support from Egyptian President Abdel-Fattah el-Sissi, Libyan General Khalifa Hifter is scheduled to meet with French President Emmanuel Macron in Paris on Wednesday, May 15th. They are expected to discuss a possible ceasefire between Hifter's Libyan National Army (LNA) and the forces supporting the Government of National Accord (GNA) of Libyan Prime Minister Fayez al-Sarraj.
Last week, Sarraj visited Italy, Germany, France, and the UK, which all formally still recognize the GNA, despite France's relationship with Hifter. Macron, among others, urged Sarraj to accept a ceasefire that would leave Hifter's forces in place in Tripoli's southern suburbs. In response, GNA Interior Minister Fathi Bashagha stated on May 10th the GNA would agree to a ceasefire only if Hifter's forces withdrew from western Libya to avoid giving him time to resupply the LNA. Although Hifter's forces remain currently stalled, he has little reason to give up territory. It is hard to see the parameters of a deal to stop the fighting, even during Ramadan. But the diplomats will continue to try.
Hifter's initial offensive has left 440 Libyans dead, 2100 injured, and 60,000 displaced. It took Hifter some three years to take Benghazi. As both sides dig in, the risk that terrorists take advantage of the conflict, as in Syria, may provide further impetus to foreign actors to seek political settlements in lieu of winner-take-all. In practice, meaningful talks likely await further development of facts on the ground.
Mounting economic concerns ahead of Turkish election rerun
Gonul Tol
Director for Turkish Studies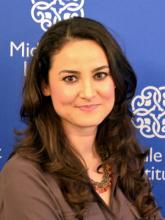 Many had hoped that Turkey's local elections on March 31st would end a long-running election cycle that has weakened the country's ailing economy and prompt the government to finally address urgent economic problems. But voters in Turkey's financial and commercial powerhouse, Istanbul, are once again going to the polls amid growing concerns over an economic downturn. Turkey's Supreme Electoral Council (YSK) gave in to pressure from President Recep Tayyip Erdogan, who contested the Istanbul election won by the opposition's candidate, Ekrem Imamoglu, by about 13,000 votes, claiming voter fraud and other irregularities. The YSK voided the results of the March 31 Istanbul mayoral election and ordered a rerun on June 23. The decision to annul the results sharpened investor concerns. The Turkish lira nosedived after the announcement while the country's bonds came under pressure.
In an effort to pull the country out of recession and curb the Turkish currency's fall ahead of the June vote, the government has taken unorthodox steps. It recently pushed public banks to sell foreign currency to halt the Turkish lira's slump. But economists warn that these efforts are not sustainable at a time when the currency has come under pressure in part because of investor worries over the central bank's depleted foreign exchange reserves. To prevent exchange rates from spiraling out of control, the central bank has to increase interest rates, a move Erdogan strongly opposes.
In another unorthodox move, Turkey's Ministry of Treasury and Finance is working on legislation to transfer 40 billion lira (around $6.5 billion) in legal reserves that the central bank has to set aside by law from profits to boost the government's budget. The move sends a signal that things may be a lot worse than the government has let on, and the worst might still be yet to come. Tensions between Turkey and the U.S. over a range of issues, including Turkey's decision to purchase Russia's S-400 missile defense system and Congress' threat to impose sanctions in response, as well as U.S. sanctions on Iran, are likely to exacerbate the country's economic woes.
Photo by KARIM SAHIB / AFP