In this week's Monday Briefing, MEI experts Charles Lister, Marvin G. Weinbaum, Yousef Munayyer, and Alex Vatanka provide analysis on recent events including the battle for Mosul, corruption in Pakistan, Mahmoud Abbas's trip to China, and Rouhani's difficult second presidential term.
Mosul Turning Ugly, Raqqa Front Slows
Charles Lister, Resident Fellow
Despite the Iraqi government's proclamation of victory against ISIS in Mosul, reports on the ground indicate that fighting and airstrikes continued in and around the Old City over the weekend. Yet more troubling were a series of videos, photographs and first-person testimony showing Iraqi security forces engaged in organized extrajudicial executions and torture, seemingly driven by sectarian revenge. Several leaked videos showed Iraqi forces throwing live men off a cliff, before riddling their bodies with automatic gunfire. The scene eerily resembled some of ISIS' mass executions of 2014, in which Iraqi soldiers were executed and thrown into a river.
While such incidents may be an exception to the norm, their rapid proliferation across the internet means they will have a deeply damaging effect, especially when combined with the apocalyptic destruction wrought upon Mosul by U.S.-led coalition operations. Winning the military battles are tactical victories; winning the hearts and minds of ISIS' target audience is the major strategic challenge that lies ahead. We may already be losing it.
Beyond Mosul, the U.S.-backed Syrian Democratic Forces (S.D.F.) appears to be struggling in its campaign for Raqqa, with reliable reports suggesting several hard fought-for frontlines were relinquished over the weekend due to heavy ISIS pressure. Arab militias aligned to former opposition president Ahmed Jarba have also raised the ire of the S.D.F-led Kurdish force, the Y.P.G, whose commanders have accused them of disloyalty and cowardice. Some have been dismissed from frontline operations.
With Mosul turning ugly and Raqqa slowing, intensifying Turkish military pressure on the Y.P.G.-held Kurdish area of Afrin in northwestern Syria also threatens to distract further from ISIS priorities. Many challenges lie ahead and a lasting victory against ISIS may still be a generation away.
Sharif Scandal Risks Instability in Pakistan
Marvin G. Weinbaum, Director of the Center for Pakistan Studies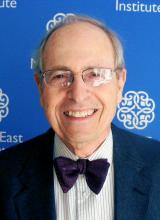 The curtain appears to be falling for Nawaz Sharif, opening a period of uncertainty and possible instability for Pakistan. The Joint Investigation Team (JIT), authorized by a five-member Supreme Court probing panel, has found that the prime minister and members of his family had schemed to hide their sources of income and committed perjury. The JIT's unanimous report, if now accepted by the justices, could oust Sharif from office and subject him to criminal charges.
Sharif is predictably fighting back, resisting demands from the major opposition parties that he resign. Were he to do so, his Muslim League could probably stay in power by choosing another party leader—likely the ambitious interior minister, Chaudhry Ali Nisar. Alternatively, a new national election could be called and an interim government installed. But should the Supreme Court defy expectations and hand Sharif a way to survive, Imran Khan's Pakistan Tehreek-e-Insaf and other opposition parties are virtually certain to take to the streets. Violence and resulting economic paralysis could be a strong invitation for a heretofore-reluctant military to intervene.
Political turbulence in Pakistan may carry broader implications. China could well conclude that Pakistan is an unreliable partner and reassess its planned massive investment in the country's infrastructure. Government promises to follow through with tough measures to curb extremist groups are less likely from a political system whose leaders are divided and distracted. And for a Trump administration expected to press Pakistan harder for cooperation on Afghanistan, it may find American leverage further diminished.
Abbas Turns to China to Salvage Two-State Solution
Yousef Munayyer, MEI Scholar
Mahmoud Abbas' trip to China this week should be seen in the context of the fragile international consensus on the Israeli-Palestinian issue. For years, the discussion around the resolution of the conflict has focused on a two-state solution, and Abbas has worked to make the formal adoption of this position by a broad range of international actors a reality.
But today, things are changing. The Israelis are unabashedly opposed to a Palestinian state and the Americans, who have long been entrusted by the international community as mediators of the Israeli-Palestinian conflict, are refusing to utter the words "two-state solution."
Chipping away at this consensus around the globe or, at minimum deprioritizing it, has been Benjamin Netanyahu's aim. He has sought to forge relations with African states to narrow Palestinian options in international voting forums. Earlier this year, he too visited China and hosted India's prime minister earlier this month with great fanfare.
Abbas, wary of this evaporating consensus, will seek to gain assurances from China that it continues to back the two-state formula even as Washington can't seem to bring itself to do so. With many doors closed to him around the world, Beijing's diplomatic position carries significant weight.
Rouhani's Brother Arrested amid Iran Power Struggle
Alex Vatanka, Senior Fellow
Since his landslide re-election on May 19, President Hassan Rouhani has remained firmly in the line of fire of his hardline opponents in the Iranian regime. The July 16 arrest of his brother, Hossein Fereidun, is the latest example of an increasingly unpredictable power struggle.
Fereidun, a gatekeeper to his brother, has long been accused of financial corruption, but it is the timing that is telling. The arrest shows a far more profound agenda at play in the hardline camp. In the short-term, as Rouhani prepares to unveil his second-term cabinet that will commence from August 5, hardliners are hell-bent on influencing its make-up. They want fewer reformist-leaning figures in the cabinet, and the knives are particularly out for First Vice President Eshaq Jahangiri. Rouhani is also under pressure from the vast reformist movement—which was central in his re-election—to move to the political Left and deliver on promises in his latest campaign, including freeing political prisoners and standing up to unelected centers of powers such as the Islamic Revolution Guards Corps (I.R.G.C.).
The crux of this competition is about the regime's future trajectory. In recent weeks, Rouhani has engaged in a multi-front campaign against not only the I.R.G.C. bosses, but also the head of the powerful judiciary and the Supreme Leader Ayatollah Ali Khamenei himself. As rumors intensify in Tehran about Rouhani's ultimate goal being to set himself up to succeed the 78-year Khamenei, the stakes are becoming higher, and the second-term presidency of Rouhani is promising to become a rough ride.
---
The Middle East Institute (MEI) is an independent, non-partisan, non-for-profit, educational organization. It does not engage in advocacy and its scholars' opinions are their own. MEI welcomes financial donations, but retains sole editorial control over its work and its publications reflect only the authors' views. For a listing of MEI donors, please click here.