Countless films have been made about the Lebanese Civil War, the dominant subject of Lebanese cinema for the past 40 years. But in Vatche Boulghourjian's striking debut film Tramontane, he wanted to tell a different story and tackle the lingering legacy of the civil war.
Fiction narratives and documentaries shot during and after the war put Lebanese cinema on the international film map. Maroun Bagdadi's Little Wars (1982) and Out of Life (1991); Ziad Doueiri's West Beirut (1998), and Nadine Labaki's Where Do We Go Now (2011) explored diverse aspects of the war and its aftermath—rise of sectarianism, changing social structure, and the manifestation of masculinity through violence.
More nuanced and unsettling are recent documentaries Sector Zero (2011) by Nadim Mishlawi, and Sleepless Nights (2012) by Eliane Raheb, along with Ely Dagher's Cannes-winning short Waves '98 (2015). Each of those films, in one way or another, was an attempt to integrate the war into the fabric of the contemporary Lebanese narrative; to act as a bridge between Lebanon's bloody past and its uncertain present.
Tramontane, the standout Lebanese film of the year and one of the most accomplished Arab productions of 2016, is a moving, impressively subtle study about collective amnesia, the fallibility of memory, and the impossibility of truth. Blind musician Barakat Jabbour plays Rabih, a singer in an Arabic orchestra who, upon applying for a passport, discovers that his birth certificate is forged. Rabih then embarks on an existential journey in rural Lebanon to uncover his true identity, and in the process discovers a nation too fearful to hold a mirror to its past.
In Boulghourjian's generation, there isn't a single person that has not been affected by the war.
"Twenty years since the 'end' of the war, we're still struggling to make this country stand on its own," he said. "After the war ended, everyone was so hopeful that we'd live in the Lebanon of the '60s we all dreamed and have been told about, but that never came. The dynamics of the war continued without physical violence, and it often erupted in physical violence."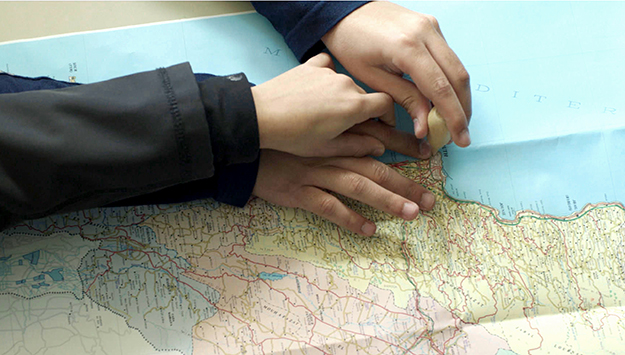 The war never really ended, rather it took another shape. The divisions remain, Boulghourjian said, but in cinema they are often reduced to religious or ideological issues. Unlike previous civil war dramas, he blurs the sectarian boundaries, refusing to identify the characters by their religion or sect to illustrate the complicity of the entire country.
"In reality, the situation is much more complex, and that's what propelled me to do this movie: to delve into the multilayered aftereffect of the war on present Lebanese society; to search for some clarity, to understand this country better."
Blindness is a central theme in the film and serves both as a motor for the narrative and a metaphor for the state of the entire nation.
"I wanted to see how someone, who cannot see, would solve this problem in a country that's bureaucratic, because stories like Rabih's have taken place before," Boulghourjian said.
"Rabih is blinded physically, but he's surrounded by people who are blinded psychologically, emotionally, historically. Both are existential crises; I wanted to pit them against each other and see what happens. That's how the story came about."
Jabbour's casting was a happy coincidence, and the relationship he developed with Boulghourjian shaped different facets of the film.
Boulghourjian and music supervisor Cynthia Zaven stumbled upon a group of blind musicians singing in a packed church. They heard a man with a powerful voice singing Christian hymns, but he sounded like a muezzin. Zaven and Boulghorjian approached Jabbour and he was eager to do the film.
Boulghourjian felt it was important to cast a blind person and not someone who pretended to be blind. He and his cinematographer, Jimmy Lee Phelan, wanted to avoid depicting blindness in the clichéd ways often seen in cinema—dark and out of focus, as if pretending to know what it feels like to be blind.
"I didn't want to pretend to be blind because I don't know what it is to be blind," Boulghourjian said. "I didn't want to over-stylize it, I wanted to convey the sensation of what it feels like to be in the presence of someone who's blind and focus solely on the story."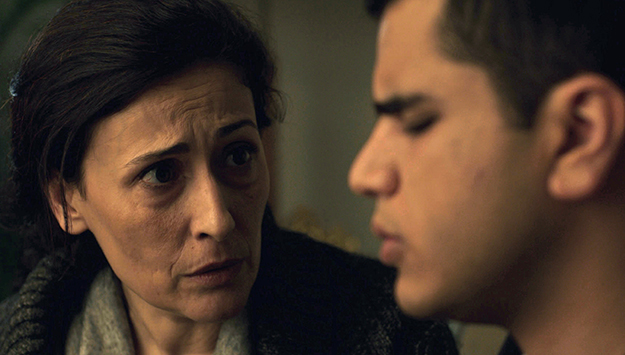 Jabbour is an expert in Arabic music, and plays several instruments. The score in the film originally had been Western choral music, but Boulghourjian decided to incorporate Jabbour's talents, and they chose the songs and different elements of the story together.
"It made perfect sense; the film is about the land and I wanted to have music from the land," Boulghorjian said. "I wanted the music to be a foil for the narrative; there's the emotional narrative, reflected in the songs, and even that changes over the course of the film. The opening song, "Eb'tely gawab" (Send Me A Letter), sounds so innocent at the beginning, but by the end, the song is transformed into a cry of help, a cry for an answer."
The tranquil, beautiful landscapes in the film act in contrast to the hideousness of the crimes that have been committed; beyond the surface beauty is a violent truth no one is able to confront yet.
"Lebanon is not just Beirut, and the people who live in Beirut come from everywhere, and they bring to city their own values and traditions," Boulghourjian added. "I wanted to explore the origins of these values, to show the landscapes that are rarely seen in Lebanese cinema, because this movie is about the country, not the city."
"Tramontane" will have its Arab premiere next month at the Dubai Film Festival and will debut in Lebanese theaters in March.
---
The Middle East Institute (MEI) is an independent, non-partisan, non-for-profit, educational organization. It does not engage in advocacy and its scholars' opinions are their own. MEI welcomes financial donations, but retains sole editorial control over its work and its publications reflect only the authors' views. For a listing of MEI donors, please click here.