When architect Mustafa Mofaq first started working on heritage restoration at Erbil's citadel last year, it was with a great sense of personal connection.
"My great-grandfather had a house here," explains the 27-year-old, who is employed by an EU-UNESCO partnership aimed at supporting livelihoods through cultural heritage development in Iraq and Jordan. Established in December 2019, the initiative, whose key objectives include supporting sustainable tourism, also works in tandem with the EU Madad Fund, itself founded in 2014 in response to the Syrian crisis. Today, the initiative employs hundreds of Iraqis and Syrian refugees. At the citadel alone, the program counts on the participation of 42 Syrian refugees and 205 Iraqis — some from Erbil and some displaced from other parts of the country.
According to UNESCO, "In line with governmental priorities, the €11 million project will seek to engage Jordanians, Iraqis, and Syrians, including young people, in their respective communities in the preservation and safeguarding of cultural heritage sites for tourism purposes in the northern districts of Jordan (Irbid and Mafraq) and Iraq (Erbil and Duhok)."
UNESCO's head of culture in Iraq, Junaid Sorosh, notes that, "By using the power of culture as driver for sustainable economic development, the project aims to ensure dignified, sustainable livelihoods and create economic opportunities for Syrian refugees, vulnerable Jordanian, and Iraqi IDPs in the cultural heritage sector."
The project also offers young Iraqis a unique opportunity to restore their own heritage. As Mofaq takes me on a tour of the Abdallah Pasha and Salim Qaqa houses, two of several Ottoman-era homes currently being restored under the program, he recalls stories from his childhood that came alive through his work as an architect.
"My Turkmen great-grandfather sold apples and cherries here, brought in from his orchards," he relates. He had heard about the house, but only saw it for the first time while working at the citadel. "It was an amazing experience to see it and imagine the kind of lifestyle my forefathers lived." Although the house has been surveyed, it waits, like many others, for restoration funding. It's only one of the citadel's 330 historic houses — known for their unique mud mortar brickwork and ornamentation — that constitute the most important cluster of traditional buildings in Iraqi Kurdistan.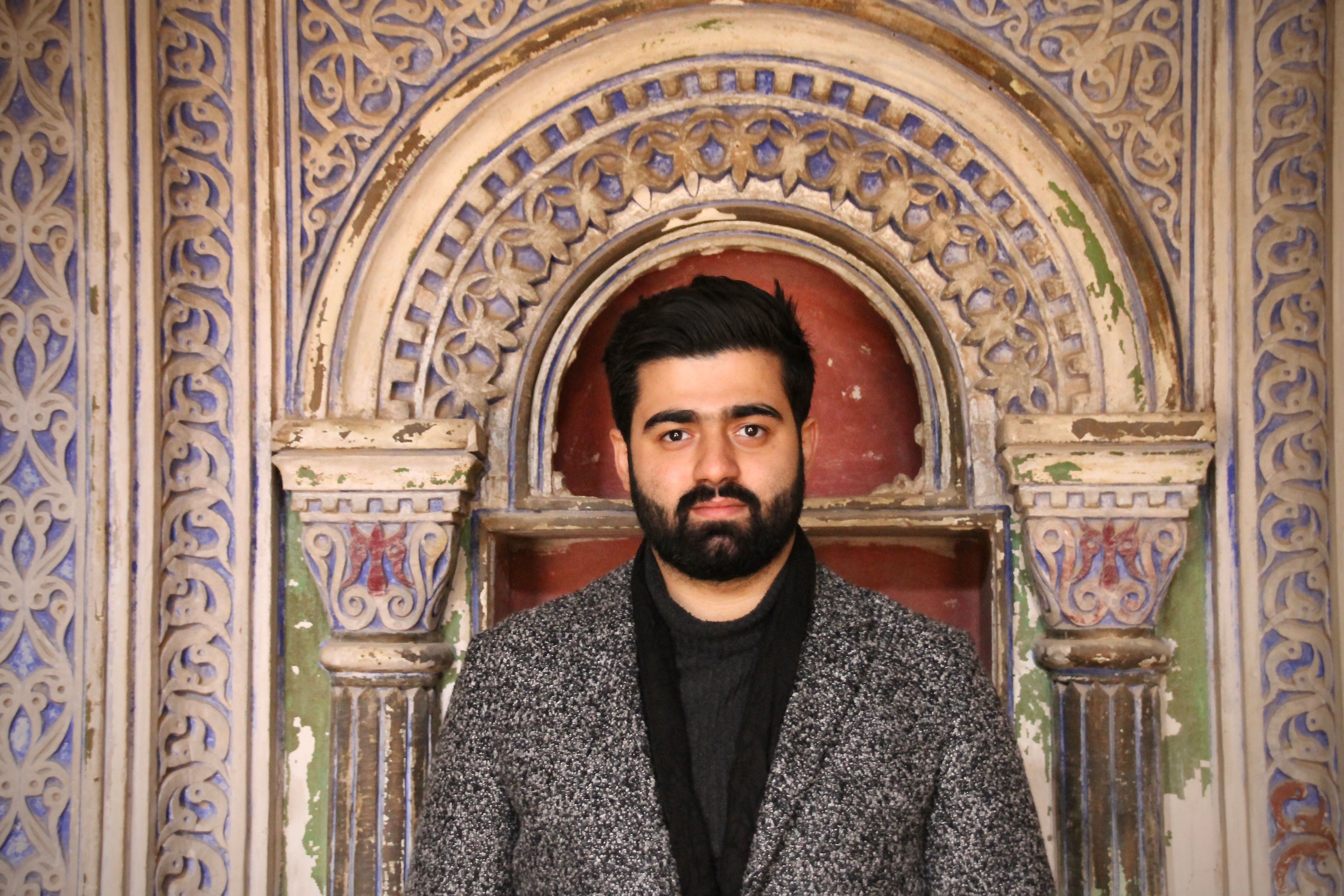 Mofaq's colleague 25-year-old Zainab Adil adds, "Our work is about protecting the soul of this place. Every house has a story about our ancestors." Adil explains that survey work laid the foundation for their proposals to restore Ottoman-era homes on the ancient mound, a UNESCO World Heritage site where the layers of 6,000 years of civilization are built one on top of the other. "Ten years later, we revisited these studies to see which elements were still standing and repairable and which bits had collapsed." Working together as a team of five architects, they painstakingly catalogued homes at the citadel and presented their proposal to the High Commission for Erbil Citadel Revitalization (HCECR). To date, says Mofaq, only one-third of the houses are salvageable. The restoration work remains urgent as many are on the verge of collapse.
As we walk toward the serai part of the citadel, once home to wealthy notables, the area brims with possibility; restoration work has finally resumed after a two-year pandemic lull. A recently restored villa may become part of a university, the young architects tell me as they unlock a gate that opens up to a series of old mud-brick homes with wooden beams covered in canopies to protect them from the rain.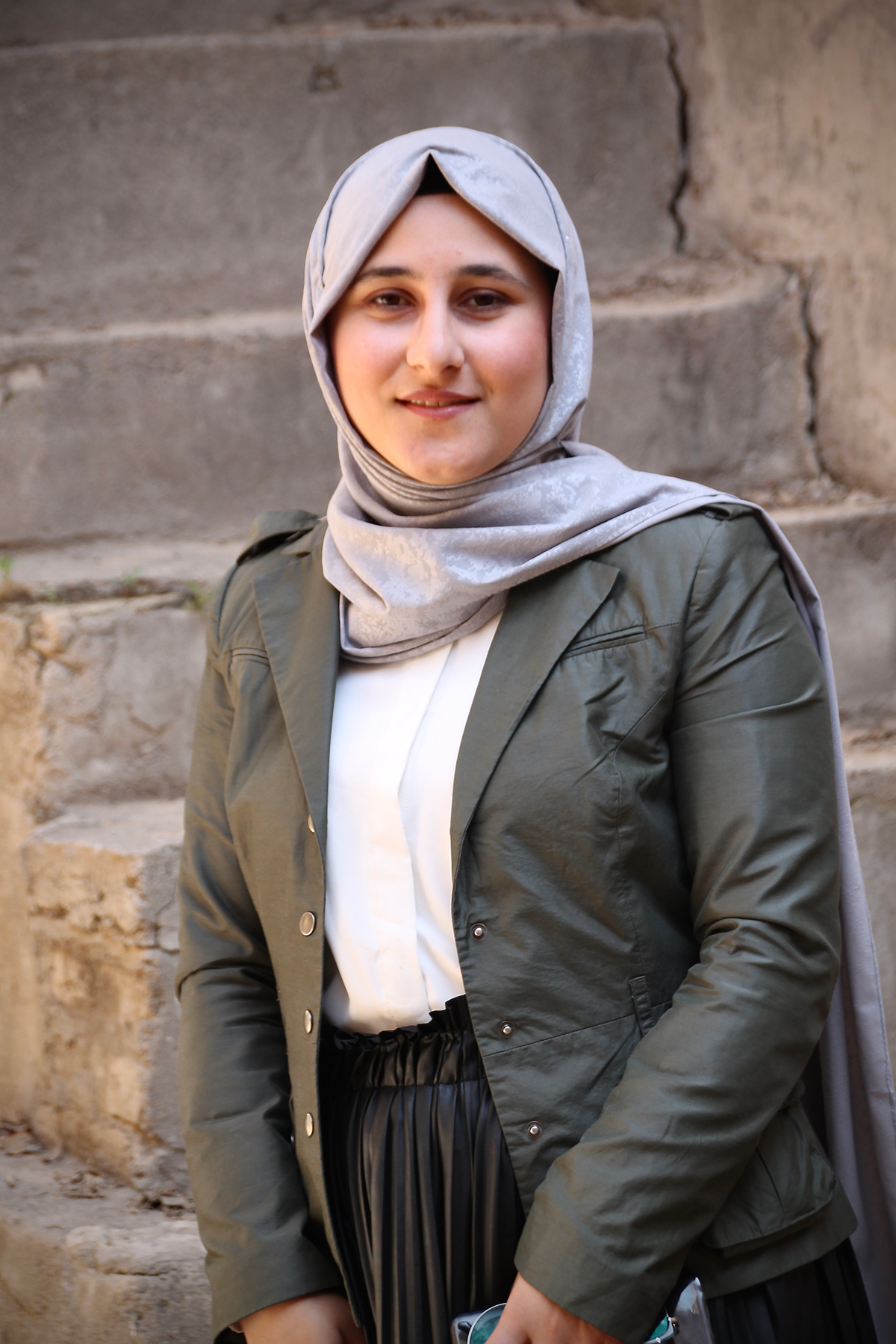 "Many of these restored houses will become centers for NGOs," Adil tells me as we walk past them. As we approach the entrance to the Abdallah Pasha al-Naqib diwakhana in the once affluent serai section of the citadel, she notes, "And this will become a guesthouse for their visitors."
The unassuming entranceway opens up into a courtyard to reveal a recently restored wooden roof supported by artfully carved wooden columns. The fruit of several months of restoration work, the columns were restored using bits of wood — mainly spindar (poplar) — from nearby collapsed structures. The brickwork too is a combination of old, new, and recycled material, a traditional technique here that contributes to the unique patterning found on external walls that seems to shift with the path of the sun.
This once grand edifice was previously one of the largest and most impressive in the citadel. As one can see in archival photos, it was two stories high with a U-shaped arcade of round arches supported on masonry columns. The east wing boasted a single reception room with a carved Mosul alabaster doorway, rich ceiling ornament, and intricately carved niches adorned with moulded plaster heads in the shape of scallop shells. The southern wing comprises two rooms — including a reception room unique in the citadel for its elaborate end-wall niches. It was within these sumptuous surroundings that Abdulla Pasha himself, perched on a stone bench, would receive visitors. In 2010, an earlier Ottoman-period end-wall niche was discovered behind a façade of late Ottoman brickwork. Underneath it all, ancient ruins tell stories of civilizations past.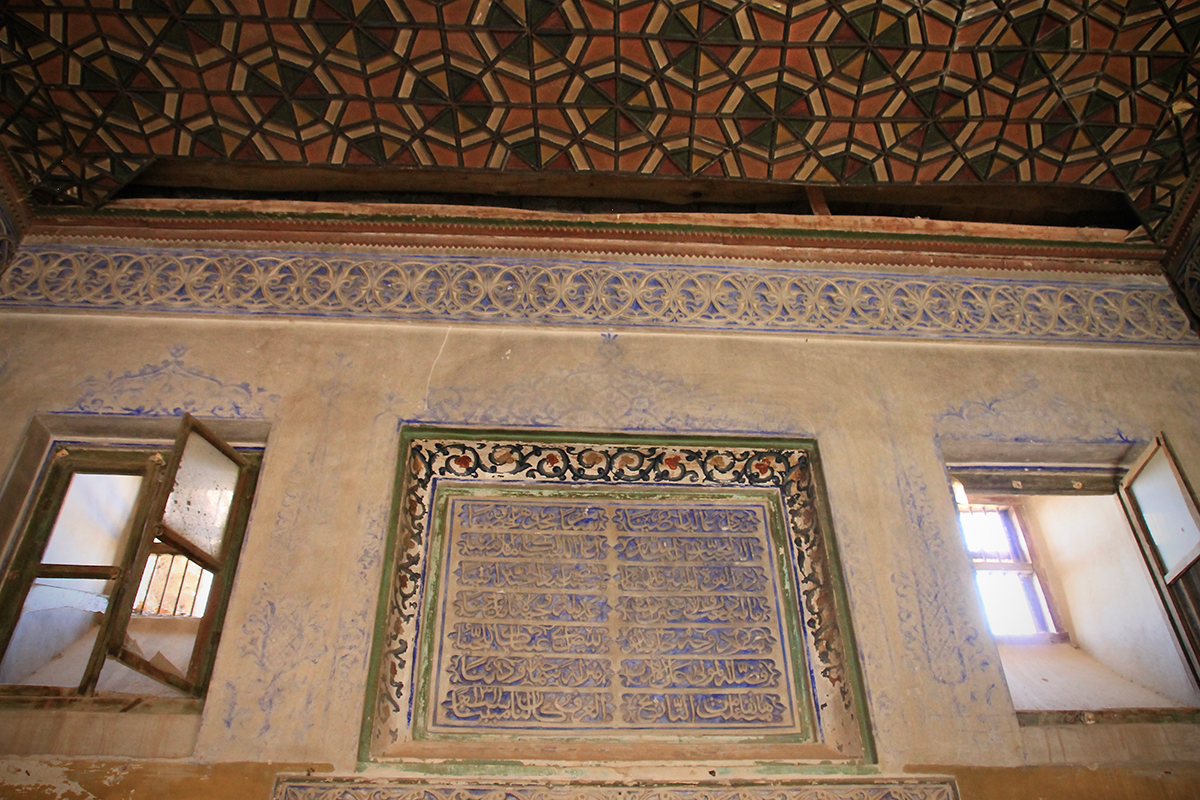 "To preserve the unique architectural features of the main room," explains Mofaq, "the priority was to restore the ceiling first to protect what was underneath." The stone carvings are known as "goat-hair" in Kurdish for their fine lines, he tells me. They are flanked by blue stenciled decorative motifs, typical of many of the Ottoman-era homes in the citadel. The wooden ceiling is embellished by recently restored octagonal decorative shapes, so lustrous that at first glance they could be mistaken for stained glass. The architects tell me they hope for more funding so the whole complex can be repaired.
Next, we walk past the gleaming new visitors' and interpretive centers, two restored Ottoman-era villas, built by a construction crew of locals, IDPs, and refugees. Here an intrepid team of cleaning ladies, mainly displaced Iraqi women and Syrian refugees, are being trained and employed under the Madad program in the fine art of heritage cleaning. "We can't use heavy detergents on the traditional wood and masonry," a Syrian Kurdish woman who fled her homeland five years ago tells me, "We have to treat them with great care."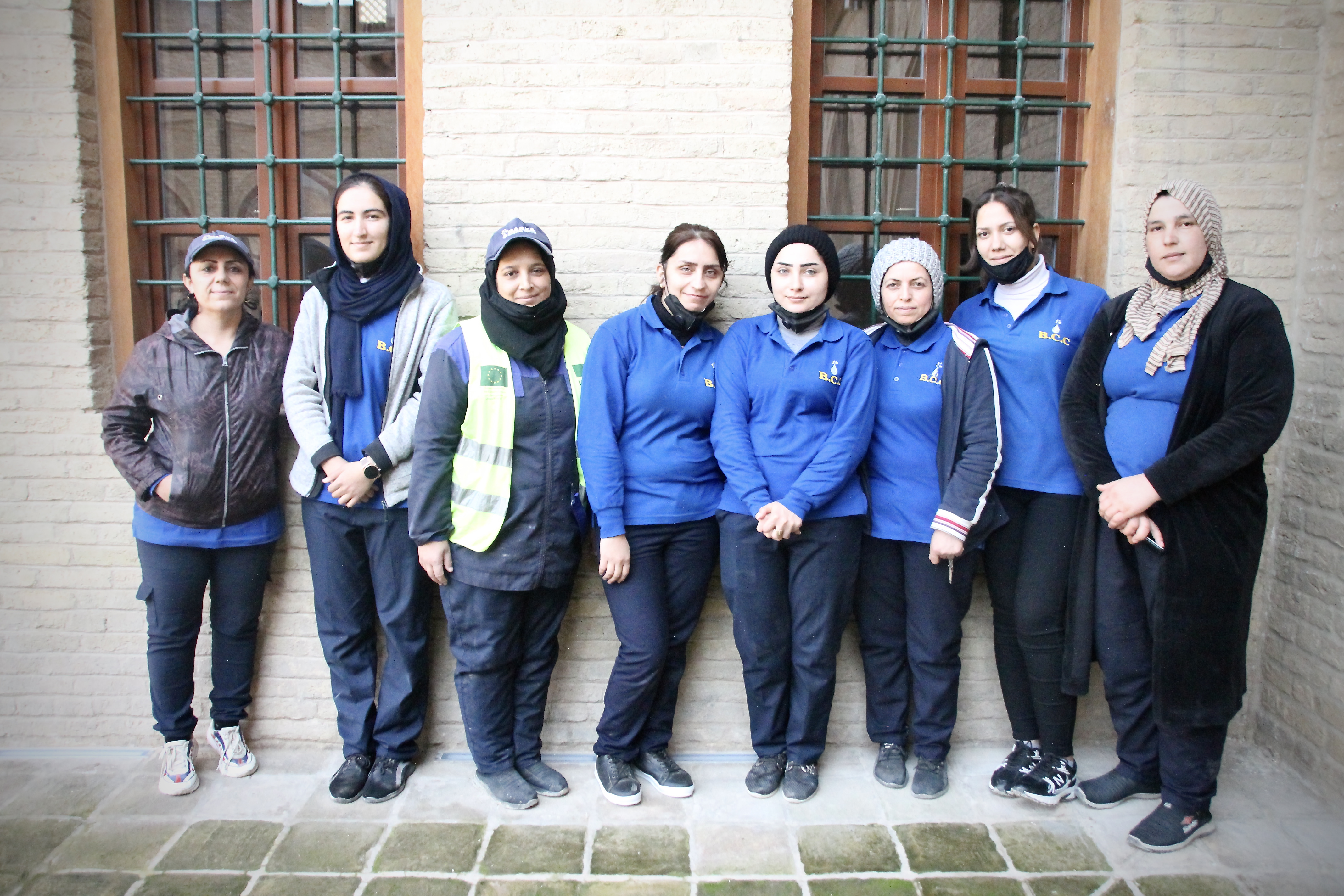 A few hundred meters away, just past the takiya area — named for the dervishes that once lived there — the Salim Qaqa house is being restored by workers employed by Madad, including displaced Syrians as well as locals. One young worker, Ibrahim Hachim, a 23-year-old Kurdish man from Erbil, says he has learned many new techniques during the three years he's been employed here.
"Before I came here, I worked mainly on new high-rises in the city, using concrete as the primary building material," he relates. "I always preferred working with traditional masonry, so when I heard about this opportunity, I took it."
Hachim explains the many practical advantages of using traditional mud-brick masonry, which insulates better than concrete, keeping the heat in during the winter and cooling interiors in summer.
He also says that he prefers it aesthetically as it's "part of our culture. My father and grandfather worked with stone and brick, not with concrete."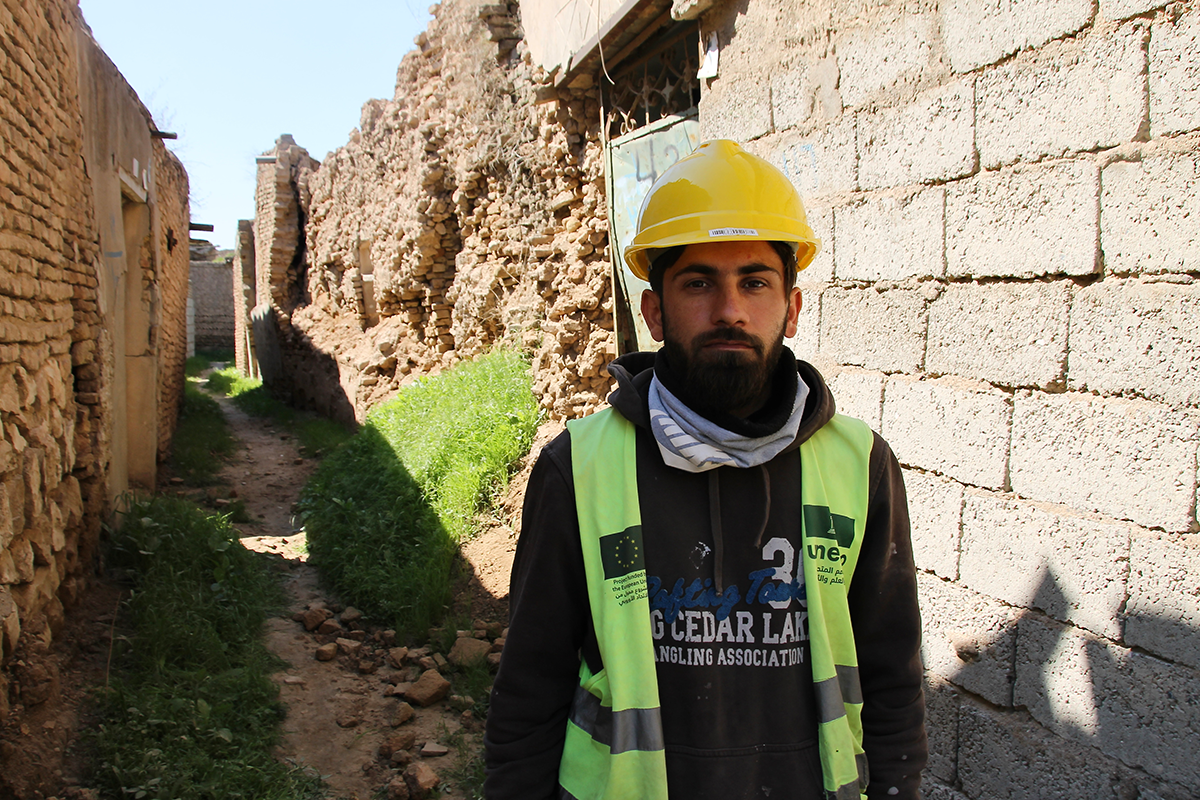 "I learned a lot working here," he explains, including how to work with wooden ceilings and beams, which in modern high-rises are made of concrete and iron.
"Working on these heritage houses (side by side with Syrian refugees) is a step-by-step process," he says, "unlike working on high-rises. We have to evaluate which bits are salvageable. Each house is unique and requires different building techniques, including preservation of architectural ornamentation. It's fine-detailed work and much more difficult than just pouring concrete."
Even though heritage restoration is harder than modern construction, Hachim prefers it. "I am preserving this heritage for my children — it's part of our culture, our identity. I'm happy to work here."
Once the work at the citadel ends, he says, there will be plenty of work in the old city's "buffer zone," where hundreds of old Ottoman-era houses need repair.
Hachim takes us on a tour of the Qaqa house. Once past a rusted gate, the house is a revelation. A tree grows in the middle of the courtyard, next to a pile of rubble, flanked by elegant archways of Mosul alabaster. The Qaqa house is important not only for its architectural qualities, but also because it's the only home with alabaster elements spared from Saddam Hussein's heavy-handed reconstruction efforts in the citadel during the 1980s. The windows on the façade and in the two main rooms, as well as the colorful painted wall décor, are excellent examples of post-Ottoman alterations. For now, there is only funding to restore the roof. The house's handsome rooms with painted metal ceilings and floors of patterned tiles will have to await their resurrection.
Two wings contain rooms once linked by a passageway built against the side of the courtyard, now walled off. But the whole project is as much architectural gestalt as restoration work. For now, it remains a portal to the past — one lovingly uncovered and carefully opened by a whole new generation.
Hadani Ditmars is the author of Dancing in the No-Fly Zone: A Woman's Journey Through Iraq, a past editor at New Internationalist, and has been reporting from the Middle East on culture, society, and politics for two decades. Her book in progress, Between Two Rivers, is a political travelogue of ancient and sacred sites in Iraq. The views expressed in this piece are her own.
Photo by Hadani Ditmars
---
The Middle East Institute (MEI) is an independent, non-partisan, non-for-profit, educational organization. It does not engage in advocacy and its scholars' opinions are their own. MEI welcomes financial donations, but retains sole editorial control over its work and its publications reflect only the authors' views. For a listing of MEI donors, please click here.