Summary
The North Dome/South Pars field, shared by Iran and Qatar, is the largest gas field in the world. Iran and Qatar are well aware of the wealth they control, but they differ in their approaches to monetize it. Further development of the field will be hampered by the prolongation of low gas prices, which is set to continue for the near future and have varied impacts on both states. Iran may be prompted to develop value-added industries based on natural gas, and explore piped gas options to neighboring countries. Qatar will find its large investments in L.N.G. much less profitable than in the past and, like Iran, may have to shift to piping gas to its neighbors and more value adding products based on natural gas. Nevertheless, it is in the world's interest to ensure stability over this vital gas field, and thus encourage Iran and Qatar to maintain warm relations and responsible dual management.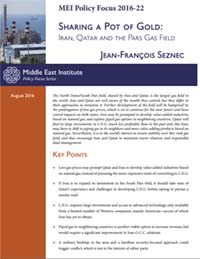 View PDF
Key Points
Low gas prices may prompt Qatar and Iran to develop value-added industries based on natural gas, instead of pursuing the more expensive route of converting to L.N.G.
If Iran is to expand its investment in the South Pars field, it should take note of Qatar's experience and challenges in developing L.N.G. before opting to pursue a similar road
L.N.G. requires large investments and access to advanced technology only available from a limited number of Western companies, mainly American—access of which Iran has yet to obtain
Piped gas to neighboring countries is another viable option to increase revenue, but would require a significant improvement in Iran-G.C.C. relations
A military buildup in the area and a hardline security-focused approach could trigger conflict, which is not in the interest of either party
Read the full Policy Focus here.
---
The Middle East Institute (MEI) is an independent, non-partisan, non-for-profit, educational organization. It does not engage in advocacy and its scholars' opinions are their own. MEI welcomes financial donations, but retains sole editorial control over its work and its publications reflect only the authors' views. For a listing of MEI donors, please click here.