Basketball is a game where all five players need to share the ball. If it is played with great teamwork, the sum of the parts is greater than the individual. It's a great forum for building trust. A lot of the game happens with things you can't see. Communication and trust with teammates is the key. It seems to me that the same can be said of peacemaking.
--R.C. Buford, General Manager of the NBA's San Antonio Spurs[1]
Across generations, age groups, and cultures, sport has long demonstrated a unique ability to unify even the most belligerent of enemies. In Israel, a country with few genuinely integrated neighborhoods, there have been Arab footballers on the men's national team since the mid-1970s.[2] In recent years, several young Arab-Israeli basketball players have been invited to represent their country as members of the junior national team. It is by no means a coincidence that sport was the vehicle for these progressive accomplishments.
The very nature of athletics, particularly team-oriented pursuits such as basketball, is conducive to peacebuilding. For this reason, organizations such as PeacePlayers International (PPI) have begun harnessing sport as a tool for building relationships between people living in divided communities. Founded in 2001, PeacePlayers administers programs in conflict and post-conflict zones around the world that aim to "use the game of basketball to unite and educate children and their communities."[3] In addition to branches in Northern Ireland, South Africa, and Cyprus, the organization operates PeacePlayers International-Middle East (PPI-ME) in Israel and the West Bank.
The bulk of PPI-ME programming is focused on Jerusalem, a politically-charged city whose final status remains one of the central points of contention in the Arab-Israeli conflict. With the majority of Arab residents living in the eastern part and Jews in the western part of the city, Jerusalem has been described as "two islands - one Arab, one Jewish … with a tight, almost impermeable ethnic boundary."[4] In Jerusalem, schools, playgrounds, community centers, and sports clubs are largely segregated. Despite these and other obstacles - including language and socio-economic barriers - PPI-ME has successfully formed several integrated basketball teams with members from both East and West Jerusalem. A series of evaluations conducted from 2005-07 shows that the program has positively affected how participants perceive the "other" side. In short, basketball has proven to be highly effective in fostering cross-cultural understanding among children from a city that, by and large, does not mirror or encourage this attitude.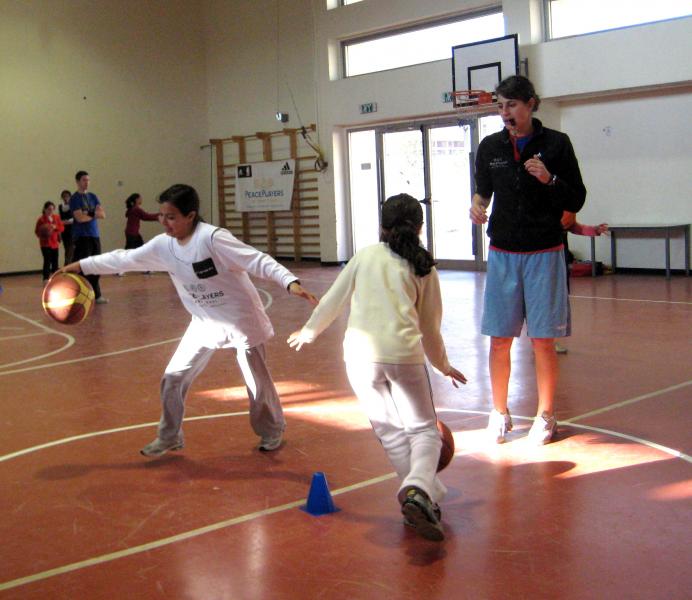 In 1954, social psychologist Muzafer Sherif conducted an experiment in which he divided a group of boys attending a summer camp into two opposing sides (the "Rattlers" and the "Eagles") that competed in games and team challenges. Though the boys had no preexisting biases against one another, they gradually grew to dislike members of the other team and refused to socialize outside of their respective groups, even during non-competitive activities. After creating this environment of discord, Sherif then introduced a series of collaborative tasks, which could not be completed by one team alone. For example, after announcing that a certain truck would leave to pick up that evening's dinner, he had the vehicle pretend to stall at the bottom of a hill. United by the desire for a hot meal, the "Rattlers" and "Eagles" quickly banded together to push the truck back onto the road. Using other similar exercises, Sherif was eventually able to reverse the feelings of animosity that had developed between the two sides. This groundbreaking "Robbers Cave Experiment" demonstrated that hostilities between people can be reduced by establishing "superordinate goals," defined as "goals which are compelling and highly appealing to members of two or more groups in conflict but which cannot be attained by the resources and energies of the groups separately." [5] Winning a basketball game - which can only be done with the help and cooperation of all players - is what brings together the PPI-ME children from East and West Jerusalem.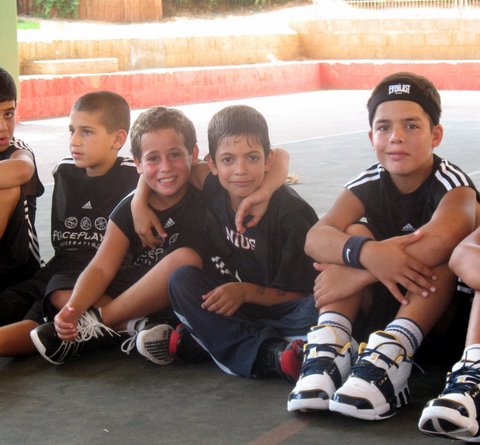 The story of Efrat, a 13-year-old West Jerusalemite, is typical of the process that leads many youth to PPI-ME. After learning about the program during a school recruiting day, she joined a "single identity" team consisting only of her Jewish classmates. In a city where over half of children live below the poverty line, PPI-ME provides a low-cost alternative to other extracurricular activities; as a result, demand is generally high. [6] For the first several months of the school year, Efrat and her teammates learned the fundamentals of basketball from a local Jewish coach. Using exercises from the PPI-ME Peace Education Curriculum, [7] they also began preparing for "twinnings," or joint meetings with a group of Arab girls from a nearby neighborhood who were simultaneously undergoing the same basketball and peacebuilding training in their respective community. Like all "twinning" partners, the two teams were pre-selected by PPI-ME staff, based on factors such as age, basketball skill level, and location (geographical proximity allows for greater frequency of contact).
Efrat's first "twinning" was held at the Hand in Hand School for Bilingual Education in Jerusalem, a key PPI – ME partner that hosts many program activities.[8] The event did not include a traditional basketball game, but rather was based on high-energy drills and teambuilding exercises. It was also run in the neutral language of English - with Arabic and Hebrew translations - by an American staff member. For the rest of the school year, Efrat continued to participate in biweekly "single identity" practices while "twinning" twice each month. In the summer, she competed in the annual Jerusalem 3-on-3 Streetball Tournament as part of a mixed PPI-ME team. The following season, Efrat's "twinning" group took an important step towards becoming one integrated basketball squad. Instead of two "single identity" sessions, the girls started to practice together once each week. Over the course of the year, the number of "twinnings" was gradually increased; currently, the girls take part in biweekly joint practices in addition to regular competitive games against area schools and sports clubs. The team is led by a local Palestinian coach who speaks both Arabic and Hebrew.
Prior to joining PPI-ME, Efrat had never experienced meaningful contact with Arabs - despite living in a city where they account for 33% of the total population.[9] After two years in the program, she now interacts comfortably with her Arab teammates, both on and off the basketball court. Most PPI-ME participants undergo a similar transformation, as reflected in the findings of the abovementioned program surveys. Conducted by an independent evaluator, they examined topics such as stereotypes, willingness for contact, and general attitude towards the project. A comparison of questionnaires distributed before and after a year of PPI-ME participation showed that a majority of Arabs and Jews developed more positive opinions of the "other" side as a result of the program. In addition, both groups reported significantly greater willingness for interaction in basketball and non-basketball settings (e.g., attending the same school, visiting each other's homes, etc.). Almost all of the participants - 90% of the Arabs and 97% of the Jews - stated that they would recommend PPI – ME to others.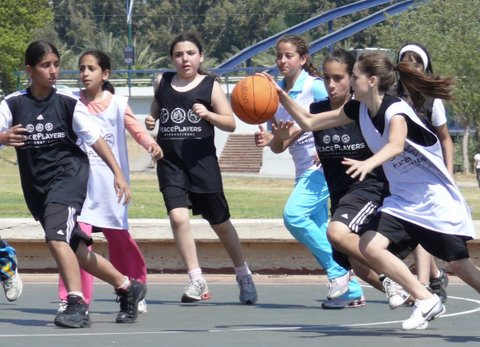 PPI-ME is successfully bringing Arab and Jewish youth together using a method of sustained contact based around "superordinate" goals. As anecdotal and analytical evidence has shown, over time the mutual pursuit of basketball and the PeacePlayers team identity begin to overshadow individual prejudices. The use of sport has also allowed PPI-ME to fill the gaps left by other dialogue-based coexistence organizations, which tend to reach only the more liberal segments of Israeli and Palestinian society. Indeed, the widespread appeal of basketball has allowed PPI-ME to work in some of Jerusalem's most conservative and volatile neighborhoods. Of course, the PPI-ME program is not perfect and could never by itself solve the Arab-Israeli conflict. However, it does represent an important step on the path to peace - learning how to live together. It is also a striking example of the power of sport. Much more than a showcase for professional competition, sport has the capacity to unite people and to effect positive change. That is good news for Israel, a country still searching for ways to constructively alter the current status quo.
---