The road to Haraniyya, a formerly rural area just beyond the Giza pyramids, is now an eight-lane highway flanked by red-brick buildings packed and stacked as if designed by some demented cubist. But take the exit, cross a canal and tucked behind a wall of residential towers, the Museum of Adam Henein exists in magical contrast, a verdant stronghold of living art, and one of Cairo's hidden treasures.
Holding works produced by 88-year-old Adam Henein from the mid-1950s to the present, the museum, with its adjacent atelier, is also the artist's home. Seated amid the palms in a garden peopled with sculptures he calls "friends," Henein receives visitors and oversees an apprentice. A 19-meter-long granite ship sails its stone passengers across a manicured lawn. Between the birdsong and rhythmic strikes of a chisel, the place is beguiling, not least for the ease with which it communicates the artist's vision and intent. Opened in 2014 to display and conserve Henein's paintings and sculptures, this permanent exhibition suggests the continuity of the creative enterprise from the ancients to the moderns, a direct line drawn from nature and etched in stone.[1]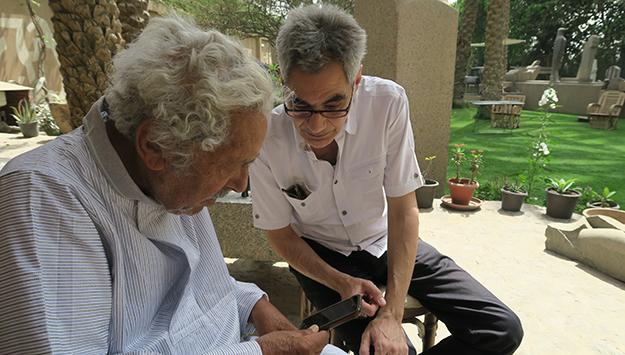 Born in Cairo to a silversmith's family originating in Asyut, Henein understood his vocation at age eight. During a class trip to Cairo's Egyptian museum, wandering in a grove of statues he perceived something familiar, ancestral, an organic recognition that shaped his life. "I was steeped in [ancient Egyptian art] from childhood. I lived with that art, I lived in that art, or rather it dwelled in me as soon as I began to sense and perceive the elements and beings of the world around me."[2]
Henein's sculpture is, however, less influenced than informed by ancient masterworks, which represent "a standard of judgment—a set of laws. From then on, everything you saw, you compared."[3] Among the qualities Henein saw in Egyptian sculpture was its combination of "heaviness with grace … [the ancients' blocks] seemed … to float on water."[4] His renditions of the human form, of animals, particularly birds, as well as his abstract, often vertical pieces, convey a similar defiance of gravity alongside a playfulness redolent of childhood explorations and discoveries.
Henein's interest in and depictions of rural life corresponds to the resurgence of national pride accompanying Gamal Abdel Nasser's presidency, a time when Egypt's fellahin were ennobled and its Pharaonic legacy re-appropriated. But his fascination with country life was more closely related to his observations of nature, and his vision of humanity as part of it.[5] Likewise, Henein's rapport with materials ran deep; experiments with kiln-fused amalgams of basalt, copper and clay to obtain 'a 'primal matter' aside, he maintained that "what you have to do is look. When you look at a stone right, that's when you enter into its spirit. One day you'll find yourself inside it, and understand what it's all about."[6]
Henein lived in Luxor and Aswan during the early 1960s, "beautiful days without end … the work came from that."[7] Back in Cairo he belonged to a circle of artists and writers working against a backdrop of militaristic state strictures, including control of outlets for exhibiting art. In 1965, when Al-Ahram Publications acquired his monumental granite 'Dynastic Bird' for their new headquarters, Henein purchased the Harraniyya property within eyeshot of the pyramids. In 1971, Henein travelled to Paris to participate in an exhibition of contemporary Egyptian art with the intention to stay and study for a year. Familiar with classical art and an admirer of contemporary sculptors like Constantin Brancusi and Henry Moore, Henein was nearly overwhelmed by the civilizational scope of works in Paris museums and galleries. A show of 'primitive' Central American (possibly Mayan) artifacts caused him to abandon his own work for a year to reassess.
Throughout the 1970s he exhibited in Paris, elsewhere in Europe and in Morocco, producing sculptures of a size his cramped workshop would allow. In 1976, he devised a form of painting that provided a steady income, when a friend brought him a piece of papyrus from Egypt where its means of manufacture had recently been re-essayed. Intrigued by its fleshy texture, Henein produced a series of abstracts using natural pigments bound with gum arabica whose forms recalled the minute fragments of leaves he'd watched ants in his Harraniyya garden laboriously sever and carry to their nests.[8] When he finally returned to Egypt at age 67, some of his most important work lay ahead.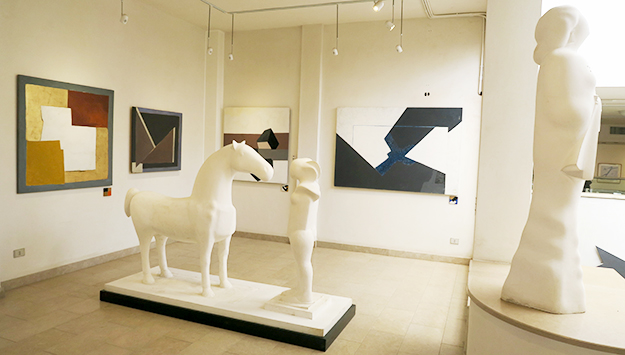 In Harraniyya, a spacious workplace equipped with a winch, Henein was able to realize the large pieces he'd long envisioned in native granites, a seminal experience he was determined to extend to other artists. Through his rapport with then minister of culture, Farouk Hosni, Henein established a forum for Egyptian and international sculptors in Aswan in 1996.[9] The annual state-funded Aswan International Sculpture Symposium has effectively revived the art of stone sculpture in Egypt, offering accomplished and apprentice-level sculptors the opportunity (including heavy equipment and skilled workers) to create large works in granite brocks quarried from the living rock. Young Egyptian men and women work alongside seasoned international artists and are given sandstone to produce a sculpture that, if selected by a jury at the symposium's close, enables them to return the next year to work in granite. The sculptures that emerge from the symposium remain in situ, populating an 'open air museum' on a rocky bluff commanding a Nile view.
A recent symposium participant, 35-year-old Maged Mekhail, began sculpting with the doughy heart of his mother's fresh baked bread, and later worked in a casting factory of neo-Pharaonic statuary, a popular décor item in Egypt and the Gulf. When Mekhail showed Henein his work, he told him it was "terrible," but invited Mekhail to Harraniyya and assigned him the task of repairing the toe on a statue of a reclining fellah. Mekhail, who remained Henein's apprentice for five years, said, "I learned to use tools as he did, with the same heartbeat rhythm … He told me to enjoy every minute, from picking up the tools in the morning to cleaning them at night. Stop and look at what you've done, forget the time." [10]
Shortly after returning from Paris, Henein met Karim Francis, owner of one of the three privately-run art galleries operating in Egypt's capital in the mid-1990s. A musician with an artist's sensibility, Francis produced a show of Henein's work in 1998; the two became friends and conceived the costly idea of making a museum. Henein exhibited in New York's Metropolitan Museum of Art in 1999, but sculpture was a hard sell in Egypt.
In the early-2000s, Francis became the first to show Henein and other Egyptian artists in the Dubai galleries at the vanguard of the now thriving Gulf art market. In the wake of a Qatari commission for a granite ship, like the one in Adam's garden (but twice the size), the Adam Henein Foundation was established and the museum project launched.
While Henein's mud-brick house was being replaced with a modest but luminous 3-story building, Cairo was in turmoil. In 2012, with a newly elected Islamist president in power, Francis and Henein "worried about whether sculpture would still be allowed in Egypt at all," said Francis, "but we kept going."[11] With the first floor built around the heaviest pieces, successive floors feature pieces grouped chronologically and thematically. Despite the range of mediums and materials (painting, drawing, fresco, sculpture in bronze, stone, clay, slate, wood), what is most striking is the work's inner logic and cohesiveness; like that of other great artists it represents a world view.
In recent years, London's Tate Modern and Paris's Georges Pompidou have expressed interest in Adam Henein. Karim Francis believes a major European exhibition would definitively place him among the last century's great artists, an event that is sooner or later bound to occur. For Henein, international acclaim is nothing compared to the rewards of the creative process. "Artistic time has its own measure," he says, a truth to which the body of work he created and consciously shared, stands testimony.[12]
---
---
The Middle East Institute (MEI) is an independent, non-partisan, non-for-profit, educational organization. It does not engage in advocacy and its scholars' opinions are their own. MEI welcomes financial donations, but retains sole editorial control over its work and its publications reflect only the authors' views. For a listing of MEI donors, please click here.