"My task, which I am trying to achieve is, by the power of the written word, to make you hear, to make you feel—it is, before all, to make you see." 
- Joseph Conrad, Lord Jim
---
Jason Paul Tecson, a Filipino sculptor based in Manila, and Thaer Maarouf, a Syrian artist sheltering in Beirut from the ravaging war in his country, have never met nor spoken. Neither is exposed in any way to the history, culture, or current events of the other's country or has visited the other's region.
Yet through their art, Tecson and Maarouf are engaged in a private cultural dialogue. Witness, for example, how Tecson's sculptures (we discovered his work while visiting galleries in Manila) seem to have walked out of Maarouf's paintings (an artist with whom I was familiar).   
These two artists invite us to explore a cultural dialogue between the Middle East and Southeast Asia. Though they have never interacted with one another and are from countries that could not be more different, they nonetheless converge via their art on the universality of conflict and that which is beyond conflict. Their tools include symbols and a blending of the familiar with the alien, as well as the ordinary and the extraordinary.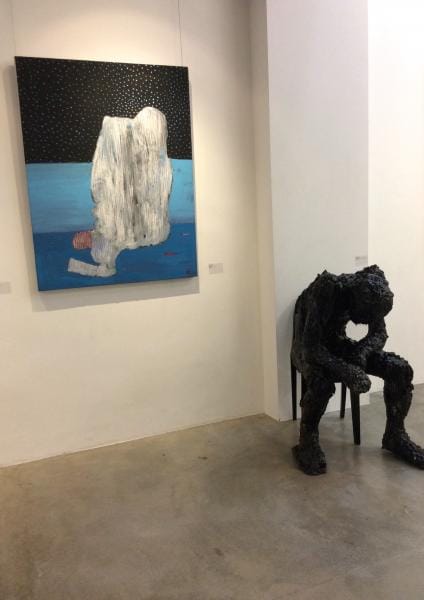 Not only do both artists rely on similar symbols but they also render these in a stylistically similar way. The resemblance is striking. For example, in "Hope" by Thaer Maarouf and in the untitled sculpture of a man by Jason Tecson, the men are sitting hunched over, heads tucked in and eyes pointed to the floor, reflecting.  One is covered with a veil and the other is loosely sculpted in layer upon layer of resin, some of it appearing as if it was going to drip, both carrying strong emotive narratives.  But Tecson's exquisitely detailed sculptures and Maarouf's expansive, cerebral paintings never define feelings and thoughts clearly. It is as if the works' very character seeks to normalize the darkness of conflict, leaving us with an impression or a mystery. Sometimes both artists explore the line between conventional aestheticism and artlessness, leaving us uncomfortable or mesmerized. Both artists pierce through our obvious sense of security.
Both want to, in the words of Joseph Conrad, "make us see."
From Spanish abstract painter and sculptor Antoni Tapies to German artist Anselm Kiefer, the art of Tecson and Maarouf evokes a distinguished lineage. For example, Thaer Maarouf's discourse echoes Anselm Kiefer's art, a significant part of which was preoccupied with World War II's destruction and its aftermath.  In "Icarus, Sand of the Brandenburg March" (1981), Kiefer calls on the myth of Icarus to awaken his country's collective memory, just as Thaer Maarouf reaches out to the same symbol in "Borders of the Sun". All four artists are indelibly marked by the turbulence in their countries during their lifetime, while exploring the possibility of nonconventional materials such as tissue, plastic, ropes, and metal.
In particular, Tecson and Maarouf's art showcases how conflicts similarly impact people, regardless of where the art is produced—and in their case, even when there are no cultural exchanges between the countries in which the conflicts occur.
The intention is not to upset us, but to allow unpredictability and complexity by making the art confrontational. Again, the artists are trying to "make us see."
This dialogue between Southeast Asia and the Middle East is all the more unusual because of the absence of cultural exports from the Middle East to Southeast Asia (or to anywhere else for that matter).
Every major city in the world is adorned with a British Council, a French Institute (or Alliance Française), an Italian Institute (or Dante Alighieri), a German Goethe Institute, and U.S. schools and universities. Thanks to these, European and American art, sciences, culture, and languages are promoted and projected worldwide. Cultural treasures from these countries travel the world to enhance their international cultural and political status.
Their Arab equivalent is seemingly nowhere.
We use culture to connect with other people, to propagate our values, and to define ourselves. Culture is a critical component of "soft power," the term coined by Joseph Nye to refer to the ability to persuade and influence public opinion through means other than force or money. 
When was the last time people in Singapore, Bangkok, Manila, or Jakarta sang Arab songs, watched Arab movies, danced Arab dances, were exposed to the enormous cultural treasures of the Arab world, or bought products and services invented there? Possibly never in the past 300 years. Not surprisingly, in a recent soft power survey by the Institute for Government for Monocle magazine, not a single Arab country ranked in the top 30 soft powers. They were outshone by far smaller states such as New Zealand (14th), Finland (17th), Singapore (23rd), and Argentina (30th). Criteria used to rank states included cultural missions abroad (France leads the pack with an astounding 229); annual attendance at major art galleries (the UK leads with 34.8 million visitors); universities in the top 200 (the United States leads with 74); think tanks (the United States leads with 1,828); and annual international aid spending (the United States leads with $30 billion).[1]
The Middle East seems to almost willfully refuse to export culture and forgets that presenting Arab culture to the world is critical to presenting the region in a positive way, and that backing indigenous creativity, as well as its export, with real resources is a key lever in countering the horrific images from the Middle East currently shaping Asia's view of the region and its people.
Instead of projecting their own cultures abroad, Arab states with money seem to prefer paying exorbitant amounts to import the Louvre and the Guggenheim or to buy football clubs in Paris and Manchester, a misunderstanding of culture's enormous importance in how it can be used to "make you, [those abroad], see." Hundreds of millions of dollars, indeed billions, are diverted to promote foreign cultures instead of supporting Arab artists and projecting Arab culture abroad.
At times, art may isolate or distinguish one idea, belief, or event from another. But the best art transcends rigid barriers and transforms the viewer. The exceptionalism of Thaer Maarouf and Jason Tecson is that they reached over a cultural desert to talk to each other and to serve as catalysts of multi-contextual significance—emphasizing that beyond conflicts, it is traditions, culture, and history that define people today.
The Arab world would do well to learn from their exchange. Exporting the distinguished culture of the Middle East is critical in any effort to counter the barbaric images of the region currently shaping Asia's view of Arabs. Arab culture is not visible enough to the rest of the world, and the culprits are the majority of Arab governments, institutions, foundations, and corporations that invest neither time, power, nor money in cultural projects abroad.
---
[1] See Monacle 8, 79 (December 2014/January 2015).
---
The Middle East Institute (MEI) is an independent, non-partisan, non-for-profit, educational organization. It does not engage in advocacy and its scholars' opinions are their own. MEI welcomes financial donations, but retains sole editorial control over its work and its publications reflect only the authors' views. For a listing of MEI donors, please click here.