In the fall of 1997, at the Carlton Hotel in Damascus, a simple wedding was held for the man who would become Syria's richest businessman and the regime's financial arm. Rami Makhlouf, Bashar al-Assad's maternal cousin, was getting married. The Makhlouf family chose a four-star hotel as they liked to keep a low profile about their influence and wealth. In the middle of the wedding, the most important guest arrived. As Assad entered the hall, Rami and his brother Hafez started to cry, and everyone followed; they were remembering Assad's brother Bassel, who had died two years prior in a car crash. Hafez had been in the car at the time. The scene captures the connection between the Makhlouf and Assad families. When Bashar's father Hafez al-Assad started his regime, the Makhloufs became key allies. This alliance deepened with Bashar's rise to power, and the Makhloufs became increasingly entrenched in the system until they became its economic pillar. The house of Assad was the political arm of the regime while the house of Makhlouf was the economic and financial arm. The two families ended up as Makhlouf described in his recent Facebook videos: the night and day of the regime, the positive and negative, the man and the woman.
Hafez and Mohammed
Hafez al-Assad seized power in a coup in November 1970. Ahmad al-Khatib was appointed president for a few months until elections were held in March 1971, which gave Assad the appearance of legitimacy. Assad knew that for his rule to be sustainable he needed money. He was especially wary of the capitalist elite in Damascus and Aleppo that controlled the wealth of the country. In a communist, socialist, Marxist environment, it was difficult for the young Hafez to accumulate wealth in his own name. Additionally, as a head of state, opening an account in his name abroad could lead to scrutiny from the press and scandal. He needed a partner. He found it in the brother of his wife, Mohammed Makhlouf — the perfect match for his political project. A strong friendship bound the two men together. They saw each other almost on a daily basis. They were tawla (backgammon) partners.
In 1972, Hafez appointed Mohammed as the head of the General Organization of Tobacco (GOT), which had the exclusive right to purchase tobacco from Syrian farmers. This was then sold through a Cyprus-based company that Mohammed owned to tobacco manufacturers worldwide. The company became a cash cow for Mohammed; as the GOT became the sole importer of cigarettes, he took a commission to allow foreign brands to be sold in the local market. Later on, when foreign cigarette brands were smuggled into the Syrian market via Lebanon, he took the lion's share from the illegal operations. This is how he started amassing wealth. After he left the company, his successor, Mohammed Kafa, was jailed two weeks after assuming his post because his wife spoke out about Makhlouf's corruption. Mohammed Makhlouf had started the institutionalization of corruption in Syria, and the corruption he oversaw was supposed to provide Hafez with the financial cushion his regime needed.
In the 1980s, Syria witnessed a construction boom. In 1985, Mohammed became the head of the Real Estate Bank, whose mandate was to provide loans for construction projects. All the residential associations had to go through him to get loans. He was known as "Mr. 10 Percent"— never approving a loan unless he got a cut of 10 percent. He kept the position until 2004.
When Syria began exporting oil in the mid-1980s, other new business opportunities arose. Mohammed was involved once again, but without any competitors like Rifaat al-Assad, Hafez's brother, who by that time had been exiled to France. One such opportunity, through LEAD Contracting & Trading, was in oilfield services. LEAD Contracting & Trading, owned by Ghassan Mohanna, Mohammed's brother-in-law, and managed by his partner and relative Nizar al-Asaad, became the sole oilfield services provider for Al Furat Petroleum Company, a joint venture between the Syrian government and international oil companies. Syria's oil exports presented another opportunity. They were sold by the Ministry of Oil, through the Oil Marketing Board in the prime minister's office, exclusively to seven companies established in Cyprus and Greece that had an agreement to give Mohammed a 7 percent cut. The oil business marked a quantum leap for Mohammed's wealth. The money from oil sales was coming in hard currency, and in large quantities.
The elder Makhlouf was building the groundwork for his son to take over and continue the family's legacy. Rami graduated from Damascus University in 1993 with a degree in civil engineering. He was known to be an extremely calm person. Rami was raised by his father with the mentality that they were an integral part of the rule of Syria. At the top, they wanted for nothing. The Makhloufs traveled with diplomatic passports and were hosted in VIP lounges reserved for heads of state. At the airport, they skipped the security checks. Cars were dispatched from the presidential palace to pick them up from the airplane — their security guards, license plates, and cars were all provided by the presidential palace. One could call the presidential palace's main switchboard and be transferred to the Makhloufs. They were treated like the Assads. These displays of power sent a message to the Syrian public: the Makhloufs are partners with the Assads. They perceived themselves as such; it was not only the Assads' regime, but theirs as well.
Rami and Bashar
In 1994, Bassel died in a car crash and all the attention was focused on Bashar. Rami became very close with him, developing a relationship he never had with Bassel, as the latter had always kept a distance from those in his circle. Rami even started to imitate Bashar — his demeanor, his expressions, and his posture. Rami began to expand his business dealings. In 1999, he founded Syriatel, in collaboration with the Egyptian billionaire Naguib Sawiris, and it began operating the following year. It was part of Bashar's alleged plan to open Syria up economically. It was also Rami's first attempt at making international business deals. He established a free trade zone for importing products to be sold inside Syria — the only free trade zone in the world to sell goods inside a country — which allowed him to sell products without paying any customs duties. He also had several companies in real estate, metal, insurance, and other sectors.
In 2004, Mohammed Makhlouf retired from the Real Estate Bank. Having amassed so much wealth, he began to seek prestige, and wanted to position himself as an intellectual, the chief economist of Syria. He started developing the regime's international relations, building ties with Lebanese business people, corrupt Western officials, and shady businesses in Europe and the U.S. In January 2005, when Senator John Kerry was visiting Damascus, I met him as a political consultant, along with Abdullah Dardari, then head of the State Planning Commission, Samir al-Taqi, the head of the Orient Research Center, and Nawwar al-Sharaa, the daughter of then Foreign Minister Farouk al-Sharaa. The senator's itinerary included a dinner invitation to Makhlouf's home in the Malki neighborhood. Mohammed had been impressed by Jamil al-Assad, Hafez's brother. Jamil had been head of the Parliament's national security committee for a long time. Mohammed wanted a similar post. When he met Kerry, he was impressed by his title. The word senator seemed so grand. In Syria one can become member of the Parliament, known as the People's Council, but Mohammed wanted something more prestigious for himself. He wanted to create something in Syria that would give him the same prestige Senator Kerry had in the U.S. This is how the Makhloufs perceived the "state": as an organization they could mold to suit their whims. Mohammed called the assistant secretary general of the Ba'ath Party and asked him to form a committee of top legal experts to create a Senate similar to the U.S., which he would then head. Four top Syrian legal experts were put on the job: Haitham Sataihi, Sam Dalla, Edward Khouli, and Omran al-Zoobi. During the discussions in the June 2005 Ba'ath Congress, Bashar dismissed the idea, signaling to the Makhloufs that their place was in the economic realm. They were to have no political role in Syria.
Cham Holding
In 2006, to increase his grip on the economy, Rami established Cham Holding. He gathered the top 71 Syrian businessmen under his wing with a total capital of $350 million, and proceeded to consolidate control over the private sector, which made up around two-thirds of Syria's economy. This is when the rivalry started between Rami and Bashar's wife, Asma. She was a banker and had a brief career at JP Morgan in London. At around the same time that Rami established Cham Holding, Asma established Souria Holding, but her ambitious project to build towers in Syria and raise millions for her and her family never materialized. To start with, Rami, who benefitted from his father's reputation, was able to attract the top business people in Syria, something Asma could not do with her limited connections. She was only able to gather 23 middle-tier, mostly Sunni businessmen for Souria Holding. Rami also had the backing of his cousin. Bashar was sending a tacit message to the business community in Syria: anyone who wants to operate on a big scale in Syria needs to take part in Cham Holding. Additionally, Asma's ambitions were curbed by Bashar's mother, Anisa Makhlouf, who kept the title of first lady for herself, and by his sister, Bushra. In 2012, following the assassination of her husband, Assef Shawkat, Bushra moved to Dubai along with her mother. Shawkat had been planning, along with six other officers, to carry out a coup and reach a compromise with the opposition to spare the country a bloody conflict. As a result, after the start of the crisis, Asma had more room to maneuver once her in-laws were out of the picture.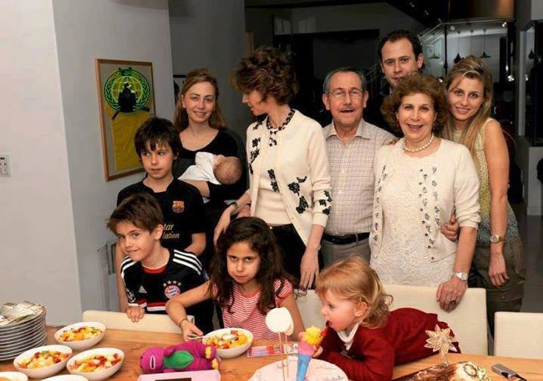 The peak of Rami's power
When the protests started in 2011, the late Anthony Shadid from The New York Times interviewed Rami. I remember Anthony called me and we spoke for an hour and a half discussing what he should say and how Rami might try to outsmart him when Anthony asked about the protesters accusing Rami of corruption. In the end, in a desperate attempt to garner public sympathy from Americans, Rami emphasized the importance of Israel's security in what was a rather odd interview, saying that it was integral to the security of Syria. The interview brought his name and his close association with the regime to international attention. Initially, the protests did not aim to overthrow the regime or Bashar; they were calls against corruption. As a goodwill gesture to the regime, Rami ceded all his shares in Syriatel to RAMAK Development and Humanitarian Projects LLC, a charity that gave aid to the families of fallen combatants. He employed the sons of Alawites families in his commercial companies or in the militias he funded. In majority-Alawite areas, he began to be referred to as "al-Ustaz," an Arabic title meaning master or teacher that is also used as a sign of respect. He gained a large following among the poor and middle-class Alawite public, and with popularity comes power. The period between 2011 and 2013 marked the peak of Rami's power, a power that started to irritate Asma, who was just beginning to breathe freely after Bashar's mother and sister left Syria.
Al-Ustaz grew in influence; he financed the regime and its militias. He personally bankrolled the Nusour al-Zawbaa and al-Kumet militias, which were in charge of protecting various cities and the country's oil fields, respectively. He funded charities and also paid bribes. The first Russian officers who arrived in Syria were on his payroll. He wanted them to send positive reports about Bashar back to Vladimir Putin. Putin sent a team to investigate when he sensed the corruption. He later changed the entire team in Syria, and the Russian commander was changed twice. Rami's father had already left for Russia at the beginning of the conflict in 2011. Russia was the only country willing to help and sell arms to the murderous Assad regime.
Asma's rise 
There was also turbulence in the Assad marriage. In March 2012, CNN published flirtatious emails that Bashar had received from a number of women. For a year and half, Asma had a strained relationship with her husband. Then her father brokered a deal between her and her husband: she would take on a greater role, build a business empire with her family, and start to assume the role of first lady. This marked the beginning of her rise to power and increasing visibility. She started having near daily appearances on TV. Her father, a key figure in UK-Syrian relations, played the role of the regime's publicist. He organized the visit of the archbishop of Canterbury to Syria. The death of Bashar's mother in February 2016 removed an important obstacle for Asma. Now, only Rami was left in her way.
Though Rami had a reputation for being calm and leading a relatively simple life with little excess, his two sons, Ali and Mohammed, were totally different. They moved to Dubai, where they lived an extravagant, flashy lifestyle. Soon, photos of their lavish parties and private jets were everywhere on social media. This badly affected Rami's image as a sober businessman committed to the regime. The photos were later deleted, but the damage was done, and Asma was able to use the conduct of Rami's sons against him.
At the start of 2019, Russia asked Bashar for $3 billion to pay for ammunition and the S-300 missile defense systems. Bashar was preparing for his assault on Idlib and he needed funding, so he went to his cousin. Rami, who usually dispensed money without asking questions and always pledged blind allegiance to Bashar, came back to him with a strange proposition. He suggested that the amount be shared by the different warlords fighting alongside Bashar. This raised a red flag. It also gave Asma an opportunity to make her case. To start with, she pointed out to her husband, all the wealth is in Rami's hands. Can Bashar guarantee that Rami's sons, the two party boys, will be loyal to her sons? Will they pick up the phone if Bashar's sons call and ask for money? Will they maintain the Assad-Makhlouf pact established by Hafez and Mohammed? She also contested Rami's role. In her mind, he was a broker. But she had the experience and the know-how. As a former banker, she could manage the finances of the regime. She could seal deals, find partners, fund conferences, and bribe people — she could play Rami's role. There was no need for him anymore. Also, Bushra, her sister-in-law, was pressing Bashar for her share of their father's inheritance. Asma suggested checking the books of Syriatel and comparing them with the books of MTN, the other mobile operator, partially owned by Yasar and Nisrine Ibrahim. They found that Syriatel's expenses were double those of its competitor. However, as Rami explained in his Facebook videos, Syriatel's expenses are double because it supports the regime. It finances its operations, while MTN does not.
Broken trust
Nevertheless, the trust was broken. In this family mafia setting, a violation of trust is the end. Bashar became suspicious of his powerful cousin. He went on a campaign to ostracize him and seize his assets. Syriatel was ordered to pay a massive fine for tax evasion. Last month, the Damascus Stock Exchange issued a decree to freeze Rami's shares in 12 Syrian banks. The central bank governor, who was an acolyte of Rami's, asked banks operating in Syria to give a percentage of their shares to Rami. However, Rami was not always silent in the face of Asma's efforts. In 2019, a few days after freezing the assets of Rami's Beirut-registered Abaar Petroleum, Asma's relative was kidnapped in Beirut. It was widely perceived as a warning to her not to go too far.
The activities of Rami's charity RAMAK were halted and the director of his charity Al-Bustan Association was imprisoned. All his activities with the Alawite community were stopped. The regime even dissolved the Syrian Socialist National Party (SSNP) faction led by Assad Hardan to which he pledged allegiance, and recognized the competing faction led by Issam Mahayri. Rami's relationship with Bashar was one of blood, not ideology. Rami, along with his father and the rest of his family, belonged to the SSNP, not to the ruling Ba'ath Party. Rami's ideology is a strange combination. He has a secular background from the SSNP, but he was also a follower of the Shi'a scholar Abdulhamid al-Muhajer in 1999. He even got him to present a program on Syrian TV, although it was later cancelled for offending Sunnis. At the same time, Rami is well versed in the enigmatic Alawite teachings, which only a few dozen men have had the privilege to learn.
Bashar was not only after the fine on Syriatel, equivalent to $65 million. He was after the investments outside Syria. The regime was bleeding. The biting sanctions have depleted its finances and Bashar needed to replenish his coffers with hard currency. Nevertheless, Rami was subject to sanctions. In 2011, he was granted Cypriot citizenship, but it was taken away in 2012 when the EU blacklisted him. Rami was exposed internationally. His assets were not as liquid as Bashar wanted them to be. Rami was also offended by Asma's opinion of him as a broker; he saw himself as the economic arm of the regime who carried out all the operations the regime did not want to handle directly. In his video, he referred to her using various Alawite expressions and codes and called out the "users" around Bashar. Since 2018, Asma has been granting privileges to her entourage. She gave her cousin Muhannad al-Dabbagh the contract for the smart cards through which the government distributes aid to the needy. Her friends Yasar and Nisrine Ibrahim were awarded the rights to go into many businesses.
Many analysts speculate about Rami's relations with Iran and Russia. It is fair to say he is of equal distance from both. Before 2015, there was no substantial Russian presence in Syria, so Rami used the Iranians to train his militias. He also had some business dealings with them, however limited. There were plans to have a third telecoms license awarded to an Iranian company, but it never materialized. After 2015, he nurtured relations with the Russians as he was bribing them on Bashar's behalf. However, now Russia is using him to weaken Bashar, who has proved to be a difficult and expensive ally and totally out of touch with reality.
Going forward, Bashar will continue to pressure Rami to gain control over all the assets, especially those abroad, although this will be a difficult task given that they are spread across many countries and held under a variety of names. Once Bashar secures whatever he can, family members and respected Alawite elites will step in to mediate a reconciliation deal. This will likely result in a final secret settlement that will leave something for Rami, but will require him to leave the country. No matter how the assets are split, however, it's a lose-lose situation. The regime has lost its financial arm and a key player who helped Bashar both at home and abroad, and regardless of who replaces Rami, it will take considerable time, energy, and experience to rebuild his network.
Ayman Abdel Nour is a noted Syrian reformist, the editor-in-chief of All4Syria (Syria's leading independent news outlet), and the president of the non-profit Syrian Christians for Peace. The views expressed in this piece are his own.
Dr. Dania Koleilat Khatib also contributed to this article. Khatib is a specialist in U.S.-Arab relations with a focus on lobbying. She holds a PhD in politics from the University of Exeter and is an affiliated scholar at the Issam Fares Institute for Public Policy and International Affairs at the American University of Beirut.
Photo by AFP via Getty Images
---
The Middle East Institute (MEI) is an independent, non-partisan, non-for-profit, educational organization. It does not engage in advocacy and its scholars' opinions are their own. MEI welcomes financial donations, but retains sole editorial control over its work and its publications reflect only the authors' views. For a listing of MEI donors, please click here.