In this week's Monday Briefing, MEI experts Randa Slim, Gerald Feierstein, Gonul Tol, and Jean-François Seznec provide analysis on recent and upcoming events including next steps in the Syrian conflict de-escalation process, General Zinni's mission to the Gulf, Qatari-Turkish relations, and crude oil informal cooperation.
Tehran Meeting Signals Subtle Shift in Iran's Syria Position
Randa Slim, Director of the Initiative for Track II Dialogues
As part of the 'Astana Process,' technical experts from Russia, Turkey and Iran will meet in Tehran this week to discuss further details of the "de-escalation regime" now in place in Syria. On their agenda are monitoring and enforcement mechanisms for local ceasefires, detainee release arrangements, and preparation for implementing their May 4 agreement on de-escalation in the Idlib province. Russian Foreign Minister Sergei Lavrov said that Idlib would be "the largest and probably the most difficult zone". This past week, US Syria envoy Michael Ratney issued an online warning that it will be difficult for the United States to oppose a military attack on the northwestern province if Hay'at Tahir al-Sham, an al-Qaeda-linked group, were to take over the province.
To-date, Moscow has vetoed an Assad-Iran plan to attack Idlib partly in response to US and Turkish opposition to such an attack. This veto is driven by two Russian priorities in Syria: keeping the door open to cooperation with the US on finding a solution to the conflict in Syria and wooing Ankara at a time the Turkish leadership is frustrated by US policy to arm and work with Syrian Kurdish rebels.
The de-escalation regime put in place by Russia with US blessing, is increasingly decreasing the odds of the orderly political transition solution that is endorsed by the US in Syria. While the two countries will continue to pay lip service to the long-term objective of a territorially and politically unified Syria, the most likely interim scenario is a de-facto fragmented Syria that is divided between government-controlled areas and zones ruled by "acceptable" local governing councils. By hosting the discussions on de-escalation zones, Tehran is signaling that it is signing off on this de-facto political reality in Syria.
Tillerson Dispatches General Zinni to Seek Resolution in Gulf Crisis
Gerald Feierstein, Director of Gulf Affairs and Government Relations
In the two months since the "Quad" — Saudi Arabia, the UAE, Bahrain, and Egypt — cut ties to Qatar over allegations that Doha supported Islamic extremism and Iran, there have been several efforts to negotiate a resolution to the crisis. Notably, the Kuwaitis, as well as Secretary of State Tillerson and Turkish President Erdogan, attempted shuttle diplomacy. China and France have also offered to help. The efforts have led to some tangible shifts in Qatari policy. Doha signed a Memorandum of Understanding with the U.S. pledging broader cooperation to stem terror finance. The Qataris also amended their anti-terrorism laws. But none of these steps has been deemed sufficient by the Quad to trigger an end to the confrontation.
Tillerson is now dispatching General Anthony Zinni (Retired) (a former Centcom commander and current MEI Board member), along with Deputy Assistant Secretary Tim Lenderking, to the region to undertake a sustained effort to resolve the stand-off. Tillerson is hoping that Gen. Zinni's personal credibility and negotiating skills will help the parties turn a corner toward agreement. Moreover, with the Hajj coming in late August and the UN General Assembly beginning in mid-September, the calendar offers opportunities in the coming weeks to bring the leaders together to hammer out a deal. But with the parties threatening to drag out the conflict for months, if not years, and millions of dollars being spent on PR mud-slinging campaigns in Washington, the level of animus is going to test all of Gen. Zinni's highly regarded negotiating skills. But a quick resolution to this crisis is both in the U.S. interest, as well as the interests of our friends in the region.

Ankara Puts Itself in the Crosshairs of Gulf Crisis
Gonul Tol, Director for Turkish Studies
Turkey continues to flex its military muscle in Qatar despite criticism at home and in the Gulf. The two countries are currently staging joint naval exercises in Qatari waters showcasing their strategic alliance. This comes after Turkish troops moved into Qatar following a diplomatic and transport blockade imposed against Doha by several Arab countries.
Turkish opposition figures see the move as a dangerous step that could pit Ankara against Riyadh. The three Gulf states that are punishing Qatar with embargoes also view Ankara's stand as severely undermining their efforts to pressure the Al Thani royal family to agree to their demands.
Yet, despite protests, Erdogan seems determined to stand behind the Qatari leadership. He hopes to reap economic benefits from his pro-Qatar stance at a time when he is deeply worried about the Turkish economy ahead of presidential elections in 2019. Turkey became one of two major suppliers for Qatar's food import needs after the crisis broke out in June and Ankara is weighing plans to ship Turkish goods overland through Iran to Qatar. Just last week, 88 Qatari companies met with 200 Turkish companies in Turkey to increase trade.
But Turkey's Qatar stance is also deeply personal for Erdogan. Qatar's emir was the first foreign leader to call Erdogan after the failed coup attempt in Turkey, and Erdogan fears that if he doesn't stand by the Al Thani in the face of Saudi and UAE pressure, he might be next.

Oil Meeting in Abu Dhabi Could Reinforce Cooperation among Heavy Crude Producers
Jean-François Seznec, MEI Scholar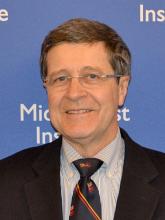 The 2017 cuts in crude oil production by Saudi Arabia and Russia have failed to shore up prices above $50.21 in the first half of the year[1]. Therefore, OPEC and non-OPEC experts will meet in Abu Dhabi this week, " to better understand the difficulties and obstacles" faced by some OPEC and non-OPEC to rebalance the oil market[2].
Saudi Arabia and Russia did cut their exports, but mainly those of heavy crudes. This resulted in decreases of US stocks of these grades favored by many US refineries. Thus prices of heavy crude increased substantially, while the price of light crude remained the same due to increased supplies of light crudes from the US shale oils, from Libya and from Nigeria. In other words, the overall crude oil production did not decline as much as could be expected from the OPEC/non-OPEC cuts, keeping average prices low. However, oil exports ended up being quite profitable for the producers of heavy crudes mainly Saudi Arabia, Russia and Venezuela, whose incomes increased by much more than the cuts they made, while the US shale oil companies and the other light oil producers saw no improvements.
Hence, the coming meeting will likely bring little change to the present policies, which benefit the heavy producers that form the majority of OPEC/non-OPEC states. It may, in fact, strengthen these countries' past agreement. Especially, it may lead to even more informal cooperation between Saudi Arabia and Russia against the rise of the U.S. shale oil industry.
[1] Average Price for OPEC basket in the first half of 2017. MEES 21 July 2017, p. 10
[2] http://www.opec.org/opec_web/en/press_room/4467.htm