Originally posted July 2010
I have been a journalist for more than 40 years. I became a journalist because I believe that journalism is creative work that touches our common life directly and indirectly, while impacting on our nations' political, economic, and social settings. I started my journey in journalism as a junior reporter in October 1968. Thirty-four years later, I was honored as a Knight Fellow by the Knight International Press Fellowship in Washington, DC — a prize awarded for my outstanding work under difficult and sometimes dangerous circumstances. I was recognized for challenging my government's restrictions on press freedom, and for bearing a great deal of risk when I covered the Iran-Iraq war, despite my newspaper's refusal to provide me with adequate training for reporting in conflict-ridden zones.
In 1994, I became the first female editor-in-chief of a Jordanian newspaper. In December 1999, I set up the Arab Women Media Center (AWMC) in Jordan to support female journalists. Shortly after AWMC's inception, I resigned from the Jordanian Press Association, where I had been a member since 1979 because of the criticism I had faced for accepting foreign money to fund a training conference. I still do not understand why accepting this support was wrong. Surely, I would not have sought foreign support had I had local funds available to me in Jordan, and had the Jordan Press Association helped young journalists and endorsed gender equality.
The Center is the only one of its kind in the Arab world. Within only three years, it managed to attract nearly 200 members. I consider the Center to be my greatest achievement in the male-dominated field of journalism. The Center runs courses for female Arab journalists, provides networking opportunities, and organizes conferences geared towards changing the status of the national media.
The challenges faced by a female journalist in the Arab region are immense because of a strong male dominance combined with our rather prohibitive tradition. Women working in this creative field must be strong, patient, and decisive. There have been times when, working in this field, I have felt as if I were crossing a minefield unprotected. Nevertheless, my passion for creative journalism has carried me forward.
I started as an 18-year-old reporter when there were only a handful of female journalists in Jordan. My fellow male journalists preferred to treat me as a stranger and unwanted colleague. Because there were no academic journalism programs in Jordan, I had to leave my home and my family to obtain training abroad. As a wife and mother, I had to meet family needs before fulfilling my professional needs as a journalist. Male colleagues were reluctant to train me. In their view, journalism was exclusive to men. They advised me to stay at home and save myself the continuous harassment and rude comments, but I chose not to do so. I have always felt that society places a burden on women to prove themselves, rather than changing its outdated views and its regard of journalism as a below-average profession. Indeed, women have to work twice as hard as men to prove themselves, and are usually held to a higher standard than men.
The Arab Women Media Center was established an umbrella organization to shelter (metaphorically speaking) and assist women in the media sector. This endeavor reflects my belief in the power of action, more than words, to overcome male domination. Providing women with strong training and skills enables them to compete in this field.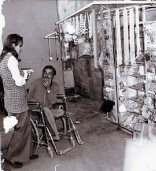 The Arab Women Media Center is a recognized media non-governmental organization (NGO), not only in Jordan but also in other Arab countries. The diversity of our membership reflects this fact. Our training workshops have included more than 350 journalists and non-journalists in the past two years. The Mayor of Amman has recently renamed the street on which our center is located as the Arab Women Media Center Street. Earlier this year, the Center signed a memorandum of understanding with Amman Al Ahlia University; there are plans to cooperate with other Jordanian educational institutions.
The Center fulfills my longstanding dream to create an NGO for female journalists, whether in print, broadcasting, or online media, and to help them in their careers and to promote women's issues. I wanted to offer journalists of this generation fresh opportunities for development that were not available to me and are still not available to many female journalists in Jordan. Though there is much work to be done, fortunately, the past decade has seen new democratic reforms in the region. This has given Arab journalists some hope of gaining a bit more freedom and autonomy to provide the Arab masses with free, uncensored, and accurate news and information.
I remind the many female journalists who join the Center that if they strongly believe in their dream, they should not wait for others to fulfill it.