In this week's Monday Briefing, MEI experts Gonul Tol, Randa Slim, Alex Vatanka, Marvin G. Weinbaum, and Mabrouka M'Barek provide analysis on recent and upcoming events including Turkish President Erdogan's upcoming meeting with Russian President Putin, the upcoming speech by Hezbollah Secretary General Nasrallah, the suprising popularity of Rouhani's VP in the Iranian Presidential Race, the Taliban's new Spring offensive, and protests in Tunisia over a government proposal to give amnesty to the country's corrupt financial elite.
Erdogan-Putin to Meet in Sochi
Gonul Tol, Director of the Center for Turkish Studies
Russian President Vladimir Putin and his Turkish counterpart Recep Tayyip Erdogan are scheduled to meet on May 3 in Sochi. The visit comes after Turkish warplanes bombed Kurdish fighters in Iraq and Syria last week, which drew criticism from both Washington and Moscow.
Syria is likely to be the number one agenda item of the visit. But another issue that is likely to pop up is Turkey's interest in Russian air-defense systems, which is raising eyebrows in Western circles. Following Erdogan's March 10 visit to Moscow, it was reported that Turkey was engaged in negotiations to procure the Russian-made S400 air defense system. Last week, Turkish Defense Minister Fikri Isik said that negotiations were close to a conclusion.
Ankara's interest in purchasing a Russian defense system has sparked concern among Turkey's NATO allies, especially the United States, largely because the system is incompatible with the equipment used by the bloc. NATO officials are hoping that Turkey-Russia negotiations on S400 share the same fate as a Chinese missile deal, which Ankara walked out on in 2015. The Chinese had won a bid in 2013, but Turkey canceled the agreement, citing Beijing's unwillingness to transfer technology along with the equipment. But many think that Turkey canceled the agreement not to alienate its Western partners.
Ankara might take a similar approach with the Russians since purchase of the S400 is likely to present new challenges for Turkey's already tense relations with NATO and the United States. Another complicating factor would be Turkish dependence on Russia. Turkey already depends on Russia for its energy needs. Purchasing Russian defense system will increase that dependence, which is something that Ankara would not want in the long term.

Nasrallah to Give Speech Tuesday
Randa Slim, Director of the Initiative for Track II Dialogues
As the fourth round of the Astana talks resume this week, Hezbollah Secretary-General Hassan Nasrallah is scheduled to make a speech tomorrow commemorating the day of the "wounded resistance fighter." Hezbollah's leadership places a high premium on its commitments to its fighting rank and file. In addition to the socio-economic and psychological stressors currently facing the fighters' families and communities, Hezbollah faces long-term financial challenges dealing with the ramifications of a protracted military involvement in Syria.
Yet, we have not seen major breaks in Hezbollah's support base's resolve to continue the fight in Syria. More public questioning of the Syria war is taking place in Iran than amongst Lebanon's pro-Hezbollah communities. This is partly due to the fact that Hezbollah has succeeded in pivoting the public narrative for its fight in Syria around defeating ISIS and al-Qaeda in Syria, while in reality Russia, Iran and Hezbollah are for the most part not fighting ISIS.
So far, Hezbollah has succeeded in preempting public questioning of the political and economic costs of the war, and Hezbollah's exit strategy—assuming there is one. Hezbollah's project of building a "resistance society" that is pliable to its wishes, and does not challenge its policies either in Lebanon, Syria or elsewhere in the region has pretty much succeeded. Whether and when this society will reach a breaking point in its commitment to Hezbollah's agenda in Syria is hard to tell.
Rouhani's VP Steals Spotlight in Iranian Presidential Race
Alex Vatanka, Senior Fellow
Iranian elections are tightly managed, but even the bests of shows can go awry. The six-man presidential race was expected to quickly morph into a two-man race between incumbent President Hassan Rouhani and one of the hardline candidates. Following the first presidential debate, it is the Tehran mayor, Mohammad Qalibaf, who likely will be spearheading the hardline camp against a president that is touting himself as a force of moderation.
But it is Eshaq Jahangiri, Rouhani's own vice president who entered the race merely to provide support, who has stolen the limelight from his boss. Unlike Rouhani, Jahangiri has openly declared himself a reformist and has opted to lash out at the acetic governing preferences of the hardliners. In the most memorable moment in the race so far, Jahangiri called Qalibaf, a former commander in the hard-boiled Revolutionary Guards, a heavy-handed operative with backstage allies with a trail of costly misconduct behind them. "Who attacked the Saudi embassy [in Tehran]," Jahangiri asked Qalibaf.
Qalibaf will focus on attacking Rouhani and Jahangiri as aloof and out of touch with the socio-economic pains of ordinary Iranians. The 2015 nuclear deal did not transform the Iranian economy as the Rouhani team had promised, and this will impact the extent of enthusiasm for the incumbent president and his government. Still, Qalibaf's Achilles heel is his long history as a man of the military and security establishment, a record that will seriously dampen support among the important youth voting bloc. In fact, the sudden voter excitement for Jahangiri shows that there is still in Iran a deep desire among voters for meaningful political reform and support for anyone who is brave enough to take that mantle.

Taliban Launch Spring Offensive
Marvin G. Weinbaum, Director of the Center for Pakistan Studies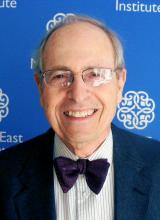 The Afghan Taliban has announced its spring offensive. Fighting in Afghanistan until recent years has largely been seasonal, with Taliban foot soldiers laying low during the harsh winters, many crossing back to their Pakistani redoubts. But with the Taliban in control or contesting nearly half of Afghanistan's districts, the well-nested insurgency is now capable of carrying out year-round operations. Putting the country on notice of coming attacks—following close after the devastating April 21 assault on an army base that killed at least 135 soldiers in the country's supposedly more secure northern Balkh Province—is part of a rising Taliban campaign of psychological warfare.
The announcement by a Taliban spokesman differs from previous ones in promising to conduct "a twin-tracked military and political approach." While indicating that Operation Mansouri (named for the Taliban chief slain by a U.S. drone last year) would target foreign and government forces, he claimed the Taliban's intention to minimize Afghan civilian casualties. He also stated that in districts under Taliban control, it is engaged in building institutions and has succeeded in improving social justice. With these claims, the Taliban is hoping to contrast itself with a Kabul government that is often identified with ineffectual and corrupt local administration.
The Taliban also seeks to distinguish itself from ISIS' loosely connected South Asian branch, Islamic State-Khorasan Province (I.S.K.P.), which has earned a reputation for brutality toward civilians. In several areas of eastern Afghanistan, I.S.K.P. and the Taliban compete, sometimes in lethal combat, for turf and adherents.

Protests in Tunisia
Mabrouka M'Barek, MEI Scholar
Major protests were held in Tunis over the weekend against President Beji Caid Essebsi's bill to give amnesty to the corrupt financial elite that accumulated its wealth under the Ben Ali dictatorship. It's Essebsi's third attempt to pass this bill, which was again met with civil resistance under the motto "manich msameh," which in Tunisian Arabic means "I will not forgive."
The president calls his initiative a "reconciliation bill" in apparent dismissal of the role of Truth and Dignity Commission, which is the only institution with a constitutional mandate to pursue transitional justice, truth and reconciliation.
To ensure their survival and sustainability as a political party, the Islamist Ennahda party, with a plurality of seats in parliament and in coalition with the president's party Nidaa Tounes, is likely to endorse the bill. The Shura Council of Ennahda, however, voted against the bill over the weekend, responding to the double imperative of satisfying their base while staying in power. Ennahda MPs might negotiate some changes in the language, but will unlikely alter the essence of the law.
The financial elite, whose cronyism has been identified by the World Bank's Unfinished Revolution report as the main hurdle in the Tunisian economy, will be the main beneficiary of this reconciliation bill. In return, political parties voting in favor of this bill will likely be rewarded by the financial powers in the country.