This paper is part of a MEI scholar series titled "The Middle East and the 2016 Presidential Elections."
Summary
The next U.S. presidential term will coincide with heightened domestic competition for power in Tehran, which will shape Iranian posture toward Washington. As moderates and hardliners in Iran anticipate the succession of aging Supreme Leader Ayatollah Ali Khamenei, the question of President Hassan Rouhani's policy of outreach toward Washington becomes more critical. While the signing of the Joint Comprehensive Plan of Action with the United States empowered moderates, the benefits from the deal have so far been fewer than Iranians had anticipated. Highly skeptical of U.S. intentions and confident in the U.S.' inability to remobilize the international community against Iran, hardliners are determined to sabotage any efforts toward détente. However, increased U.S. engagement with the Rouhani government could empower moderates and lead to more open-ended cooperation between the two countries.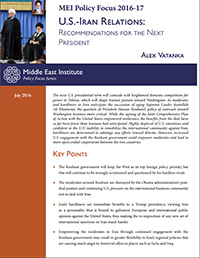 View PDF
Key Points
The Rouhani government will keep the West as its top foreign policy priority, but this will continue to be strongly scrutinized and questioned by his hardline rivals
The moderates around Rouhani are dismayed by the Obama administration's post-deal posture and continuing U.S. pressure on the international business community not to deal with Iran
Iran's hardliners see immediate benefits to a Trump presidency, viewing him as a personality that is bound to galvanize European and international public opinion against the United States, thus making the re-imposition of any new set of international sanctions on Iran much harder
Empowering the moderates in Iran through continued engagement with the Rouhani government may result in greater flexibility in Iran's regional policies that are causing much angst to America's allies in places such as Syria and Iraq
Read the full Policy Focus here.
---
The Middle East Institute (MEI) is an independent, non-partisan, non-for-profit, educational organization. It does not engage in advocacy and its scholars' opinions are their own. MEI welcomes financial donations, but retains sole editorial control over its work and its publications reflect only the authors' views. For a listing of MEI donors, please click here.