Artist Pegah Jahangiri hails from Tehran, but is currently a doctoral student in visual arts at the University of Malaya, Malaysia. She recently spoke to MEI about her work with batik, strikingly dyed cloth found all over the world, but particularly popular and refined in Southeast Asia.
Question: When did you first become interested in art?
Answer: During my childhood in Iran, I used to play with fabrics and clothes. I became interested in using curtains and tablecloths to make dresses to wear at home. Later, as a young adult, I joined the Faculty of Art at Alzahra University in Tehran, where I studied textile and fashion design.
Question: What was your first encounter with batik?
Answer: I started to learn batik during my undergraduate studies in Iran. After finishing my M.A., I decided to go to Malaysia and enter the world of batik. In 2009, I entered the Ph.D. program in visual arts at the University of Malaya, where I have been conducting research on batik in fashion design.
I have experience in various fields of art, including painting, graphic design, and photography, I have found batik to be a very interesting medium.
Question: What are some of the sources of inspiration for your work?
Answer: Many things have inspired me, from a simple cloud in the sky to a piece of music, poem, or story. Right now, symbols are my source of inspiration. I am interested in ancient symbols from different cultures, such as those from Persia. In my art, I combine those symbols with my own designs, and I sometimes create a story. Other times, I use previously told stories and create my own version with the help of symbols. I also sometimes start my work without any sketches. I look at the plain fabric and let my feelings lead me without any previous plan. Those paintings are usually abstract, full of lines, forms, and colors.
Question: For those of our readers who are unfamiliar with batik, could you tell us a little more about it and describe your technique?
Answer: Batik is made using a wax resist dyeing technique. Evidence of early examples of batik has been found in the Far East, Middle East, Central Asia, and India from over 2,000 years ago. Batik is practiced in China, Japan, Nigeria, and many countries, but it is in Indonesia, particularly the island of Java, where batik has reached its peak of accomplishment. Due to trade and cultural exchanges with Indonesia, Malaysia became familiar with batik beginning in the early nineteenth century.
In this dyeing method, designs and patterns are traced on fabric with hot liquid wax. It is common to use a mixture of beeswax and paraffin wax. The beeswax will hold to the fabric, and the paraffin wax will allow cracking. Wherever the wax seeps through the fabric, the dye will not penetrate. Sometimes several colors are used, with a series of waxing, dyeing, and drying steps.
Hot wax is applied to fabric using a tool named "tjanting" or "canting," which features a wooden handle and a tiny metal cup with a tiny spout. The batik technique has two major types, hand-drawn batik and batik cap. In hand-drawn batik, the application of wax with the canting tool is done with great care and is very time-consuming. The canting is used like a pen on the cloth. In batik cap, hot wax is drizzled onto a pre-carved wooden or copper block (called a cap) and is stamped on the fabric.
Nowadays batik is used in apparel, furnishings, and handicrafts. Inspiration for Malaysian batik comes from nature and daily life; as such, many artists create designs with landscapes and quotidian subjects. Artists also often use floral motifs in their designs, while geometric motifs are less common. My batik designs are very different from those of Malaysians, which is not surprising, given that I am Iranian and from a different culture and background.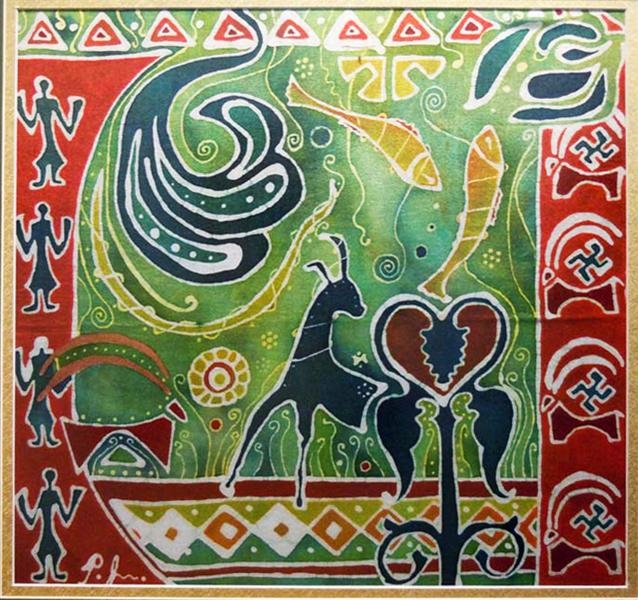 Question: How would you characterize the roles and activities of Iranian artists in Malaysia?
Answer: Most Iranian artists living in Malaysia are very actively engaged in various fields, from painting, calligraphy, and ceramics to photography. Iranian art students in Malaysian universities produce a lot of art and hold many exhibitions. Most of these are group, as opposed to solo, exhibitions, since most Iranian artists in Malaysia are self-sponsored students.
Iranian artists residing in Malaysia have also participated in group exhibitions with Korean, Malaysian, and Indonesian counterparts. In addition, they have participated in the annual Art Expo in Malaysia, one of the most important cultural events of the year. In 2011, members of the Iranian artistic community established the "Malaysian-Iranian Art Society" (MIAS) in an effort to collaborate more with Malaysians. MIAS has held several exhibitions with Iranian and Malaysian artists as well as artists of other nationalities, and has scheduled art classes and artistic trips as well.
Question: You have said that you believe that the Iranian art community doesn't receive as much attention and support in Malaysia as it could. Could you elaborate on why that might be?
Answer: One reason might be Malaysians' lack of familiarity with Persian art. Another might be that Iranian artists and their work have received very little publicity. Still another reason could be a lack of communication between Iranians and Malaysians, caused or accentuated by the language barrier.
Question: Looking to the future, what do you anticipate or hope for with respect to the role of Iranian artists and their creative productions in Malaysia?
Answer: It is a bit premature to judge the influence of Iranian artists and the interaction between them and Malaysian artists. I continue producing art and look forward to holding more exhibitions in Malaysia. I plan to develop my work in different ways. Overall, I remain optimistic. In this era of globalization, it is both inevitable and imperative that we learn about and appreciate cultures and traditions other than our own. The universal language of art, and particularly the cultural cross-fertilization of art, provides a vehicle for doing so.
This contribution is part of the Middle East-Asia Project at the Middle East Institute.
---
The Middle East Institute (MEI) is an independent, non-partisan, non-for-profit, educational organization. It does not engage in advocacy and its scholars' opinions are their own. MEI welcomes financial donations, but retains sole editorial control over its work and its publications reflect only the authors' views. For a listing of MEI donors, please click here.