Iran is Reclaiming Oil Market Share
Iranian oil sales have nearly doubled since sanctions were lifted on its oil exports in January 2016. In fact, Iran is recovering market share faster than many experts had expected. 
Several factors have contributed to this development, including that Iran has—
1. Boosted production by 25% since the beginning of the year
2. Discounted prices for its crude oil
3. Secured more tankers to carry its crude cargoes
Iran's Major Asian Oil Customers Return
Asian markets account for roughly 75% of Iran's crude oil exports. Reuters reported that Iran's June 2016 sales to its four major Asian oil customers—China, Japan, India and South Korea—were 47.1% higher than a year ago.[1]
Before nuclear-related sanctions took effect in 2011, China was the largest importer of crude oil from Iran, followed by India, Japan, and South Korea. Since the lifting of sanctions in January 2016, China and India have remained the two leading importers of Iranian crude, respectively; however, South Korea has surpassed Japan as the third largest importer.
China moved quickly to restore Iranian crude imports to the pre-sanction level but has shown reluctance to exceed that level due to residual risks related to sanctions. South Korea and India have shown no such reluctance, as their purchases of Iranian crude oil have steadily risen. Japan stands out among Iran's four biggest Asian oil customers, in that it initially exhibited restraint but more recently, like its Asian counterparts, has boosted its oil imports from Iran.
In sum, all four Asian countries were generally quick to respond to the lifting of the sanctions and to resume their imports from Iran. Furthermore, all four Asian countries have remained and will most likely continue to be Iran's largest customers.
Looking Ahead …
► Saudi Aramco recently announced that it would begin selling cargoes of Arab Light below Asia's regional benchmark.[2] How will the battle for market share between Iran and Saudi Arabia play out?
► At what point will Iran agree to joint action to freeze production?
► In recent months, Iranian oil sales to Europe have also picked up. Iran is reportedly seeking ways to turn spot contracts into long-term contracts with European customers.[3] Will such efforts be successful? And if so, how will this affect the balance between Iran's energy relations with Asia and its energy ties with Asia?
► Iran's oil and finance ministries have reportedly been told to begin using the newly approved but still controversial contract for oil and gas deals.[4] The new oil and investment contract model for international firms, known as the Iran Petroleum Contract (IPC), will replace Iran's buyback oil deals. How will the new IPC be received by potential foreign partners, including possibly those from Asia?
__________________________________
__________________________________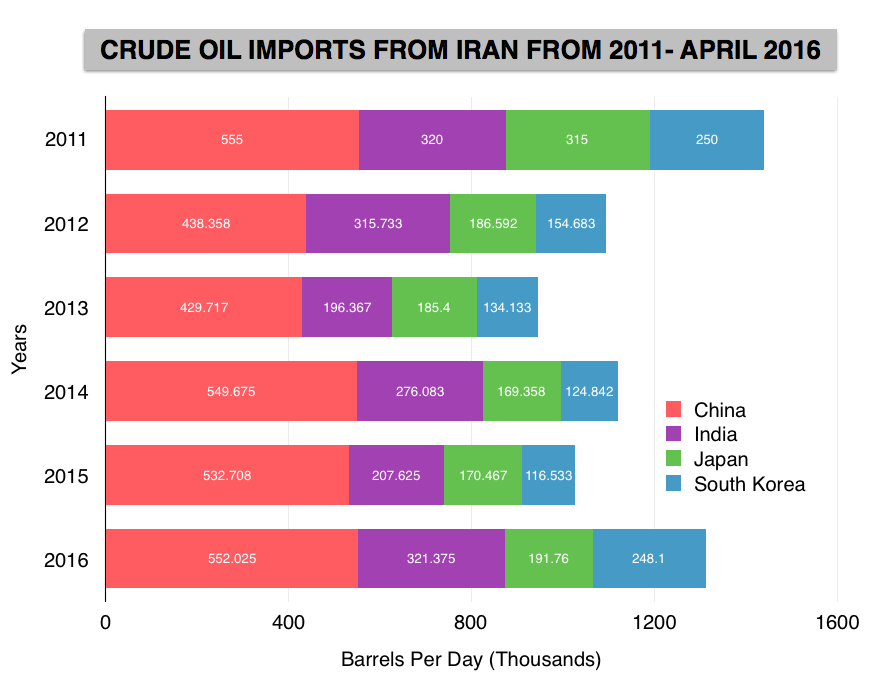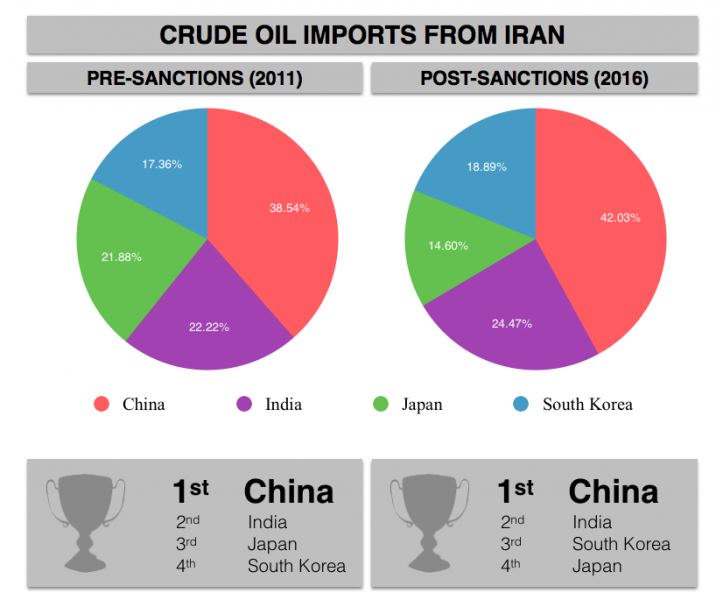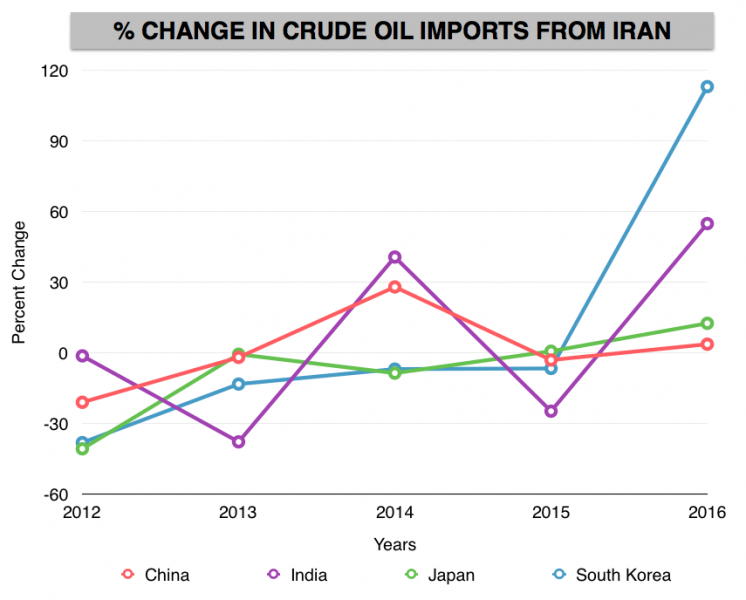 Sources: Infographics adapted from "Asia's Iranian Crude Oil Imports," Reuters; U.S. Energy Administration, "Under sanctions, Iran's crude oil exports have nearly halved in three years," June 24, 2015; and U.S. Energy Administration "China," last updated May 14, 2015.
Iran's Big Asian Oil Customers' Imports By Country
---
The Middle East Institute (MEI) is an independent, non-partisan, non-for-profit, educational organization. It does not engage in advocacy and its scholars' opinions are their own. MEI welcomes financial donations, but retains sole editorial control over its work and its publications reflect only the authors' views. For a listing of MEI donors, please click here.