The walls of the Oman Library are decorated with delicate painted eyes, colored in hazel and warm greys. After only a few steps, their discreet, and grief-stricken nature gives way to boldness and haunting certainty. They are eyes that refuse to be ignored.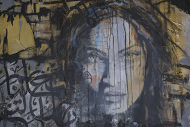 Manal's recent exhibition, Metaphors, expresses the trauma of the Palestinian experience. Like the majority of her work, this new collection is personal and raw. It reflects the feeling of displacement, and trauma felt by Palestinians in diaspora. Her paintings offer the parts of herself that have not always been easy to share. By contrasting traditional Palestinian symbols with her modern and urban style, Manal creates realistic and abstract harmonies. She projects an everlasting Palestine, hidden within soulful and serene female faces. Manal decorates and protects the subjects of her paintings with beautiful Arabic calligraphy, drawing on her own pride for her native tongue. As aesthetically pleasing as her images are, they reveal the abundance of Manal's pain. The hardship of raising three daughters away from their ancestral homeland is joined with nostalgia for makeshift playgrounds under the shade of Ramallah's fig and almond trees. It is this pain that attracts a global audience. The universal sentiments of loss, parting and perpetual yearning in Manal's pieces give her art the power to transcend real and constructed boundaries.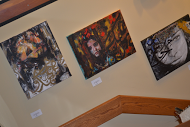 Manal's success has not come without struggle. Navigating her Muslim, Palestinian and female identities, has come with its own set of challenges. As an Arab-American, her messages will continue to be superficially politicized and obscured, as long as "terrorism," "violence" and "instability" remain buzzwords for the region. In the face of such adversities, Manal resorts to the paintbrush. She has found an ideal medium to fight the stereotypes that misconstrue her art and her character. When facing the blank canvas, Manal digs deeply into her subconscious – an attempt to make sense of troubling emotions and memories that have lingered with her for years. Her art rewards her tranquility, and us with the sense of resilience we need to unapologetically embrace our identities.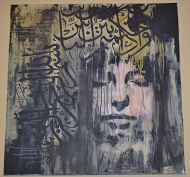 ---
The Middle East Institute (MEI) is an independent, non-partisan, non-for-profit, educational organization. It does not engage in advocacy and its scholars' opinions are their own. MEI welcomes financial donations, but retains sole editorial control over its work and its publications reflect only the authors' views. For a listing of MEI donors, please click here.