In this week's Monday Briefing, MEI experts Gonul Tol, Robert S. Ford, Charles Lister, and Paul Salem provide analysis on recent events including Turkish President Erdogan's visit to Washington, the reshuffling of Iraq's cabinet, King Salman's forthcoming visit to Egypt, and the latest attempts by Jabhat al-Nusra over the weekend to disrupt the Syrian political process.
Al-Qaeda Tries to Spoil Syrian Cease-Fire
Charles Lister, Resident Fellow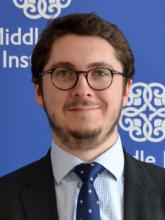 Having demonstrated a surprising level of restraint on the battlefield for more than a month, portions of Syria's armed opposition went back to fighting over the weekend, launching a surprise series of interlinked offensives south of Aleppo. While opportunistic, these offensives had also been extensively planned, following two weeks of talks with al-Qaeda affiliate Jabhat al-Nusra.
Faced by an internationally-mediated cessation of hostilities that threatened to irreversibly erode its influence, Nusra had begun in mid-March a process of talks inside Syria aimed at convincing opposition groups to resume their fight against the regime. As such, the last 48 hours of opposition advances south of Aleppo represent a victory for al-Qaeda in its efforts to undermine the political process and to put back in place conditions more amenable to its long game strategy for Syria.
Interestingly, the Russian Air Force failed to come to the aid of pro-regime forces this time, indicating a potential source of pressure for President Bashar al-Assad and Iran to fall back in line with the I.S.S.G. political timetable supported by Moscow.
The cessation of hostilities now looks more like words on paper than facts on the ground. Syria's opposition negotiating team is soon to hold a meeting in Riyadh, to prepare for the next round of talks in Geneva, scheduled for April 11. The challenge ahead for the opposition is huge, given this resumption in conflict. Without substantial de-escalatory moves by the international community, it's hard to see the political process moving substantively forward within such difficult circumstances. Meanwhile, the death of one of Nusra's most senior leaders, Abu Firas al-Suri, in a U.S. airstrike on Sunday will only further reinforce that group's insistence on spoiling any effort at bringing even temporary peace to Syria.
Erdogan's Failed Washington Visit
Gonul Tol, Director of the Center for Turkish Studies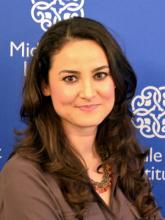 Turkish President Recep Tayyip Erdogan's visit to Washington last week was anything but smooth. Erdogan used every opportunity to blast President Obama for using Syrian PYD Kurdish fighters, who he considers as a branch of the Kurdistan Workers' Party (PKK), as a proxy force to fight ISIS.
The Obama administration is frustrated with Erdogan as well. Washington feels Erdogan is devoting too many resources to his fight against the PKK in the southeast and not enough to sealing off its southern border with Syria and stopping the flow of foreign fighters.
That was not the only point of contention between the two allies during Erdogan's visit. Obama cautioned Erdogan against repressing democratic debate in his country, after the Turkish president's massive security entourage threatened, kicked and verbally attacked both Turkish and Western journalists and protesters prior to his speech at the Brookings Institution. Erdogan then accused his U.S. counterpart of going behind his back by criticizing Turkey's press freedom record and linked it to efforts to "divide" Turkey.
Erdogan's PR campaign to improve Turkey's deteriorating image in Washington backfired, as the spectacle at Brookings brought home the Turkish president's growing authoritarianism.
Egypt to Host King Salman amid Economic Crisis
Paul Salem, Vice President for Policy and Research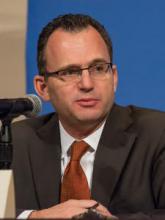 Egypt is this week hosting Saudi Arabia's King Salman. Among other issues, the economy will be high on their agenda. The visit comes in amid an economic crisis and a recent government reshuffle that saw key economic ministers replaced. The interior minister, meanwhile, retained his post despite domestic and international pressure over the harsh crackdown and various police abuses.
The Egyptian economy has been hit hard by five years of political and security instability, a dramatic fall off in tourism, and a sluggish global economy. But government policy has also failed to chart a clear path forward.
Early attempts to cut the deficit by tackling government subsidies have slowed, as they caused a backlash among middle and lower income groups. Recent attempts to ease the currency crunch by limiting dollar transactions irritated the wealthier classes. And any decision to seriously tackle public mismanagement and corruption would put the president at odds with the 7 million strong civilian and military public sector, which is his first constituency. Economic change requires difficult political choices, but it is not clear that the president has made those choices.
Until recently, the government has been able to take the easier course of relying on G.C.C. largesse. But the slump in oil price has reduced that source, and G.C.C. money is increasingly turning to investments in Egypt—that expect a return—than to emergency budget relief. Egypt's urgent economic needs will be a primary topic between Sisi and Salman, and Cairo can probably expect continued Saudi support. But the burden of reforming and kick-starting the potentially rich Egyptian economy lies with the president and his new cabinet.
Abadi Remains Under Pressure
Robert Ford, Senior Fellow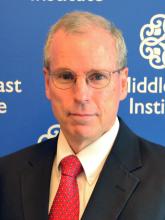 Iraqi politics encountered even more turbulence than usual last week as Prime Minister Haider al-Abadi finally proposed a cabinet shakeup. Abadi suggested merging several ministries as an efficiency measure and released to the parliamentary leadership a list of names for 16 cabinet positions. A member of Moqtada al-Sadr's parliamentary bloc said they would study the names, while other political blocs complained that Abadi had not consulted them warned they would reject Abadi's nominees if they weren't acceptable to them. Several Iraqi news agencies reported that there were moves in the parliament to withdraw confidence from Abadi himself and replace him with another Shiite Islamist politician.
Abadi signaled that he would be willing to negotiate names and perhaps even scale back the extent of the reshuffle to include a smaller number of cabinet posts. The Iraqi parliament committee set up to study Abadi's list of nominees is to finish its vetting by the end of this week so that a confirmation vote on the list can take place during the week of April 10. Before that, there will be the usual intense negotiations over names and positions. Late-breaking new reports of corruption in the petroleum sector will help Abadi, as will Sadr's demagoguery on the street. Abadi will likely keep his seat, but he will have to make some major compromises about new names for the cabinet in the coming days.
---
The Middle East Institute (MEI) is an independent, non-partisan, non-for-profit, educational organization. It does not engage in advocacy and its scholars' opinions are their own. MEI welcomes financial donations, but retains sole editorial control over its work and its publications reflect only the authors' views. For a listing of MEI donors, please click here.