In this week's Monday Briefing, MEI experts Charles Lister, Gonul Tol, Paul Salem, and Allen Keiswetter provide analysis on recent events including the planned Syria peace talks in Geneva, the fallout of this weekend's bombing in Ankara on Turkey's Kurdish issue, the urgent need for attention on the Mosul Dam, and Arab alarm at Donald Trump's anti-Islam rhetoric.
Geneva Talks Will Fail Without Regime Compromise
Charles Lister, Resident Fellow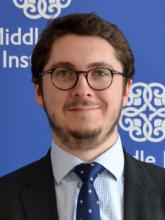 Nobody can deny that the cessation of hostilities proved more successful than most expected, but what's more important is the new context that it has helped create. On the one hand, the significant de-escalation in combat has given the regime, Russia, Iran and their various proxies time to consolidate gains made earlier in the year, thereby strengthening their hand in the planned Geneva talks. On the other hand, a reduction in air bombardment on civilian populations has encouraged the remobilization of Syria's populist protest movement and its moderate, nationalist fervor, undercutting the influence of extremists like Jabhat al-Nusra. The vast majority of Friday protests were of a nature totally anathema to al-Qaeda. While such highly symbolic imagery serves to heighten the confidence of Syria's HNC opposition and its grounding inside Syria, it also makes fast signs of progress in Geneva that much more important. If the HNC is faced with regime obstruction and grandstanding, we should expect talks to fizzle out quickly. Ultimately, the political and armed opposition is intensely sensitive to their constituent pressures.
To the outside world, a significant decline in conflict should in theory set things up for a positive start in talks, but opposition confidence in the political process itself is still slim. Until the United States and its allies begin to talk in unity about the inherent importance of transition being the result of talks, we can expect the HNC to attend and test the waters, but not to over invest in something that stands against their interests. Ultimately, the durability of talks in Geneva will depend on the regime and Russia demonstrating a certain flexibility, but we all know how unlikely that is at this point. Statements already issued from within regime circles points to it adopting its long-practiced strategy of obstructionism and finger-pointing.
Discussing federalizing Syria might look like an easy option to outside powers, but we ignore Syrian limits at our own peril. If there's one position that still crosses the pro-regime and pro-opposition camps, it is the insistence on Syria retaining its territorial integrity and avoiding too much decentralization of power. An external push for a federal system will please the Kurdish YPG, but nobody else, and that won't mean peace.
Ankara Bombing Signals New Phase in Turkey-P.K.K. Conflict
Gonul Tol, Director of MEI's Center for Turkish Studies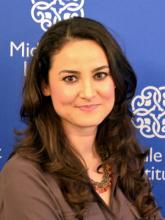 Only three weeks after a bombing of a military convoy in the city, another bombing killed at least 34 people and wounded about 125 in the Turkish capital, Ankara, on Sunday. No one has yet claimed the attack, but Turkish officials believe that the Kurdistan Workers' Party (P.K.K.) is behind the attack. If the P.K.K. was indeed responsible, it would demonstrate that the P.K.K. is stepping up the fight against Turkey. The P.K.K. usually refrains from directly attacking civilians, as it has mostly directed its attacks to military targets. But Sunday's attack on civilians signals a new phase not only in the fight between Turkey and the P.K.K., but also in Turkey's Kurdish question. This strategy is likely to polarize the country further along ethnic lines and marginalize the pro-Kurdish H.D.P. in Turkish politics, making a return to negotiations more difficult.
If the perpetrators are linked to the P.K.K., Turkey is likely to step up its bombing campaign against P.K.K. targets in northern Iraq and resume its shelling of Kurdish targets in Syria. Turkey struck Kurdish militia targets in northern Syria in February after Turkish officials claimed that the attackers were linked to the P.Y.D. in Syria. Turkey refrained from attacking Kurdish forces after the signing of the cease-fire in Syria. Turkey's resumption of attacks would threaten the fragile cease-fire at a time when negotiators are convening in Geneva to find a solution to the Syrian conflict.
Serious Consequences if Mosul Dam Collapses
Paul Salem, Vice President for Policy and Research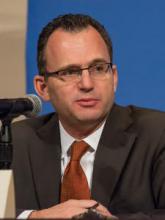 If a breach at Mosul Dam occurs, which the United Nations last week warned was a serious possibility, it could be the largest natural and man-made disaster of modern times. It would change the geography, demography and politics of Iraq, create a further refugee surge westward, and even potentially impact politics in the United States.
Originally Baghdad sought to downplay the risk, but more recently it has been very vocal about the risk calling on international help and urging people to move 3.5 miles away from the Tigris river.
The flood warnings are coming at the same time that Baghdad and the United States are preparing for the fight to liberate Mosul. Since one of the main challenges in the fight is getting civilians out of the way—particularly out of Mosul—the heightened calls happen to coalesce with coalition needs for civilians to move.
A breach would also likely lead to the swift collapse of the Abadi government, and his possible replacement by Nouri al-Maliki. The chaos and vacuum would likely draw in more Iranian concern and influence.
If the United States is serious about the risk of the dam collapsing, it needs to do more than warn the virtually bankrupt Iraqi government. The United States needs to rapidly put together and lead a robust international effort to shore up the dam, relocate civilians, and undertake any other precautions necessary. Washington can perhaps draw in China, which has extensive experience with dams.
If the dam collapses under President Barack Obama's watch and leads to hundreds of thousands of deaths, that event will likely overshadow and gravely taint his legacy. In this election year, such an event might also sink Hillary Clinton's campaign, as Republicans will hold both Obama and Secretary Clinton at least partly responsible for the catastrophe.
The only macabre upside to a potential breach is that it might wash ISIS out of Mosul.
Trump's anti-Islam rhetoric alarms Arab allies
Allen Keiswetter, MEI Scholar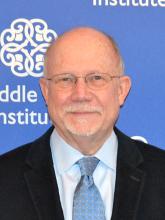 Arab leaders are becoming increasingly concerned as Donald Trump's candidacy gains momentum. In the past week, as the primaries have been reaching a crescendo, Trump has alleged, "There is tremendous hate in Islam for us," opined that "very secret papers" may implicate the Saudi government in the 9/11 terrorist attacks, and reiterated that the Saudis should pay more for U.S. protection of the oil rich Gulf. In response, Lt Gen Dhahi Khalfan Tamim, a Dubai security official, warned on Twitter of a "clash of civilizations" if the Republican candidate wins the U.S. election.
The bottom line is that Arab leaders see Trump's remarks as harmful pandering. If his momentum continues and his positions remain unabated, their concern about the implications for America's relations with its Arab and Muslim allies will shift from hypothetical to very real. The implications at this point seem to be for change, not for continuity.
---
The Middle East Institute (MEI) is an independent, non-partisan, non-for-profit, educational organization. It does not engage in advocacy and its scholars' opinions are their own. MEI welcomes financial donations, but retains sole editorial control over its work and its publications reflect only the authors' views. For a listing of MEI donors, please click here.