In this week's Monday Briefing, MEI experts Daniel Serwer, Charles Lister, and Eran Etzion provide analysis on recent and upcoming events including Trump's potential foreign policy team, Al-Qaeda's reaction to Trump's election, and President Rivlin's trip to India.
Trump Assembling Foreign Policy Team
Daniel Serwer, MEI Scholar
President-elect Donald Trump has given only hints of how he might approach foreign policy. He has emphasized the importance of an improved relationship with Russia to a rapid military defeat of the Islamic State and the need for "extreme vetting" of Muslim immigrants to the United States. He has also suggested he would re-institute torture and might kill the families of terrorists. While he may walk back some of these intentions once in office, much will depend on whom he names to key posts, especially those positions relevant to the tumultuous Middle East.
Former Speaker of the House Newt Gingrich and former U.S. ambassador to the U.N. John Bolton, both strong opponents of the Iran nuclear deal, have been rumored as candidates for Secretary of State. Less ideological possibilities include Tennessee Senator Robert Corker, and former ambassador to Afghanistan, Iraq and the U.N., Zalmay Khalilzad.
Walid Phares, a former Lebanese Christian militia leader turned American academic, has acted as a surrogate for Trump on Middle East issues. While he has tried to soften some of Trump's statements, he has excoriated the Iran nuclear deal and supports more aggressive action on terrorism, though not the re-institution of torture or killing the families of terrorists.
None of Trump's advisors have anything good to say about the Syrian opposition to Bashar al-Assad or anything bad to say about the conduct of the Saudi war in Yemen. They are generally supportive of both Egyptian President Abdel Fattah el-Sisi, whom Trump has publicly praised, and Turkish President Recep Tayyip Erdogan, whose crackdown after last summer's attempted coup Trump has refused to criticize. All are pro-Israel, praising in particular Prime Minister Benjamin Netanyahu.
Al-Qaeda Smiling at Trump Victory
Charles Lister, Senior Fellow
The unexpected election of President-elect Donald Trump may have stirred shock and concern around the world, but for al-Qaeda and ISIS, the election is perceived as part of a pre-ordained victory against the West. One of al-Qaeda's most influential ideologues celebrated what he claimed would be "the beginning of America's fragmentation and the era of its breakup," citing the divisive impact Trump's election and his policies would have on America. Meanwhile, jihadists across the globe drew parallels between the 9/11 attacks and Trump's election victory (11/9) as yet another sign of pre-determined U.S. loss.
Both al-Qaeda and ISIS have consistently sought to instill divisions within their adversaries—near and far—and given Trump's controversial stances on race, immigration and foreign policy, jihadists look set to exploit any resulting tensions and fissures for their benefit. While Trump may seek to "smash" terrorism abroad, his domestic policies could easily exacerbate the threat of lone wolf terrorism. Likewise, by drawing back from activist policies in the Middle East, Trump risks gifting jihadists an almost unimaginable boost.
While a Trump victory may provide ISIS with opportunities to 'inspire' attacks abroad, it is more likely to spell further danger to its territorial holdings in Syria-Iraq. This likely explains the more muted reaction from prominent ISIS outlets, thus far. For al-Qaeda meanwhile, the potential benefits resulting from a Trump victory are manifold and look set to directly empower the jihadist movement's evolved narrative, which focuses on positioning itself as a partner of local and 'popular' resistance. In Syria in particular, a cessation of U.S. support to the opposition risks placing al-Qaeda's de facto affiliate Jabhat Fateh al-Sham into a position of unprecedented influence.
Rivlin Goes to India
Eran Etzion, MEI Scholar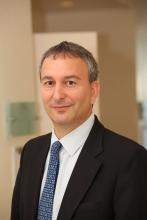 The upcoming visit of Israeli President Reuven Rivlin to India is another manifestation of the government's pivot to Asia. What began as an act of defiance toward Israel's Western allies in light of their ongoing pressure to advance the peace process, has gradually become a large-scale effort to realign the state's international trade eastwards. Israel's trade with Europe is trending downwards, while its trade with Asia, mainly China and India, continues to grow. Government ministers are boasting the success of this strategy, emphasizing that in Asia no questions are asked regarding the Palestinian issue.
In that context, Israeli-Indian relations have also turned a corner. The two countries' defense establishments have had significant relations for decades, based on under-the-radar Israeli defense exports. India's extreme sensitivity to its domestic Muslim population, coupled with its historical and ongoing ties with the Arab world, created a glass ceiling over bilateral relations. Thus, under previous Indian governments, Israeli requests for high-level visits were regularly rebuffed, and India's voting patterns at the U.N. followed the classic non-aligned pattern, i.e. against Israel.
Narendra Modi's ascendance to power in 2014 brought a visible change in bilateral relations on all levels, and broke historical taboos. There were several high level visits exchanged in 2015, and there's talk of reciprocal prime ministerial visits in 2017, marking the 25th anniversary of established relations. Should it transpire, It will be the first-ever visit of an Indian PM to Israel, marking a significant step in Israel's eastward shift.