In this week's Monday Briefing, MEI experts Paul Salem, Gerald Feierstein, Randa Slim, Bilal Y. Saab, and Jean-François Seznec provide analysis on recent and upcoming events including tensions between Washington and Cairo over Egypt's excessive authoritarian crackdown, Russia's attempt to help mediate the G.C.C. crisis, the likely postponement of the Kurdish independence referendum, the performance of the Lebanese Army in anti-ISIS operations, and the Iraqi oil minister's trip to Moscow to discuss oil production cuts.
A Return to Ambiguity in U.S.-Egyptian Relations
Paul Salem, Vice President for Policy Analysis, Research, and Programs
In what appears to be a series of mixed signals and miscalculations, U.S.-Egyptian relations have returned to a period of tension and ambiguity, after the Trump administration cancelled $100 million of aid to Egypt and suspended another $200 million.
President Donald Trump expressed enthusiastic support for President Abdel Fattah el-Sisi during their White House meeting in early April, and has told Middle Eastern leaders that he was not out to "lecture" them on how to govern their countries. Sisi apparently took that to mean U.S. acquiescence to a continued authoritarian crackdown in Egypt.
Sisi told Trump in April that he would not sign a new draconian bill that targets NGOs into law, but went ahead and did so in May, figuring that the White House would not object. And indeed he might have been right, but the Egyptian miscalculation was in not understanding the power of Congress. Opposition to the current Egyptian crackdown remains high in both parties in Congress. Had the administration not acted, Congress could have proceeded with enacting new restrictive legislation on Egypt.
The administration has kept the suspended $200 million under its control. Conditions for their release are linked to improvements in human rights and Egypt severing its ties to North Korea.
The U.S.-Egyptian relationship is a critical one for both countries. This crisis should be used as an opportunity to iron out differences and get relations back on track. It is in Egypt's interests to roll back its excessive crackdown, and in U.S. interests to have a stable and closely allied Egypt.
Lavrov Visits G.C.C. Capitals to Help Solve Crisis
Gerald Feierstein, Director of Gulf Affairs and Government Relations
Russian Foreign Minister Sergei Lavrov became the latest visitor to the G.C.C. to lend a hand to resolve the Qatar crisis, when he arrived in Kuwait on Sunday. Lavrov expects to visit Doha and Abu Dhabi as well during his regional swing. The visit is the latest indication that the Russians see the G.C.C. crisis as another opportunity to improve their standing with the Arab Gulf states.
Nevertheless, the Russians will not overplay their hand in the Qatar issue. Lavrov told reporters that Russia "supports Kuwait's initiative. We do not want to compete with anyone … and we have acted on the belief that Kuwait's initiative deserves the support of everyone who could have a positive impact on the situation."
Despite G.C.C.-Russia tensions over Syria, and Russia's role in support of Iranian ambitions in the region, G.C.C.-Russia relations have warmed in recent months. The Saudis have welcomed Russian cooperation on managing global energy supplies, while the U.A.E. has expressed interest in defense cooperation with Moscow, including potential joint production of an advanced fighter aircraft. Qatar's defense minister, Khalid al-Attiyah, too, has hinted at expanding Qatari-Russian defense cooperation following on the Qatar Investment Authority's decision to take an equity stake in Rosneft.
While Russia's position on the intra-G.C.C. rift is consistent with the U.S. view, greater Russian engagement with the G.C.C. states does complicate Washington's approach to regional coordination. This would be particularly the case if Russia were to use its new-found access to Gulf capitals to press for changes in their stance toward Iran.
Postponement of Kurdish Referendum Likely
Randa Slim, Director of the Initiative for Track II Dialogues
Less than a month away, the referendum on Kurdish independence set for September 25 is increasingly likely to be postponed. Intra-Kurdish divisions over the timing of the referendum; ongoing discussions between Baghdad and Erbil over financial assistance to the K.R.G. to settle its financial debts, which are around $10-12 billion; the terms under which provincial elections will be held in Kirkuk in 2018; and pressure from the United States and Turkey, Erbil's two principal allies, are all pushing in the direction of postponement.
A statement released by the U.S. embassy in Baghdad following meetings last week between Defense Secretary James Mattis and Iraqi and Kurdish leaders indicates that a face-saving mechanism to postpone the referendum is under discussion. The Kurdish leadership has been asking the United States to convene a trilateral dialogue with Erbil and Baghdad over the terms of separation between Iraq and the Kurdish region. Washington's long standing position has been in support of Iraq's territorial integrity and has shied away from endorsing separation talks. The embassy statement says the United States is ready to support "a new framework for dialogue" between the regional and central governments.
In addition to winning U.S. endorsement, the Kurdish leadership is also seeking guarantees from the United States, Turkey and Iran that the talks will lead to an agreement on a new date for the referendum and that all three parties commit to accepting the results of the referendum once held.
Lebanese Army Earns Praise for Fight against ISIS
Bilal Y. Saab, Director of the Defense and Security Program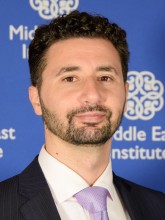 Mistakenly considered by some as one of the weakest militaries in the Middle East, the Lebanese army has accomplished what few of its Arab counterparts could: evict a terrorist army from its territory relatively quickly and without suffering major casualties. For sure, the Lebanese army did not counter ISIS on its own. Washington offered military supplies; Hezbollah and Syrian government forces operating from the Syrian side of the border joined the fight; and geography—a mountainous environment—provided tactical, operational, and logistical advantages.
Nevertheless, this should not downgrade the Lebanese army's performance or lessen the strategic significance of its success. At a time of pressing U.S. need to cultivate capable security partners among the region's states, the Lebanese army, a recipient of U.S. military aid for years, is attracting attention and earning praise from the U.S. Central Command, which has been closely monitoring its activities.
A major lesson that can be gleaned from this anti-ISIS battle is that if properly equipped, the Lebanese army can perform ably. Though it would benefit from more intense training and tabletop exercises across various domains, the Lebanese army's problem is not its capacity, morale, professionalism, doctrine, loyalty, or cohesion; it is primarily its lack of the modern tools of warfare.
The close cooperation between Hezbollah—a politico-military actor that does not answer to the Lebanese state and is classified by Washington as a terrorist organization—and the Lebanese army is highly problematic on several levels, but it is hard to deny its present military benefits in the fight against ISIS. How Lebanon's leaders manage this dichotomy will continue to affect national security and the state-building project for years to come.
Russia to Prod Iraq to Stick to Oil Cuts
Jean-François Seznec, MEI Scholar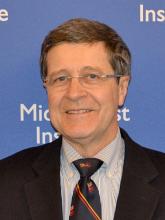 Jabar al-Luaibi, Iraq's oil minister, visit to his counterpart in Moscow this week may have a more profound connotation than just being a routine contact between the first and third largest crude oil suppliers.
Iraq produces 4.5 million barrels per day, second only to Saudi Arabia in OPEC, and is thus a major player in the OPEC/non-OPEC (read Russia) production cutting agreement. Iraq is not fully living up to its May 2017 cutting commitment at a time when U.S. shale producers are increasing output and thus keeping prices in the very low $50s.
Hence, the meeting in Moscow may focus mainly on Russia prodding Iraq to cut to its agreed quota. On the other hand, undergirding the talks is the fact that Iraq is now producing 18 percent more oil than Iran, a difference set to increase rapidly as Iraq gets advanced technology from Western and Russian companies. Iraq is now becoming richer than Iran, and more credible with the big producers like Russia, Saudi Arabia and the United States.
Politically, it shows that Iraq now has real means to limit its dependence on Iran, i.e. going back to a pre-Gulf war strategic position. Iraq still has to find a proper solution to the Kurdish oil and political conundrum. However, the contacts between Iraqi heavyweights, like Iraqi Prime Minister Haider al-Abadi and Moqtada al Sadr, and the Saudis and Russians are an indication of the new wealth and pride of Iraq.