In this special briefing, MEI experts Bilal Y. Saab, Alex Vatanka, Randa Slim, Ahmad Majidyar, Gerald Feierstein, Gonul Tol, and Marvin G. Weinbaum discuss President Trump's announcement that the United States will withdraw from the Iran nuclear deal and its ramifications for the region.
Iran sends message with attack on Israeli-occupied Golan Heights
Bilal Y. Saab, Director of the Defense and Security Program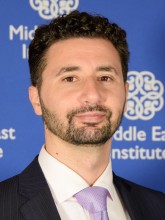 Now that President Trump has effectively withdrawn the United States from the deal, the room for diplomacy between these old antagonists has essentially evaporated.
Why? Because Iran's leaders will have a hard time trusting that Washington can keep its word. Left in Washington's foreign policy toolbox, as it seeks to address its many problems with Iran, is punitive action, which will take the form, for now, of more aggressive economic sanctions. Maybe confrontation was the Trump administration's intent all along. But the reality is that the United States has adopted, implicitly or deliberately, a policy of regime change in Iran, which effectively puts it on a collision course with Tehran.
While the Iranian regime is often hard to read, there is no question that it will fight back hard for survival. Given the overwhelming military dominance the United States has over Iran, Tehran will avoid a direct clash with Washington. However, it will go after U.S. partners, as evidenced by its firing of 20 rockets at Israeli positions in the Israeli-occupied Golan Heights, to which Israel responded by bombing Iranian targets in Syria. By attacking Israeli targets, Tehran is trying to send a message to both Tel Aviv and Washington that, deal or no deal, it has military options in the region that can severely hurt its adversaries.
Washington's decision to intervene on the side of its regional partners will be made easier should direct military hostilities between Iran and its neighbors erupt. But if Tehran avoids open confrontation, how would Washington react to Iranian violence against its partners that falls short of outright, conventional aggression? That is very much unclear.
Trump wants regime change in Iran
Alex Vatanka, Senior Fellow
That the 2015 nuclear deal has so far delivered on its core promise is not in dispute by most objective observers. If Iran today chooses to dash for a nuclear weapon it will be found out, thanks to the restraints imposed on it by the deal.
But the performance of the deal was not the key factor in President Trump's decision to pull out of the agreement on May 8. He has clearly a much more profound aim in mind, and that's to bring about regime change in Tehran. It's a big gamble, and history is not on the side of Trump.
So, why is Trump gambling that Iran is ripe for regime change? In a nutshell, that is what some of his key advisors, such as John Bolton at the National Security Council, are telling him. That message is overwhelmingly shaped by the ideological commitment of long-time anti-Iran hawks such as Bolton and Secretary of State Mike Pompeo.
To a lesser extent, this notion that the Iranian regime is on the brink is also backed by mounting evidence of deep popular anger in Iran against the regime's inept domestic and foreign policies. Trump is banking that anger is about to tip the balance in Tehran, and he wants to expedite it.
So can renewed American efforts to sanction Iran's economy create so much anger inside the Iranian population that they will topple the regime from within? That is one possibility, but it is a big if. Another possibility is that the regime in Tehran successfully blames the US as the reason for the suffering of the Iranian people, as it has done in the past.

Trump's withdrawal is awful news for Iraq
Randa Slim, Director of the Initiative for Track II Dialogues
Trump's withdrawal decision could not have come at a worse time for Iraq. As Iraq is recovering from the fight against ISIS and is dealing with the huge tasks of stabilization and reconstruction, Iraq cannot afford to be stuck in the midst of a confrontation between the U.S. and Iran.
During his tenure, Iraqi Prime Minister Haider al-Abadi has succeeded in striking a neutral course vis-à-vis the two countries. The ISIS takeover of Mosul in 2014 forced Tehran to accede to a U.S. military return to Iraq. Now that the fight against ISIS is officially over, pro-Iranian proxies in Iraq have been calling for an early exit of U.S. forces. Abadi has resisted such calls arguing that U.S. forces are needed to advise, train and equip Iraqi security forces. S
ince his assuming office in September 2014, he has worked to rebuild the political relationship between Baghdad and Washington. He has embraced a policy of outreach to Iraq's Arab Gulf neighbors, thus breaking Iraq's isolation from its Arab neighborhood.
As tensions escalate between Washington and Tehran, the next Iraqi prime minister will find it very difficult to stay the course. He will be pressured to end U.S. military presence and take Iran's side in its conflict with the U.S., thus imperiling the budding relations with its Arab Gulf neighbors.
Without U.S. military assistance and Arab Gulf economic investments, Iraqi security and internal stability are put at risk again. In an environment of increased security threats, non-state armed actors, primarily pro-Iranian forces, will hold more sway over security and political affairs.

US withdrawal from Iran deal could accelerate nuclear proliferation
Ahmad Majidyar, MEI Fellow, Director of the IranObserved project
While the U.S. withdrawal does not mean the end of the nuclear accord at this time, it could trigger a chain of events that will ultimately unravel the multilateral agreement.
For now, the Rouhani government will seek to stay in the deal and work with other five signatories of the accord—France, Germany, Britain, Russia and China—to minimize the impact of U.S. sanctions and "isolate" Washington diplomatically. For President Hassan Rouhani, the survival of the deal is important as it will define his presidential legacy and will potentially determine his political ambitions in the future. But keeping Iran committed to the deal will not be an easy task for him as he will come under tremendous pressure from hardliners and the country's powerful Revolutionary Guards to take retaliatory measures against the United States.
Trump's decision may also prompt a diplomatic and economic feud with Europe as well as with China and Russia. All other signatories of the deal have made it clear that they will stand by the deal despite a U.S. withdrawal. It remains to be seen if they will take any actions to counter U.S. sanctions that will bar their companies and banks from doing business with Iran and incentivize Tehran to remain compliant.
In his speech, Trump also argued that if he "allowed this deal to stand, there would soon be a nuclear arms race in the Middle East." But Trump did not provide an alternative plan to address Iran's nuclear activities in a post-deal scenario. Indeed, if Tehran leaves the deal and resumes high-level nuclear enrichment, it could accelerate a cascade of proliferation in the region and potentially trigger an Israeli or U.S. military response in the future.

Growing tensions with Iran deepen Gulf fissures
Gerald Feierstein, Director of Gulf Affairs and Government Relations
Gulf reaction to President Trump's May 8 announcement that the U.S. would no longer participate in the multilateral Joint Comprehensive Plan of Action reinforced the intra-GCC fissures over regional challenges. Most international attention focused on the warm reception accorded the announcement by the anti-Iran triumvirate of Saudi Arabia, the UAE, and Bahrain.
But the three remaining GCC member states—Kuwait, Oman and Qatar—were silent or reacted cautiously to the U.S. move. In its official response, the Sultanate of Oman, after noting that it viewed both the U.S. and Iran as "interested in achieving peace and stability in the region," nevertheless asserted that "confrontation does not service the interests of either party." The Omani statement concluded with a note of appreciation for the stance of the remaining five signatories that committed to preserving the deal.
The varied responses to the U.S. decision on the Iran nuclear deal reflect the intra-GCC division over other points of contention that threaten the future of the regional organization. Oman's sympathetic response to the Houthi-led uprising in Yemen has stirred Saudi and Emirati suspicions that the Omanis are aiding Iran's intervention in the civil conflict, which the Saudis view as an existential threat to their security.
Meanwhile, the anti-Qatar quartet of Saudi Arabia, UAE, Bahrain and Egypt has demanded that Doha break off or sharply reduce its diplomatic and commercial links to Tehran as part of the 13-point list of demands it laid down last summer. As tensions continue to rise in the Gulf region over a response to Iran's actions, these intra-GCC differences will complicate U.S. reliance on the regional organization as a key bulwark in confronting the Iranian challenge.

Turkey put in a difficult spot
Gonul Tol, Director for Turkish Studies
"Turkey will be hit," said Turkish President Recep Tayyip Erdogan after Trump's decision to withdraw from the nuclear agreement with Iran. As a country that has close trade and energy ties with Iran, and suffered under the previous sanctions regime, Erdogan has a point.
Turkey cultivated close trade and energy ties with Iran in the last decade. Turkey heavily depends on oil and natural gas supplies from its southern neighbor. Turkish exports to Iran surged 12 fold until the U.S. and EU slapped new sanctions on Iran in 2011-2012. The sanctions hit the Turkish economy hard. Turkish exports to Iran dropped, many Turkish banks stopped processing payments from Iranian customers and the number of Iranians visiting Turkey tumbled. The 2015 nuclear deal with Iran was thus a sigh of relief for Ankara.
To evade U.S. sanctions, Turkey's state owned Halkbank, reportedly with orders from Erdogan, took part in a billion-dollar scheme that allowed Turkey to buy Iranian oil and gas in exchange for gold. The conviction of a senior banker at Halkbank on charges that he helped Iran dodge sanctions in a Manhattan court in January showed how far the Turkish government was willing to go to avoid the negative repercussions of the sanctions.
Trump's decision puts Turkey in a difficult spot. The economic effects of re-imposing sanctions is only part of the problem. If Iran decides to go nuclear in response, Turkey, a country deeply committed to a nuclear-free region, will face an even tougher challenge. An arms race that might prompt Saudi Arabia and Egypt to develop their own nuclear arsenal will force Turkey to do the same, a scenario that Turkey has been trying to avoid.
Deep consequences for Afpak
Marvin G. Weinbaum, Director for Afghanistan and Pakistan Studies
President Donald Trump's decision could have deep consequences for Afghanistan and Pakistan strategically and economically. While the announcement has initially not drawn strong reactions from the officials and the public, undoubtedly, the governments in Kabul and Islamabad can be expected to go out of their way to avoid favoring the U.S. or Iran.
Both countries share borders with Iran, retaining at least normal relations with Tehran is in their interest. However, each country also values its relationship with Saudi Arabia. Should the rivalry between Saudi Arabia and Iran heat up, it will make it increasingly difficult for either Afghanistan or Pakistan to avoid being forced into situations where they would have to choose sides.
Importantly, should Iran revive its enrichment program, Saudi Arabia can be expected to look to Pakistan to help build its nuclear program. Plainly, should the faceoff between the U.S. and Iran lead to military conflict, both Pakistan and Afghanistan would find it difficult to ignore public sympathy toward Iran.
Economically, both countries have strong trade ties with Iran that will be impeded by the U.S. decision. Foreign investment in both countries could be impacted as well. The Iranian port of Chabahar on which Afghanistan places its economic hopes as a landlocked country may be blocked. And any remaining possibility of a much needed gas pipeline from Iran and Pakistan is no doubt gone.