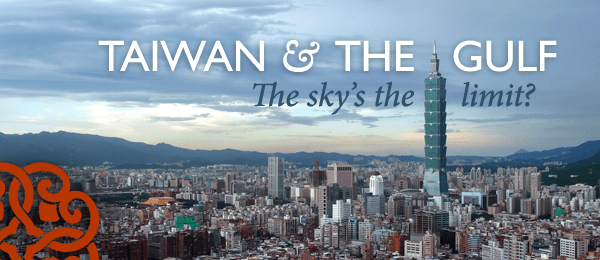 Dubai's Burj Khalifa and Taiwan's Taipei 101 tower, the world's two tallest skyscrapers, differ in height by a stunning 1,076 feet, are separated by nearly 4,000 miles of ocean, and are situated in countries and regions which, linguistically and culturally, have little in common ― except business.
Business between East Asia and the Gulf has continued to flourish in spite of and partly because of the global economic recession. Economic ties between Taiwan and the Gulf countries are, in some ways, illustrative of this broader interregional phenomenon. Yet, Taiwan itself, and by extension its relations with the Gulf countries are sui generis.
Taiwan is a small, densely populated subtropical island of 23 million inhabitants situated in the western Pacific, prone to typhoons, flooding, and earthquakes and possessing few natural resources with significant economic value. Taiwan is a trading nation, but one that lacks the formal political relationships of most other nations. Nevertheless, its economy, the world's 18th largest (measured by GDP), has been growing at an average rate of over 6% for the past three decades.
Paradoxical, to be sure. So, too, are the relationships between Taiwan and the Gulf countries ― profitable and promising in some respects while troubling in others. In fact, for Taiwan, the Gulf countries are many things at once: vital partners, sources of insecurity, and potential targets of opportunity for companies seeking to expand their overseas markets and operations.
Taiwan's Tenuous Energy Situation
The energy sector forms the core of Taiwan's relations with the Gulf countries. Indeed, energy supplies from the Gulf have been an indispensable element of Taiwan's "economic miracle." For over two decades, Taiwan has registered unusually high rates of economic growth. Energy consumption in Taiwan has grown at similarly high rates. As depicted in Chart 1, the industrial sector continues to be Taiwan's largest energy consumer, though its share has declined in recent years due to structural changes in the economy (i.e., the decreased role of energy-intensive industries).
Chart 1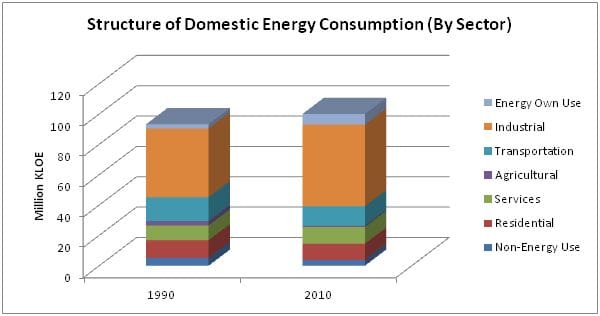 Source: Taiwan Bureau of Energy, Ministry of Economic Affairs (MOEA), Energy Statistics Handbook 2010.
Taiwan's energy profile is a function of its insular geography and limited natural endowments. These twin factors have led to a heavy reliance on fossil fuels, a high degree of import dependency, and a narrow concentration of supply sources.
Fossil fuels are Taiwan's predominant sources of primary energy. Crude oil and petroleum products and natural gas together constitute over 60% of energy supply. (See Chart 2)
Chart 2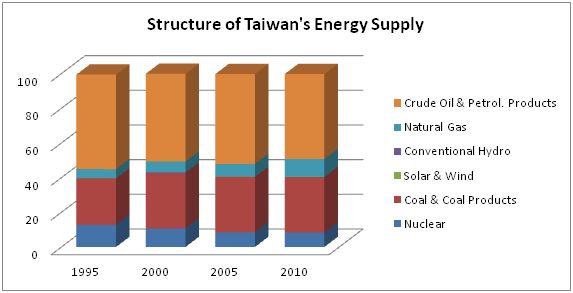 Source: Taiwan Bureau of Energy, Ministry of Economic Affairs (MOEA), Energy Statistics Handbook 2010.
Crude Oil
Taiwan's indigenous conventional energy resources are quite limited. Such is the case with oil, which constitutes about half of Taiwan's primary energy needs. Domestic oil production has been flat for a number of years.[1] As a result, Taiwan imports over 99% of its oil, mostly from the Middle East and particularly from the Gulf countries. (See Charts 3 and 4.)
Chart 3
Source: Taiwan Bureau of Energy, Ministry of Economic Affairs (MOEA), Energy Statistics Handbook 2010.
Chart 4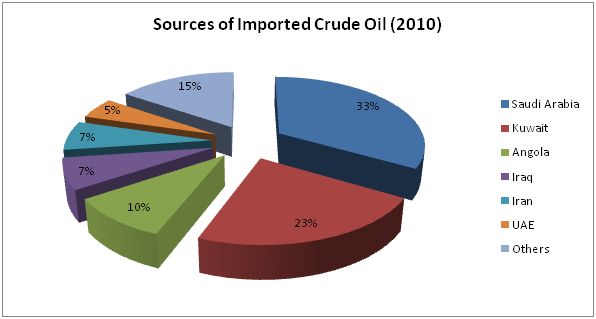 Source: Taiwan Bureau of Energy, Ministry of Economic Affairs (MOEA), Energy Statistics Handbook 2010.
Imports of crude oil reached 149.5 million barrels in 2011, with 63.15% coming from the Middle East.[2] Saudi Arabia is by far Taiwan's leading source of crude oil.
Taiwan is a relatively small player in the Iranian crude oil market. Taiwan cut crude imports from Iran by nearly half in 2011.[3] This past April, CPC announced it would halt purchases of Iranian crude from July, falling into line with US sanctions.[4] Since then, CPC reportedly has been buying crude oil on the spot market to compensate for the loss of Iranian supplies.[5]
Over the past several years, CPC has increased its overseas investments in an effort to shield Taiwan from the rising cost of oil imports and reduce its reliance on shipments from the Middle East. CPC has joined forces with international oil companies in the hope of discovering new oil and gas reserves, with its upstream exploration activities now encompassing 21 fields in seven countries in the Americas, Asia-Pacific, and Africa.[6] Such efforts mirror those undertaken by Mainland Chinese and Indian companies.
Petroleum Products
Despite its small size, Taiwan is the world's 9th largest petrochemicals producer.[7] Petrochemicals, which is Taiwan's third most profitable sector after the semiconductor and the flat panel display industries, accounts for about 30% of its total manufacturing production, employs over 400,000 workers, and generates substantial export revenues.[8]
Taiwan's petrochemicals industry has thrived in the past by relying on imported crude oil and the export of raw materials after refining. But the onset of the global financial crisis ended a five-year growth period for the industry. Of greater significance for its longer term future, it has had to contend with rising environmental protection sentiment domestically and changing market conditions internationally.
On the domestic front, the fate of the Kuokuang Petrochemical Technology Corporation's proposal to build a plant in Yunlin is illustrative. The new facility was to have been located within an ecologically sensitive wetland in Dacheng Township, Changhua County, on the island's west coast. The choice of this site ignited a contentious five-year battle that culminated in April 2011 in the withdrawal of the Taiwanese government's support for the project.[9] To be sure, the abandonment of the project was a milestone for the Taiwanese environmental movement. However, it was also a setback for the Taiwanese petrochemical industry and, as some would argue, for the economy as a whole. After all, Taiwan's textile, chemical fiber, apparel, and electronics industries all use petrochemical products.
The globalization of the petrochemical industry also has had profound implications for Taiwan. In recent years, Taiwanese petrochemicals producers have faced strong international competition. As a result of production capacity expansion, Mainland China has become increasingly self-sufficient. Nor have Taiwanese petrochemicals producers appeared to gain much from the "Early Harvest" provisions of the Economic Cooperation Framework Agreement (ECFA) with Beijing.[10] Meanwhile, the Gulf countries, too, have added capacity. The export buildup from the Gulf is targeted towards Asia, where demand growth is robust and where there is a substantial deficit in commodity chemicals. Downstream products from Kuwait, Qatar, and Saudi Arabia (e.g., ethylene, propylene, and some intermediate polymers) are increasingly competitive with Taiwanese products.[11]
Thus, Taiwan's petrochemicals industry faces two challenges: how to avoid dependence on foreign supplies and how to remain competitive in a dynamic market where both Mainland China and the Gulf countries have the advantage of easy access to feedstocks and large consumer bases. The consensus within the Taiwanese government and the business community appears to be that it is necessary to transform the petrochemicals industry from a labor- and capital-intensive, processing one into a high value-added, advanced technology, low polluting, automated one. But by what means, how long will it take, and what to do in the meantime?
CPC has sought to tackle this challenge partly by forming a strategic alliance with 15 local firms, research centers, and higher education institutions. The partnership envisions CPC setting up centers for green energy research and innovative materials certification[12] ― a potentially promising initiative but one whose rewards are unlikely to be realized for quite some time.
The formation of joint ventures is another means by which Taiwan could seek to manage the challenges associated with the globalization of the industry. The most obvious potential target of such efforts is Mainland China. However, the Taiwanese government prohibits domestic enterprises from establishing upstream petrochemicals plants in Mainland China. Furthermore, Beijing does not allow such plants to be set up solely with Taiwanese capital.[13] By contrast, the prospects for the formation of joint ventures between Taiwanese and Gulf enterprises would appear to be brighter, if only because the relationships at the political level are far less complicated. Nevertheless, thus far it has been Mainland Chinese, rather than their Taiwanese counterparts that have made greater progress in forging such partnerships. For example, Saudi Basic Industries Corporation (SABIC) announced this past April a $100 million investment to build a new Technology Center in Kangqiao, east of Shanghai, where research and development would focus on advanced engineering plastics materials.[14]
Meanwhile, foreign investment in Asia's petrochemicals sector ― including from the Gulf ― has been heading to Mainland China, not Taiwan. In fact, the Mainland is already a well-established investment destination for multinational chemical companies ranging from BASF, Bayer, Dow Chemical, and Mitsubishi Chemical. SABIC and Sinopec joined forces to build a petrochemical plant in Tianjin.[15] Multinational companies are also active in the Gulf, as exemplified by a Dow Chemical-Saudi Aramco joint venture formed in 2011, the Sadara Chemical Company, to build and operate a fully integrated chemicals complex in Jubail, Saudi Arabia.[16]
Liquified Natural Gas (LNG)
LNG occupies an increasingly important place in Taiwan's energy mix. The main consumers of natural gas are the Taiwan Power Company and seven independent power producers (IPPs), which account for a combined total of 78.4%.[17] As with oil, Taiwan's reserves of natural gas are limited. Taiwan began importing LNG in 1990. Since then, imports have risen dramatically. LNG now accounts for over 90% of Taiwan's natural gas market. (See Chart 5)
Chart 5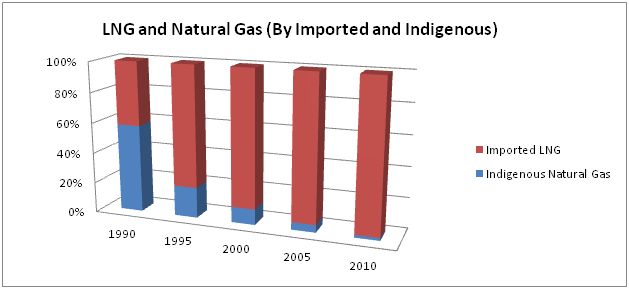 Source: Taiwan Bureau of Energy, Ministry of Economic Affairs (MOEA), Energy Statistics Handbook 2010.
Indonesia and Malaysia have been Taiwan's largest suppliers of LNG. In addition, Taiwan has sourced several spot cargoes from the United Arab Emirates (UAE) and Oman (along with Nigeria), both in order to meet strong demand growth above contracted volumes and to compensate for supply shortfalls from Indonesia.[18] (Falling output from Indonesia caused the expiration of one contract in 2009; and another is due to expire in 2017.) Concern about supply security has prompted the CPC Corporation ― Taiwan's sole importer of LNG ― to pursue long-term deals in order to diversify. These efforts have resulted in Middle Eastern countries, particularly Qatar, accounting for an increasing share of Taiwan's LNG imports. (See Chart 6)
In 2005, CPC signed a 25-year LNG sales and purchase agreement (SPA) for 3 million tonnes (Mta) per year with Ras Laffan Liquefied Natural Gas Company Ltd II (RasGas II) of Qatar. Last year, CPC signed a second SPA with Ras Gas for 1.5 Mta for 20 years, with deliveries to commence in 2013.[19] However, it is important to mention that this latter agreement is but one of several that CPC has sought or secured in recent months: CPC is now committed to purchase LNG from Inpex's Ichthys project in Darwin,[20] ExxonMobil's Papua New Guinea venture, and Shell's Prelude project (the world's first floating natural gas, or FLNG, project ) off the coast of Australia.[21] Responding to questions about delays in the development of Woodside Petroleum's Browse project (from which CPC recently withdrew), Lin Maw Wen, the company's vice president, stated that they "… are not ruling out buying LNG from the Middle East …"[22] However, there is no indication that CPC has yet moved in this direction.
Chart 6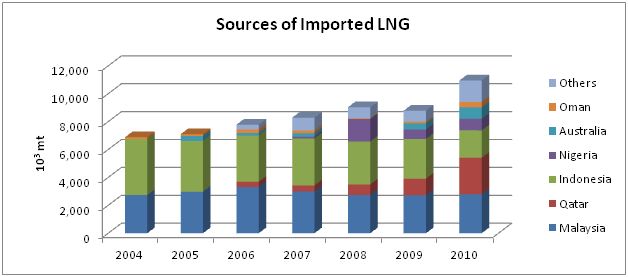 Source: Taiwan Bureau of Energy, Ministry of Economic Affairs (MOEA), Energy Statistics Handbook 2010.
The role of natural gas in meeting Taiwan's energy requirements is likely to continue to expand, driven by rising energy consumption and government policies favoring natural gas for environmental and energy security reasons. Indeed, the Bureau of Energy, Ministry of Economic Affairs (MOEA) has planned to increase the deployment of natural gas up to 14 mta by 2020 and 16 mta by 2025.[23] Meanwhile, investment in the construction of new LNG infrastructure has continued apace. Last year, CPC won approval from the Council of Economic Planning and Development for its project to build three 160,000-kiloliter ground-based liquefied petroleum gas storage tanks and LNG gasification equipment near Taichung Harbor.[24]
Expanding Business Opportunities in the Middle East
Trade in energy has dominated Taiwan's relations with the Gulf countries and contributed to a huge trade imbalance. (See Chart 7) In recent years the Taiwanese public and private sectors have sought to diversify and expand business opportunities in the region in order to narrow the trade deficit, reduce the impact of the global economic recession, and keep pace with their Asian neighbors' efforts to tap into emerging markets.
Chart 7
Source: Taiwan Bureau of Trade Statistics
Institutionalization
Saudi Arabia, the United Arab Emirates (UAE), and Iran have been the main focal points of Taiwan's drive to develop and diversify business activities in the Gulf and wider Middle East.  Laying the groundwork, the Ministry of Economic Affairs spearheaded the creation of The Republic of China Middle East Economic and Trade Association. Taiwan Fertilizer Chairman Chung Jung-chi was elected to chair the organization, which has been joined by 66 leading companies, including CPC, shipbuilder CSBC Corporation, and the TECO Group.[25] A parallel initiative resulted in the establishment of the Taiwan-Iran Economic and Trade Association, led by Mobiletron Electronics Chairman Kim Y.C. Tsai.[26] The Taiwan Trade Center in Dubai, one of the 49 overseas offices established by the Taiwan External Trade Development Council (TAITRA), also serves as a mechanism to facilitate trade not just with UAE but to enable Taiwanese manufacturers a base from which to cultivate the broader Middle Eastern market. The overarching aims of these institutions are to develop merchandise trade and spur cross-investments with the Gulf countries.
Merchandise Trade
Foreign trade has been the locomotive of Taiwan's rapid growth for the past three decades. At the same time, heavy dependence on exports has made Taiwan susceptible to fluctuations in world demand. Over the past several years, US and European demand for Taiwanese merchandise has been sluggish while Taiwan has grown ever more heavily dependent on exports to Mainland China.[27] In response, the Taiwan External Trade Development Council (TAITRA) has directed its promotional efforts towards emerging markets, i.e., towards the Gulf as well as India, South Africa, and Eastern Europe.
Taiwan's export drive in the Gulf has begun to pay off. Since the mid-2000s, the value of Taiwanese exports to the region, particularly to Saudi Arabia and the UAE (to the latter mainly for re-export) has risen significantly. (See Chart 8) Taiwan's leading exports to the Gulf countries fall into four broad categories: motor vehicles, spare parts, and accessories; boilers, machinery, and electrical appliances; mineral fuels and oils; and plastics and articles thereof.[28]
Chart 8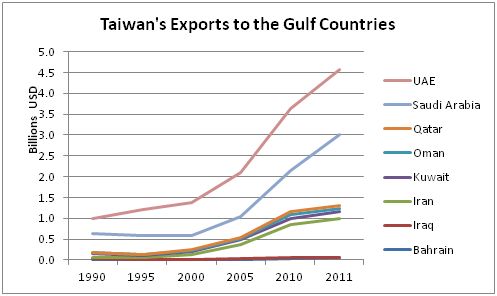 Source: Taiwan Bureau of Trade Statistics
Nevertheless, as Chart 9 illustrates, Taiwan's trade deficit with the Gulf countries has widened considerably in spite of the growth in the value of its exports to the region due to the combination of the large volume of crude oil imports coupled with recent record-high oil prices.
Chart 9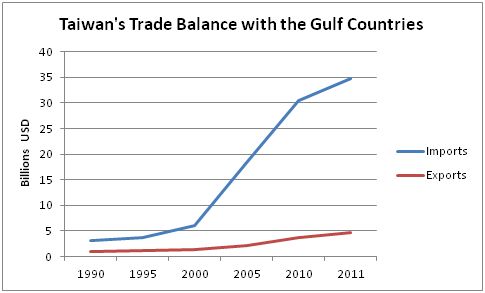 Source: Taiwan Bureau of Trade Statistics
Cross-Investment
In 2007, under the Democratic Progressive Party (DPP) government of President Chen Shui-ben, then-Minister of Economic Affairs Steve Chen invited eight companies, including the China Steel Corporation (CSC), Chunghwa Telecom Company, Taiwan Fertilizer Company, Ltd, TECO Electric and Machinery Company to participate in a new investment fund aimed to pursue projects in the Middle East. [29] That same year, Al-Jubail Fertilizer Company (Albayroni) was established as a joint venture between the Taiwan Fertilizer Company (TFC) and Saudi Basic Industries Corporation (SABIC) with a capital outlay of $744 million.[30]
Taiwanese private sector interest and involvement in projects in Saudi Arabia has continued under the Kuoimintang Party (KMT) government of President Ma Ying-jeou. In 2008 Saudi Arabia invited Taiwan to head the development of King Abdullah Economic City (KAEC). Since then, several Taiwan companies, including the China Steel Corporation and Taiwan Fertilizer Company expressed interest in investing in KAEC.[31] In January 2012, TECO Electric and Machinery Group inaugurated an induction motor plant in Damman, a $30 million joint venture with the Kingdom of Saudi Arabia.[32]
The Taiwanese private sector has been active in the UAE is well. Taiwan's Farglory Group is engaged in a hotel and residential project in Abu Dhabi's new financial district in partnership with the emirate's state fund. The project, which forms part of the Sowwah Square development and includes high-end residences, office buildings, luxury hotels and shopping malls, is scheduled to be completed in 2016.[33]
The Promise and the Perils
Structural challenges
Taiwan faces strong headwinds as it charts a course for its economic future. Heavy reliance on the tech sector has made Taiwan acutely vulnerable to changes in the global market. Meanwhile, its comparative advantage in international markets has eroded. Most insiders and observers would agree that for Taiwan to produce a second "miracle" requires a long-term industrial restructuring. In fact, the Taiwanese government has identified six key industries to focus on in the coming years, including biotech, tourism, and green energy.
The Taiwanese government has also sought to balance economic development, energy supply, and environmental protection (3E). Since President Ma Ying-jeou first took office in May 2008, transforming Taiwan into a low-carbon society has become one of the government's policy priorities. However, for the foreseeable future, Taiwan will continue to rely heavily on substantial quantities of crude oil sourced from the Gulf. Such a high degree of dependency alone has raised concerns about supply security and price. The political volatility throughout the Middle East together with the risks and costs associated with international efforts to contain the Iranian nuclear program has heightened these concerns.
Deepening integration with the Mainland
Over the years, Taiwan's ambiguous international status has not hampered its economic relations with the Gulf countries. In the meantime, though, the Mainland's own commercial interaction with the Gulf has greatly expanded, far surpassing that of Taiwan. If the positive momentum in cross-Strait relations of the past four years were to continue, promising areas of cooperation between the Mainland and Taiwan, both of which are heavily dependent on Middle Eastern oil, could be exploited.
Overseas energy exploration and development is one such area. To be sure, Taiwan may be reluctant to cooperate where sovereignty is disputed and the risk of the use of force exists (e.g., South China Sea). Similarly, Mainland China may be reluctant to include Taiwan in major regional mechanisms aimed at resolving such disputes.[34] But joint venture exploration has been underway for some time. In 2003 CPC Taiwan and Beijing's state-owned China National Offshore Oil Corporation (CNOOC) joined forces to explore a portion of the Tainan Basin at the southern end of the Taiwan Strait. More recently, they have agreed to form a joint venture exploration project in the Nanjih Islands Basin and have discussed possible joint exploration in the East China Sea, Kenya, and Chad as well.[35]
Other areas of potentially fruitful cooperation ― inconceivable just a decade ago ― no longer seem beyond reach. In September 2011, a cargo of ethylene from Nanking arrived in Taiwan's southern port of Kaohsiung — the first such shipment directly from China. CPC Taiwan is negotiating with mainland China's Sinopec Group for further shipments of ethylene.[36] Meanwhile, the Taiwanese government is now facing growing pressure to allow upstream petrochemical industries to go to mainland China.[37] The practical benefit of protecting the safety of Taiwanese vessels, crewmen, and cargoes also provides scope for possible international maritime cooperation.
However, undoubtedly some will argue the potential synergies from such cooperation are outweighed by the risk of being drawn further into the Mainland's economic "orbit" and, ultimately, of losing political independence.
Conclusion
The dependency and nascent rivalry that characterize Taiwan's economic relationships with the Gulf countries are symptomatic of the deeper structural limitations and challenges it faces. Taiwanese across the political spectrum appear to recognize that a business-as-usual approach to economic development is untenable in the face of skyrocketing financial and environmental costs and the pressures of retaining international competitiveness.
For Taiwan to remain a major economic power requires a national commitment and long-term policies which aim to unleash and support the creative energies, industriousness, and business acumen that will enable the development of new niches in the global market. The extent to which Gulf countries can be enlisted as partners in such an endeavor may well depend on whether Taiwan finds a formula for capitalizing on its unique relationship with the Mainland while preserving its distinctive identity. Should Taiwan succeed in doing so, then the sky's the limit.
---
---
The Middle East Institute (MEI) is an independent, non-partisan, non-for-profit, educational organization. It does not engage in advocacy and its scholars' opinions are their own. MEI welcomes financial donations, but retains sole editorial control over its work and its publications reflect only the authors' views. For a listing of MEI donors, please click here.