Over the past several decades, the United Arab Emirates (UAE) has been transformed into one of the world's most robust economies. The key to the UAE's success has been economic diversification; indeed, oil now accounts for only one-third of the country's GDP. According to UAE Ministry of Foreign Trade Reports, the value of non-oil exports increased thirtyfold during the period 1981-2009. Dubai accounted for approximately 82 percent of non-oil exports in the UAE in 2010, while Abu Dhabi accounted for 14 percent. In particular, by setting up over two dozen free zones as platforms for nearly all industry sectors, the UAE has become far less dependent on oil.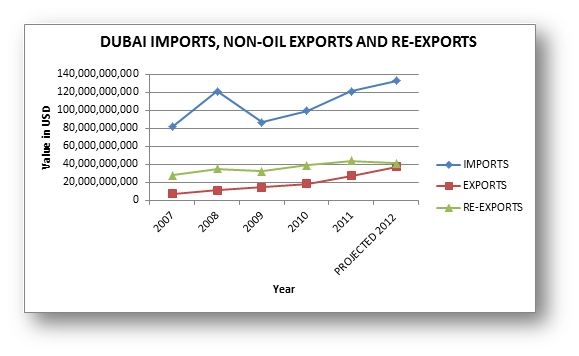 Source: Data from Dubai Statistical Year Book 2011, Ministry of Foreign Trade UAE Trade Statistics.
Free zones provide a congenial environment for the acceleration of economic development by attracting investment, generating employment, and earning foreign exchange. For instance, in free zones 100 percent foreign ownership is permitted, whereas foreign participation in any domestic company is restricted to 49 percent. In addition, foreign firms established in free trade zones are exempt from paying personal income taxes and corporate taxes for 30 years. Import goods meant for free zones are also exempted from duties.
Dubai has become a particular icon of entrepreneurship and success, in no small part due to free zones. One such zone, the Jebel Ali Free Zone, or Jafza, was established in 1985 and is Dubai's biggest exporting zone, serving as a key factor in the city-state's remarkable growth. There are now 26 free zones in Dubai, and more are in the development stage. The government of Dubai also established the Dubai Multi Commodities Center (DMCC), a major free trade zone, to enhance the trading of commodities.
Dubai has a broad foreign trade network extending to more than 220 countries and featuring marketing outlets for a diverse portfolio of goods and services. Indeed, products from Dubai and other emirates are exported to over 198 markets around the world. As a member of the UAE, Dubai is part of the world's third largest export and re-export center after Hong Kong and Singapore.[1] Dubai also has some of the world's leading multi-modal logistics capabilities. The city-state is served by more than 170 shipping lines and 120 airlines. The establishment of al-Maktoum International Airport in 2010 was another significant milestone that has defined Dubai as a major powerhouse of the global logistics industry.
The World Bank recently ranked the UAE as the 26th easiest place to do business and the 5th easiest place to trade across borders out of 185 countries worldwide. The salient features that create this business-friendly environment are:
No personal income capital tax
No corporate taxation
100% repatriation of capital and profits
No currency restrictions
Competitive import duties (5% with many exemptions)
Minimum government control and regulation of private sector activities
Abundant energy supply
Competitive freight charges    
Competitive real estate costs
Given its strategic location between East and West, the UAE—and particularly Dubai—has emerged as the strategic gateway to trade in the Middle East—the major trade network connecting Asia with the Mediterranean and North Africa. As a result of this location as well as the above factors that make the emirates an attractive place with which to do business, trade between the UAE and the emerging economies of India and China has increased exponentially.
Trade between the UAE and India
India is the UAE's largest trade partner. The UAE's economic, political, and cultural links with India date back to more than a century ago when bilateral trade began. The Indian community is the largest expatriate community in the UAE, numbering around 1.5 million. The UAE's other major trade partners are China, the United States, the United Kingdom, Germany, Saudi Arabia, Indonesia, Iran, Oman, and Jordan. As such, trade is predominately concentrated in Asian markets.
Table 1: The UAE's Top Trade Partners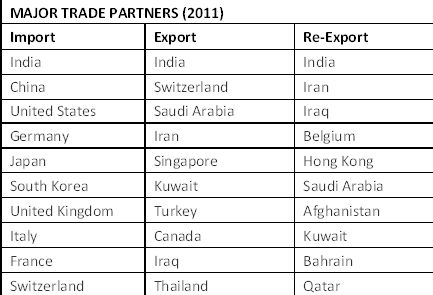 During the period 2009-2011, total imports from major Asian partners amounted to AED 511.12 billion ($140 billion). During the same period the value of exports and re-exports reached AED 95.79 and 140.82 billion ($26 and 38 billion), respectively. Approximately 68 percent of total trade with major Asian partners consisted of imports, whereas 18 percent of total trade consisted of re-exports. India's exports to the UAE were worth AED 27.4 billion ($7.5 billion) in 2010.
Table 2: Highlights of the UAE's Trading Activities with Asian Countries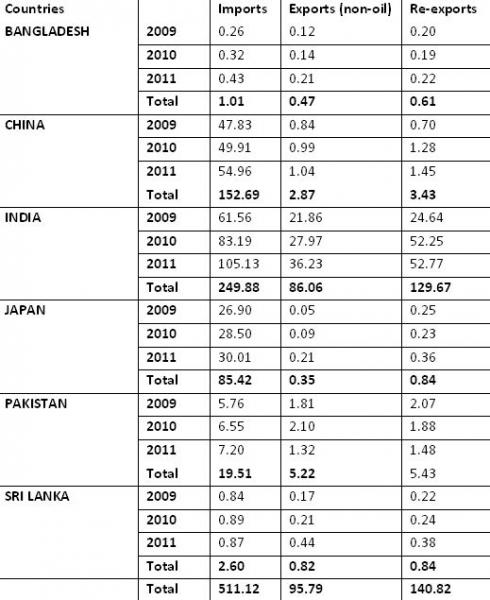 Source: Ministry of Foreign Trade Statistics.
In 2010 the value of trade between Dubai and India stood at AED 123 billion ($33.5 billion), representing 26 percent of Dubai's total trade with the outside world.[2] A substantial portion of India's exports to the UAE is transshipped from Dubai to other countries such as Pakistan, Afghanistan, Iran, Iraq, Saudi Arabia, and Yemen. Indian exports to the UAE via Dubai have thus opened up a huge regional market for Indian products.
Dubai has emerged as one of the most important centers of re-exports at the regional and global level. The re-export sector accounts for approximately 25 percent of the UAE's foreign trade activities. It is estimated that one-third of imports are re-exported abroad. The Asian region is the main supplier to UAE trade, and re-exports are largely concentrated in Asia as well, with India being the major partner. Re-exports are distributed to 202 customs territories. 
Table 3: Highlights of the UAE's Trade with India in 2011 (in millions of AED)
Trade between the UAE and China
Emirati trade with China is also booming, and could rise to as much as $100 billion by 2015. During the past three years, economic ties between the UAE and China have grown stronger, particularly in sectors such as aviation and tourism. The volume of trade between the UAE and China amounted to approximately AED 57.45 billion ($15.65 billion) in 2011.This accounted for almost 6 percent of the UAE's international trade. UAE imports from China accounted for 95.6 percent of total trade activity with China. UAE imports from China accounted for AED 54.960 billion ($15 billion), while exports and re-exports to China accounted for AED 1.042 and 1.449 billion ($.25 and .4 billion), respectively. The machinery and mechanical appliances sector accounted for the largest import sector to the UAE from China with a value of AED 19.173 billion ($5.2 billion), followed by textiles and related articles with a value amounting to AED 7.905 billion ($2.15 billion). In terms of exports to China, plastic and related articles accounted for AED 0.548 billion ($.15 billion). As for re-exports, vehicles, aircraft, and vessels contributed approximately AED 0.656 billion ($.18 billion) in value terms. 
In 2005, just 11 Chinese companies were registered in Dubai. Four years later, the number had increased to 2,346. China is the world's largest exporter to Dubai at AED 111 billion ($30.2 billion) worth of trade in 2012. Dubai's trade with China covers a variety of sectors and activities. It is estimated that over a quarter million Chinese are involved in various business activities and development projects in Dubai.
Strategic investment opportunities between the UAE and China are evident in fields such as technology transfer, industrial investment, and energy. These new ventures are particularly significant in the context of the diversification strategy adopted by the government of Dubai toward non-oil sectors such as finance, logistics, tourism, trade, and industry.
Table 4: Highlights of the UAE's trade with China in 2011 (in millions of AED)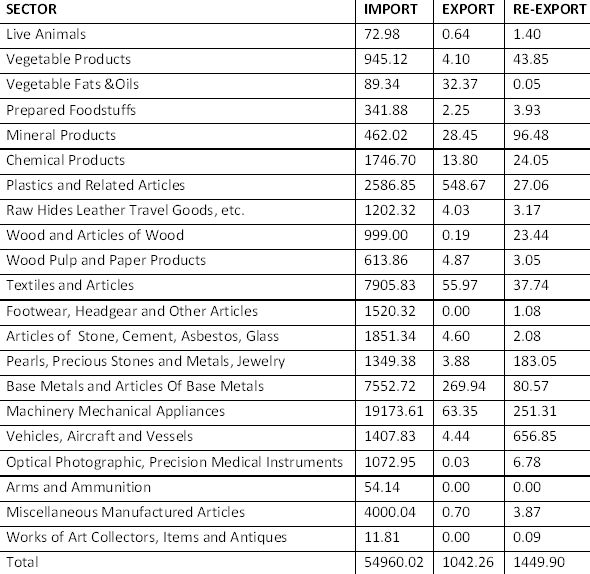 Conclusion
This analysis reveals that the contribution of oil to the UAE's GDP has dropped from 70 percent in 1971 to approximately 29 percent in 2011. Likewise, oil's contribution to Dubai's economy has plummeted from 35 percent of GDP in 1990 to 1 percent of GDP in 2010. Meanwhile, Dubai has emerged as a regional and global hub not just in business and finance but also in foreign trade. The development of free zones and the remarkable progress in logistics operations, particularly in the areas of handling and transport storage, have contributed to the growth of re-export trade. Dubai is today and is poised to remain the linchpin of Middle East-Asia economic interaction.
This contribution is part of the Middle East-Asia Project at the Middle East Institute.
---
[1] Re-exportation usually occurs when one member of a free trade agreement charges lower tariffs to other external member nations to gain trade and then re-exports the same product to another partner in the trade agreement. Dubai has emerged as the major re-export center for the entire Middle East.
---
The Middle East Institute (MEI) is an independent, non-partisan, non-for-profit, educational organization. It does not engage in advocacy and its scholars' opinions are their own. MEI welcomes financial donations, but retains sole editorial control over its work and its publications reflect only the authors' views. For a listing of MEI donors, please click here.