Jordan's future energy landscape is slowly taking form. Despite a population of less than seven million and almost no conventional hydrocarbon resources, Jordan has emerged as a relatively stable market for energy investment as the small nation attempts to diversify its energy mix, increase energy independence, and meet growing demand. Investment in Jordan's energy sector, in contrast to energy sector growth in Egypt, Israel, and other regional powers, is largely fueled by the country's lack of conventional energy sources. This has propelled the nation to secure hydrocarbon imports and increase alternative energy production to protect itself from the external supply shocks it has endured in recent years.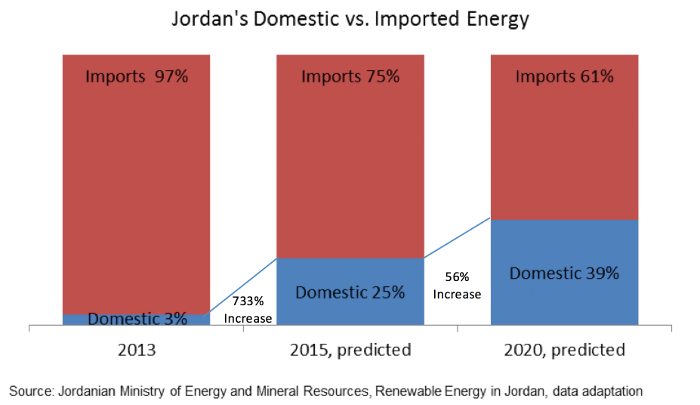 Jordan has historically imported more than 90 percent of its energy needs to satisfy domestic demand, a practice that became particularly costly and unsustainable in the midst of the Arab Spring. Repeated attacks on the Arab Gas Pipeline, which supplied Jordan with approximately 80 percent of its gas needs prior to February 2011, caused losses of $4 to $5 billion by November 2012.[1]
For instance, in February 2012 Egyptian gas imports, on which Jordan relied heavily for electricity generation, came to a halt after an assault on the pipeline.[2] The disruption forced Jordanian power plants to shift to fuel oil and diesel for electricity generation, an expensive alternative.
With no proven exploitable hydrocarbon reserves—apart from the minor Risha gas field near the Iraqi border[3]—and an arid climate that prevents hydropower electricity generation, Jordan's incentive to defend itself from external supply shocks is clear. This incentive has translated into energy supply safeguards and fuel diversification measures, such as inaugurating a liquefied natural gas (LNG) terminal at the port of Aqaba to enable LNG imports, and developing alternative energy capacity.[4]
The diversification of Jordan's energy mix represents the nation's overarching strategy to secure supply and achieve a viable energy industry. A healthy mix of energy to generate electricity will create supply side macroeconomic buffers and increase the nation's energy independence. Jordan has already promulgated its 2015 and 2020 fuel mix targets, which focus on reducing oil products, increasing and then maintaining natural gas inputs, and introducing significant alternative energy capacity, including renewable, nuclear, and oil shale sources.[5]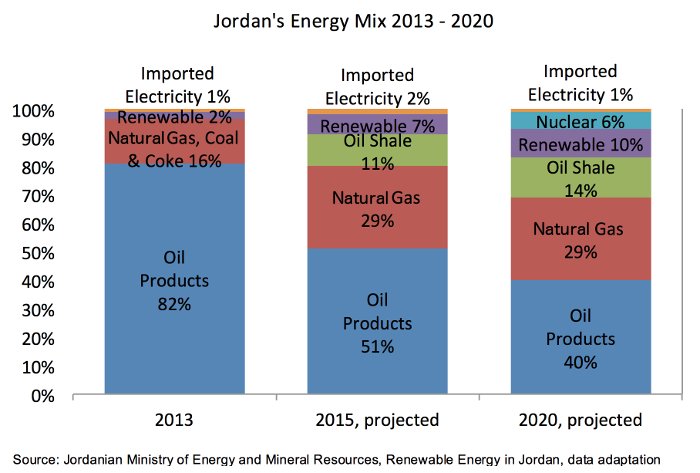 Hydrocarbon Supply
Natural Gas
While Jordan's plan to reduce oil products from its fuel mix is an environmentally sound policy, monetary savings achieved by substituting oil products with natural gas and other primary energy sources will depend largely on global oil prices, which were far higher when Jordan began planning this strategy.
For example, Jordan's new LNG terminal was approved in 2012, before the global drop in oil prices. The IMF estimates that "LNG would probably become uneconomical if oil prices stay below $70 per barrel for a prolonged period of time," but that LNG could save Jordan $400 million per year if 2014 oil prices were sustained until 2025.[6] While global oil markets are subject to the vicissitudes of international economics and geopolitics, partially replacing oil products with natural gas, which causes fewer Co2 emissions and is typically less expensive than oil, is a prudent decision irrespective of unpredictable external factors.
Jordan's primary strategy to secure natural gas is through the international market; its new LNG terminal allows imports of up to 400 million cubic feet of gas per day.[7] The terminal received its first shipment of LNG from Singapore of Qatari gas in late May 2015,[8] and is expected to play a major role in securing stable natural gas access.
A less expensive option would be to import gas from Israel's Leviathan and Tamar natural gas fields, as there would be no liquefaction or re-gasification costs involved. Yet the Jordanian populace, about half of which is estimated to be of Palestinian origin, is opposed to cooperation with Israel, especially in a situation implying Jordanian dependence on its western neighbor or indirectly implicating Jordan funding conflicts in Gaza.
However, with facilitation from the United States, which has an interest in Jordan maintaining pro-Western policies—and therefore pro-Western energy providers—a memorandum of understanding (MoU) for a $12 billion gas deal was signed between Noble Energy, the Texas-based operating partner of Israel's Leviathan gas field, and Jordan. Separately, the Jordanian potash industry signed a $500 million deal with Noble Energy to import Israeli natural gas over 15 years.[9] The deal should reduce the nation's gas import bill.
Despite the political cover provided by signing deals with Noble Energy rather than with the Israeli government, the agreements face strong opposition. Jordan's parliament has moved to limit the amount of gas purchased from Israel,[10] and civil society opposition groups have formed, with some adopting the slogan, "Gas from the Enemy is Occupation."[11]
From a commercial standpoint, Jordan's acceptance of Israeli gas would likely reduce rates for electricity consumers, encouraging economic growth. Regardless, the country's new LNG facility should prove a strategic asset, as it will allow Jordan to import gas from the international market if regional deals unravel.
Oil Shale
Oil and oil shale are still projected to constitute 54-62 percent of Jordan's fuel mix through 2020.[12] As a result, Jordan has been pursuing plans to develop its shale reserves. Though traditional oil products will play a larger role in Jordan than any other energy source in the foreseeable future, oil shale development is perhaps equally important, as the nation's shale deposits will aid Jordan's energy independence strategy.
With oil shale estimates of 40-70 million tons underlying more than 60 percent of the country, Jordan is believed to have the world's sixth largest deposits.[13] The country has taken significant steps to exploit this boon. In 2009, it officially registered the Jordan Oil Shale Company (JOSCO) and signed an oil concession agreement with Shell. Since then, JOSCO has collected seismic data, drilled approximately 300 wells, and, according to Thomas Meijssen, JOSCO's general manager, established "one of the most advanced geochemical and geological laboratories in the Middle East to analyze thousands of rock samples."[14]
Most notably, Jordan's first oil shale-fired power plant, which will have a capacity of 550 megawatts (MW), is expected to become operational in Q4 2018.[15] Jordan also signed an MoU with China in 2013 to build a 900 MW, $2.5 billion oil shale-fired power plant.[16] With oil shale expected to contribute to 14 percent of the nation's fuel mix by 2020, the IMF estimates that Jordan can save approximately two percentage points of its total GDP by that year through the replacement of imported oil products with indigenous oil shale.[17] It should be noted, however, that the replacement value is tied to future oil prices.
Jordan's budding oil shale industry has enormous potential, yet its future size and impact are not guaranteed. The nation will need to further develop extraction schemes that are both technically and commercially viable, and maintain a complex and transparent regulatory regime that attracts foreign investment, encourages public-private partnerships, and provides public benefits. Beyond challenges associated with new industry development, oil shale exploitation requires large quantities of water. For Jordan, one of the driest countries in the world, diverting water for oil shale extraction will further aggravate water scarcity issues if it is not counterbalanced with new fresh water supply schemes.
Traditional Oil Products
In 2013 Jordan imported an average of two and a half million barrels of crude oil monthly from Saudi Arabia's Aramco,[18] and it still imports the majority of its oil needs from the same source.[19] Jordan also imported 10-15,000 barrels of crude oil monthly by truck from Iraq until February 2014, when the arrangement was halted due to instability in Iraq's Anbar Province. To increase the efficiency and cost effectiveness of Iraqi imports to Jordan, the countries signed an agreement in 2013 to build a pipeline from the Basra oil fields in southeast Iraq to Jordan's port of Aqaba, which would allow imports of one million barrels of oil per day and up to 100 million cubic feet of gas per day via an additional natural gas pipeline.[20] While the pipelines were initially estimated to be completed by 2017, the current turmoil in Iraq will likely lead to delays, with the pipeline route already altered due to security concerns.     
If all hydrocarbon plans come to fruition, the port of Aqaba could become a regional energy hub, allowing Jordan to re-export oil and gas to the region, assuming imported hydrocarbons are not subject to destination clauses.
Solar, Wind, and Nuclear Energy Developments 
Solar and Wind
Jordan's target to cover 10 percent of energy demand with renewable generation by 2020 is well underway,[21] with 212 MW of solar capacity installed in 2014[22] and at least 400 MW of solar capacity assigned through auctions in 2015.[23]
The economics of electricity generation have helped create an opportunity for solar and wind investment in Jordan, which enjoys high wind speeds in select areas and 300 days of sunshine per year.[24] Complementing these indigenous energy sources is the decrease in the price of renewable energy systems, particularly solar. Ongoing technology improvements have caused solar photovoltaics to become increasingly cheaper, with costs approximately 75 percent less than 2008 levels in the Middle East. For Jordan, which lost its primary natural gas source to pipeline attacks, it is now less expensive to generate electricity from solar than from certain hydrocarbons.[25] A favorable regulatory structure—which permits feed-in tariff schemes, creates a transparent tender process, and exempts all renewable energy production inputs from import taxes[26]—illustrates Jordan's commitment to renewable energy development.
In order to support an estimated 1.8 gigawatts (GW) of increased renewable generation capacity by 2025, Jordan's electric grid needs upgrading.[27] Specifically, to be able to transport power from solar installations in the south to high-demand areas in the north, the transmission system requires approximately $150 million in investment.[28] In June 2014 Jordan's state news agency announced that Hanergy, a Chinese renewable energy company, will address Jordan's electric grid capacity issues through $310 million in investments.[29]
Nuclear
Jordan aspires to further diversify its fuel mix with nuclear energy. Encouraged in part by its large uranium deposits,[30] Jordan's nuclear ambitions date back to at least 2007 with the establishment of nuclear energy targets and regulatory bodies.[31] As the cost of a kilowatt hour of electricity from a nuclear plant could represent half of current generation costs, yearly savings from a nuclear plant could reach $300 million or even more if oil prices increase and the uranium required for the nuclear reactors is mined domestically.[32]
In March 2015, Jordan signed a $10 billion agreement with Russia's state-owned Rosatom to build its first nuclear power plant, which would have a capacity of 2,000 MW. Rosatom would assume 49.9 percent of the cost, with the Jordanian state retaining a 51.1 percent equity stake.[33]
The prospect of nuclear energy in Jordan is attractive considering the potential savings, yet it does not come without obstacles. Nuclear plants are slower than gas-fired plants to increase or decrease output, and can therefore reduce the flexibility to employ wind or energy generation in the event that these intermittent energy sources rapidly come online. In addition, as with oil shale generation, nuclear plants require large quantities of water. To help maintain its fresh water supply, Jordan plans to use waste water to cool the plant, adding the complication of either transporting waste water from urban centers to the plant or building the plant near a densely populated area. Other challenges include safe and efficient waste disposal and the retirement of the plant at the end of its useful life.[34]
A Brighter Future
Jordan's ambitious energy diversification strategy has attracted tens of billions of dollars in investments, which will increase energy security and support economic development. In a country where energy imports have represented 16[35]-19 percent of GDP[36] in recent years, the government's aggressive energy scheme is welcome. Jordan will still face many challenges. New and complex fiscal and regulatory regimes require experienced technocrats for successful administration, and in an increasingly unstable region, safeguarding critical energy assets and security in general will be significant tasks. Yet if the beginning is more than half of the whole, the initial investor reaction to Jordan's new policies and energy targets will translate into a brighter future for the nation.
---
---
The Middle East Institute (MEI) is an independent, non-partisan, non-for-profit, educational organization. It does not engage in advocacy and its scholars' opinions are their own. MEI welcomes financial donations, but retains sole editorial control over its work and its publications reflect only the authors' views. For a listing of MEI donors, please click here.