In this week's briefing, MEI experts Gerald Feierstein, Charles Schmitz, Jonathan M. Winer, and Yousef Munayyer provide analysis on recent and upcoming events including Kuwaiti Emir Sheikh Sabah al-Sabah's upcoming visit to Washington, recent clashes in Yemen, the French Foreign Minister's trip to Libya, and the U.N. Human Rights Council's discussion on Israel/Palestine.
Qatar to Top Agenda of Kuwaiti Emir's Washington Visit
Gerald Feierstein, Director of Gulf Affairs and Government Relations
Kuwaiti Emir Sheikh Sabah al-Sabah arrives in Washington, September 6, to meet President Donald Trump and his administration. Undoubtedly, the Qatar-Saudi/U.A.E. conflict will top the agenda. Sabah has led the effort to calm regional tensions, as he did during the last flare-up in 2014. Former CENTCOM commander (and MEI board member) General Anthony Zinni has been dispatched by the administration to help mediate among the parties. While the situation within the G.C.C. has stabilized for the moment, there appears to be little positive movement toward a resolution. Concerns remain that the stand-off will do lasting damage to Gulf defense and security cooperation, a key element of U.S. regional strategy.
Beyond the G.C.C. internal crisis, the two sides will review strategies aimed at containing Iranian expansionism. Although careful to remain within the G.C.C. consensus on Iran, including a July expulsion of Iran's ambassador and diplomats over alleged ties to an espionage cell, Kuwait has kept channels of communications open with Tehran. It engaged in a G.C.C.-approved outreach to Iran's leaders earlier this year, proposing measures to reduce regional tensions, which was pursued during a subsequent visit to Kuwait by President Hassan Rouhani but ultimately stalemated.
U.S.-Kuwaiti ties have strengthened recently, as Washington approved a much-delayed sale of F/A-18 fighter aircraft to replace Kuwait's aging fleet. Albeit unsung, Kuwait's hosting of U.S. military assets, particularly at Ali Al Salem airbase and Camp Arifjan, remains a cornerstone of U.S. defense presence in Southwest Asia, especially in connection with the Iraq-Syria theater.
Saleh-Houthi Clashes in Yemen
Charles Schmitz, MEI Scholar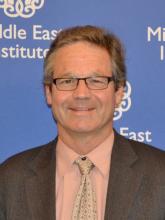 Last week, Gulf states gleefully anticipated the end of the Houthi-Saleh alliance. The Emirati foreign minister, Anwar Qarqash, said the "coming clash" in Sanaa will shorten or lengthen the war, and added that he hoped it would shorten the war. But Qarqash's statements may say more about the hopes of the Saudi-backed coalition than the events in Sanaa.
Ali Abdallah Saleh used the occasion of the 35th anniversary of his General People's Congress to once again rally huge crowds in Sanaa to demonstrate his political appeal. The weeks preceding the rally were rife with public tension between Saleh and the Houthis, and rumors circulated that the Houthis detected contacts between Saleh and the Saudi-backed coalition. Houthi militias beefed up their presence at key entrances to the capital, and the Houthi leadership warned of betrayals. Just days before the rally, Saleh supporters and the Houthis came to agreements allowing the rally to take place, but despite the agreements, violence broke out at a checkpoint near the presidential palace that killed a high ranking ally of Saleh and a number of Houthi militiamen. Shortly afterward, the ruling Supreme Political Committee met and announced an agreement ending tensions. Saleh himself reported that relations with the Houthis are firm but "under review."
The Emirati foreign minister added in his statement that clearly the Houthis, and not Saleh, were the impediments to peace in Yemen. The foreign minister appears to favor an alliance with strongman Saleh to end the burden of the war on the Gulf states. Such an alliance is not in the cards not only because the tensions in Sanaa may not be more than political theater, but also because any desire to reinstate Saleh or his son in Yemen is not viable.
French FM in Libya to Push for Peace
Jonathan M. Winer, MEI Scholar
Once again, foreigners, rather than Libyans, are taking the lead in trying to help Libya build an inclusive government capable of functioning. This time it's France, in an initiative undertaken by French Foreign Minister Jean-Yves Le Drian to build support for a roadmap beyond the current transitional government.
Le Drian's meetings in Libya cross its coast from west to east, beginning in Tripoli with Libyan Prime Minister Fayez al-Serraj, whose maximum two-year term is nearing its scheduled completion date. Next Le Drian moves to the commercially-minded city of Misrata, which last year sacrificed hundreds of its soldiers in extirpating the Islamic State from Sirte. Getting Misratan consensus on any issue, let alone an entire political deal, is difficult, given its broad constellation of militias and interests.
From Misrata, Le Drian is scheduled to move eastward to Benghazi, where he will meet with General Khalifah Hifter, before concluding his week in Libya's far eastern coastal city, Tobruk, with House of Representatives Speaker Agila Issa Saleh, who has spent much of the past two years torpedoing efforts by the Sarraj government to function.
In principal, Sarraj and Hifter agreed in Paris on July 25 to a roadmap leading to elections early next year—though the details remain elusive. Will Misratans and Saleh now add their support to the basic elements of any such plan? Will Hifter and Sarraj plainly endorse free and fair elections without preconditions? Will Libyans now put aside differences, and place the good of the country above more parochial interests? It's one thing for them to say "oui" to Le Drian. The real test will be whether they are ready to say yes to one another and actually deal.
U.N. Human Rights Council to Discuss Israel/Palestine
Yousef Munayyer, MEI Scholar
The U.N. Human Rights Council is slated to release a list of companies that profit from Israeli-occupied Palestinian territory. Above all else, this move highlights the failure of leading state actors to advance Palestinian rights through other means. For decades, the international community has essentially permitted the United States to lead an internationalized peace process under the umbrella of the Quartet for Middle East Peace, made up of the U.N., the United States, the E.U., and Russia. Despite routine statements from the Quartet condemning settlement expansion, and even U.N. Security Council resolutions doing the same, no action has been taken to hold Israel accountable for these violations of international law.
Now the Human Rights Council will take a step toward accountability by listing companies that profit from Israel's violations and will undoubtedly come under great pressure for doing so. Israel has already begun to malign the council for this move, and the United States has also pressured the council not to issue the list. But the question remains, what alternative methods of holding Israel to account for war crimes do these critics of the council propose? The failure to produce any, which has been the routine, is effectively supporting impunity for war crimes.
This abdication of leadership on Washington's behalf, and indeed complicity in Israel's policies, has meant that civil society has stepped in to fill the void. If the United States believes that approach is "counterproductive," as it has communicated to the council, it should formulate policy toward Israel/Palestine that stops producing settlements.