In this week's Monday Briefing, MEI experts Marvin G. Weinbaum, Charles Lister, Paul Salem, and Ahmad Majidyar provide analysis on recent and upcoming events including the recent Taliban attacks in Afghanistan, upcoming Syria talks in Sochi, the crackdown on competition in Egypt's presidential campaign, and U.S. and European reconsideration of the Iran nuclear deal.
Taliban attacks spell further trouble for strained U.S.-Pakistan ties
Marvin G. Weinbaum, Director for Afghanistan and Pakistan Studies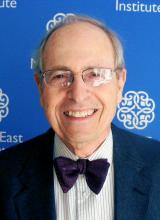 The ambulance bombing that on Saturday killed as many as 103 people and injured another 158 follows the very recent storming of Kabul's Intercontinental Hotel that brought the death of 22, and an attack on the Jalalabad office of the humanitarian group Save The Children, which claimed the lives of six employees. Today, 11 were killed at a Military Academy in Kabul. The Afghan Taliban has taken credit for the attacks. Most observers are convinced that the carefully planned operations are the work of the Taliban's Haqqani Network faction, the insurgency's most lethal group.
The recent increase in high-profile violence has several possible explanations. With the pace of Taliban activities slowed by winter conditions and the momentum of insurgent gains in the provinces for now possibly arrested by the U.S.'s intensified use of air power, the Taliban appear to have chosen urban guerrilla warfare to demonstrate their undiminished strength as a fighting force. The Taliban and its allies are also anxious to show that they, and not ISIS, which claimed responsibility for several earlier attacks on Kabul, stand at the forefront of the insurgency. But above all, the Taliban, in showing it can strike virtually anywhere, anytime, is intent on undermining the public's confidence that their politically distracted government and its foreign allies can offer Afghans basic security.
With Washington and Kabul convinced the attacks were mounted from Pakistan's tribal areas, there will be added pressure for Pakistan's military to sever its purported links to the Taliban-Haqqani leadership.
The teetering U.S.-Pakistan relationship could thus be further shaken.

Sochi talks unlikely to yield fruit
Charles Lister, Senior Fellow
Two days of Syrian peace talks officially began in the Russian city of Sochi early today, Jan. 29, without virtually any genuine anti-Assad opposition in attendance. The main opposition body, the Higher Negotiations Committee (HNC), announced their boycott of the talks on Jan. 26 after an internal 26-9 vote. Sources within the HNC had referred to a last-minute Turkish turn against the Sochi talks, which provided the space for the many skeptics to vote as they had hoped to. Several other opposition bodies followed the HNC in their boycott, including the National Coordination Committee and the Kurdish National Council.
Despite Moscow's intensive efforts, the "Congress of the Syrian National Dialogue" looked like it would be more of a meeting of figures supportive or accepting of the Assad regime than a genuine negotiation. However, as the first day drew to a close, reports began to emerge that an HNC delegation was on a plane destined for Sochi, attended by a team of Turkish officials. That news was then denied to me by multiple senior opposition officials, one of whom suggested instead that "a small number" of HNC members may have departed separately after Turkey had received new guarantees from Moscow about the intended agenda and process.
Whether the late reports were true or not, the confusion added further to widespread doubts of Sochi's real value. After all, Turkey's late geopolitical maneuvering also came amid an intensification of conflict in Syria, including Turkey's own invasion of the northern Afrin district, which is controlled by the U.S.-backed, Kurdish YPG militia. The Assad regime, meanwhile, continued to heavily bomb multiple de-escalation zones, including East Ghouta and Idlib. In the first hours of Jan. 29, a vegetable market and a hospital were bombed in a single town in Idlib province.

Crackdown on presidential competition reflects regime's fears
Paul Salem, Senior Vice President for Policy Research and Programs
Egypt is heading for presidential elections in March with only one real candidate in the race: incumbent president Abdel-Fattah el-Sisi. Several credible candidates were barred from or pressured against running. Before the candidate registration deadline today, a pro-Sisi party fielded its own leader, Mousa Mostapha Mousa, in order to maintain the appearance of an actual election.
There was never much doubt that Sisi would run for, and win, a second term. But the near complete suspension of political life, as well as the crackdown on civil society and the media, is setting the country up for a dysfunctional and dangerous political future.
It is also sending a very negative signal to friends of Egypt, particularly in the West, who believe that a measure of democratization is not only a question of rights and values, but also a necessary ingredient of building a more stable future for the country.
Several opposition figures have called for a boycott, and voter turnout will be something to watch. After the presidential election, the next political hurdle might be trying to pass constitutional changes to extend the presidential term, or allow a third term.
The tight crackdown on presidential competition does, in some sense, embarrass the Sisi government, but probably reflects real fears. The fact that two of the disbarred candidates—former Army chief of staff Sami Anan and former air force officer and prime minister Ahmad Shafiq—originate from the military establishment indicates that the current administration might fear challenges from within the state apparatus more than it fears a civilian presidential challenge.

Working groups to revisit Iran nuclear deal
Ahmad Majidyar, MEI Fellow, Director of the IranObserved project
On Saturday, U.S. Secretary of State Rex Tillerson revealed that working groups comprised of American and European diplomats have officially begun talks over revising the 2015 Iran nuclear deal. These talks will determine the scope of potential changes to "fix" and save the accord. Earlier this month, President Donald Trump threw the ball into the court of the U.S. Congress and European powers: fix the deal's loopholes or face termination within four months.  
Trump's key requirements include: limiting Iran's ballistic missile program; making restrictions on Tehran as enshrined in the deal permanent; and forcing Tehran to give international inspectors immediate access to all sites. Tehran has rejected all U.S. demands. Trump also wants Congress to amend the law that requires his administration to certify the deal every 90 days.
While Germany, France, and Britain—three signatories of the Iran deal—share Washington's concern about Tehran's missile program and malign activities in the region, they believe the deal has successfully limited Iran's nuclear activities and want to keep and enforce it. They want non-nuclear issues to be dealt with separately without undermining the deal.
Tehran will closely watch the ongoing U.S.-EU discussions. President Hassan Rouhani's government has been counting on European powers to oppose Washington and side with Tehran in the nuclear dispute. Even if Washington leaves the deal, the Rouhani team hopes that it can work with Europe and other key international players to minimize the impact of U.S. sanctions and "isolate" America. Thus, Tillerson's remarks about U.S.-EU cooperation are set to unnerve Tehran.