Jump to:
---
Will it take a virus to remind us of our common humanity? 
Paul Salem
President
The coronavirus crisis in the Middle East is in its early stages, and looks set to have devastating humanitarian and economic costs. Deaths could rise into the millions, and economic contraction could be in the double digits. The pandemic risks pushing more precarious countries toward collapse, exacerbating civil wars, generating more refugees and internally displaced persons (IDPs), and escalating regional conflict. Alternatively, the crisis could and should serve as a wake-up call to regional leaders, to look beyond narrow regime and geopolitical interests, and beyond political or sectarian agendas. Unless regional states act urgently and in a coordinated fashion, this could be the worst crisis in modern Middle Eastern history. It is sad that it should take a virus to remind us of our common humanity, our shared risks and opportunities, and the need to work together, not against each other.
First in priority are populations in ungoverned spaces and civil war conditions who will be hit hard by the virus and don't have any state institutions to lean on. This means refugees and IDPs in Syria, Yemen, and Libya, as well as the entrapped population of Gaza. Countries in the region, as well as the international community, should move swiftly to slow the spread of the disease in those crowded communities, and provide emergency public health and medical treatment capacity. Countries with a large underclass living in crowded informal settlements will also be of grave concern. This is the case in Egypt, but in several other countries as well. These crowded and impoverished communities will have neither the space to practice social distancing nor the means to weather an economic slowdown of any kind. They require special and urgent attention. 
More broadly, all the economies of the region — already struggling to maintain modest growth and provide employment — will be hit very hard by many months of effective shutdown, as well as a likely global recession. The large non-oil-rich countries will be particularly hit hard. The countries with means, especially the oil- and savings-rich kingdoms of the Gulf, should take the lead in marshalling regional and global resources to help endangered economies survive this storm, and to help fuel a post-pandemic recovery. The double impact of a massive pandemic and a virtual economic collapse might lead several countries — large and small — to state failure. And that might in turn have years-long — indeed decades-long — effects, resulting in ungoverned spaces, civil wars, refugees in the millions, and more space for radical and terrorist groups.
The need to work together and urgently is paramount. I would urge several scenarios: in the eastern part of the Middle East, the leaders of the GCC, Iran, Iraq, and Turkey should put their (petty) differences aside and hold a (virtual) summit on the crisis. The goal would be to coordinate urgent response and cooperation — both medical and economic — in confronting the pandemic; it should also include immediate measures to stop the fighting in Yemen and prioritize massive humanitarian, medical, and economic aid; measures to stop the fighting in Syria and provide assistance to IDPs there; and also to stop the fighting in Libya and pivot to assistance.
Egypt and Israel should immediately lift the blockade on Gaza — at the very least, all that relates to public health, medical, and economic life — and coordinate regional and international assistance to the endangered population of Gaza. In addition, Egypt, Israel, and Jordan should work with the Palestinian Authority to ensure safe and sustainable conditions for those on the West Bank.
In the Maghreb, Morocco, Algeria, and Tunisia should coordinate the health and economic response, and should work to assist vulnerable populations in Libya and other parts of North Africa.
In all these efforts, regional states should also coordinate with international institutions and key global players to ensure an effective and sustained approach.
For the first time in a long while, the states and people of the region are fighting one common enemy. Let's hope that this crisis reminds us of our common humanity, and is a historic spur to regional cooperation and to putting the interests of the region's populations — particularly the most vulnerable among them — first.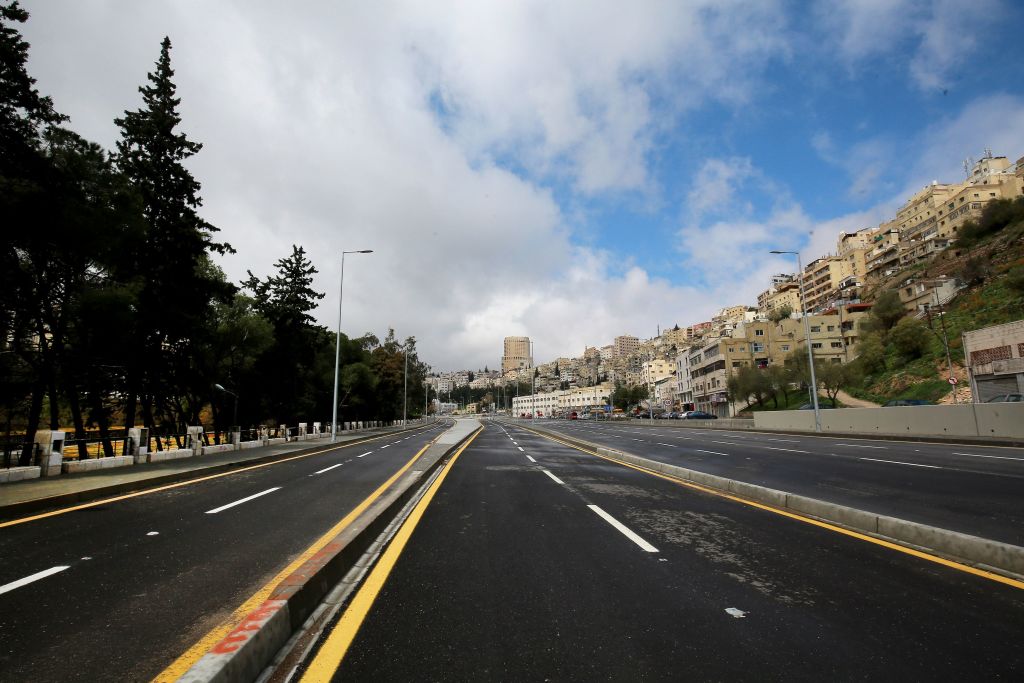 Jordan on lockdown 
Dima Toukan
Non-Resident Scholar
The situation in Jordan remains fluid but ostensibly under control. Last week, the government activated Defense Law No. 13, putting country under lockdown and banning movement between the 12 governorates. With people flouting explicit orders, the government moved ahead with more stringent measures, locking in, on March 21, an indefinite curfew, punishable by up to one year in prison. 
Jordan's economy will be hit hard. Still reeling from external shocks and high levels of debt and unemployment, the crisis complicates matters considerably. Micro and small enterprises, which make up over 90 percent of the private sector, are particularly vulnerable. Almost half were in bad financial health before this crisis began. The tourism sector, a driving force for the country's economy that just a month ago was projected to retain its upward trajectory with an 11 percent increase in revenues over early 2019, has already suffered a huge blow. With the U.S., Germany, and Italy its top source markets outside the region, the sector's woes are significant.
The Central Bank of Jordan reduced compulsory reserves for commercial banks to inject liquidity and cushion the economic shock. In a show of solidarity, the private sector stepped up with donations to help the government counter the virus. As the crisis deepens, low income Jordanians will be the hardest hit. With the informal economy employing half of the workforce, many families will find the loss of cash flow hard to absorb.
Indicative of the national mood, social media posts have been predominantly positive and in favor of the government, which has earned significant political capital because of its deft management of the situation. As it tries to prepare for perhaps less palatable solutions in the days ahead, the government will need to wisely use the goodwill it has deservedly earned.
In the meantime, and in the words of the minister of state for information affairs, "Curfew is a new way of life that we must get used to until life returns to normal."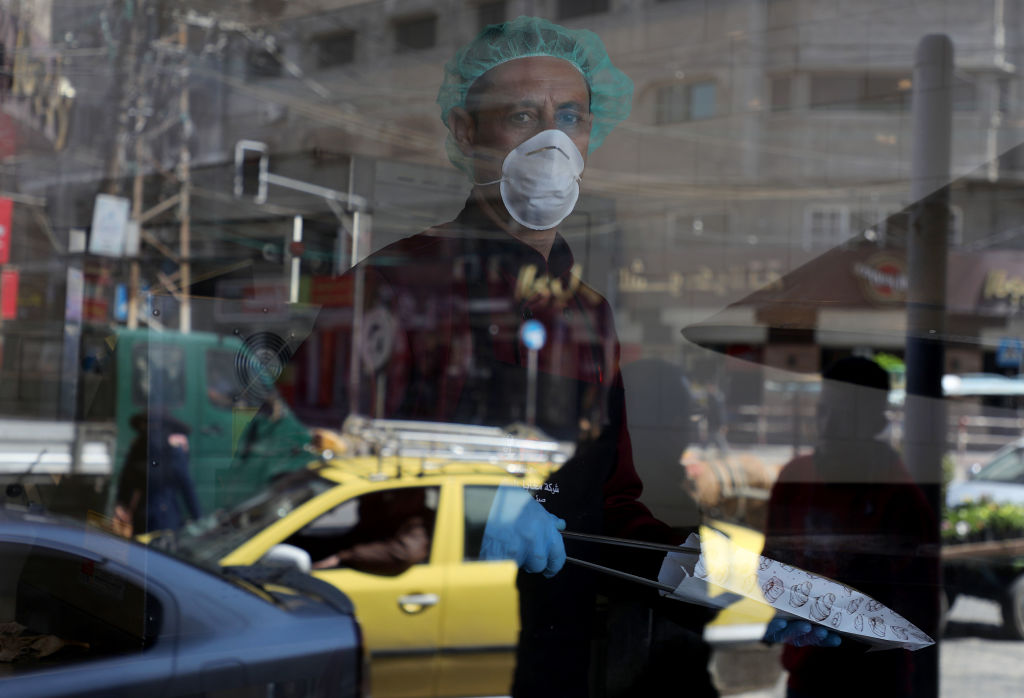 Israel-Palestine: As cases in Israel nearly triple, the virus reaches Gaza
Khaled Elgindy
Senior Fellow and Director of MEI's Program on Palestine and Palestinian-Israeli Affairs
Israel
In the last five days the number of Israelis (including Israeli settlers in the Occupied Territories) confirmed to have contracted COVID-19 has nearly tripled from 417 to 1,238, with one reported fatality so far. Despite the ballooning numbers, the Israeli Ministry of Health is still urging (rather than mandating) Israelis to remain at home. Israel is reportedly testing around 2,000 individuals a day. However, of the 100,000 COVID-19 test kits brought into Israel, just 400 were provided to the Palestinian Authority (PA) in the West Bank and another 200 to the Gaza Strip. 
Politically, the Netanyahu government appears to be exploiting the crisis to further consolidate its grip on power. Benjamin Netanyahu's corruption trial, which was scheduled to open on March 17, has now been postponed until at least May. With the number of cases in Israel soaring, the Israeli government has approved giving the Shin Bet the authority to track the cell phones of those infected with the virus. Moreover, on March 19, Yuli Edelstein, chairman of the Knesset and a Netanyahu loyalist, suspended the Israeli Parliament — a move widely criticized as unconstitutional at best and a "coup" at worst.
Occupied Territories
The crisis appears to be much less pervasive in the West Bank and Gaza Strip, though Palestinian authorities have considerably less resources to deal with a major outbreak, particularly in Gaza. There are a total of 57 confirmed COVID-19 cases in the West Bank. In Bethlehem, the epicenter of the crisis in the Occupied Territories, the number of confirmed cases has remained constant at 40. Around 900 Palestinians are being held in official (clinical) quarantine. The PA has tested a total of 3,945 people thus far, an average of around 200 per day. Nevertheless, as of March 22, the PA has imposed a total lockdown in areas under its control for a period of 14 days, during which all travel between governorates is prohibited and individuals are not allowed to leave their homes except to access food and medicines. Likewise, all prayers in Jerusalem's Al-Aqsa Mosque have been suspended indefinitely. 
In Gaza the situation remains highly precarious with the first two confirmed COVID-19 cases in the besieged enclave. The two individuals, both returnees from Pakistan, are reportedly being held in quarantine at a facility in Rafah, near the Gaza/Egypt border. Given Gaza's high population density, poor sanitation and access to clean water, and fragile health care system, a large-scale outbreak is likely to spread quickly and would eventually overwhelm, and quite possibly collapse, the health care system. Indeed, with fewer than 200 test kits, just 50 to 60 ventilators, and less than 2,900 hospital beds for its population of 1.9 million, Gaza's health facilities are already at the "breaking point" as a result of Israel's 13-year-old blockade. As the de facto authority in Gaza, Hamas has already closed the Rafah and Erez border crossings to Egypt and Israel respectively to pedestrian traffic and is likely to impose even more stringent measures in the coming days. Meanwhile, the potential for a catastrophic outbreak has fueled calls for Israel to lift its blockade.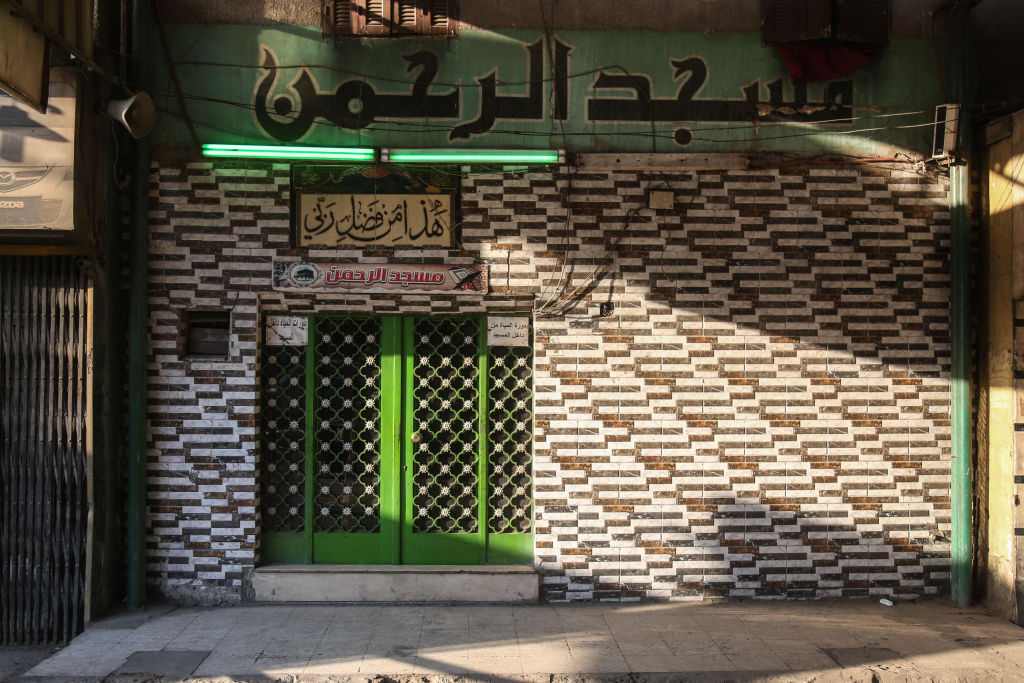 Egypt ramps up coronavirus measures
Mirette F. Mabrouk
Senior Fellow, Director of the Egypt Program
Egyptian governments have always been sensitive to what might be called the "religion factor." This has generally meant a certain deference to any matter seen as touching on the religious beliefs or practices of a generally devout society regardless of the actual religion or denomination. This probably explained why, in the midst of a global pandemic, people were allowed to flock to Friday prayers, despite a religious edict saying they should pray at home, and why churches held extra services, supposedly to avoid overcrowding.
No longer. As of March 23, Egypt has registered 327 cases of COVID-19 with 14 fatalities to date. The government apparently took a look at the climbing transmission rate and decided that God was in the details and not in houses of worship. In an unprecedented move, mosques and churches have been shuttered, for at least two weeks, to try to contain further transmission of the coronavirus. The call to prayer also received a slight update, for the first time in over 1400 years, with the devout being asked to "pray at home."
Also on the religious front, any worshippers returning from Mecca have been asked to self-isolate at home and the government has cancelled its publicly sponsored Hajj trips, with the Minister for Religious Endowments Mokhtar Gomaa announcing that the earmarked funds, plus an additional EGP 50 million, would be redirected to Egyptians affected by the economic impact of the virus, particularly the most vulnerable — those with irregular employment or those who had been laid off. Last week, the Ministry of Manpower announced a EGP 500 one-time payment to 400,000 people registered with the ministry as informal workers, an admirable measure but one which is limited in scope, considering that the Central Agency for Public Mobilization and Statistics estimates that Egypt's informal economy comprises 11.9 million workers (of a total of 25.7 million in the labor pool).
While security sources had maintained that discrete regional closures and curfews would be more likely to start with, on March 24 the government apparently decided that half measures were no longer sustainable. The prime minister announced a partial curfew, from 19:00 till 06:00 daily, for the next two weeks. During the curfew hours, all mass public and private transport will be suspended, and Mabouly added that violators would be subject to emergency law penalties, which vary from a EGP 4,000 ($253) fine to jail terms.
On the economic front, stamp duties on shares have been reduced (twice as much for nationals as foreign investors), foreigners will be exempt from capital gains tax (Egyptians till 2022), subsidies will go into effect on gas and electricity, and property tax collection will be allayed.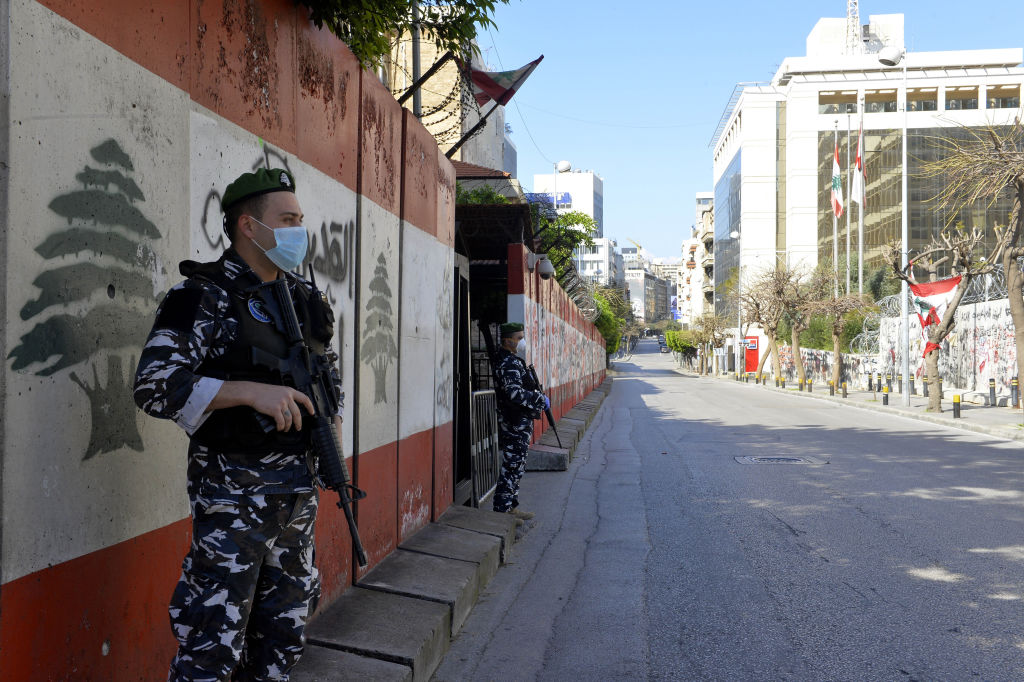 Lebanon: Concerns over hospitals and state finances continue to grow 
Joseph Haboush
Non-Resident Scholar
The number of confirmed coronavirus cases in Lebanon is increasing quickly. On March 21, there were 177 cases, but by the afternoon of March 23 the figure rose to 267, not including the first registered case among the country's UN peacekeeping force, UNIFIL. At least 11 patients are waiting for test results from official labs used by the state. Lebanon's Ministry of Health continues to release daily updates on the number of cases; however, the more significant concern is the capacity and financial capability of hospitals to take in infected patients.
As the pandemic has dealt a crushing blow to many of the economies of major donor countries around the world, an already frustrated international community appears unlikely to help Lebanon. This has forced individuals and local initiatives to step in to make up for the failings of the state, the bankruptcy of which was made clear on March 23 when the Lebanese Finance Ministry said it has decided to "discontinue payments on all its outstanding $US-denominated Eurobonds." This follows the country's default on a $1.2 billion payment that was due on March 9.
A local Lebanese TV channel held a telethon over the last few days, raising over 20 billion Lebanese pounds (around $13 million) in donations from mainly expats and politicians. Each donor's name was announced on live TV along with the organization to which they chose to donate. The most popular were hospitals or nursing homes for the elderly, state-run hospitals, the Lebanese Red Cross, and the Lebanese army. 
Over the last week, the government has ordered the Lebanese Armed Forces and Internal Security Forces to enforce a "medical state of emergency." Schools, restaurants, and nightclubs were ordered to close weeks after the first cases of COVID-19 were announced late last month. There has been some concern among the military community that this may increase the likelihood of the virus spreading within the army since it will be in closer contact with civilians not abiding by the quarantine order.
There has been public frustration over the amount of time it took to close the country's only functioning passenger airport to flights from Iran, Italy, and other areas hit hard by COVID-19. Land, air, and sea borders have all been ordered closed, and Syria announced over the weekend that its borders with Lebanon would be completely shut as well. It's unclear what this means for Hezbollah fighters shuttling back and forth between Beirut and Damascus. Speaking on March 20, Hezbollah's secretary-general claimed that all fighters were being screened and checked before going to Syria and upon their return to Lebanon.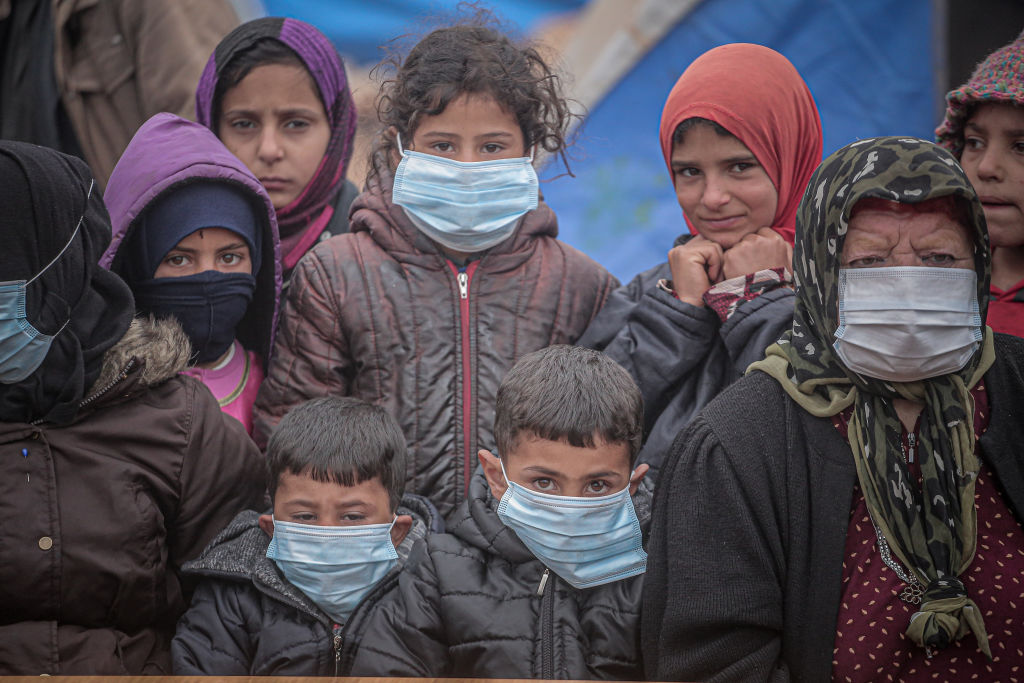 Syria: Crisis looms 
Robert Ford
Senior Fellow
Syria's Ministry of Health acknowledged Sunday that it had detected "the first case" of COVID-19 in territories it controls. Many observers think the contagion is already widespread in the country, especially in the face of rising virus caseloads in neighboring states as well as in Iran, with which Syria has close military and tourist connections. The Syrian government in the past week has ordered measures that indicate its serious concern, including banning transport between governorates, suspending most businesses and reducing government office work, closing the border with Lebanon and Turkey, and even introducing an amnesty for some prisoners to reduce prison crowding. These measures will worsen life for Syria's small business sector and consumers already suffering from shortages and high price inflation. Syria's mismanaged and resource-starved health sector also appears largely inadequate to the challenge ahead. Doctors have posted pictures on social media of expired pharmaceuticals and the filthy conditions in a Damascus virus quarantine center. The World Health Organization (WHO) has been dispatching supplies and equipment.
Even more serious is what foreign medical NGOs working in northwest Syria's Idlib Province warn is a looming catastrophe. The 3 million Syrian civilians there have few operating medical facilities after repeated Syrian and Russian airstrikes. In the absence of testing equipment, doctors suspect but haven't confirmed several local cases of the virus. According to the Idlib Health Directorate, there are only 200 ICU beds operational and plans are for 60 beds for coronavirus victims, wholly inadequate for a destitute population largely living in squalid, crowded camps. Supplies and equipment from the WHO are scheduled to arrive this week, long after such aid reached Damascus.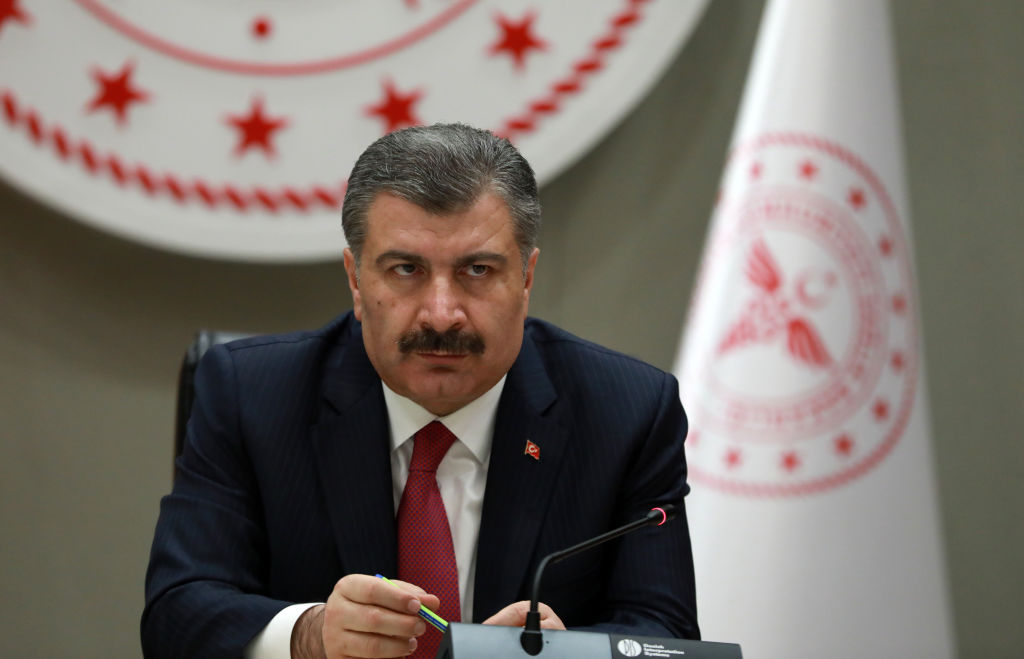 Turkey: Doctors raise questions over the government's approach
Gönül Tol
Director of the Turkey Program
Turkey's death toll due to coronavirus has risen to 30, up from 9 a few days ago. Turkish Minister of Health Fahrettin Koca has announced that the number of confirmed cases has reached nearly a thousand, almost doubling every day since Sunday. Koca argues that the government is taking the necessary measures in a very transparent way, but the Turkish Medical Association (TTB) disagrees. The TTB says that the government has to release information on the confirmed cases, such as which cities have been hit the hardest and the names of cities and centers that are conducting the tests. According to the doctors at the TTB, in order to see where Turkey stands in the fight against coronavirus, the number of tests should be increased. Turkey has only carried out around 10,000 tests and tens of thousands more have to be conducted to determine whether Turkey is pursuing an effective strategy to curb the spread of the virus. 
But President Recep Tayyip Erdogan is optimistic. He said that the pandemic could provide an opportunity for Turkish manufacturers as production shifts away from China. In his first major address about the outbreak of the coronavirus, he struck a calm tone, focusing on the nation's economy rather than addressing medical and social measures to curb the spread of the virus. He introduced an economic stimulus package and suspended tax, social security, and credit payments. Erdogan's package does not offer any tangible financial support to citizens, however. He advised people to stay at home, but did not ask them to stay away from work and failed to announce additional measures to restrict movement. 
Doctors, medical professionals, and economic analysts fear the government's response is not robust enough to avoid a repeat of the "Italian scenario," one of the countries that has been worst hit by coronavirus. In the meantime, the main opposition Republican People's Party (CHP) is offering its own support package, and some municipalities run by the CHP are doing a far better job in terms of taking measures to curb the spread of COVID-19. Coronavirus is poised to pose an unprecedented challenge to Turkish society, politics, and economy, and it could broaden the opposition's appeal if they lead an effective fight against the virus in the municipalities they run.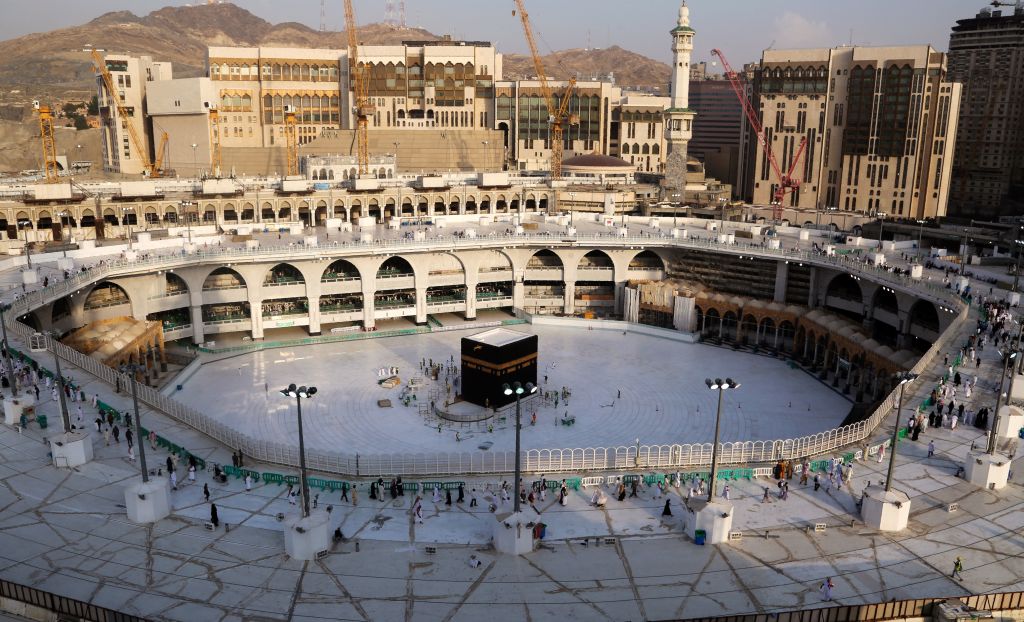 Aggressive responses in Gulf states so far limit coronavirus impacts 
Gerald Feierstein
Senior Vice President 
Aggressive moves to limit the impact of coronavirus within the Gulf Cooperation Council (GCC) member states so far appear to have paid off. Only Bahrain, among the states, has reported deaths from the virus and all of the member states are reporting incidents of infection in the low hundreds.
The UAE became the latest to make a dramatic move as it announced, on March 23, that it was suspending all flights in and out of the country, including transit flights, for two weeks beginning on March 25. To comply, Emirates Airlines announced that it will end all passenger flights that day, although its cargo service will continue. As a global transit hub, the Emirati decision, which will close international airports to all passengers in Abu Dhabi, Dubai, and Sharjah, will have far-reaching effects on the movement of people well beyond the region.
Saudi Arabia has also taken unprecedented decisions to control the spread of the disease, including the temporary closure of the Grand Mosque in Mecca and the Prophet's Mosque in Medina to allow for sterilization. Travelers entering the kingdom are required to self-quarantine for 14 days upon arrival. Supermarkets and pharmacies, while remaining open, have been directed to sterilize their shopping carts after each use. In the Eastern Province, the Qatif oasis, center of Saudi oil production, is on lockdown and movement in and out of the province is heavily restricted. 
The Saudi government, as this year's chair of the G-20 group of major industrial nations, has called for a virtual summit for next week to discuss a coordinated response to the virus and to discuss the human and economic implications of the pandemic.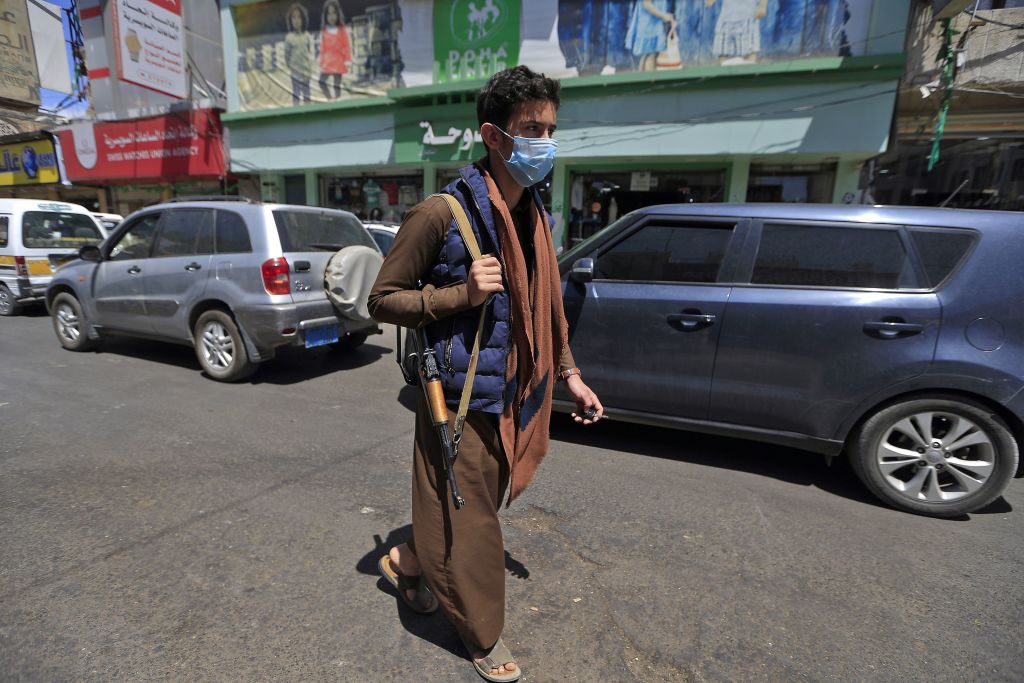 Yemen faces a formidable threat 
Fatima Abo Alasrar
Non-Resident Scholar
Although the first COVID-19 case is yet to be reported in Yemen, local parties to the conflict are taking some positive measures to confront the pandemic in both government-held and militia-run areas. These limited procedures, such as training teams and establishing quarantine measures, are being carried out in coordination with the World Health Organization. However, given the global struggles in dealing with the virus, it is safe to say that Yemen will face a formidable threat when it spreads.
Several issues are of concern. On the technical front, Yemen's health infrastructure is stretched thin. It has struggled to deal with cholera, diphtheria, and schistosomiasis in the past. Severe water shortages and difficulties accessing water are a problem throughout the country. Yemenis depend on trucks to deliver water, and in rural areas, they walk for miles to get it. Add to this the devastating impact of previous aerial raids and shelling on Yemen's sanitation infrastructure, which makes maintaining proper hygiene a challenge. In addition, some of the quarantine measures that have been implemented could easily end up spreading the virus instead of limiting it. Videos in circulation show travelers held up for hours at garbage-strewn checkpoints without medical care as they wait to enter Houthi territory, in the name of quarantine.
Politically, things could be better too. The Houthi militia, which is allied with Iran, has been politicizing the crisis, attacking the Saudis for suspending prayers, and promoting Ayatollah Ali Khamenei's theories that COVID-19 is a U.S.-made virus. These conspiracy theories are destructive in confronting the threat because they affect attitudes and responses. The Houthis are also focused on conquering new territory in the north of the country, which has caused a massive and unexpected wave of internal displaced persons (IDPs) that the government and international community were not prepared for. The situation has been exacerbated by recent flooding, which destroyed the IDP camp, making the return of the displaced to their homes more crucial than ever. Other cities such as Hodeida and Taiz need the Houthis to lift restrictions on the ability to move freely and access humanitarian assistance.
But Yemen is not entirely hopeless. It has faced multiple health crises before, meaning local health professionals have some experience in dealing with outbreaks. What is important now is to ensure a steady supply of resources, along with strong leadership that could lead Yemen out of this looming crisis. The local authorities have to increase awareness among the population and follow the same measures that countries elsewhere are adopting in terms of hygiene and social distancing. Greater awareness of the threat and a halt in fighting could go a long way toward saving Yemen.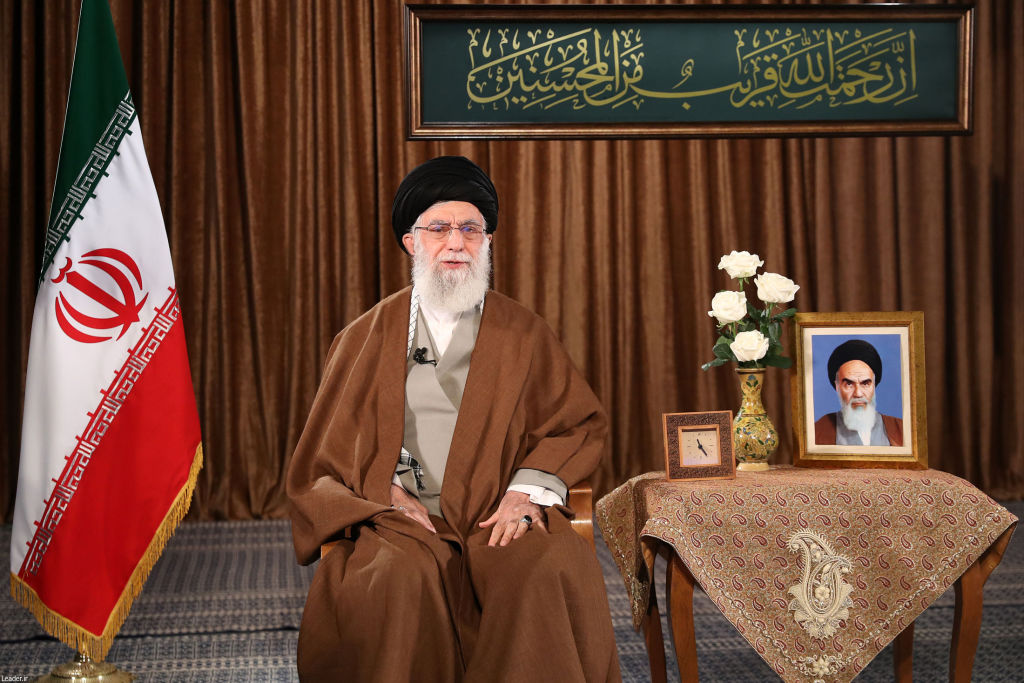 Iran: Khamenei blames the US for the coronavirus crisis 
Alex Vatanka
Senior Fellow and Director of MEI's Iran Program
Iran's supreme leader, Ayatollah Ali Khamenei, has leveled a series of groundless charges against the U.S. over the coronavirus crisis. His insinuation that the U.S. might both be behind the virus and also have deliberately designed it to target the genetic pool of the Iranian population smacks of vindictiveness. Khamenei is making these ridiculous accusations for two main reasons. First, it's petty revenge since in his mind the Trump administration has constantly vilified him and his rule. Second, and more importantly, Khamenei is following the lead of China and Russia — two states that have engaged in their own disinformation campaign against the U.S.  
In particular, China is being praised to the high heavens by state media in Tehran for its response to the coronavirus crisis. For Khamenei, this is not just about choosing a side in a PR battle between Beijing and Washington. It is about doubling-down on a long-held view that Iran's geopolitical future and fortunes are linked to a rising China. No rebuttal or counter-measures from the U.S. will convince Khamenei otherwise as anti-Americanism long been a central feature of his worldview. Nonetheless, Washington would be badly mistaken not to do its utmost to disprove that U.S. sanctions policy is deliberately targeting the Iranian population. 
China, Russia, the Gulf states, and the Europeans are all now sending aid to Iran to help contain the crisis. The Trump administration maintains that Tehran has rejected its offer of aid, and that might well be true, but Washington cannot afford to leave it at that. As Iran's application for a $5 billion emergency loan from the International Monetary Fund is under deliberation, the Trump administration will only encourage Khamenei's outlandish claims by vetoing the loan, which Washington is reportedly considering. And yet, Washington can insist that every dollar that is sent to Iran is used only to combat the coronavirus crisis, with none of the money going to support Ayatollah Khamenei's militant Islamist ideological projects across the region.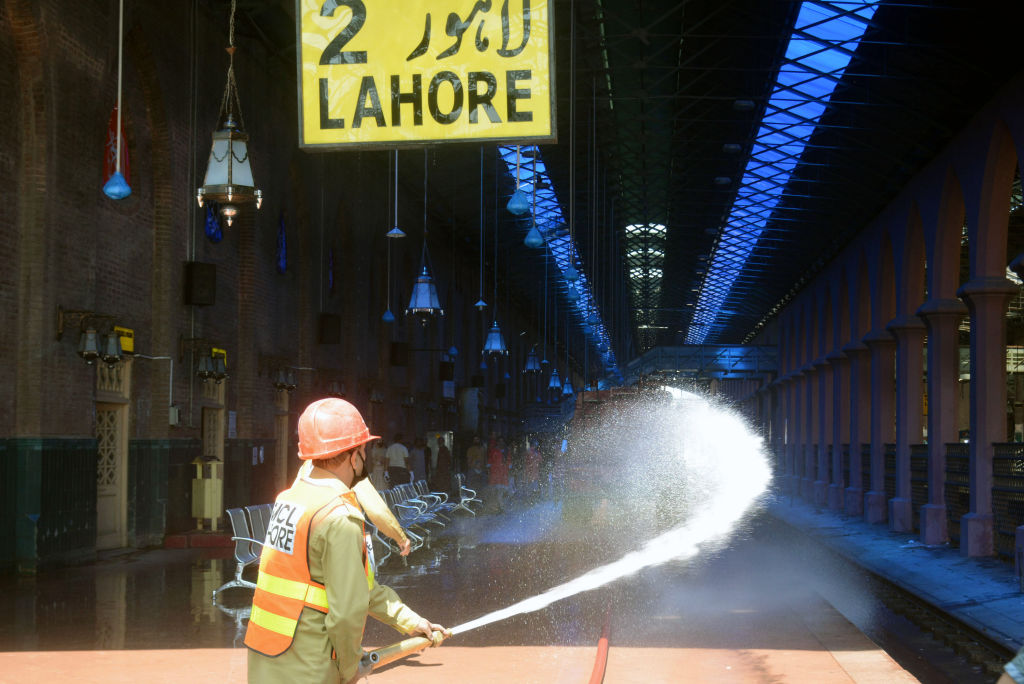 Pakistan and Afghanistan ill-prepared as the number of cases climbs 
Marvin G. Weinbaum
Director for Afghanistan and Pakistan Studies
Pakistan's ability to manage its COVAD-19 crisis is being increasingly tested. The number of confirmed cases climbed to just over 800 on Monday. Pakistan's recent rapid increase is said to be following a trajectory that matches Italy's earlier. Doctors across the country are reporting a shortage of protective equipment and ventilators, and those in several government hospitals are threatening to refuse to treat patients unless problems are addressed. Concerned about the spread of the coronavirus at local prisons, the Islamabad High Court is expected to release 1,300 people currently facing trial. Provincial governments in Sindh, where the number of confirmed cases is greatest, as well as in Punjab and Balochistan have asked the Federal Interior Ministry to approve deployment of the army. Yet over most of the country people continue to be permitted to congregate for mosque prayers.
Prime Minister Imran Khan thus far resists imposing a nationwide lockdown, stating that the nation "cannot afford it at this stage." As an economic slowdown is already being felt, Khan has announced the reopening of Pakistan's major border crossing with Afghanistan at Chaman for commercial truck traffic. The country's already squeezed economy is projected to sustain a tax revenue loss of 300 billion rupees ($3.9 billion) in the second quarter. To aid in Pakistan's COVID response, the U.S. State Department has pledged $1 million in support. 
In Afghanistan, the number of identified coronavirus cases nearly doubled to 40 between Sunday and Monday as difficult to access testing begins to ramp up. Most seriously, the country lacks the equipment to screen the thousands of people crossing daily from Pakistan and Iran. Meanwhile, the fragile domestic economy is bracing for the inevitable impact of the virus. Already affected is an intra-Afghan peace process that for all its other problems getting off the ground is taking a necessary back seat to the looming health crisis. 
Photo by KARIM SAHIB/AFP via Getty Images
---
The Middle East Institute (MEI) is an independent, non-partisan, non-for-profit, educational organization. It does not engage in advocacy and its scholars' opinions are their own. MEI welcomes financial donations, but retains sole editorial control over its work and its publications reflect only the authors' views. For a listing of MEI donors, please click here.