Over the last 25 years, the world has seen a rise in the frequency of natural disasters in rich and poor countries alike. Today, there are more people at risk from natural hazards than ever before, with those in developing countries particularly at risk. This essay series is intended to explore measures that have been taken, and could be taken, in order to improve responses to the threat or occurrence of natural disasters in the MENA and Indo-Pacific regions. Read More ...
 
---
The Chennai metropolitan region (CMA), with an area of 1,189 sq kms and a population of 8,653,521, is the fourth-largest populated city in India.[1] This city, located in north eastern part of Tamil Nadu is a flat plain bounded on the east by Bay of Bengal and on the remaining three sides by Chengalpattu and Thiruvallur districts. Expansion in terms of area as well as population has led to a shift in land use and land cover patterns across the region.
Situated along the eastern coast of India, Chennai is exposed to violent storm surges and flooding during northeast monsoons (September to November). Although local flooding is an annual phenomenon in selected parts of the city, extreme events, such as the 1918 cyclone and 1985 floods, had faded from people's memory.[2] However, history repeated itself in the city and neighboring coastal districts in November-December 2015, when a devastating flood affected more than 4 million people, claimed more than 470 lives and resulted in enormous economic loss.[3]
The sudden and unprecedented nature of the flood led to ad hoc and uncoordinated relief and response activities by different governmental and non-governmental agencies. Industrial and commercial centers were forced to temporarily shut down their production due to loss of power, shelter and limited logistics. Amid the chaos and widespread impact, the event brought people and institutions in and outside Chennai together, to provide support to the victims affected by the flood. Help reached the affected areas and their residents from different sections of society and in variety of forms. The lessons from this case study and others like it can help urban centers elsewhere in Asia to plan for similar eventualities.
Challenges Faced During and Following the Event
Flooding often handicaps the affected community by adversely affecting its educational system, food availability, mobility and access to energy on a daily basis. Chennai was no exception: daily functions became a challenge for the entire city.
School authorities faced numerous challenges, ranging from the sudden need to shift and secure school records / admit cards and postpone exams, to maintaining physical infrastructure and equipping schools to serve as shelters. Following the event, school authorities faced yet another set of daunting tasks related to the resumption of the academic session (e.g. repairing and replacing furniture, etc.) in schools that had been shuttered (for 10 to 33 days) in various parts of the city.
Flooding often handicaps the affected community by adversely affecting its educational system, food availability, mobility and access to energy on a daily basis.
Food logistics arrangements across the affected communities included the unavailability of manufacturing capacity and delivery mechanisms. The lack of accessibility to several parts of Chennai due to severe flooding made identification of delivery points and transport routes more difficult, which deprived some local communities of basic food supplies required for survival. During the first 24 hours of flooding, the main concern of the local supermarkets providing food supplies to surrounding areas, was to safeguard perishable items not only from getting wet but also to keep them from spoiling (since there was no electricity). However, it was critical for them to meet customer demand, keeping in mind the limited food availability and lack of communication within their management team.
First responders and information providers faced difficulties in providing accurate real time information to local communities on flooded areas, accessibility of roads, road condition, traffic flow and current weather scenario.
Flooding of roads, tracks and supporting infrastructure, delayed and suspended provision of necessary services. Moreover, several hospital staff were unable to get to work or extend their support due to being affected by the flood themselves. It was a greater challenge for hospital authorities, to safeguard patients admitted to Intensive and Critical Care units (ICU) or those under ventilation through maintenance of power supply.
The Chennai flood had a devastating impact on businesses, especially on small and medium-sized enterprises (SMEs), who were unprepared and vulnerable to both direct and indirect impacts. Flood water entered the first level of most of the offices and shops, reaching a height of approximately two meters in some areas. This damaged products, stocks, storage units, electrical equipment. In post disaster scenario, several businessmen in Chennai were unable to operate for three months due to lack of process-service delivery, finance, logistics, management implications and loss of customer base. Service station owners too had a hard time in recovering broken cars, fixing damaged engines, car interiors, upholsteries and external impact damages. In post flood scenario fungal attack and rusting were additional issues faced by them to continue their business.
Community-Based Organizations (CBOs) faced a plethora of challenges and obstacles, as did official first responders ...
Community-Based Organizations (CBOs) faced tough challenges, such as contingency planning at zone/ district level, stock piling of relief materials/supplies, arranging for inter-agency coordination, preparing evacuation plans, providing public information and conducting field exercises. Service providers in the transport sector had to undertake route planning and ensure priority management. Situation worsened due to lack of mechanisms to mitigate impacts of flood, such as road closure notification, absence of traffic control warning signs, emergency detour routes, etc. which are essential during such extreme events. Thus, they procured boats and hired fishermen to commute to inundated parts of the city.
Likewise, government officials — first responders, such as the fire department, the National Disaster Response Force (NDRF) and the police, in particular — faced a plethora of challenges and obstacles. They not only had the responsibility of conducting rescue operations, but also of road clearance and provision of other facilities to ensure supply of basic necessities throughout the affected communities. The fire department managed calls, coordinated between departments and controlled water distribution system, in the absence of power for prolonged periods. They had to function with disrupted utility services, clear streets of debris, waste and fallen trees in low lying areas and also ensure steady and quick pumping out of water from flooded pockets. NDRF on the other hand, was required to conduct timely rescue operations with small teams, coordinate with local officials, mobilize limited human resources to priority areas and commute using limited transport vehicles and boats. They also had electricity constraints in setting up onsite operational coordination control room (OSOCC) and shelters for both their team as well as the local community. In some instances, the Chennai police were unable to ensure effective and timely response, due to lack of common command system, clear assignment of duties and demarcation of roles to respective officials, for times of emergency.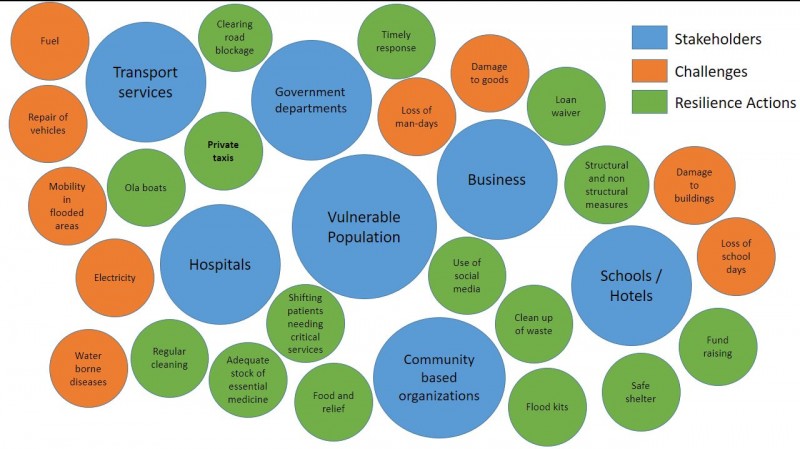 Resilience Efforts
Various segments of society assisted local communities and relief providers in affected parts of Chennai to cope with the flood. The Chennai government, private schools and the Parent Association were three strong pillars which supported victims in the aftermath of the flood. School children from Hosur made artefacts for sale at an art show to raise funds for a severely affected government school in Poonamallee. Another group of 15 teachers and 40 alumni of the TVS Academy School of Hosur, travelled to Chennai to help improve the infrastructure of Aringar Anna Government Girls Higher Secondary School, Poonamallee. These groups extended help in painting damaged walls, blackboards and building new toilets. During and post flood, government schools were used as relief camps where food and health issues were partially covered by government and parent association.
Various segments of society assisted local communities and relief providers in affected parts of Chennai to cope with the flood.
Private enterprises, such as restaurants, taxi service providers and automobile service centers, also joined hands with the government to provide relief to the flood affected population. Kolapasi, a Chennai-based restaurant, was turned into a temporary food relief agency. Social media was used for awareness generation on the initiative and also to raise funds. Individuals of all age groups and across all professions, supported this initiative by volunteering to cook, wash utensils, pack and deliver food. About 1.7 lakhs food boxes were distributed across the city.
The ride-hailing company Ola started operating boats, which also provided an important learning for future preparedness measures. They strategically identified water routes for providing service to even the most inaccessible areas. They also helped the Fire Department in conducting their rescue operations. Similarly, a vegetable and milk supply chain, Heritage Fresh, sold their commodities at a subsidized rate when prices in parts of Chennai were on the rise. Mobile vegetable shops also put in efforts to reach out to as many flood affected people as possible. Online food service providers, such as Zomato, added one extra meal on behalf of the company for every order that was placed for the stranded people.
The impact of flood on health sector was a complex issue, as the threats to health were both direct (for example, flash flood) and indirect (for example, a hospital needing to be closed due to flooding). To protect and promote health of patients and minimize health risks, sustained treatment for chronic infectious disease were provided through voluntary camps. 51 patients were evacuated and ICU wards were shifted to first floor; special care was taken while shifting new born babies, mental patients, elderly or patients with disabilities; cleanliness was ensured by internal experts using prescribed norms and dosage of chemicals and sump pumps were installed in hospitals to drain out water. Adequate stock of medicine, injections and IV fluids (intravenous) were available for continued medical care of the patients. Immediate actions in response to the flash flood situation from the ESIC was to direct all capacities of the existing health care system towards flood relief, prevention of disease outbreak, water disinfection and vigilance for future outbreaks.
Funds for energy and fuel supply were of least priority, but their demand was high in slums and remote areas where it was required for the survival of sick family members, the elderly and children. Organizations like Oxfam, provided support through the provision of energy and fuel supply to households. Private companies like Servals Pvt Ltd. initiated a similar program of providing specially designed rehabilitation kit, which included a kerosene stove, water filter, utensils, disinfectant, etc. to the slum dwellers, manual laborers and villagers in the worst hit areas, who were not covered under government programs. Along with the kit, training was also provided to ensure optimum utilization of the given products. 
Small- and medium-sized enterprises (SMEs) suffered both direct (physical) and indirect (man-days/ sales) loss. They demanded government to provide interest free loans and delay their tax payment along with other repayments. SMEs took adequate measures to build resilience against future floods through installation of electrical points at a raised height and flood defense barriers within their premises, securing databases by using online recovery systems, etc.
Vehicle service stations, such as Harsha Toyota collected and repaired cars that broke down due to water logging. Company ordered its dealerships to take extra space for flood affected cars while insurance companies were asked to clear their claims on time. They also provided discounted service packages, such as completely waiving labor charges, and offering ten percent discounts on spare parts, roadside assistance, loyalty points of up to Rs. 20,000, 50 percent discounts on car renewal and an exchange bonus up to Rs. 30,000 to flood-affected areas. The 2015 Chennai flash flood made all the car companies (e.g., Toyota, BMW, Renault, Maruti, Hyundai, Nissan, etc.) rethink and develop more sustainable business continuity plan for production, maintenance and parking. Several online and local sellers including a number of automobile portals, such as Copart, has a separate page exclusively for cars damaged in Chennai floods for holding auctions.
Hotel authority liaised with local authorities (i.e., police and fire service and incorporated emergency plans and services wherever possible. Guests were relocated and although flood kits (water proof clothing, blanket, candle/torches, etc.) was provided to all, there is a need to strengthen response and relief capacity of hotels.
Community-Based Organizations (CBOs), such as Tamil Nadu Thowheed Jamath (TNTJ) mobilized over 700 volunteers for carrying out rescue, relief, rehabilitation and reconstruction work, which included arranging food, shelter, cleaning up after flood water resided, waste management, spraying of insecticides and distribution of relief kit. They used half-cut plastic tank boats to rescue stranded people, conducted community based training programmes in health risks and fostered behavioral changes to support all social groups. TNTJ also became one of the coordinating facilitator through establishment of community, zone and district level mechanism with local partners, frontline workers and line departments.
Social media, such as Facebook, Twitter, and Google Maps, played an important role in bringing all the service providers and individuals to work together for reducing the impact and helping the flood affected population recover better. These platforms helped disseminate information, broadcast further warnings, inform people of the undertaken initiatives, call for volunteers in respective sectors, crowdsource and map the waterlogged or inundated areas. Professor Amit Sheth and his team at Wright State University in the United States carried out a new National Science Fund (NSF)-funded project, the Social and Physical Sensing Enabled Decision Support for Disaster Management and Response. This technology was mobilized  to monitor and analyze social media and crowdsourcing for better situational awareness of Chennai flood. Companies, such as BSNL, Paytm, Airtel and Zomato, also pitched in to help Chennai flood victims.
Towards Building Urban Disaster Risk Resilience
The 2015 Chennai flood caused by the torrential downpour brought city life to a standstill. It affected socio-economic condition of the district, maimed critical infrastructure, stranded animals and humans, disrupted services and flooded major parts of the city. The incorporation of flood preparedness measures will help reduce the extent of their impact on people, their life and property in future, along with giving them better coping abilities.
Best practices from Chennai flood case study should be used to strengthen existing risk handling capacities as well as learn lessons, to help replicate similar initiatives for preparedness of other Indian cities. This will also enable the government to coordinate and collaborate with similar service providers across the city for conducting efficient rescue and response operations in future. Best practices extrapolated from this case study could also prove useful to local and national officials from countries throughout Asia and the Middle East, all of whom continue to wrestle with the complex challenges associated with responding to responding to natural disasters in urban settings.    
Prioritized interventions and emergency responses which can be used to reduce urban risk, redevelop city plans and ensure effective disaster relief operations in future are listed below.
➢ As was reflected in the initiatives undertaken by several CBOS, particularly TNTJ, disaster response should address the humanitarian imperative; adhere to the principles of neutrality and impartiality; and ensure local participation and accountability, along with respecting local culture and custom. Thus, awareness generation and capacity building programs should promote inclusive flood disaster management approaches. Operational and sustainable livelihood models should be developed in the aftermath of such emergencies for weaker sections of the society. Disaster resistant shelters, public buildings and critical infrastructure, such as water and sewerage networks, need to be improved in order to avoid water logging and enhance community resilience.
➢ Cities need to develop broadcasting systems to inform the affected community about real time extreme events in different locales and provide updates on current road, flood, weather, food and energy supply scenario. Social media helps develop a two-way communication which helps acquire real time information from the community itself.
➢ Development of city disaster risk resilience strategy will better enable government and non-government organizations in phasing out adaptation and mitigation measures during normalcy.
➢ To ensure community level disaster preparedness, designed trainings should include actions or steps to be taken by citizen prior to, during and after disaster scenarios. Emergency respondents need to have basic first aid skills, such as airway management, bleeding control and simple triage.
➢ Emotional impact of the event on both workers as well as victims need to be addressed and documented for informing city disaster management plan.
➢ GIS-based evacuation plans, including current flood water flow, emergency routes, water depth, obstacles and possible search and rescue (SAR) interventions, need to be prepared. Existing capacity needs to be strengthened and assistance programmes should be provided to existing or new SAR teams at district and state level, for future preparedness. In addition, there is also a need to prepare Flood Risk Maps highlighting availability of grocery stores, restaurants, public utilities, food storage units, hospitals, residential homes for elderly people, high flood prone areas, etc.
➢ Communication systems, including early warning and public awareness mechanisms, need to be established in order to disseminate information during adverse conditions. (There is also an urgent need to prioritize child protection for the prevention of child trafficking during disasters.)
➢ Adaptation strategies need to ensure raised utility and reduced food cost through development and strengthening of local food suppliers. Food supply chain should be maintained by improved coordination and efficiency between producers, suppliers and retailers.
➢ Local flood plain maps, should inform construction practices (e.g., selection of appropriate materials for walls and floors).
➢ In flood-prone areas, water proofing should be mandated for emergency facilities like- power control room, water treatment plants, sewerage plants, etc. Emergency food and assets (generator sets, fuel) area should be at an elevated level to prevent inundation due to flooding.
Note: The detailed assessment of interventions undertaken during and post Chennai floods was funded by Rockefeller Foundation under the Asian Cities Climate Change Resilience Network program. The study was conducted by Taru Leading Edge and IFMR Chennai.
---
[1] "Chennai Metropolitan Urban Region Population 2011 Census," accessed May 29, 2017, http://www.census2011.co.in/census/metropolitan/435-chennai.html.
[2] Deepa H. Ramakrishnan, "Memories of Rain Ravaged Madras," The Hindu, December 9, 2015, accessed May 29, 2017, http://www.thehindu.com/news/cities/chennai/floods-in-madras-over-years….
[3] "Letter from Chennai- Saving a home from floods," The National, January 17, 2015, accessed May 29, 2017, http://www.thenational.ae/world/south-asia/20151213/letter-fromchennai-saving-a-home-from-the-floods; "When Chennai was logged out and how," Deccan Chronicle, accessed March 29, 2017; and http://www.deccanchronicle.com/151203/nation-currentaffairs/article/when-chennai-was-logged-out-and-how.B. Narasimhan, "Storm water drainage of Chennai: Lacuna, Assets, and Way Forward." Presentation made at "Resilient Chennai: Summit on Urban Flooding," hosted by 100 Resilient Cities in partnership with the Corporation of Chennai (2016). 
---
The Middle East Institute (MEI) is an independent, non-partisan, non-for-profit, educational organization. It does not engage in advocacy and its scholars' opinions are their own. MEI welcomes financial donations, but retains sole editorial control over its work and its publications reflect only the authors' views. For a listing of MEI donors, please click here.