In this week's Monday Briefing, MEI experts Paul Salem, Alex Vatanka, Eran Etzion, Gerald Feierstein, and Bilal Y. Saab discuss this week's U.N. General Assembly, including President Trump's expected statements on regional policy, the debate over the Iran nuclear deal, and potential movements to mediate the Gulf crisis. 
Mideast Leaders Seeking Clarity from Trump Administration
Paul Salem, Vice President for Policy Analysis, Research, and Programs
President Donald Trump has a busy week in New York with a policy speech on Tuesday and meetings with many world leaders, including several from the Middle East. While Trump likes to project bravado, regional leaders have yet to discern a coherent set of policies, or figure out the structure of decision-making in this new and volatile administration.
On Iran, the administration has railed orally against Iran, but has fought alongside Iranian proxies in Iraq, co-existed with them in Syria and Lebanon, and reneged so far on Trump's campaign promise to withdraw from the Iran deal. On Israel, Trump has postponed the campaign promise to move the embassy to Jerusalem, and his son-in-law has come up short in finding any new way forward on the peace process. Trump congratulated Turkish President Recep Tayyip Erdogan on his referendum win in April, but doubled down on arming his Kurdish nemeses in northern Syria. Trump hailed Egyptian President Abdel Fattah el-Sisi warmly in the White House, but then his administration suspended $300 million in aid. Trump celebrated his closeness to Arab Gulf leaders in his first overseas trip to Riyadh in May, then his administration was, confoundingly, on both sides of the Gulf crisis that erupted between Qatar and three of its G.C.C. partners.
For many, the meetings in New York will be at least an opportunity to get a better measure of the mercurial president. Getting a clearer sense of this administration's Middle East policy will have to wait for a more coherent and consistent policy to take shape.
Rouhani to Urge Commitment to Nuclear Deal at UNGA
Alex Vatanka, Senior Fellow
On September 20, representatives from the P5+1 and Iran are slated to hold talks about the state of the 2015 nuclear agreement. During his stay in the United States to attend the U.N. General Assembly, Iran's President Hassan Rouhani will press world powers to affirm their commitment to the deal. Rouhani will warn that Iran too can reconsider its obligations.
It is, however, too early to speak of an Iranian pullout. Iranian warnings are not meant to sway President Donald Trump. They are close to seeing him as a lost cause, although his constant wavering on policy matters in general does give Tehran some small hope. Instead, Rouhani's cues at the U.N. are intended primarily for the Europeans, who are overwhelmingly still supportive of the deal. Rouhani's message, backed by his Supreme Leader Ayatollah Ali Khamenei, is that Europe needs to translate its support for the agreement to convincing reassurance to its businesses that dealing with Iran is safe.
Iran sees too many European firms are still worried about U.S. punitive measures. Given that Washington has so far failed to come up with a credible alternative to the existing nuclear deal, combined with the current crisis surrounding North Korea, the Iranians feel it is the right time to prod the Europeans. On the question of U.S.-Iran relations, Tehran will be happy just to have Javad Zarif and Rex Tillerson meet at the U.N. That would be first for the Trump administration. Here, Iran's only hope is to have Washington separate the nuclear deal from America's long list of grievances against the Islamic Republic.

Netanyahu to Focus on Iran at UNGA
Eran Etzion, MEI Scholar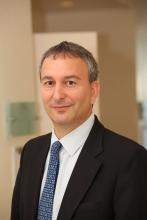 Once again, Israeli reporters traveling with Prime Minister Benjamin Netanyahu to New York are sending back pictures of hectic preparations for "the speech." And once again, Iran will feature prominently. The nuclear issue has been resurrected, thanks in large part to Donald Trump's aggressive campaign rhetoric. This is a golden opportunity for Netanyahu, eager to divert public attention from ongoing corruption investigations, and dominate all TV channels with the powerful images from the UNGA hall.
The prospects of an actual U.S. retreat from the JCPOA are low, but both Trump and Netanyahu have a clear personal-political interest in introducing the possibility into the diplomatic and media discourse. Both are facing legal challenges and both must cover up policy failures. Israel failed to push back Iran's forces from its border with Syria, largely due to American passivity, and the United States is blowing the Iran horn in order to try and silence the loud sirens in Japan, triggered by North Korean missiles launches. Both will also minimize any references to Russia—their hoped partner which is successfully pursuing its own agenda, and paying next to no attention to U.S. or Israeli pleas.
Last—and yes, least—the Palestinians. Netanyahu is expected to pay the standard lip service to the "peace process," and Trump will do the same.

No Trump Plan to Mediate Gulf Crisis in New York
Gerald Feierstein, Director of Gulf Affairs and Government Relations
There is no indication that President Donald Trump intends to follow up on his recent high-level engagements with G.C.C. leaders to resolve the Gulf crisis during his week in New York. In recent days, the president hosted Kuwaiti Emir Sheikh Sabah at the White House for a discussion of the Qatar dispute. He also called Saudi King Salman, Abu Dhabi's Crown Prince Mohammed bin Zayed, and Qatar Emir Sheikh Tamim bin Hamad to emphasize the importance of resolving the dispute peacefully.
A meeting with the senior G.C.C. attendees at UNGA has been a mainstay of the president's engagement there with foreign leaders. This year would be especially opportune given the urgency of resolving the dispute between Qatar and its neighbors. Indeed, the president suggested he might get personally involved in ending the conflict. Emphasizing his personal relationship with Gulf leaders, the president told a press conference, September 7, after his meeting with Sheikh Sabah: "If I can help mediate between Qatar and, in particular, the U.A.E. and Saudi Arabia, I would be willing to do so." But Trump has thus far not scheduled any get-together in New York except for a meeting with Sheikh Tamim on Tuesday.
Despite the president's apparent reluctance to get personally engaged, there will be opportunities among the Gulf attendees themselves to follow up on the abortive September 8 phone call between Sheikh Tamim and Saudi Crown Prince Mohammed bin Salman. In particular, New York could be a venue for a meeting between the Saudi foreign minister, Adel al-Jubeir, and his Qatari counterpart, Sheikh Mohammed bin Abdulrahman al-Thani.

Saudi Arabia's Atomic Plans
Bilal Y. Saab, Director of the Defense and Security Program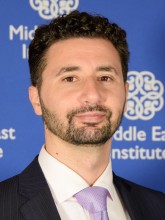 In what will be a long and arduous process, Saudi Arabia has taken a small but necessary step toward fulfilling its long-term aspiration of becoming a nuclear power. Riyadh is expected to reveal its plans for peaceful atomic energy at the I.A.E.A. general conference in Vienna this week. Then in October, the wealthy kingdom will launch a tender process and identify potential vendors.
The Saudis have been thinking about diversifying their energy supply for decades. All Vision 2030 did was put this process on steroids. It is unclear how far Riyadh wants to go (they might build anywhere between 4 to 17 nuclear reactors by 2032), but modesty is not the Saudis' strongest suit. Regardless of the number of plants Saudi Arabia chooses to build and the countries with whom it wishes to cooperate, nuclear safety and security should be top priorities.
The 2011 Fukushima disaster in Japan showed the grave dangers of nuclear power. Because the Middle East lacks cooling water and has seismic activity, any accident at a nuclear power plant would result in cross-border contamination. Then there is the threat of nuclear and radiological terrorism, and Saudi Arabia is certainly not immune to it, having been targeted viciously by al Qaeda in 2003-2004 and more recently by ISIS, though in lower frequency and lethality.
There are benefits to nuclear energy, but there are also plenty of serious risks. As strong as Riyadh's nuclear desires are, its commitment to safety and security should be even stronger. That can only materialize through partnership with the network of international arms control regimes.