In this week's Monday Briefing, MEI experts Randa Slim, Paul Salem, and Marvin G. Weinbaum analyze new Saudi diplomatic engagement with Iraq, the escalating G.C.C. crisis, and the continuation of dynastic politics in Pakistan.

Saudi Reaches out to Iraqi Shiite Leaders
Randa Slim, Director of the Initiative for Track II Dialogues
After many years of refusing to engage with Iraqi Shiite political leaders, Riyadh has stepped up its outreach. The Iraqi prime minister and minister of interior have already been welcomed in Riyadh, and now Moqtada al-Sadr has paid a visit. Sadr's trip, however, is more significant than Prime Minister Haider al-Abadi's due to Sadr's large Shiite constituency. He is also a fierce opponent of Nouri al-Maliki, who is viewed by the Saudis as Iran's point person in Baghdad. It is election season in Iraq, and Saudi Arabia is sending a clear message about the leaders with whom it wants to engage in Iraq.
The new, more engaging Saudi policy toward Iraq is partly in response to U.S. pressure. But such pressure has been applied in the past, including by the Bush administration, without much success. What is different this time, however, is that both Riyadh and Baghdad seek this rapprochement for specific reasons. The new Saudi crown prince realizes that Iranian influence in Iraq will never be eliminated, but it should at least be contained. Some Iraqi Shiite leaders want to chart a foreign policy that reclaims a leading role for Iraq in Arab politics.
Stability in Iraq will be achieved mainly by reconciliation among the different Iraqi societal and political components. Breaking Iraq's isolation from its Arab neighborhood will encourage these reconciliation dynamics. It also weakens the regional sectarian narrative that casts Iraq in an Iran-led Shiite political axis. Political overtures must be followed by action. Saudi financial assistance to rebuild areas liberated from ISIS will cement the Saudi-Iraqi rapprochement, and provide Riyadh the political leverage it seeks to cultivate in Iraq.
G.C.C. Crisis Escalates
Paul Salem, Vice President for Policy Analysis, Research, and Programs
The crisis between the quartet of Arab countries and Qatar escalated again over the weekend. Qatar criticized Saudi Arabia's handling of the hajj and suggested the need to internationalize the holy sites. Saudi foreign minister, Adel al-Jubeir, responded that Qatar's suggestion was "a declaration of war against the Kingdom," and that Riyadh reserved the "right to respond."
He also reiterated that the quartet was holding fast to its original list of 13 demands which are "non-negotiable." The Qatari foreign minister was in Washington last week also expressing a firm line, saying the list was made up of items that were either untrue or violations of Qatari sovereignty.
The prolonged crisis weakens the G.C.C., which is a critical partner for the United States in the region. It also provides opportunities for Iran, Russia and Turkey to increase their influence and presence.
The confusing messaging coming out of Washington is prolonging the crisis. Leaders of the quartet interpreted President Donald Trump's early and strong statements against Qatar as evidence that the United States was on their side. The more moderate positions expressed by the departments of State and Defense, however, gave Qatar the impression that Washington is quietly sympathetic to their position.
The United States should unify and clarify its position on this dispute, particularly as some of the issues in the list of demands touch on matters that affect U.S. national security. Without clarity from Washington, no number of Kuwaiti mediation visits will find a resolution.
The Sharif Dynasty Lives on in Pakistan
Marvin G. Weinbaum, Director for Afghanistan and Pakistan Studies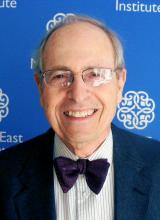 After Pakistan's Supreme Court disqualified Prime Minister Nawaz Sharif from office, it appeared that dynastic politics in the country had suffered a blow. Without its veteran standard bearer, his Muslim League seemed poised to break apart. Sharif then proceeded to name his younger brother, Shehbaz, as his successor. Shehbaz, Chief Minister of Punjab Province, was the only prominent family member not directly targeted by the court for dishonesty. But to be eligible to take office, Shehbaz must first win a seat in the national assembly in a by-election. Until then, a party loyalist will stand in as prime minister.
Shehbaz's succession will hold the party together, and should also bring a return to near business-as-usual for Pakistan. The government will continue with Chinese financing to prioritize infrastructural development, perhaps more so since Shehbaz has gotten his highest marks for projects in urban Punjab. Economic reforms and progress in the campaign against extremists will remain disappointing. Relations with India and Afghanistan, as well as the United States, can be expected to stay basically unchanged since they lie mainly within the province of the military—with which Shehbaz has good ties.
In one area, however, there may be some break with the past. Shehbaz, always regarded as the smarter of the brothers and described as a workaholic, should be a more focused, dynamic administrator. Assuming that a pending court case against Shehbaz or his health issues do not intrude, dynastic politics in Pakistan remains alive and well. Indeed, there is already talk of Shehbaz's son being groomed.
 
---
The Middle East Institute (MEI) is an independent, non-partisan, non-for-profit, educational organization. It does not engage in advocacy and its scholars' opinions are their own. MEI welcomes financial donations, but retains sole editorial control over its work and its publications reflect only the authors' views. For a listing of MEI donors, please click here.