Summary
Five years of war in Syria has seen the emergence of a war economy that is further incentivizing the prolongation of the conflict, as well as certain military practices that offer lucrative financial reward. One such practice is the imposition of sieges. No longer simply a military tactic to subdue opponents, sieges have also become a profitable enterprise, encompassing a complex web of businessmen, traders and armed actors, each of whom benefit at the expense of besieged civilians. This paper by scholar Will Todman reveals the intricate details of the siege economy, and the challenges facing humanitarian relief providers who are obliged to deal with the illicit siege business in order to prevent widespread starvation among besieged civilians.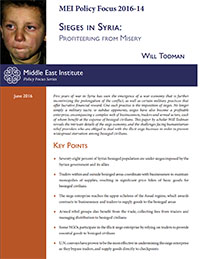 View PDF
Key Points
Seventy-eight percent of Syria's besieged population are under sieges imposed by the Syrian government and its allies
Traders within and outside besieged areas coordinate with businessmen to maintain monopolies of supplies, resulting in significant price hikes of basic goods for besieged civilians
The siege enterprise reaches the upper echelons of the Assad regime, which awards contracts to businessmen and traders to supply goods to the besieged areas
Armed rebel groups also benefit from the trade, collecting fees from traders and managing distribution to besieged civilians
Some NGOs participate in the illicit siege enterprise by relying on traders to provide essential goods to besieged civilians
U.N. convoys have proven to be the most effective in undermining the siege enterprise as they bypass traders, and supply goods directly to checkpoints
Read the full Policy Focus here.
---
The Middle East Institute (MEI) is an independent, non-partisan, non-for-profit, educational organization. It does not engage in advocacy and its scholars' opinions are their own. MEI welcomes financial donations, but retains sole editorial control over its work and its publications reflect only the authors' views. For a listing of MEI donors, please click here.