Summary
The Syrian Civil War has shaken the country's media landscape and provided space for the nascent emergence of an independent Syrian media. Syria's media culture is undergoing significant transformation from a top-down, state-run industry, to a diverse arena populated by competing viewpoints and driven by communities. This paper maps the changes in Syrian media since the beginning of the uprising in 2011, and explores the constraints facing independent media moving forward. Stronger mechanisms to support independent media in Syria are needed—such as additional and consistent funding, industry associations, and ease of travel—to develop a more open media culture in Syria, and foster a democratic and pluralistic post-conflict society.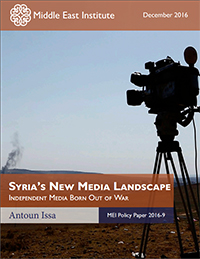 View PDF
Key Findings
Since 2011, the Syrian conflict has led to the creation of a robust and diverse independent media culture within the country, with at least 196 outlets currently operating across political lines
Lack of access to Internet and electricity in rebel-held areas has seen a focus on traditional forms of media, such as radio and newspapers
Foreign governments and NGOs have provided funding and trained Syrian journalists to increase the quality of reporting
Independent media remains heavily dependent on foreign aid as the war has prevented new outlets from establishing business models and revenue streams
Guarantees for press freedom should be included in any political negotiations to ensure independent media survives in a post-war Syria
Read the full Policy Paper here.
---
The Middle East Institute (MEI) is an independent, non-partisan, non-for-profit, educational organization. It does not engage in advocacy and its scholars' opinions are their own. MEI welcomes financial donations, but retains sole editorial control over its work and its publications reflect only the authors' views. For a listing of MEI donors, please click here.