In this week's Monday Briefing, MEI experts Gerald Feierstein, Marvin G. Weinbaum, Randa Slim, Paul Salem, and Gonul Tol provide analysis on recent and upcoming events including Secretary Tillerson's visit to Riyadh and Doha as well as his visit to India and Pakistan, Abadi's regional tour to promote positive relations with neighbors, Sisi's visit to Paris to boost Egypt-France relations , and German Chancellor Merkel's threat to cut European Union funding to Turkey due to its crackdown on democratic institutions.
Tillerson Promotes Stronger Saudi-Iraq Ties
Gerald Feierstein, Director of Gulf Affairs and Government Relations
Secretary Tillerson visited Riyadh and Doha October 21-22 on a mission that emphasized two U.S. foreign policy priorities: 1) promoting stronger Saudi-Iraqi relations; and 2) facilitating an end to the intra-G.C.C. dispute between Qatar and its neighbors.  
Participating in the inaugural meeting of the Saudi-Iraq Coordination Council, Tillerson underscored the substantial progress that Riyadh and Baghdad have made in normalizing their relations. Days before his arrival, a Saudi commercial aircraft landed in Baghdad, marking restoration of civil aviation links after a 27-year hiatus.
The substantial improvement in Saudi-Iraqi bilateral relations reflects a Saudi calculation that circumstances now favor a more aggressive challenge to Iranian inroads in Iraq.
As Saudi foreign minister, Adel al-Jubeir, noted in a joint press conference with Tillerson, Saudi Arabia is now "trying to make up for lost ground" in its relations with Iraq.  Tillerson also sharpened his anti-Iran theme in remarks at the press conference, declaring that "those [Iranian] militias need to go home" from Iraq, now that the fight against ISIS is concluding.
In contrast to the positive movement in Saudi-Iraqi relations, Tillerson's visit did not appear to shift the intra-G.C.C. dispute any closer to resolution. In both stops, Tillerson urged the parties to engage in dialogue to resolve their differences and committed that the United States will continue its efforts to support Kuwaiti mediation and facilitate an end to the confrontation. He stressed U.S.-Qatari cooperation, including on counter-terrorism. But the parties remain far apart on the challenge of political Islam, which remains the core obstacle to a resolution.  

Tillerson Visits India and Pakistan
Marvin G. Weinbaum, Director for Afghanistan and Pakistan Studies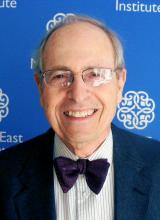 This week's five-country trip by Secretary of State Rex Tillerson will include much anticipated visits to India and Pakistan. Officials with whom Tillerson will meet in Islamabad are hopeful that the praise Pakistan received from President Donald Trump for the recent rescue of the Coleman family will carry over to discussions that emphasize their common interests. Pakistan is still recovering from the scolding it received in the president's August speech and will be particularly interested in clarification about Trump's call for greater Indian involvement in Afghanistan.
Tillerson is expected to follow the usual script of encouraging India and Pakistan to resolve their dispute over Kashmir peacefully and he may promise U.S. assistance in helping them to reduce tensions. But he will surely resist offending India by offering to directly involve the United States in trying to solve Kashmir. In recent remarks, Tillerson insisted that strengthening ties with India should not be viewed as coming at Pakistan's expense. This claim fails to appreciate, however, the extent to which both countries see themselves engaged in a zero-sum game.
For the Trump administration, India is instrumental in furthering the America's broad interests in South Asia and for larger strategic concerns with China. Pakistan is, by contrast, relegated mostly to contributing to the war against terrorism and, more specifically, to providing cooperation the United States sees as essential to its military efforts succeeding in Afghanistan. Tillerson's meetings will do little to change this.

Abadi's Regional Tour
Randa Slim, Director of the Initiative for Track II Dialogues
Iraqi Prime Minister Haider al-Abadi has embarked on a regional tour to Saudi Arabia, Jordan, Egypt, Iran and Turkey. His travel itinerary speaks of the interplay between regional and domestic dynamics in Iraq. Without Iranian blessing, he cannot secure a new term as prime minister. Saudi political and financial support, especially in rebuilding areas liberated from ISIS, is essential to his efforts to strike a new relationship with Iraq's Arab Sunnis. And he needs Turkey's continued support to manage the ongoing crisis with the Kurdistan Regional Government.
Baghdad touts this regional tour as part of its efforts to reclaim Iraq's leadership role in the wider Middle East. In Riyadh, Abadi spoke of the need for a new regional architecture based on shared interests in regional security and economic development. His credibility as a regional leader rests first on his ability to successfully address Iraq's domestic woes. The end of ISIS' stint in power in Iraq has brought to the fore old challenges with political inclusion, sharing of oil resources, and federalism. Add to that the challenges posed by the Popular Mobilization Units, as well as the lack of progress on securing accountability and justice for the victims of the wars that have engulfed Iraq since 2003.
Iraq lies at the intersection of two principal conflict lines in the Middle East: Saudi-Iranian and American-Iranian. Baghdad wants to play a mediating role between Riyadh and Tehran. Simultaneously, the Trump administration expects Baghdad to be an ally in its strategy rolling back Iranian influence in the region.  

Sisi Visits Paris
Paul Salem, Senior Vice President for Policy Analysis, Research, and Programs
Egyptian President Abdel Fattah el-Sisi flew to Paris today to discuss bilateral relations with French President Emmanuel Macron. Sisi will aim to boost Egyptian-French trade and increase French investment, both of which remain modest at around $2 billion and $4 billion respectively. He will also build on military cooperation—France has sold 24 Rafale combat aircraft, a multi-mission frigate and two Mistral warships to Egypt in contracts worth around $7 billion.
France has valued Egypt's role in the fight against terror groups, securing the Suez Canal, and being an element of geopolitical stability in the eastern Mediterranean. The two leaders are also likely to discuss the way forward in both Libya and Syria. Macron has praised Egypt's role in the recent Hamas-Fatah reconciliation, but has come under pressure to criticize Sisi for human rights violations.
In Egypt, the last few weeks have brought mixed developments. On the plus side, a new offshore gas find adds to hopes that Egypt might become energy independent by 2019, and tourist numbers are up more than 50 percent as compared to last year. But inflation, unemployment and poverty rates remain high, and G.D.P. growth is expected to come in at 4.4 percent, below government forecasts of 5.0-5.25 percent. And while the war against ISIS in the northern Sinai drags on, another extremist group called Hasm claimed responsibility for an ambush that killed over 50 security servicemen this past week in the desert west of Cairo. A number of recent attacks on Coptic Christians also indicate that extremists are ramping up their fight in Egypt.

E.U. Considers Cutting Turkey Funding
Gonul Tol, Director for Turkish Studies
German Chancellor Angela Merkel has warned that the European Union may cut pre-accession funding to Turkey in response to Ankara's crackdown on its democratic institutions. The E.U. offers so-called pre-accession assistance to countries seeking to join the bloc, which is meant to prepare the country for the rights and obligations of membership. But accession talks were dealt a blow following the Turkish government's crackdown on dissent in the wake of a failed military coup last year.
European countries agree that given the authoritarian turn, relations between the E.U. and Turkey cannot continue as business as usual, but cutting off Turkey completely is not the answer either. It is a wise strategy because burning all bridges with Ankara is only likely to feed into President Recep Tayyip Erdogan's nationalist rhetoric. One option the European leaders are discussing is a "strategic partnership" with Turkey. E.U. leaders are also considering channeling the pre-accession support money toward NGOs working on the rule of law and human rights.
But anything short of full membership is likely to lead to a nationalist backlash in Turkey, strengthening Erdogan's hand. Channeling money toward NGOs might put those NGOs at risk, particularly since Turkey has been targeting NGOs and arresting individuals collaborating with Western donors and institutions. The best option for the E.U. might be to keep the accession door open, but use the existing E.U.-Turkey customs union as leverage. Upgrading the current customs union is important for the Turkish economy. Making that conditional on Turkey adopting democratic reforms might serve Turkish democracy better than the current measures being discussed by European leaders.